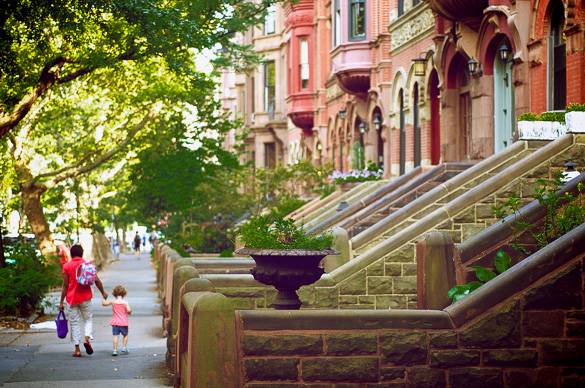 Classic brownstone houses in Brooklyn's Park Slope
Whether you're coming to New York City for a short holiday or you're planning to stay a little longer, Brooklyn is a fantastic alternative to Manhattan when it comes to accommodation. Not only are the
housing prices lower
, but by staying in one of Brooklyn's many neighborhoods you'll also be able to
feel like a true local in New York City
instead of just a tourist. Not to mention that the
neighborhoods in Brooklyn are often much greener, prettier and at least as safe as those in Manhattan
. Park Slope is one Brooklyn neighborhood that combines all these great characteristics.
In this article, we'll explore Park Slope and show you why this is a fantastic New York City neighborhood to stay in during your holiday or longer visit to the city!
Introducing Park Slope, Brooklyn
Park Slope is a neighborhood in the western part of Brooklyn. Generally, the Park Slope area is considered to be bounded by Prospect Avenue in the south, 4th Avenue in the west, Flatbush Avenue in the north and Prospect Park in the east. This proximity to Brooklyn's most famous park is one of the reasons Park Slope is considered to be one of New York City's most desirable neighborhoods. In 2010, it was even ranked as the number 1 neighborhood in New York by New York Magazine. It's not hard to see why, as Park Slope boasts beautiful brownstone houses, multiple great shopping streets, many cafes, bars and restaurants, good schools and great access to public transit.
The neighborhood is also close to some of Brooklyn's best attractions, such as the Brooklyn Museum, the Brooklyn Botanic Garden and the Brooklyn Public Library.
Shopping in Brooklyn's Park Slope
5th Avenue and 7th Avenue are the main shopping streets of Park Slope. You'll find many great independent stores along these avenues. On 5th Avenue you'll find gems such as Beacon's Closet where you can find secondhand designer clothes for a fraction of the original price, or Cog & Pearl, which is filled with handcrafted jewelry and art by Brooklyn designers. Great shops along 7th Avenue include Brooklyn Industries, where you can find all sorts of designer clothes, and Lion in the Sun for remarkable cards and stationary. Another gem is Ride Brooklyn along Bergen Street, where you can rent a bike to tour around the neighborhood. If you want to do some grocery shopping or if you're looking for the bigger chain stores, then look up Atlantic Terminal Mall in the north of Park Slope.
Park Slope Cafes, Restaurants and Bars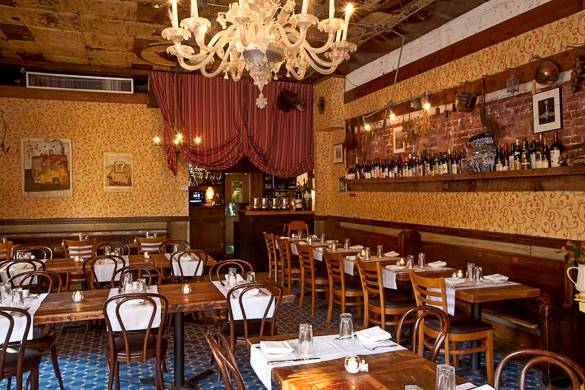 Al Di La Restaurant in Brooklyn's Park Slope
Along 5th Avenue you'll also find a plethora of great
restaurants
. Some of our favorite spots include:
Al Di La on 5th Avenue & Caroll Street is a great Italian restaurant
Columbia on 5th Avenue & 6th Street offers some fantastic authentic Columbian food.
Franny's along Flatbush Avenue has great pizzas and a good wine selection.
Alchemy on 5th Avenue & Bergen Street is a great combination of a pub and restaurant.
Flatbush Farm on St. Marks Avenue offers delicious traditional American food.
You'll also find many great bars along 5th Avenue and around Flatbush Avenue. Our favorites include:
Barbès and Union Hall, which both offer live music.
Sidecar and Beer Table are also great, and serve some yummy drinks.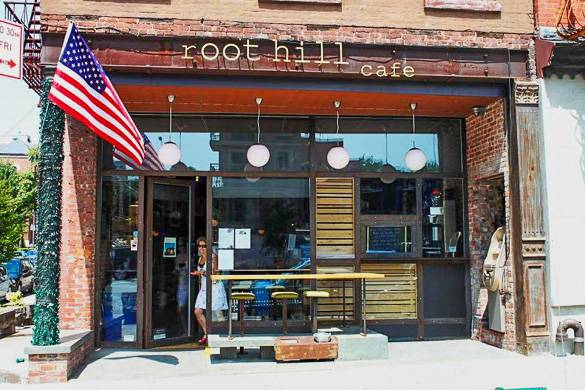 The Root Hill café in Park Slope, Brooklyn
After a late night partying, pay a visit to one of Park Slope's great coffee shops in the morning. They will all make sure you're quickly fit and ready for another day of exploring Park Slope again. Some of our favorites are:
Red Horse Café on 6th Avenue and 12th Street
Postmark Café on 5th Avenue and 4th Street
Root Hill on 4th Avenue and Carroll Street
Chocolate Room on 5th Avenue and Prospect Place
Gorilla Coffee on 5th Avenue and Warren Street
Café Grumpy on 5th Avenue and 11th Street
Stay in Your Own Park Slope Apartment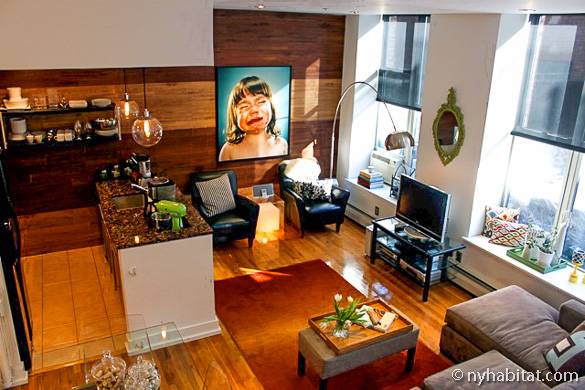 One of our modern Park Slope, Brooklyn apartments
If you're thinking about going on holiday to New York City, Park Slope can be your perfect base to explore the city from. The neighborhood has a real family vibe, so you can bring your whole family to enjoy a New York holiday.
Have a look at our vacation rentals in Park Slope to get an idea of our accommodation in bustling Brooklyn! We have multiple 3-bedroom and 4-bedroom apartments in Park Slope, which can be a real money-saver for your family when you compare the prices to staying in a Manhattan hotel!
You won't have to worry about finding the time to explore Manhattan if you're staying in Park Slope; because the neighborhood has many subway stations where you can catch a train directly to Manhattan. For example, if you catch a 2 or 3 train from Atlantic Avenue, you'll be taken to Wall Street, Manhattan in just 5 stops!
If you're planning to stay in New York City for a longer time, then we also have fully furnished long-term apartments in Park Slope available. You can truly live like a local in Park Slope, and will have even more time to explore this fantastic neighborhood!
If you're a student or intern looking for accommodation in New York, we also have a great affordable option for you: rooms for rent in Park Slope. These rooms are often located in beautiful brownstones, and a lot bigger than what you would get in Manhattan. Park Slope is a very safe neighborhood, so your parents can feel at ease knowing you're staying in a nice area! The great NYC subway system will also ensure you can easily commute to school or work in Manhattan or anywhere else in the city.
What to See and Do in Park Slope
If we still haven't convinced you of the fabulousness of Park Slope, then have a look at all these things you can see and do in the area.
For starters, Park Slope is a very green neighborhood. When you walk through the tree-lined streets among the brownstones, you'll understand why Park Slope is often considered to be one of the prettiest neighborhoods in the city.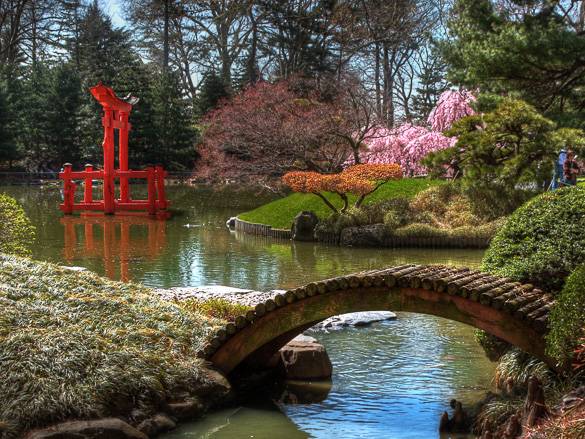 The Brooklyn Botanic Garden in springtime
Prospect Park lies just to the east, and here you can enjoy many free cultural events such as festivals in the summer, and ice-skating in the winter. In springtime, the beautiful Brooklyn Botanic Garden is in bloom. Have a look at this
article about the Brooklyn Botanic Garden
to see what it looks like in spring.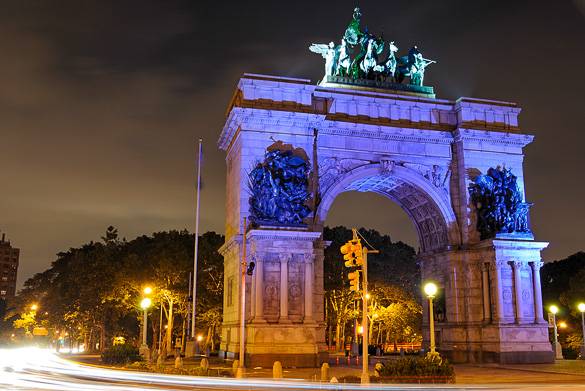 Grand Army Plaza marks the entrance to Brooklyn's Prospect Park
Next to Prospect Park, there are also several smaller parks to be found in the neighborhood. In the western part of Park Slope, you'll find Washington Park. The monumental Old Stone House lies in the center of the park, and a farmer's market is held here every Sunday. The Old Stone House is a reconstructed Dutch farmer's house, and played a part in the American Revolutionary War! You can find another great farmer's market at Grand Army Plaza, which is the northern entrance to Prospect Park.
When the weather isn't playing along, pay a visit to the Brooklyn Museum, which has art from all over the world and is actually the second-largest art collection in New York City. Alternatively, a visit to the Brooklyn Public Library can also make for a great cultural afternoon. And if you're looking for a bit more of a thrill, go see a Brooklyn Nets game in the great indoor arena the Barclays Center!
We hope you've enjoyed our little tour of Brooklyn's Park Slope! What's your favorite neighborhood in New York City?