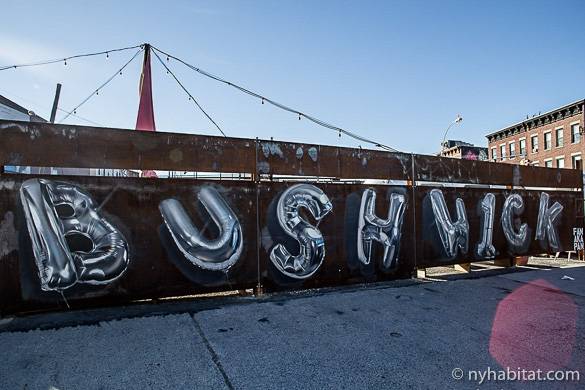 Bushwick is known for its innovative street art and repurposed industrial spaces.
Like many of Brooklyn's once-undesirable neighborhoods, Bushwick is emerging as one of the hottest new areas for young people to live in New York City. Between the area's DIY art scene, independent stores, and unique amenities, it's easy to understand why.
Before diving in, here's a word on geography: Bushwick is a neighborhood of North Brooklyn, bordering the hip and rapidly developing Williamsburg to the west, Ridgewood, Queens (Bushwick's "sister" neighborhood) to the north, and the increasingly popular Bedford-Stuyvesant (or Bed-Stuy, as the locals say) to the south. Connecting these different areas are the L train (running through Williamsburg to 14th Street in Manhattan in as few as 6 stops), the J and Z trains (running along the southern border, Broadway, and across the Williamsburg Bridge to the Lower East Side), and the M train (an elevated train on Myrtle Avenue, terminating in Middle Village).
Take a look at our guide to living like a local in Bushwick and you may find yourself looking for an apartment in the area!
Things to do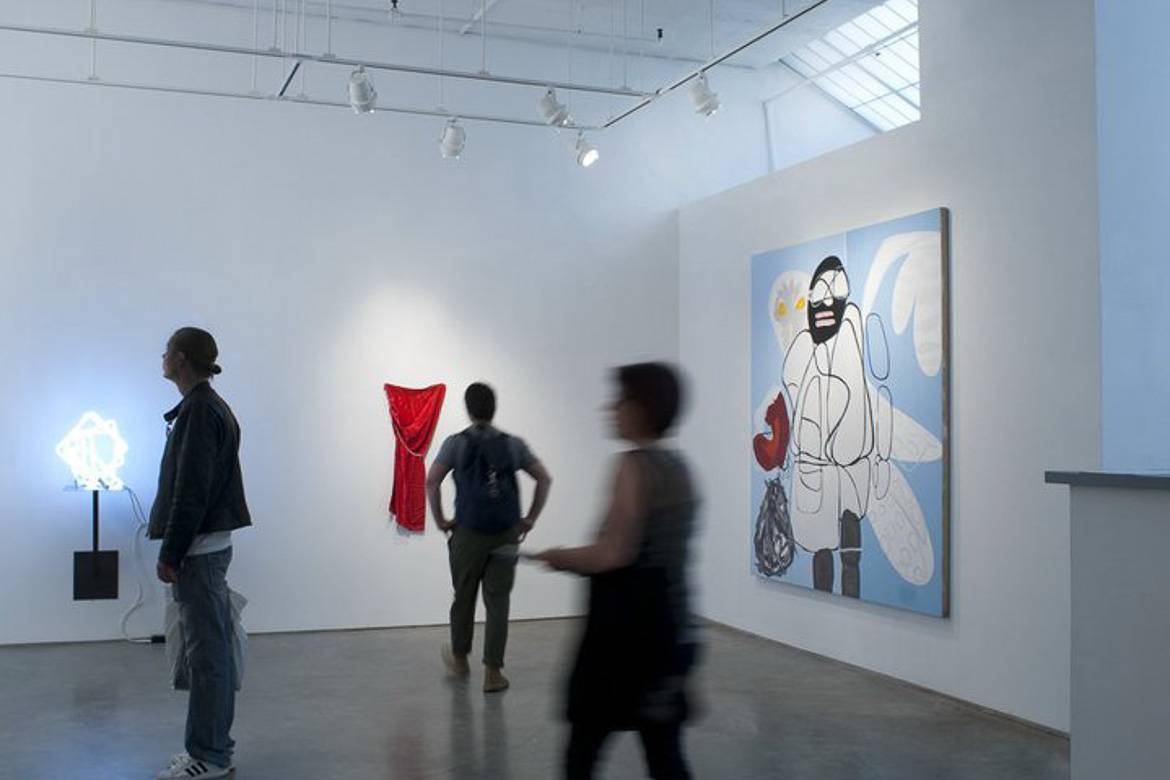 The Slag Gallery is just one of many art spaces clustered around the Morgan Avenue L train station.
Bushwick, much like Willamsburg, East Harlem, the Lower East Side, or any other gentrifying area of NYC, is a mish-mash of cultures with a lot to offer any kind of visitor! Perhaps most prominently, Bushwick is known for its red-hot art scene that's on display at unique galleries like SOHO20 Gallery, the BogArt, and Slag Gallery. Many galleries are located in recently converted lofts and industrial spaces.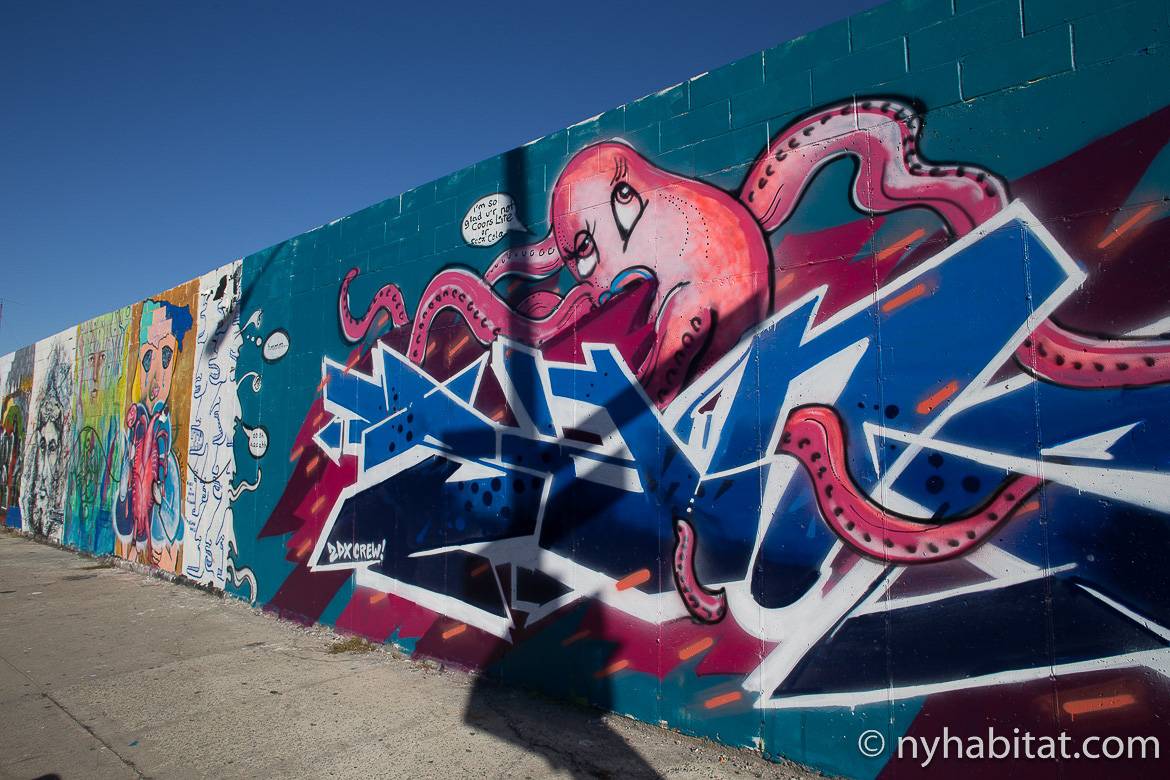 Creativity abounds in the graffiti between the Morgan Avenue and Jefferson Avenue stations!
It isn't just the gallery art that's worth seeing–Bushwick's street art is a major draw thanks to the Bushwick Collective. Forge your own walking tour around the Jefferson Street L train station and see for yourself!
Another side of Bushwick's art scene is analog photography on good old-fashioned film! Locals are expanding beyond polaroid film, despite the obvious hipster credentials of the neighborhood. Pick up some film from a convenience store, thrift shop, or Lomography boutique and learn the lost art of developing at the Bushwick Community Darkroom. At this photo haven, you can rent a private darkroom, take a photo class, or just develop some film yourself for one-of-a-kind memories!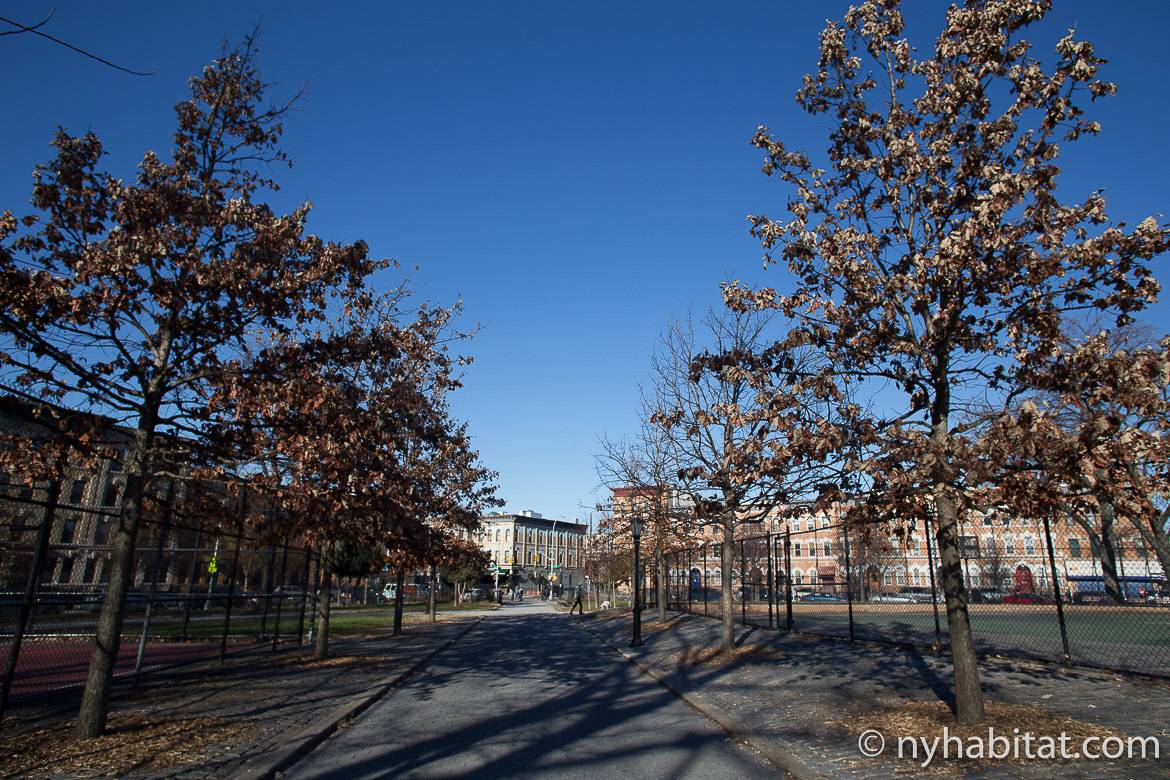 Maria Hernandez Park, the largest in Bushwick, is home to tree-lined paths and two dog runs.
While Bushwick may not be home to any of NYC's top parks, Maria Hernandez Park is a highly appreciated urban oasis for area residents. In addition to the essentials (ball courts, benches, walking paths, etc.), the park is home to dog runs for canines big and small. Bushwick is a neighborhood of dog lovers, so take advantage of a sunny day, grab a coffee, and head to the park for some top-notch dog-spotting!
Where to stay: Live like a local with our apartments in Bushwick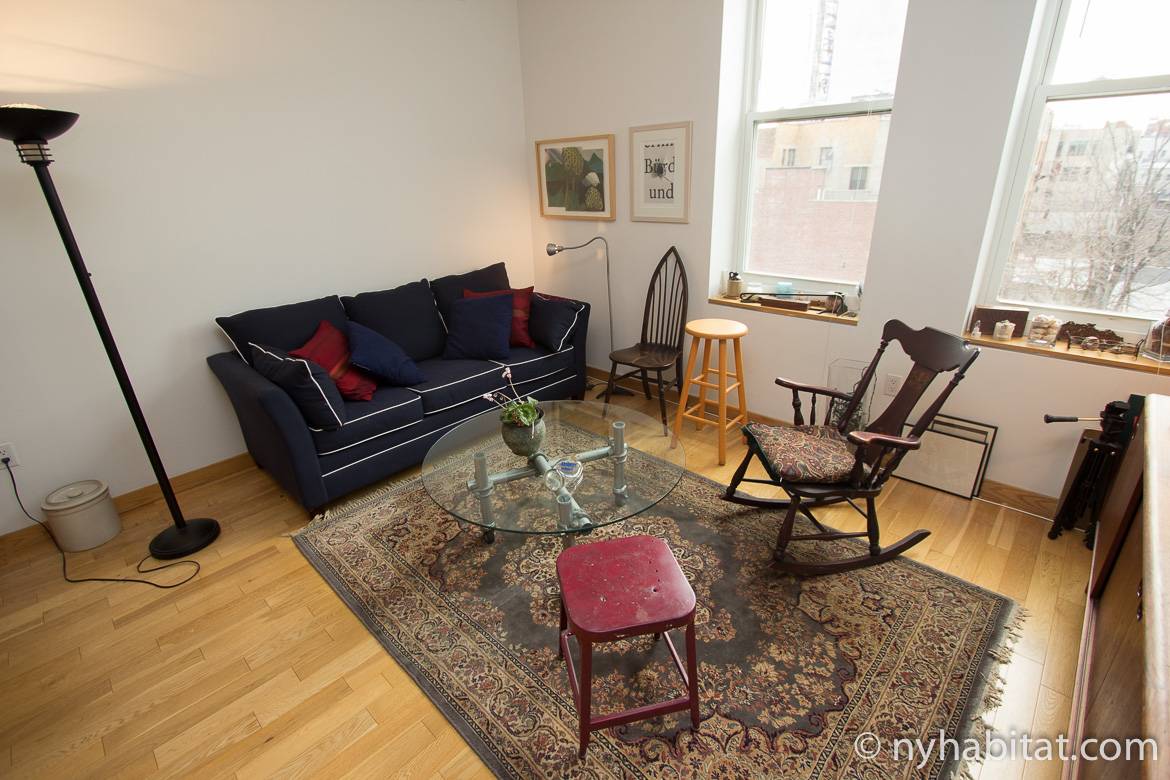 This 1-bedroom in Bushwick is centrally located and offers two floors and a roof terrace.
You'll find this 1-bedroom duplex right around the corner from the park. Between the tastefully decorated living room, full kitchen, and upstairs bedroom, there's a lot to love. There's even a roof terrace for making the most of warm New York summer nights!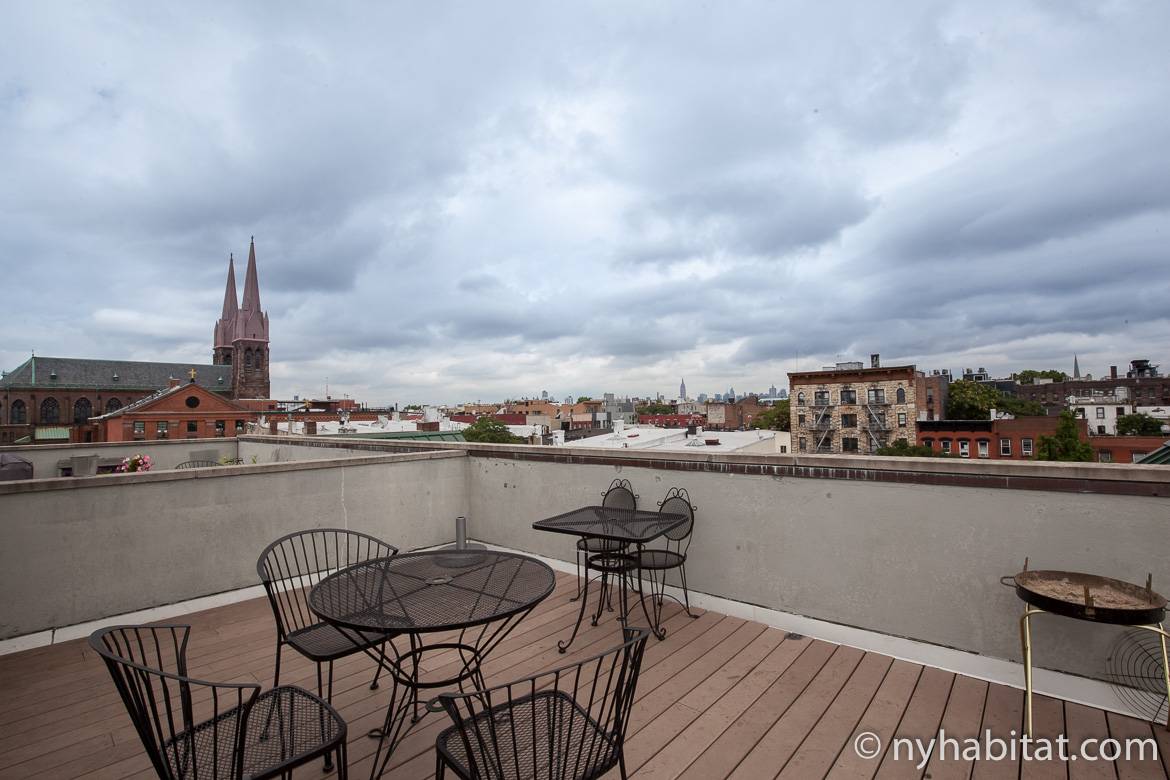 Imagine sitting down with your morning coffee to enjoy this rooftop view!
An even more impressive roof terrace can be found above this 2-bedroom apartment share located on the border between Bushwick and Williamsburg. There's a reason why all the best roof terraces are in Brooklyn. You'll find stunning panoramic views of low-rise neighborhoods, backed by the Manhattan skyline!
Food and nightlife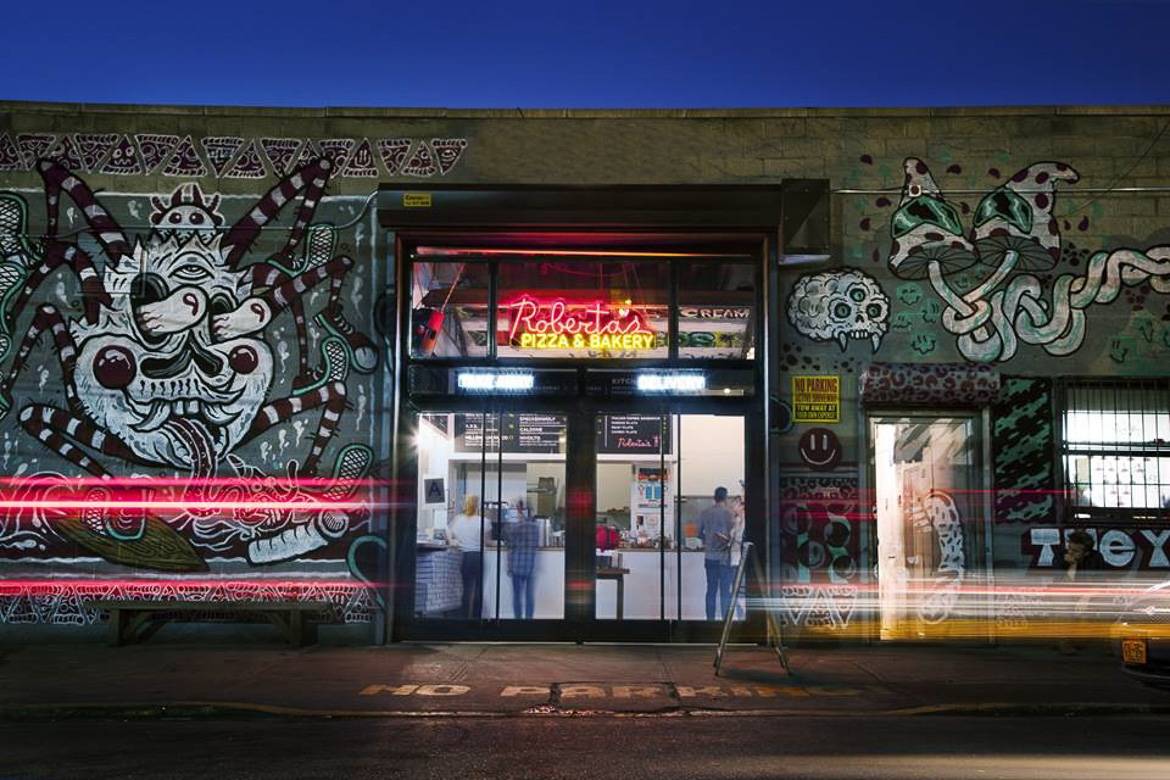 Skip the lines at Roberta's Pizza by turning the corner to their take-out annex.
While Bushwick is primarily residential, its food scene is world-class! Though still predominantly Puerto Rican, the neighborhood is home to much more than just Latin American cuisine. Take a look at some of the options available:
Roberta's Pizza is first on any list of Bushwick eateries thanks to visits from celebrities ranging from Beyoncé to the Clintons. The pizzeria (considered by some to be among New York's best pizza spots) serves up small pies packed full of flavor, so go with a group and share a few pies to make the most of the experience! Heads up: the wait for a table can be two to three hours at times, so be prepared to spend some time at the indoor/outdoor bar.
The Bushwick food scene doesn't get much more local than the tacos offered at Tortilleria Mexicana Los Hermanos, a tortilla factory and taqueria just off the Jefferson Street stop.
The Tortilleria isn't the only Bushwick factory/food shop combination. Visitors with a sweet tooth should check out Fine & Raw, a local chocolatier on Seigel Street by the Morgan Avenue Station on the L line.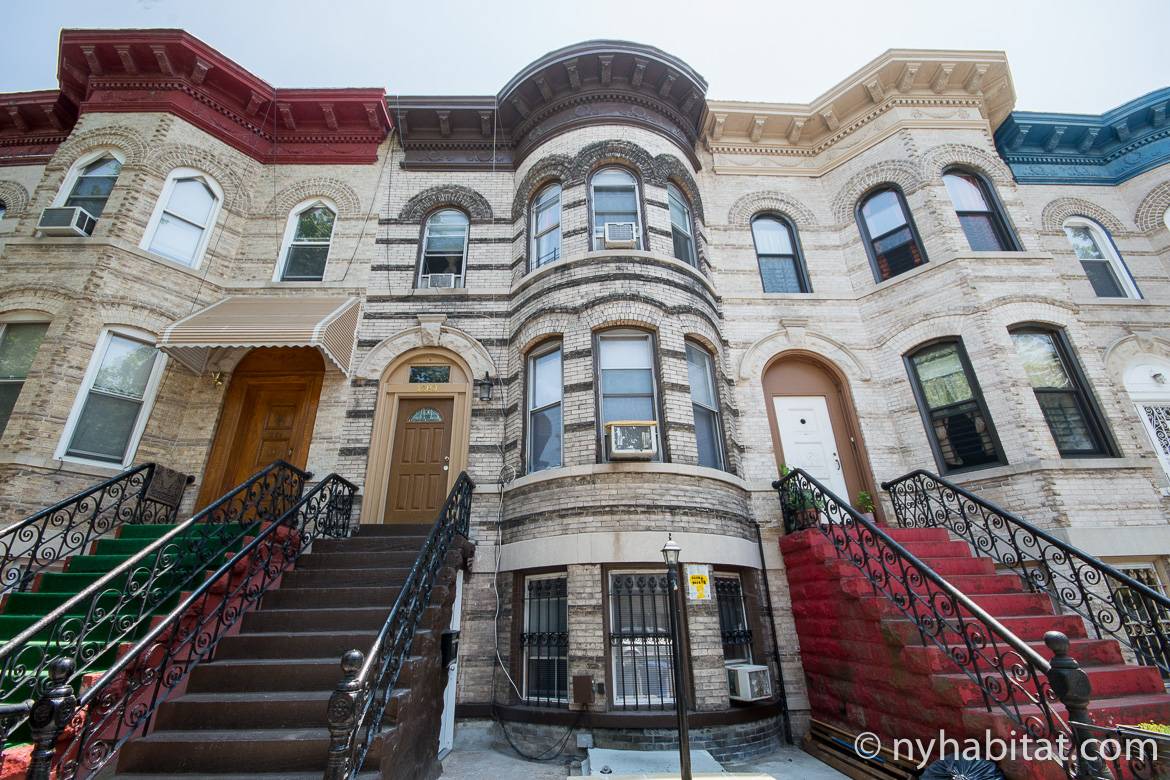 Much of Bushwick is primarily residential, with low-rise buildings lining quiet streets.
Francophiles will fall in love with Mominette, a Moroccan-infused bistro by Maria Hernandez Park, and Le Garage, a recently opened brasserie with a full menu.
Vietnamese food is another French-influenced option if you're looking for a New York spin on global cuisine. There are two restaurants making a splash in Bushwick: Little Mo (located near the Myrtle-Broadway J/M/Z station) and Lucy's Vietnamese Kitchen, an adorable storefront with flavor-packed banh mi and pho near the L and M trains at Myrtle-Wyckoff Avenue station.
Finally, there's Bushwick's active nightlife scene, with options ranging beyond great dive bars and live music. In addition to garden-variety bars and lounges, the neighborhood offers one-of-a-kind music spaces that recall the New York nightlife of yesteryear. A perennial favorite is Silent Barn, an artist-run collective with a DIY art space and music venue that includes an outdoor garden at Bushwick Avenue and Jefferson Street. Two other great options are Radio Bushwick off the Jefferson Street L train station, and Lone Wolf, which took over the space from the more atmospheric Goodbye Blue Monday. One final, quirkier venue is House of Yes, a burlesque and circus performance space for an unforgettable night out in Brooklyn!
Shopping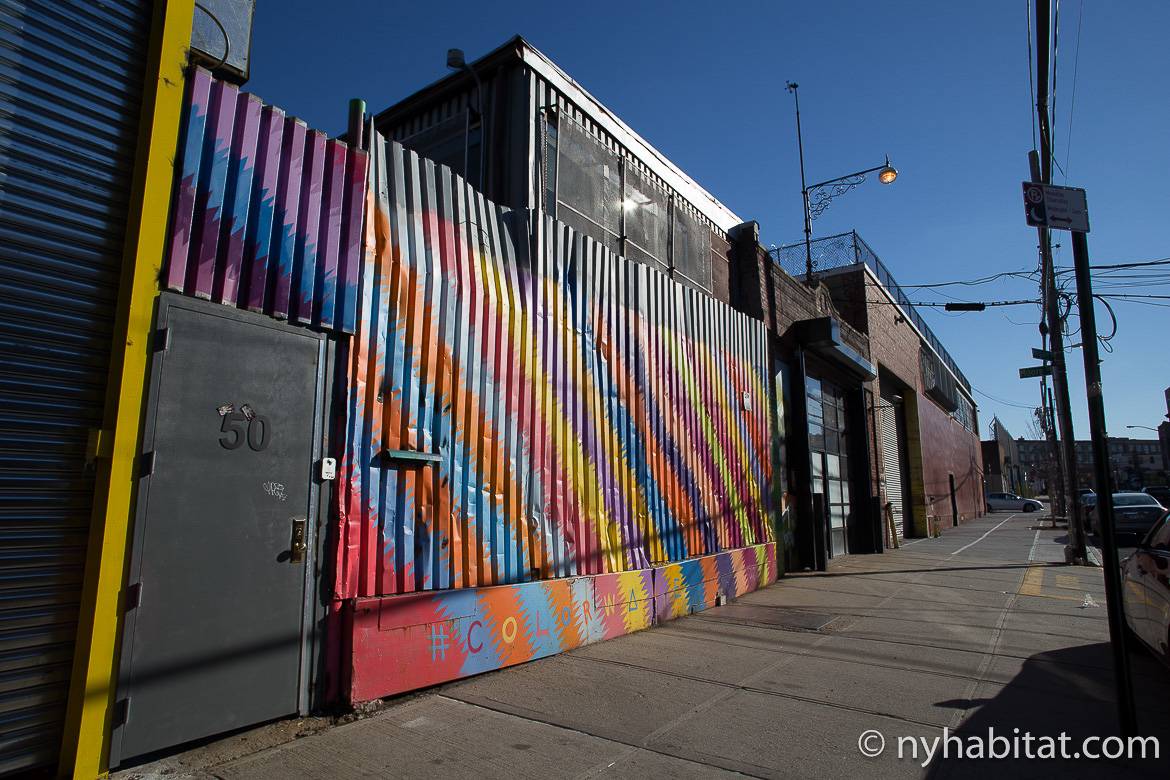 Bushwick's shopping options may be edgy, but they compensate with color and charm!
Thankfully, Bushwick hasn't yet attained the Williamsburg-level saturation of major shopping spots; there isn't an Urban Outfitters in sight! Instead, bargain hunters can rejoice at the abundance of thrift stores in the area: Urban Jungle, Fox & Fawn, and L Train Vintage, to name a few. They're joined by the Mobile Vintage Shop, an airstream trailer home to a unique miniscule collection of secondhand goods, in a cluster around the Morgan Avenue station.
If vintage stores bore you, fear not! There is plenty of other great shopping to enjoy in Bushwick. For one, the area is a mecca for oddball bookstores like Catland, a metaphysical shop on Flushing Avenue. New and used books are also available at Molasses Books on Hart Street around the corner from Maria Hernandez Park, and Human Relations on Flushing Avenue. Comic book lovers can get their fix too, thanks to Vinyl Fantasy, a pint-sized yet comprehensive shop also selling records and located on Knickerbocker Avenue. Closer to Williamsburg, Human Head has a larger record collection for LP fanatics.
If Bushwick sounds like the kind of neighborhood in which you'd like to live, take a look at our vacation rentals and furnished apartments. We have locations from the Williamsburg border to the end of the L train and beyond! Wherever you end up staying, we hope that you'll find our guide a useful starting point for your Brooklyn adventures.