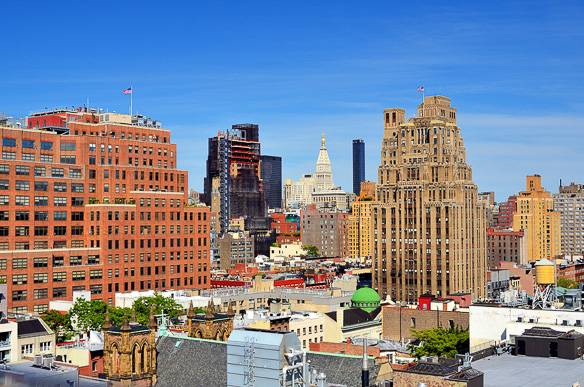 Chelsea in Midtown Manhattan
Manhattan has many fantastic neighborhoods to stay during holidays (or long visits!) in New York City. One of the most central, beautiful, artsy and exciting of these neighborhoods is Chelsea. Its central location and close proximity to many of New York's best landmarks makes Chelsea an ideal destination for a holiday to New York! Chelsea is also a largely residential neighborhood, making it a great option for travelers seeking long-term rentals.
Welcome to Chelsea
Chelsea is a neighborhood in Midtown Manhattan bordered by Hell's Kitchen to the north, the Flatiron District to the east, the Meatpacking District to the south, and the Hudson River to the west. The western area of the neighborhood houses many of New York City's great art galleries, as well as the famous park The High Line. Chelsea includes fantastic theaters, shops, and a thriving gay scene. Furthermore, there are several top-rated restaurants and food markets in the area.
Go Shopping in Chelsea
Living in Chelsea, you don't have to look far to go shopping – basically every big avenue in the neighborhood is lined with shops! Sixth Avenue offers various boutiques, Seventh Avenue presents big chain stores, Eighth Avenue has some great LGBT-centered shops, and Ninth Avenue includes numerous restaurants. Both 14th Street and 34th Street are main shopping hubs. The following are some of our favorite spots to go shopping: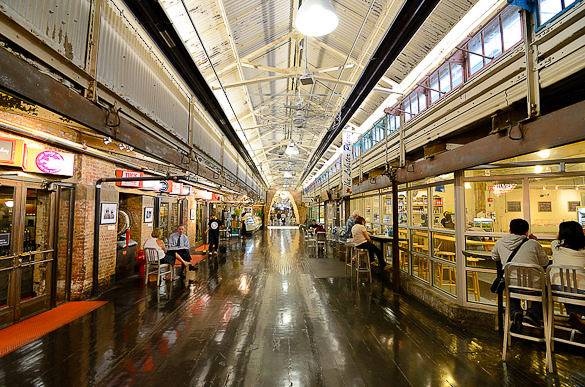 The food court of the famous Chelsea Market in Manhattan
Chelsea Market is probably the area's most famous shopping mall / food court. The huge market is located in a building that used to be a factory for the National Biscuit Company (which, incidentally, invented the Oreo cookie here) on 9th Avenue & 15th Street. You can buy all sorts of fresh produce at the food court, including local delicacies.
In the uttermost northeast corner of Chelsea you'll find the Manhattan Mall, a big shopping mall that houses big chain stores such as H&M, Victoria's Secret and JC Penney.
Just 2 blocks from the Manhattan Mall you'll find the flagship store of Macy's on Herald Square. Even if you aren't looking to spend money, Macy's beautiful window displays are worth a visit.
For an offbeat shopping experience, pay a visit to the Limelight Shops. This mini shopping center is located in a church, which housed a famous nightclub in the 80's and 90's before it was renovated and turned into a mall. The Limelight Shops offers different clothing stores, and the interesting interior is definitely something to see.
Even though it's not technically part of Chelsea, we still wanted to mention Eatalyon 5th Avenue & West 23rd Street. This great Italian food market offers fresh produce, Italian espresso, Italian wines and so much more.Eataly also has a small restaurant inside the food court where you can enjoy some of the best Italian pizza and pasta in town.
Chelsea Cafes, Restaurants and Bars
Chelsea has a very diverse culinary culture. The area has restaurants offering food from all over the world and also boasts some of the best bakeries and original bars in town. Some of our favorites include the following: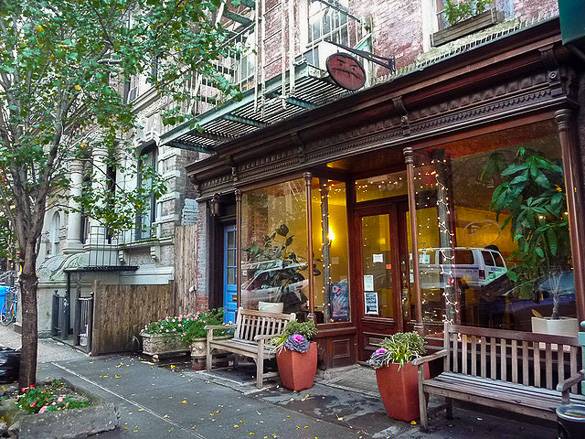 Get a great cup of coffee at Café Grumpy on 20th Street & 7th Avenue in Chelsea
If you can't make it to Eataly,
Ninth Street Espresso
(inside Chelsea Market) offers delicious coffee, cappuccinos and espressos. For the perfect accompaniment to your coffee, head to
Amy's Bread
, which is also located inside Chelsea Market. Amy's Bread has some of the best sticky buns and bread in town. Other great bakeries in the area include
Billy's Bakery, La Bergamote, The Donut Pub, Vineiro's Pastry Shop, and Koffeecake Corner
. One of our all-time favorite cafes is
Café Grumpy
on 20th Street & 7th Avenue, featured on the hit HBO show
Girls
! Other great cafes in the area include
Blue Bottle, Joe The Art of Coffee, Stumptown, and Le Grainne Café
.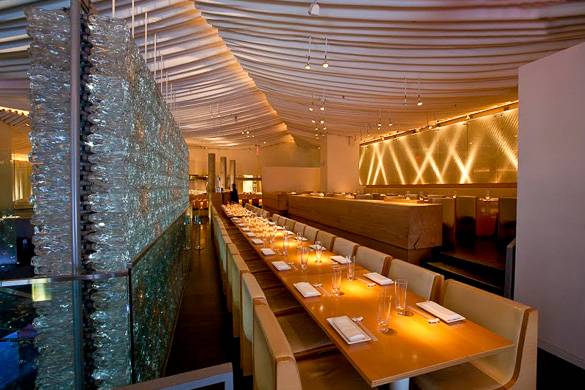 The striking interior of Morimoto in Chelsea

Boqueria on 19th Street & 6th Avenue is technically part of the Flatiron District, but its tapas and wines are so good we just had to include it. Le Singe Vert just two blocks west of Boqueria has some great French fare. Elmo, on the same block and Le Zie, just one block over are also very good. For a truly special night out, head to Morimoto on 16th Street & 10th Avenue for some amazing Japanese cuisine. Be sure to make a reservation to avoid disappointment!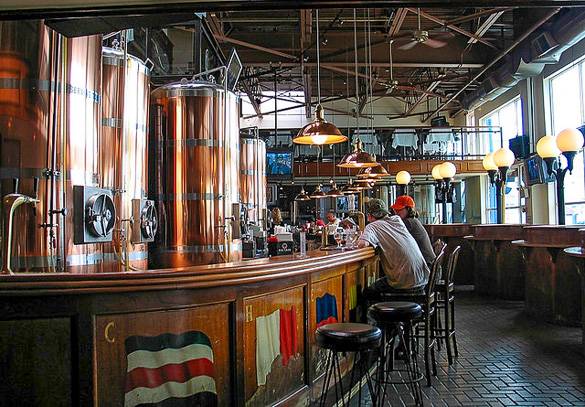 The Chelsea Brewing Company on Pier 59
To try one of New York's own beer breweries, head to the
Chelsea Brewing Company
on Pier 59. Here you can taste great NYC beer while enjoying a gorgeous view of the marina. To stick with the nautical theme, head to
The Frying Pan
on Pier 66. This bar is actually located on a historic lightship, and offers some great views of the Hudson River.
Stay or Live in Chelsea
When you're visiting New York for the holidays, Chelsea is a great place to stay and explore Manhattan. We have some great vacation rental apartments available in Chelsea, so have a look!
When you're coming to New York for a longer period, you can stay in a Chelsea furnished apartment to truly experience New York City like a local! You'll have your own kitchen to try out the local delicacies bought at the Chelsea Market, as well as plenty of great neighborhood restaurants to choose from.
What to See and Do in Chelsea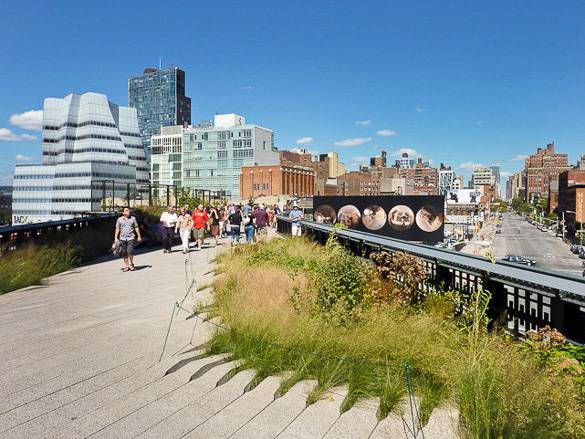 The High Line Park in Chelsea, Manhattan. Photo by Francois Roux
Chelsea is a captivating neighborhood to explore – there's so much to see and do! One attraction that's an absolute must-visit is
The High Line Park
. This modern park was built on a section of a former railroad. The elevated greenway offers great views of Chelsea and the Hudson River. It's also a great place to relax, have a picnic and meet people. The High Line runs from Gansevoort Street in the Meatpacking District all the way up to 30th Street between 10th Avenue and 11th Avenue.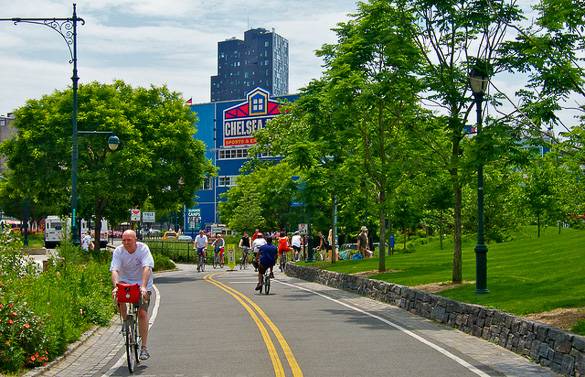 The Hudson River Park with Chelsea Piers in the background
Another great park in the area is the
Hudson River Park
, which runs along the banks of the Hudson River. Between 17th Street and 22nd Street along the Hudson River you'll find the huge sports complex
Chelsea Piers
. Here you can try any number of sports, including rock climbing, golf, basketball, gymnastics and more. If you like water sports, make sure to pay a visit to the Hudson River Community Sailing on Pier 66, where you can rent a kayak and learn how to sail. If you prefer to watch sports rather than participate, pay a visit to
Madison Square Garden
on 8th Avenue and 33rd Street. The world's most famous arena is home to the New York Knicks, and also hosts big concerts and other sporting events year-round.
For some great cultural experiences, visit the Chelsea Art Museum, the Museum at the Fashion Institute of Technology or one of the many galleries in the neighborhood. The Chelsea Flower Market is also a charming place to visit.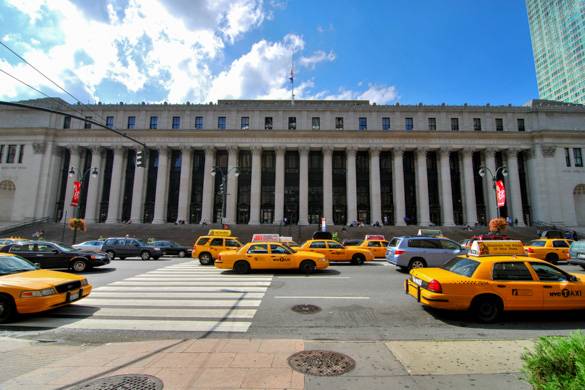 The impressive James A. Farley Post Office in Chelsea, Manhattan
Lastly, some of the historic landmarks in the neighborhood include the
Joyce Theatre, Empire Diner
(now closed), the
Church of the Holy Apostles, and the James A. Farley Post Office building
. The impressive Post Office building covers two whole blocks between 8th & 9th Avenue and 31st & 33rd Street, and is over 100 years old. The building has been repurposed to become a train station, and will attach to the already existing Penn Station right next door.
To get a sense of what it's really like to walk the street of Chelsea, check out our Video Tour of Chelsea Part 1 and Video Tour of Chelsea Part 2.
We hope you've enjoyed this small guide to Chelsea! Have you ever been to the High Line?