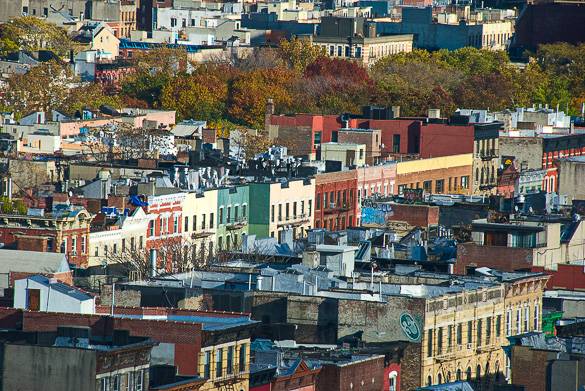 East Village rooftops in Manhattan. Photo by John Weiss.
Mix up trendy cafes with grungy bars, busy New York streets with peaceful community gardens, add a touch of bohemian spirit and you'll find yourself in Manhattan's East Village! The East Village is set among many of Manhattan's most famous neighborhoods, and as such it provides the perfect base to explore Manhattan from. When you decide to stay in the East Village during a visit to Manhattan, you'll never want for things to see or do: the neighborhood offers some of the best in dining, shopping & nightlife!
Welcome to Manhattan's East Village
The East Village is set among some of the nicest neighborhoods in Lower Manhattan. It's bordered by 14th Street and Gramercy to the north, 4th Avenue and Greenwich Village to the west, East Houston Street and the Lower East Side to the south, and the East River to the east. Formerly home to many immigrants, the East Village developed a new identity after the Beatniks moved into the neighborhood in the 1950s. Artists, musicians and hippies followed soon after, and the East Village became the birthplace of artistic movements such as punk rock. Famous bands such as the Ramones performed for the first time at the legendary East Village nightclub CBGB, and artists such as Andy Warhol displayed art installations in the neighborhood. Towards the end of the 20th century the musical Rent portrayed the life of struggling artists in the bohemian East Village.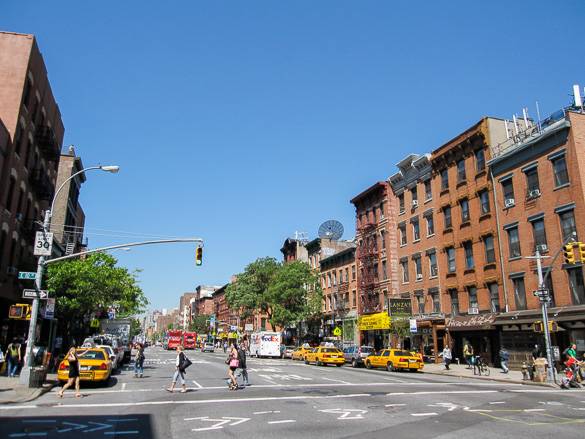 Typical street in the East Village, Manhattan
Nowadays, the gentrified neighborhood offers fantastic restaurants, cozy cafes and artsy boutiques. The East Village is a sought after area to live, and showcases many community projects such as community gardens. Because of its central location between Lower Manhattan and Midtown Manhattan it is a great place to stay during a visit to the city. There are three subway lines that run along the borders of the East Village: the 4 & 6 line, the F line, and the L line. The latter will take you to the new artistic hub of New York City, Williamsburg in Brooklyn, in just 1 stop. Check out our
video tour of the East Village
to get a sense of the neighborhood.
In this article we'll introduce you to the East Village and show you what it's like to live in this amazing bustling New York City neighborhood like a local!
Go Shopping in the East Village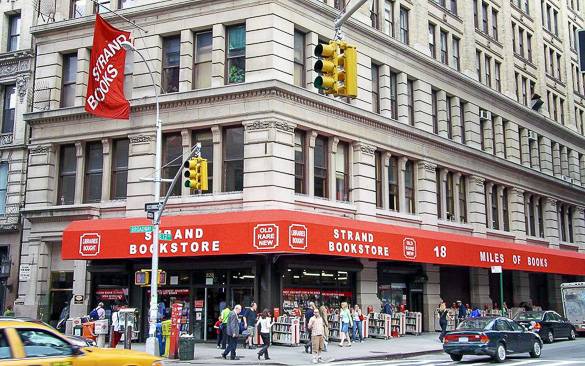 Strand bookstore near the East Village in Manhattan
Along 1st Avenue, 2nd Avenue & 3rd Avenue you'll find many of the East Village's fantastic specialty shops, as well as some department stores and chain stores. For boutique shops and specialty food stores, head to 7th Street, St Marks Place and 8th Street. There are simply too many great shops in the area to list here, but the following are some of our favorites:
Technically just outside the neighborhood border, we felt we had to include two of New York City's absolute best bookstores: Strand and Forbidden Planet. Both are located on Broadway between 12th & 13th Street (on the block that borders 4th Avenue on the other side). Strand is a huge bookstore selling everything from new to old to even out of print books. Forbidden Planet is the go-to store for comic book fans. Besides comic books the store also offers a great selection of merchandise.
Dinosaur Hill on 9th Street & 2nd Avenue is a wonderful toy store that will delight both young and old. Toy Tokyo and Alphabets are two other great toy stores in the area.
If you're looking for a nice department store in the area, Nordstrom Rack on 14th Street (on Union Square) offers great designer clothing and shoes at very reasonable prices.
However, the East Village is better known for its fantastic small clothing shops and vintage clothing stores. For amazing vintage designer clothes, head to Tokio 7 on 7th Street & 1st Avenue. Buffalo Exchange on 11th & 1st is another great vintage store and even more affordable. Fans of Punk Rock should definitely check out Trash and Vaudeville on St Mark's Place. No Relation Vintage, Cadillac's Castle and Sustainable NYC are other great finds in the area.
Lastly, there are three amazing food markets in the area where you can buy fresh produce. The most famous of these is of course the Union Square Greenmarket, but the Tompkins Square Greenmarket (open on Sundays) and St Mark's Church Greenmarket (open on Tuesdays) are also great.
Cafes, Restaurants and Bars in the East Village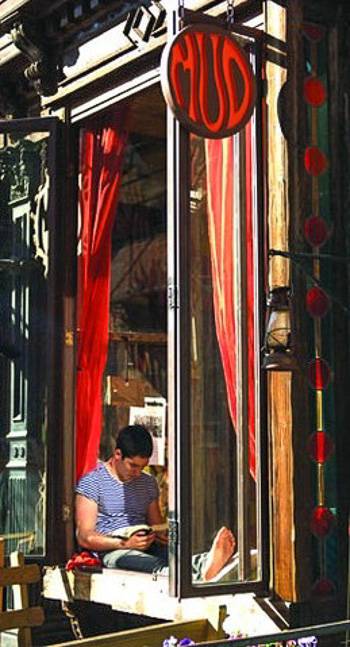 Head to MUD in the East Village for a great New York brunch
When you're living in the East Village, you're never short of new cafes or restaurants to try out. The neighborhood is simply brimming with the best culinary establishments and cute cafes. Generally speaking, you'll find that most of the cafes, bars and restaurants are located on Avenue A, 1st Avenue, 2nd Avenue, 7th Street, St Mark's Place and 9th Street. You would need about ten different blog articles to list all of the great restaurants, cafes and bars in the East Village, so keep in mind that the following is just a taste of what the East Village has to offer.
The East Village is heaven for coffee addicts. Head to Everyman Espresso on 13th Street for delicious espressos and to Ninth Street Espresso on 9th & Avenue C or Abraço on 7th & 1st for simply amazing coffee. For something different, try a delicious bubble tea at the take-out café TKettle on St Mark's Place. If desserts are more your thing, head to Spot Dessert Bar on St Mark's Place or Chikalicious Dessert Bar on 10th Street. Paradis To-Go on 11th & 4th has the best tiramisu in the area. MUD on 9th & 2nd is a great place for brunch.
You can't go to New York City and not try a pizza. At 2 Bros Pizza on St Mark's Place you can get a typical New York pizza slice for just one dollar. For something a little different, head to Artichoke Basille's Pizza on 14th Street. This little hole in the wall definitely lives up to the hype! For simply amazing burgers, head to Mark on St Mark's Place. If healthy food is more your thing, stick to the same street and head to Hummus Place for amazing falafel, hummus and pita bread.
The East Village also has many amazing options for fancier dining. Pylos on 7th & Avenue A is an amazing Greek restaurant with a unique atmosphere. The Mermaid Inn on 6th & 2nd Avenue is the place to go for fresh oysters and delicious seafood. Prune on 1st between 1st & 2nd Avenue is a great place for lunch, but prepare for a line. The Redhead on 13th & 1st is a great traditional American bar and restaurant.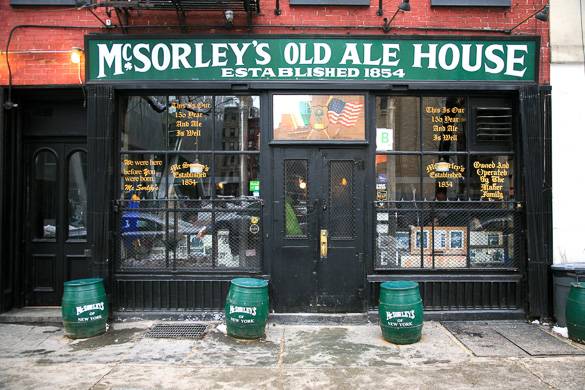 McSorley's Old Ale House in the East Village is the oldest Irish tavern in New York City
Angel's Share on Stuyvesant Street is a speakeasy-style bar that serves delicious cocktails. If you're more of a beer fan, McSorley's Old Ale House on 7th & 3rd is a great dive bar with just two choices of beer: light or dark. This is also the oldest Irish tavern in New York City! Sake Bar Decibel on 9th & 2nd is a great Japanese bar that offers, unsurprisingly, delicious sake. Keybar on 13th & Avenue A is a proper bar with a relaxed vibe that offers great happy hour deals. Check out
The Best Deals in the East Village
for more daily deals and happy hours at bars in the area.
Live Like a Local in the East Village
When you're coming to New York City for a holiday, staying in the East Village will guarantee an amazing time! Check out our vacation rental apartments in the East Village to see how you can stay in this awesome neighborhood in style.
If you truly want to experience all that the East Village has to offer, you'll want to stay in the neighborhood for a longer period. You can rent our furnished apartments in the East Village for a month or longer, so you'll have plenty of time to discover all the amazing cafes, restaurants and bars in the area! And if you're a student or intern looking for an affordable place to stay, check out these rooms for rent in the East Village.
What to See & Do in the East Village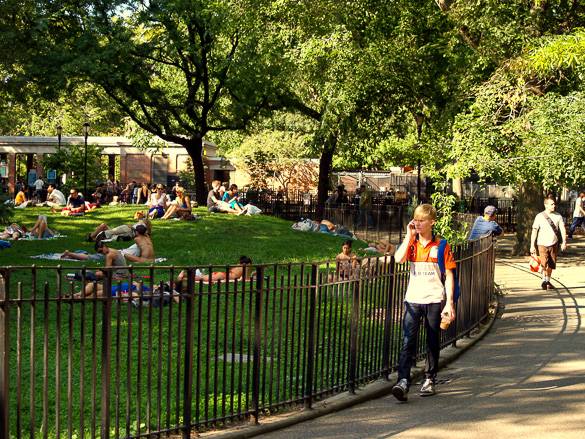 Enjoy a picnic in Tompkins Square Park in the East Village, Manhattan
Tompkins Square Park is the heart of the neighborhood, and a lovely park through all the seasons. The park is great for a picnic with friends and features several quiet lawns. The East River Park is a nice place for outdoor activities such as jogging, as there's a promenade that runs along the East River. The East Village is also well known for its many amazing community gardens. There are over 60 in this neighborhood alone! Check out the Avenue B Garden, 6th Street Garden, La Plaza Cultural and Toyota Children's Learning Garden.
You can also find several New York City landmarks in the neighborhood, such as the Cooper Union, one of the most prestigious colleges in the world, and the New York Marble Cemetery, a historic cemetery without any gravestones. Furthermore, the East Village boasts many museums, such as the Museum of Jewish Heritage, Museum of Reclaimed Urban Space, New Museum of Contemporary Art, and the Ukrainian Museum.
Lastly, there are still some amazing cultural institutions in the area, specifically along Bowery on the western border of the East Village: the Bowery Ballroom, Bowery Lane Theatre and the Bowery Poetry Club.
We hope you've enjoyed this introduction to the East Village! What's your favorite neighborhood in New York?