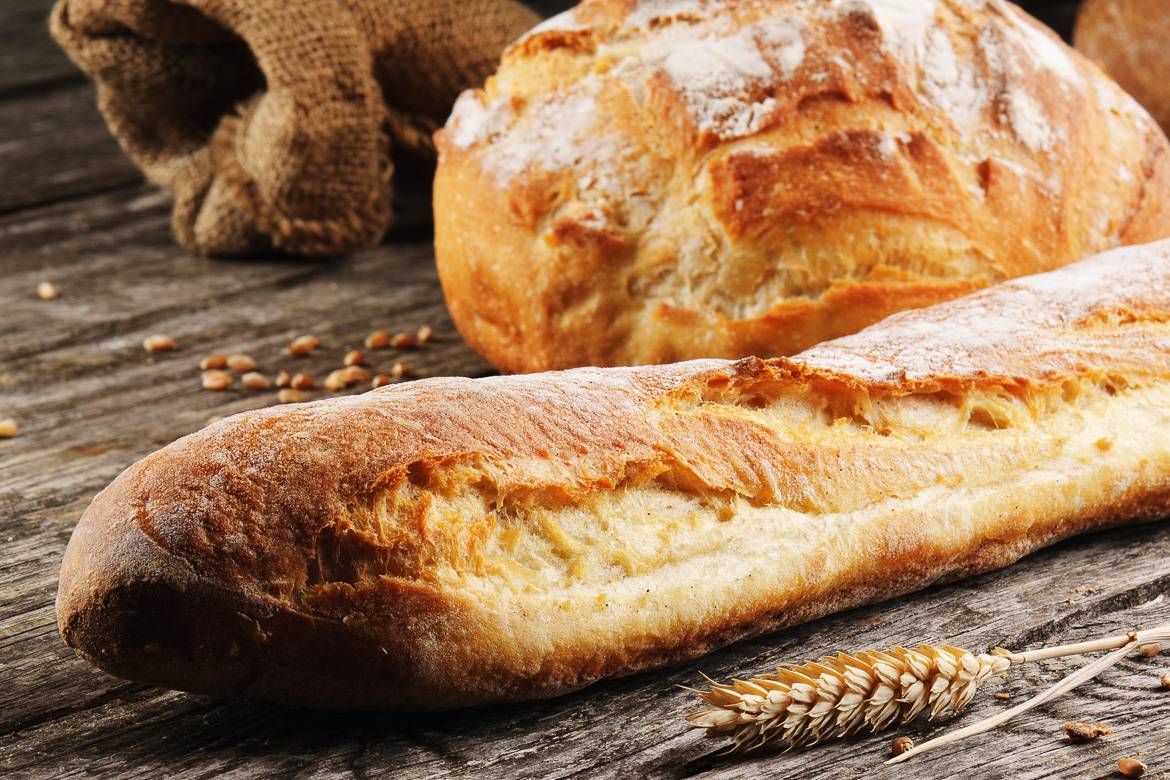 A typical French baguette and bread in Paris
France without bread is like a Paris without the Eiffel Tower. When it comes to baguettes and croissants, there is no equal to France's famous bakeries, which are better known as boulangeries. It's important to know the difference between a boulangerie and a patisserie. While a patisserie is a bakery specializing in pastries, and headed by a pastry chef, a boulangerie is a bakery that focuses mainly on baking breads. There's also a difference between a boulangerie and an artisanal boulangerie: the latter indicates that all the bread is being baked fresh on the premises.
In this article, we've gathered our top 10 bakeries in Paris. You'll find that some are combinations of a patisserie and a boulangerie, while others focus only on baking bread. What they all have in common, however, is some of the most delicious breads in Paris and perhaps even the world!
1. Le Grenier à Pain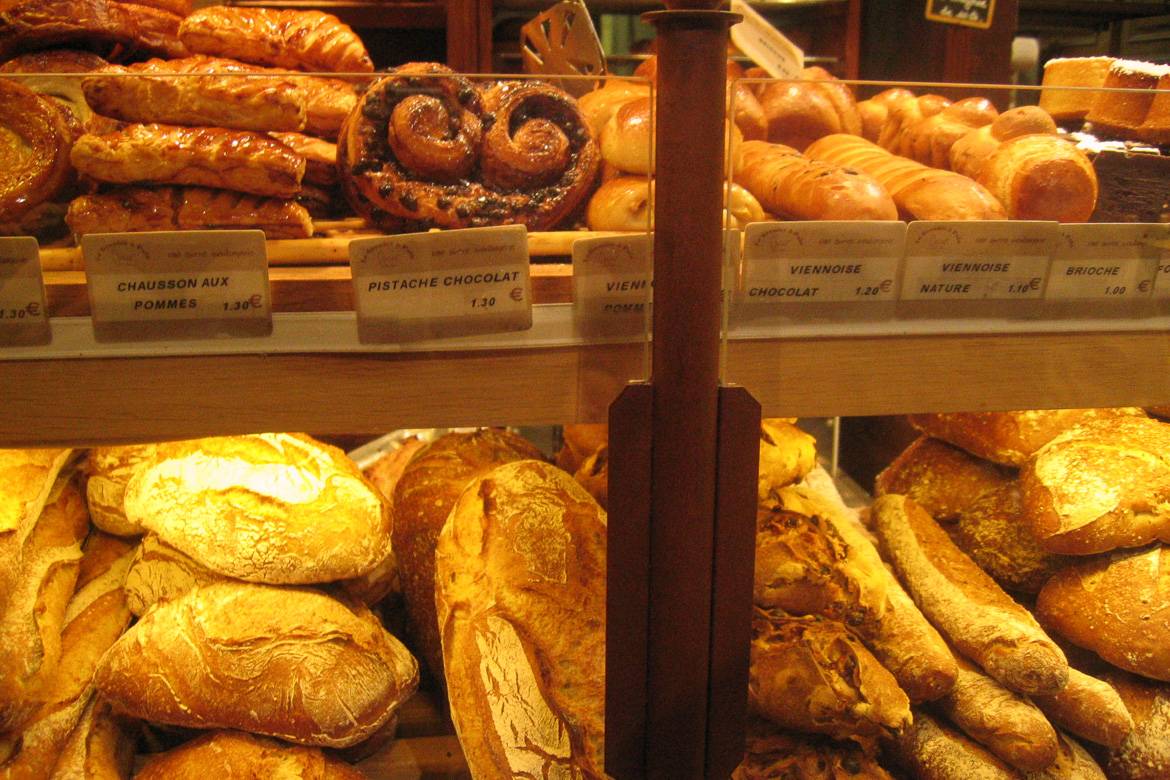 An assortment of breads and pastries at Le Grenier à Pain in Paris. Photo: Frédérique Panassac
This bakery was the winner of the Grand Prix de la Baguette de la Ville de Paris, or in other words: the best baguette in Paris in 2010. Le Grenier à Pain has several locations across Paris, but the winning shop is located on Rue Abbesses in Montmartre, which is unsurprising as almost every year it's a Montmartre bakery that wins the prize for best baguette. The bakery is headed by the internationally renowned baker Michel Galloyer, who is also an excellent pastry chef. So if you have a sweet tooth, we definitely recommend trying the chocolate tart, which is delectable!
2. La Flûte Gana
Baking in Paris is often a family business, and this is clear when you step into La Flûte Gana on the corner of Rue des Pyrénées & Rue Orfila. This bakery is run by the three daughters of the famous baker Bernard Ganachaud. The recipe for his traditional baguette has been passed down through generations, so it's definitely something to try! Furthermore, the croissants aux amandes, which are croissants with an almond-cream filling, are simply delicious. The bakery is just two blocks away from the beautiful Père Lachaise Cemetery, leaving you time to work up an appetite with a stroll through the peaceful gardens and head to La Flûte Gana afterwards.
3. Du Pain et des Idées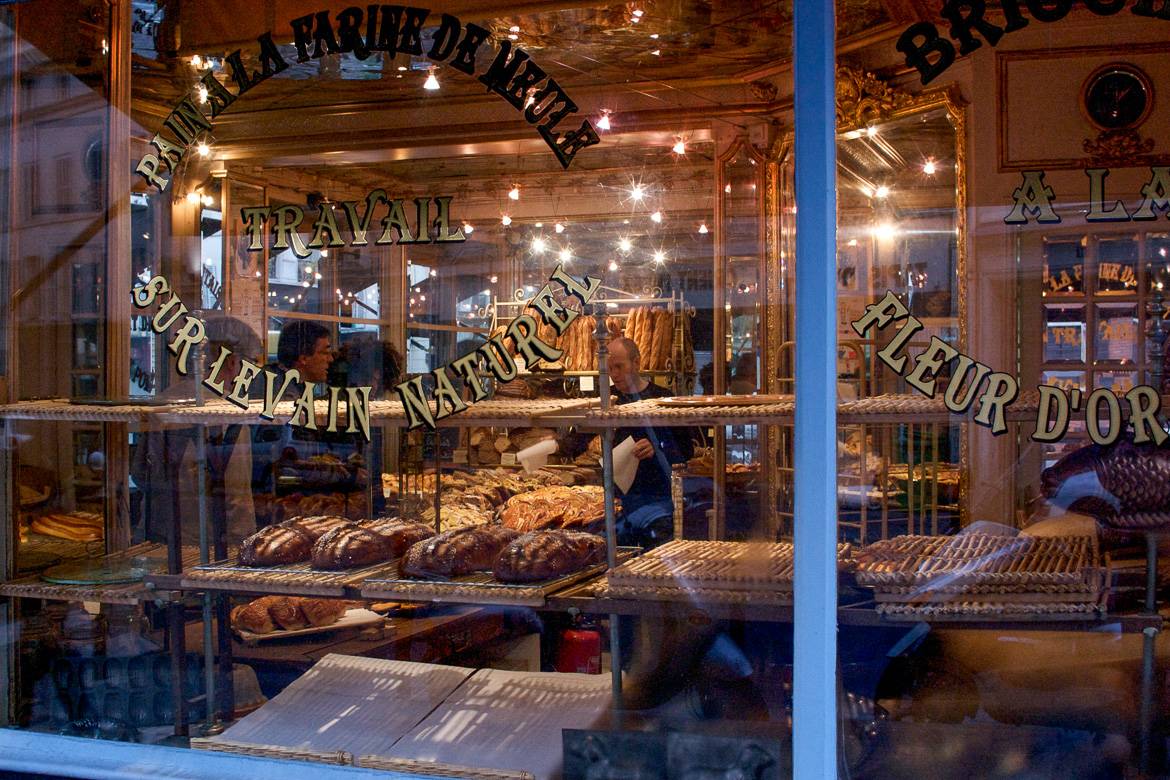 Peeking inside at the traditional Paris bakery Du Pain et des Idées. Photo: Kevin Walsh
This bakery opened in a historic building on the corner of Rue Yves Toudic & Rue de Marseille in 2002, and is one of the newer bakeries of this list. It is run by Christophe Vasseur, and you can really taste the passion he has for this traditional trade in his creations. His escargot pastries are divine, and if you can just try one get the l'escargot chocolate pistache (incidentally, escargot in this case refers to the shape of the pastry, and has nothing to do with snails!). Le pain au chocolat (croissant with a chocolate filling) is a true classic and another favorite. The bakery is located just off the picturesque Canal Saint-Martin, so you can order them to go and enjoy them while sitting by the waterside.
If you cannot get enough of pastries, check out our Top 10 Pastry Shops in Paris!
4. Blé Sucré
This little gem is the bakery of acclaimed pastry chef Fabrice Le Bourdat. Don't let this fool you though: the breads here are as good as the pastries! The traditional croissant is exactly as it should be: slightly buttered and crunchy on the outside, and fluffy and flaky on the inside. For fans of cakes and cookies, the fresh orange glazed madeleines will be an extraordinary treat. Madeleines are small sponge cakes in the shape of a shell. You'll find Blé Sucré on the Rue Antoine Vollon right next to the Square Armand Trousseau.
5. Jean Millet
This quaint bakery on Rue Saint-Dominique & Rue Malar is also a café, and has been a neighborhood staple since 1963. It's currently headed by pastry chef Denis Ruffel, and is said to serve one of the best pains au chocolat in Paris. The croissants amandes (almond croissants) are also really delicious. The shop is located close to the Champ de Mars and the Eiffel Tower, so this is a great place to sit down with a nice pastry and hot drink after climbing the tower!
The area around Champ de Mars is a wonderful central place to stay during your visit to Paris. Have a look at our vacation rental apartments in the 7th Arrondissement!
6. Maison Landemaine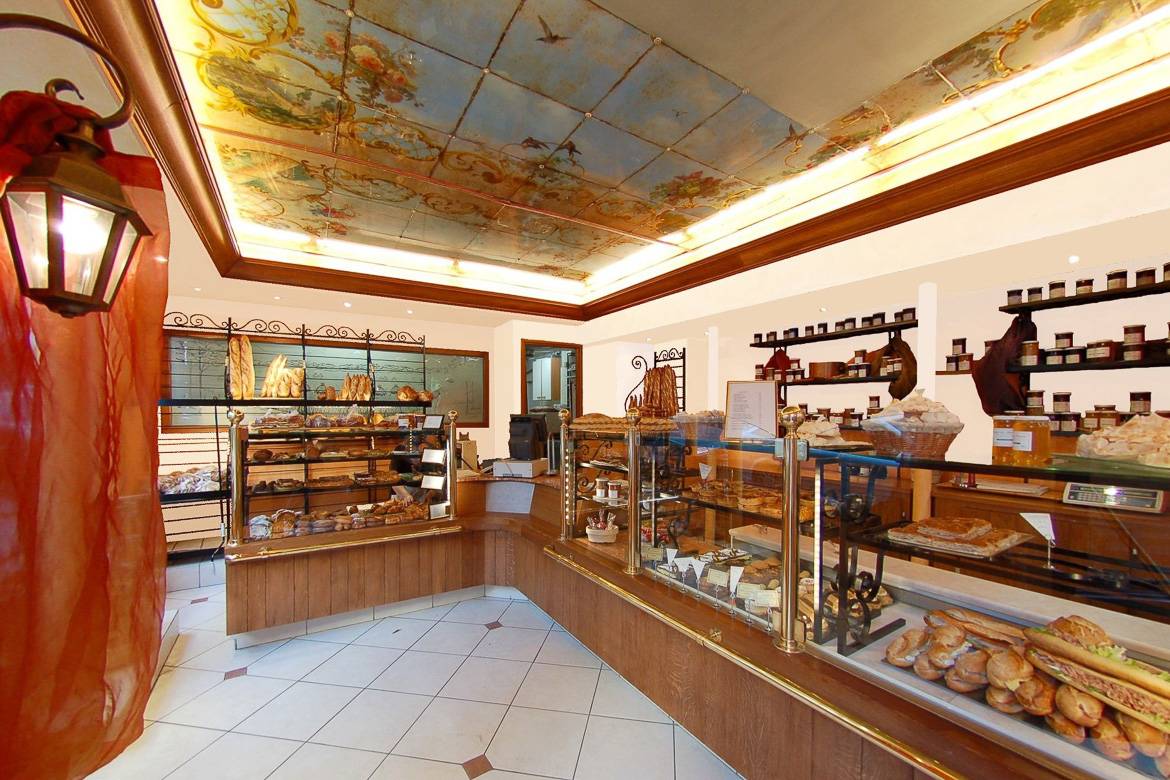 Try the delicious fruit tarts at the bakery Maison Landemaine in Paris
Maison Landemaine is a lovely, relatively new bakery concept with several locations in Paris. The main bakery is located on Rue des Martyrs in Pigalle, and is headed by Rodolphe Landemaine and his wife Yoshimi Ishikawa. They opened their first bakery in Pigalle in 2007 and have been expanding ever since. The shop on Rue des Martyrs is both a boulangerie and patisserie. The fruit tarts are deliciously fresh, and the macarons are really tasty! The Rue des Martyrs itself is a lovely street with many cozy shops, cafes and bakeries. To find out more about the neighborhood, check out our
Video Tour of Montmartre
.
7. Au 140
This bakery is a little out of the way, as it is located on Rue de Belleville close to metro station Jourdain in the 19th Arrondissement. However, the bakery headed by Pierre Demoncy is definitely worth the detour! The palmier (palm tree or elephant ear) is a delicious buttery puff pastry in the shape of a butterfly, and Au 140 makes some of the best in Paris. The bakery also offers a fantastic selection of organic breads. Both the bakery's baguette and the croissant have been contest award-winners, so you can't really go wrong here!
8. Au Paradis du Gourmand
This Rive Gauche bakery on the Rue Raymond Losserand won the best baguette in Paris contest in 2013! That means that baker Ridha Khadher's baguette will be served to President Francois Hollande in the Elysées Palace all year. It also means that there will probably be a line out the door at this bakery for months to come. However, it's worth taking the metro down to Plaisance and standing in line to taste the deliciously crunchy baguette! If you're lucky you'll get one right out of the oven, still steaming and giving off the most wonderful aroma.
9. Laurent Duchêne
While standing outside this bakery on Rue Wurtz & Rue Daviel, note the sign on the door: Meilleur Ouvrier de France. This means that Laurent Duchêne was named the best baker in France! The title is not given lightly, and he gets to retain it for life. Once in the shop you'll immediately notice that the pastries are treated like true works of art. The chocolate éclair is out of this world, and you should definitely try some of the mini-macarons, which are available in flavors such as raspberry, pistachio and lemon!
10. Poilâne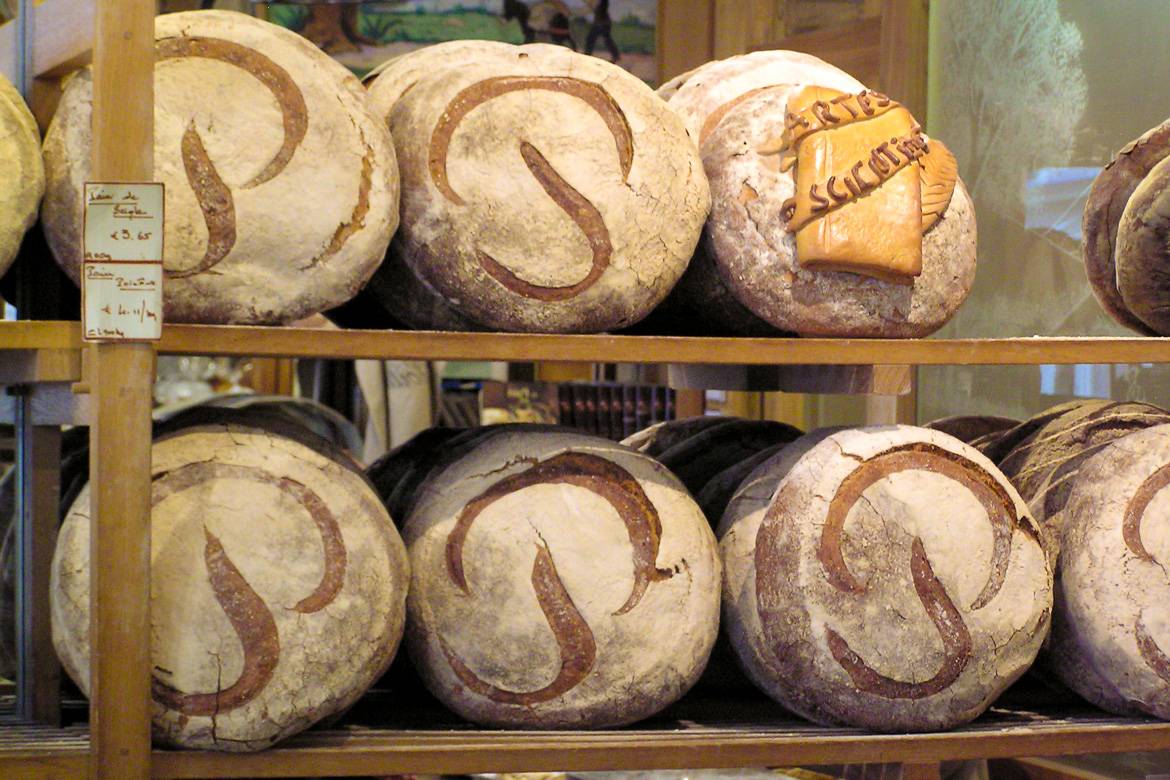 The celebrated sourdough bread at bakery Poilâne in Paris
One of the oldest bakeries of our list, Poilâne is truly something special. The shop was established by Pierre Poilâne on Rue de Cherche-Midi in Saint-Germain-des-Pres in 1932. The sourdough bread is still baked in a wood-fired oven, and you can taste the difference. Besides the bread, the shop also boasts some excellent pastries, such as the very popular apple tart.
Lastly, the list would not be complete without at least addressing Maison Kayser as a bonus. Internationally acclaimed baker Eric Kayser opened this bakery in Paris in 1996, and quickly began to expand his winning formula. Today, there are over 80 Maison Kayser bakeries and they can be found all over Paris, and throughout the world. So if you have a craving for a real French baguette or croissant, there's a good chance you'll find a Maison Kayser location near you!
If you are planning on heading to Paris in the near future, have a look at our Paris vacation rental apartments to find accommodation options in neighborhoods of your choice. These apartments all come with fully equipped kitchens, so you can take your freshly purchased baguette and croissants home for a lovely Parisian breakfast or lunch! And if you're thinking about a longer stay in the city, be sure to check out our furnished apartments in Paris, which you can rent for a month or longer!
We hope you've enjoyed our top 10 bakeries in Paris! Of course, do keep in mind that this is a subjective list, and there are many more fantastic bakeries to be found throughout Paris.
What's your favorite bread in the world?