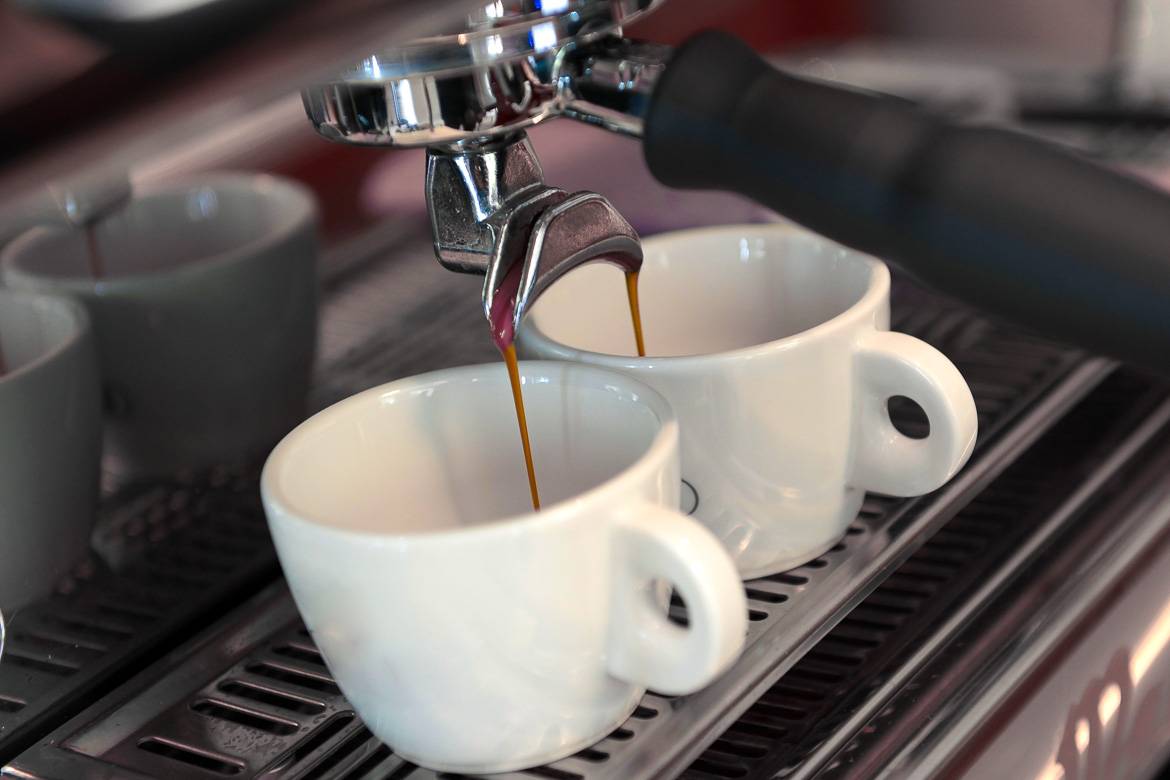 The new wave of coffee culture has taken Paris by storm
It's been a long time coming, but the global coffee culture craze has finally reached Paris! Gone are the old days when traditional bistros served mediocre coffee. In the past few years, specialty coffee shops have begun to open all over the city! This new coffee shop trend is heavily influenced by some of the world's leading coffee regions, such as Scandinavia, Australia, New Zealand, and North America. Baristas from these regions have introduced Paris to new preparation techniques like pour-over and filter coffee alongside fresh coffee beans from the world's best producers and roasters.
In this article, we'll introduce you to some of our favorite new coffee shops in Paris. Keep in mind that the Parisian coffee culture is booming right now, so this is definitely not meant to be a definitive list. With that said, we're sure our favorite 10 coffee shops in Paris will appeal to you during your time in the city!
1. La Caféothèque
La Caféothèque on 52 Rue de l'Hôtel de Ville was one of the first barista-focused coffee shops in Paris. Barista Gloria Montenegro, who was the former Guatemalan ambassador to France, founded the café in 2007 based on her true passion for coffee. She personally selects and visits coffee growers around the globe. Customers will taste her commitment to quality beans in each drink, and the espresso and cappuccino are both brewed to perfection. La Caféothèque is a real Parisian gem: You'll come for the excellent coffee and stay for the friendly baristas and cozy interior.
2. Coutume Café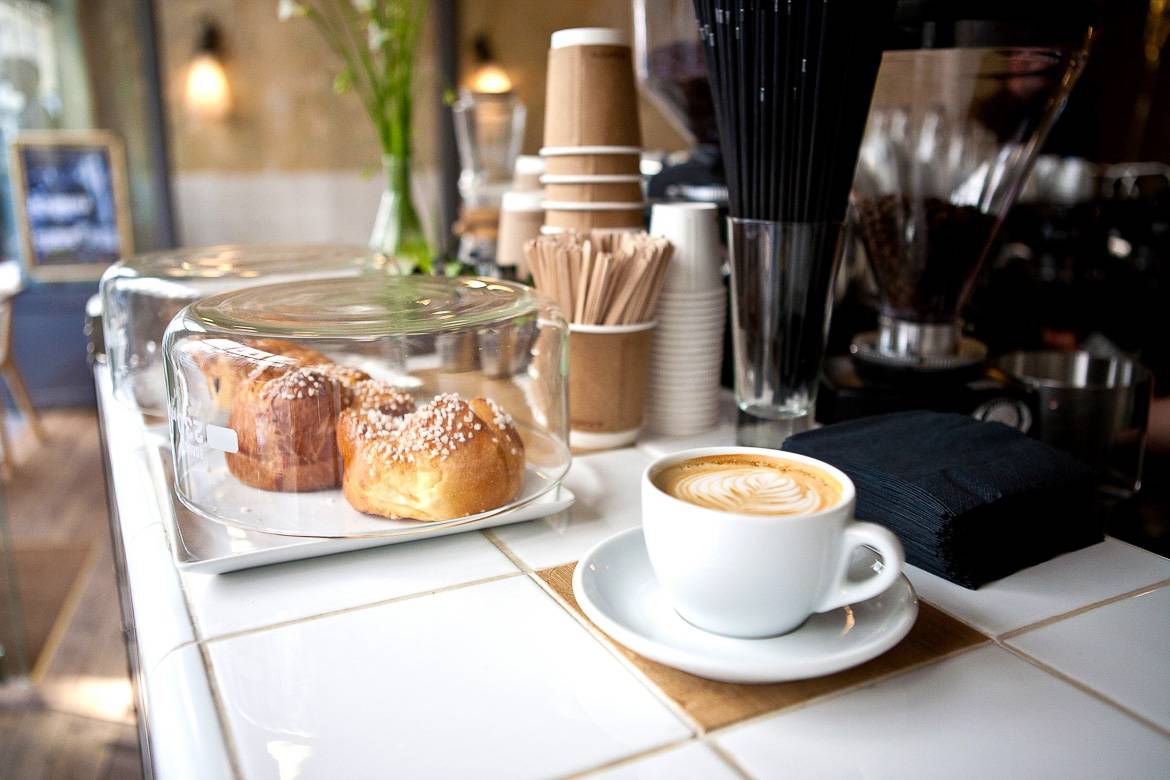 A delicious cappuccino at the Franco-Australian Coutume Café in Paris
Coutume Café is a new-wave coffee shop that serves some of the freshest coffee in town. Beans are roasted right on the premises, and you even get to choose your preferred brewing method! The Arabica beans are ethically sourced and the café has great lunch options to accompany the delicious brews. You'll find the Franco-Australian café on 47 Rue de Babylone in the 7th Arrondissement.
3. Telescope
The minimalist interior of the stylish Telescope coffee shop in Paris
This quaint, no-nonsense café brews a mean cup of coffee. The café at 5 Rue Villedo in the chic 1st Arrondissement is minutes away from the Palais Royal. The palace starkly contrasts the minimalist furnishings of the café, but it's clear that the product is the top priority, which the perfect pour-over coffee doubtlessly proves. The café also serves delicious pastries.
If you're looking for a more extensive selection of pastries, explore our top 10 pastry shops in Paris! After all, the combination of an excellent cup of coffee and a delectable pastry makes for a true Parisian culinary experience.
4. Ten Belles
Ten Belles is a charming coffee shop with a beautiful, airy ambiance. The well-known Parisian barista Thomas Lehoux founded this café to serve quality coffee. The café filtre and café noisette are both excellent, and if you have a sweet tooth, you should pair with a gourmet brownie or cookie. The café at 10 Rue de la Grange aux Belles is just a block from the idyllic Canal St. Martin. On a sunny day, take your coffee to-go and walk the canal to enjoy your beverage while soaking up the sun.
5. Café Lomi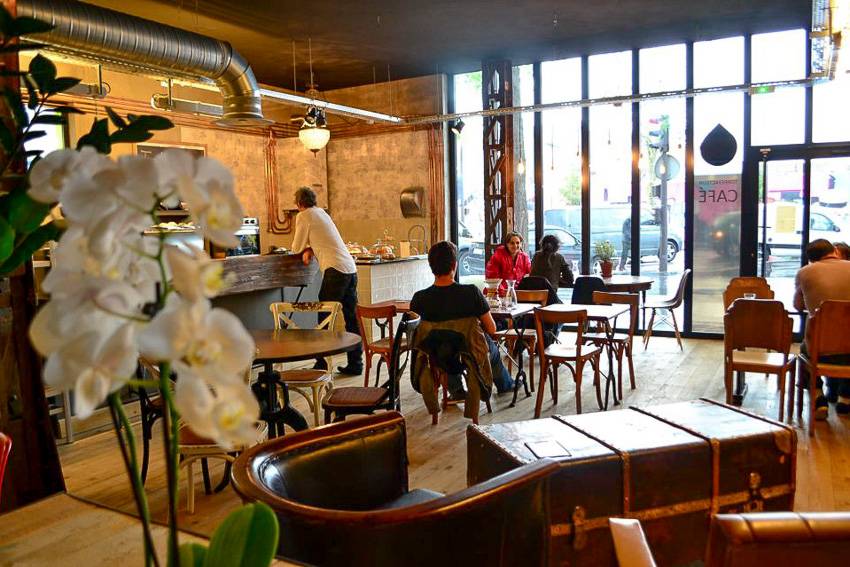 The cozy interior of Parisian coffee shop Café Lomi
Café Lomi is another mighty Franco-Australian collaboration. French owner Aleaume Paturle and Australian barista Paul Arnephy created a spacious neighborhood hub together at 3 Rue Marcadet in the 18th Arrondissement. The interior is cozy and tastefully furnished, but the coffee is anything but basic! All beans are exclusively selected and roasted on-site, and the filter coffee and espresso blend are top-quality.
The café also sells coffee and the Lomi blend makes an especially great souvenir to take home. If you're staying in a Paris vacation rental apartment with a proper coffee maker, be sure to buy beans to go so you can enjoy fresh coffee every morning in the comfort of your own rental!
6. The Broken Arm
The Broken Arm is an original Scandinavian-style concept store and coffee shop in the fashionable Marais district. The three owners, Guillaume Steinmetz, Anaïs Lafarge, and Romain Joste, had already founded a successful lifestyle website together before they decided to combine the three things about which they were most passionate. These passions—fashion, design, and coffee—combined to create The Broken Arm.
The concept store spans two floors, sells designer fashion and accessories, and is furnished in a Scandinavian minimalist style. Even the coffee beans are Scandinavian; they come from the Norwegian coffee supplier and roaster Solberg & Hansen. The café's artful lattes truly stand out. Visit 12 Rue Perrée in Le Marais to try one! It can get crowded inside, but there's a lovely outdoor terrace with a view of the park across the street. Watch our video tour of Le Marais for more information about the neighborhood!
7. Holybelly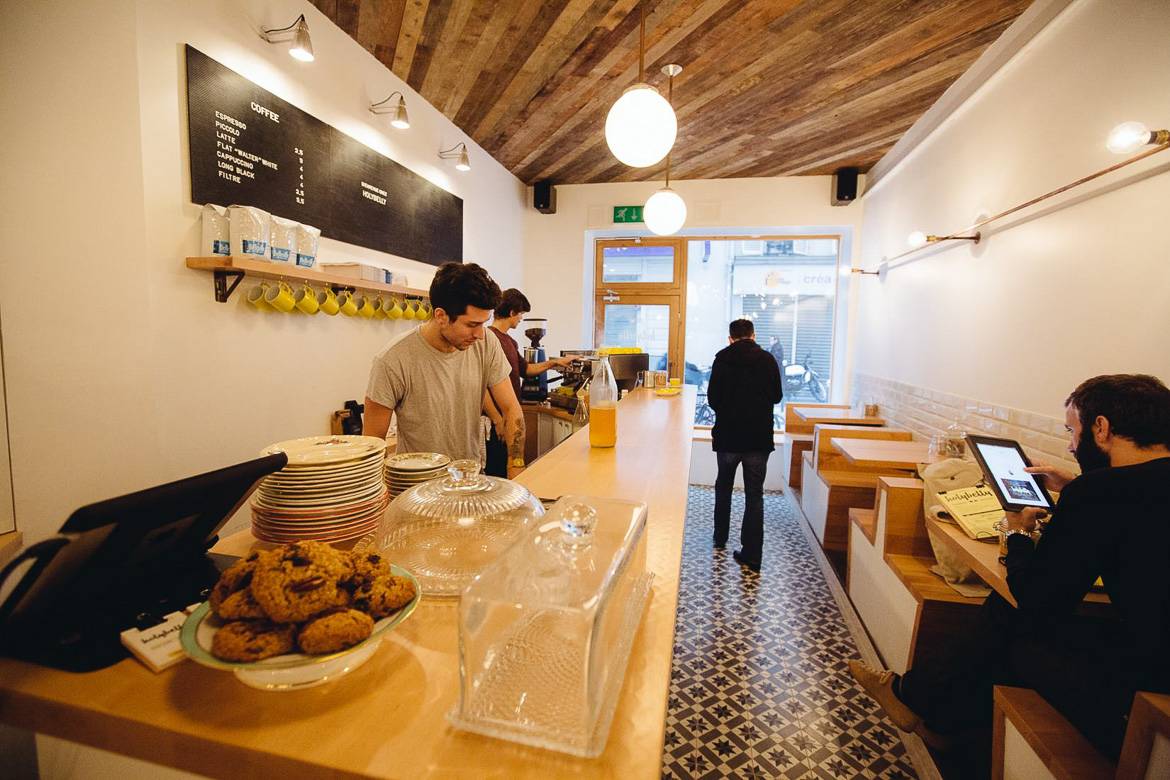 Parisian coffee shop Holybelly has good coffee, good food, and good service!
Holybelly opened in October 2013 and has been gathering a sizeable fan base ever since. Nico Alary and Sarah Mouchot, the owners, originally hail from France but spent years living in Vancouver. The store's noticeable Canadian influences include a working pinball machine in the corner of the cozy café and its strong, excellent coffee. The café also serves lunch. Its simple formula of good coffee, good food, and good service is a winning one. You'll find the coffee shop at 19 Rue Lucien Sampaix in the 10th Arrondissement, just a few blocks from the Canal St. Martin.
8. Sugarplum Cake Shop
As its name suggests, the Sugarplum Cake Shop isn't only a coffee shop. In fact, it's first and foremost a custom cake shop, but the coffee they serve in their small café is absolutely delicious! A North American background means that the café's Americano and flat white stand out. Beyond just wedding cake, Sugarplum Cake Shop sells cakes and pastries to accompany your coffee. The cupcakes are notable, and the carrot cake is truly divine! You'll find the shop at 68 Rue du Cardinal Lemoine in the 5th Arrondissement.
9. KB Café Shop

The baristas at KB Café (formerly called Kooka Boora) buy their coffee beans at Café Lomi, so you can be sure they're high quality. As another Australian-style café, KB approaches coffee-making as an art form. You can choose between five filter methods, and everything from a latte macchiato to an iced coffee is brewed with care. The café also serves tasty salads and baguettes topped with fresh ingredients. You'll find the café at 62 Rue des Martyrs, close to the Pigalle Metro station in the 9th Arrondissement of Paris. This is a really interesting area ofin Paris; check out our video tour of Montmartre to see for yourself!
10. Café Craft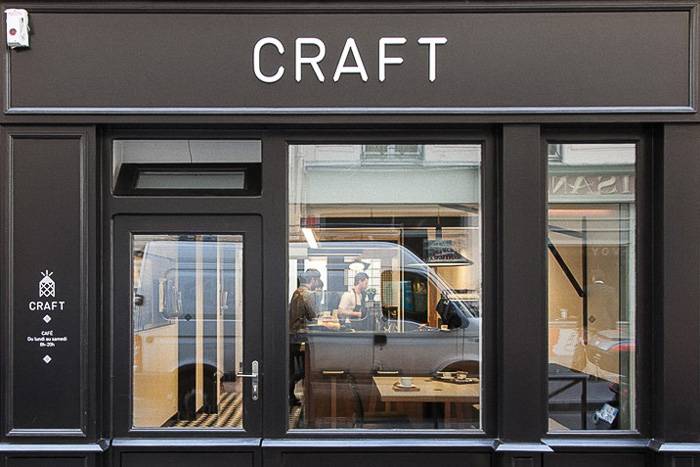 Café Craft is another lovely coffee shop close to the Canal St. Martin in Paris
The last coffee shop on our list is Café Craft, a neighborhood gem that also uses Lomi coffee beans and manages to brew them perfectly. Café Craft's capable baristas prepare your coffee to your liking, from a flat white to a cappuccino. The café offers fast Wi-Fi and stylish minimalist furnishings, making it a great place to take your laptop and work. You'll find Café Craft at 24 Rue des Vinaigriers in the 10th Arrondissement on a hip street just steps away from the ever-lovely Canal St. Martin.
That's it for now! We hope you've enjoyed our tour of Paris coffee shops. What's your favorite Parisian café?