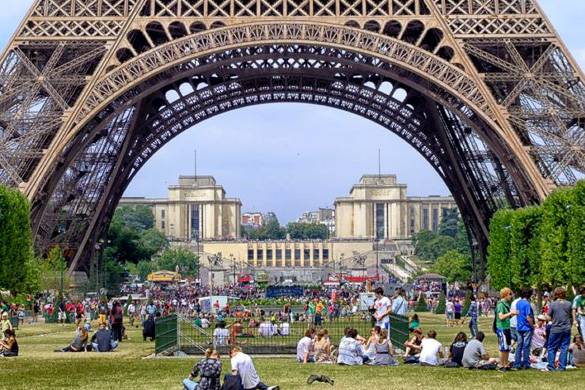 Find a nice seat on the Champs de Mars, beneath the Eiffel Tower, for a picture-perfect summer picnic.
While springtime in Paris has became a classic, summer in the City of Lights is perhaps even more pleasant. Unique events, beautiful green spaces, and of course great outdoor dining and entertainment make the summer one of the best times to visit Paris, whether for a weekend or a longer stay.
The seasonal fun extends across and beyond the city's 20 arrondissements, but you'll want to find the perfect vacation rental or furnished apartment for your stay. Take a look at our guide to summer in the city and you can plan a trip that will make you want to stay forever!
Outdoor entertainment in Paris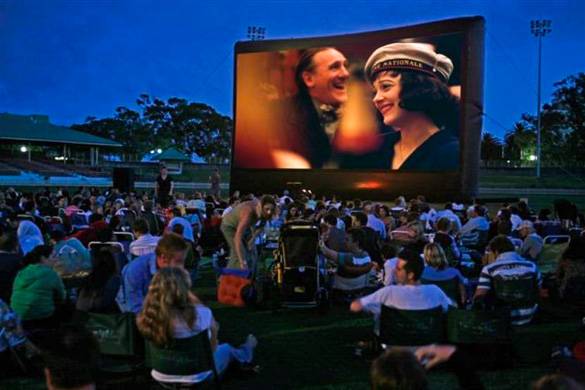 Improve your French skills and enjoy the warm weather with an outdoor movie in Paris!
Outdoor movies are one of the staples of summer entertainment in any big city, and they combine two of the things for which Paris is most famous: cinema and parks. There is no shortage of options for seeing a film beneath the night sky. The Cinéma en Plein Air at Parc de la Villette (July 13th thru August 21st) is found in a large entertainment complex in northeastern Paris. On the other end of Paris in the 13th Arrondissement, Ciné Quartier 13 screens films outdoors from July 17th to August 7th. If you'd rather see a movie close to where you're staying, keep an eye on Forum des Images's Clair de Lune festival, which sets up screens across Paris for nighttime viewings. One last option is part of the larger music and arts festival Wanderlust. Open from April through October, the multicomponent space on Quai d'Austerlitz hosts events from movies, to yoga, to dance parties.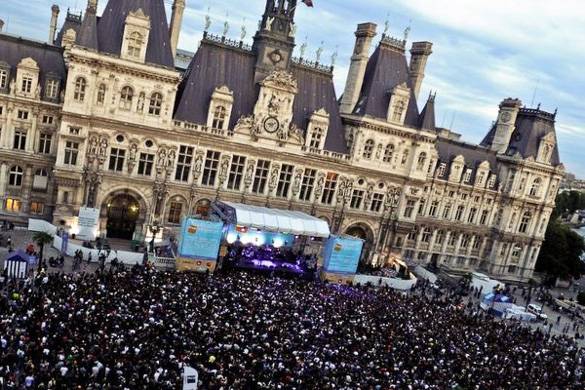 Public spaces like the Hôtel de Ville are transformed to accommodate summer concerts.
While France might have less of a reputation for music festivals than its neighbor across the English Channel, Wanderlust is far from the only unique musical offering during the city's summer season. One of these festivals is Fête de la Musique, held on June 21, the summer solstice. Part of an international celebration of music and art founded in 1982 under a French Cultural Ministry initiative, the event has grown to cover all of Paris and features amateur acts and professionals.
Weather Festival (June 3-5), a more traditional music event, offers up-and-coming acts in Paris and in cities across France. Of course, there's also Afropunk (June 3-5), the explosively popular festival that started in Brooklyn before spreading to Paris. Acts range from funk to jazz and often have a unique electronic spin, so there's something for everyone. Another American-style festival, We Love Green (June 4-5), will host groups like LCD Soundsystem, Diplo, Hot Chip, and Fetty Wap, making the event a great way to see American artists far from home. A bit farther out of the city in the Domaine de Saint Cloud, Rock en Seine (August 26-28) gives you the opportunity to camp at the festival site, which is worth it for artists like Iggy Pop, Sigur Rós, and Edward Sharpe and the Magnetic Zeroes.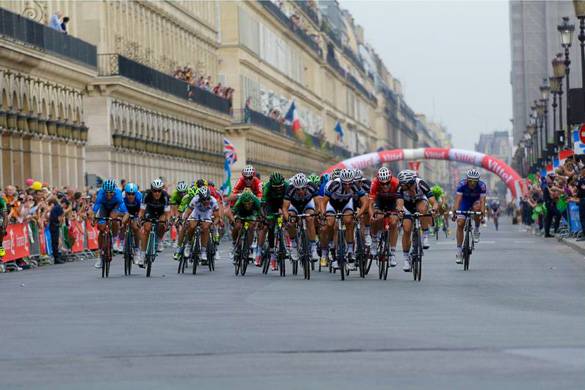 The dramatic final leg of the month-long Tour de France passes right through central Paris.
France is also home to some of the summer's most notable sporting events. Obviously, there is the Tour de France, the country-spanning bike race that runs through the Alps and Pyrenees before speeding to the finish line on the Avenue des Champs-Élysées. Why not catch those final moments, or take a weekend to stop by the race in the South of France? Even if you just end up watching at home, the race is always easy to find on television. Another event being broadcast is the UEFA European Championships 2016. One of federation football's biggest events, the spectacle will bring millions of viewers and hopefully good luck for the French team.
Live like a local in Paris this summer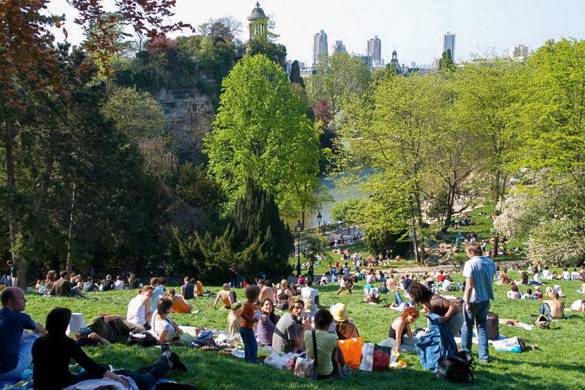 Parc des Buttes-Chaumont is an off-the-beaten-path Paris gem best seen in the summer.
With its leafy green squares and sunny café terraces, Paris in the summer is full of unique outdoor spots to discover. Fortunately, our furnished apartments are spread across all 20 arrondissements, giving you many choices. From the hilly streets of Montmartre to the hip Belleville and classy Passy, there's bound to be something you'll love.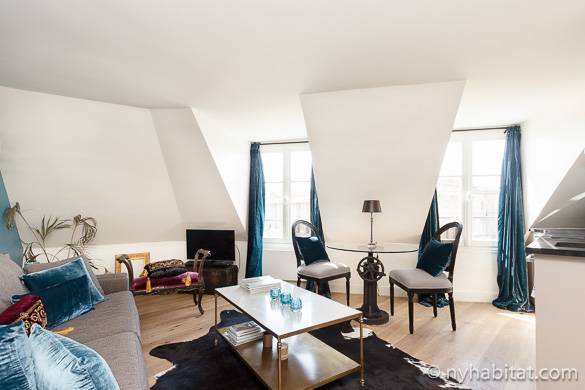 Views of the Louvre are just one of the benefits of this swanky one-bedroom furnished rental!
If you're looking to be close to major Paris sights like the Louvre, then you'll love this furnished one-bedroom apartment right across the street from the famous museum. The location isn't the only thing to love here– check out the full kitchen, air conditioning, and washer/dryer; everything you'll need to feel at home during your stay! Another particularly charming corner of the city is around the Canal Saint-Martin, once an industrial waterway that's now lined with cafés and wine shops and great for a waterside picnic. Not far from the canal, near the hip Oberkampf bar district, you'll find this unique furnished triplex apartment, a three-bedroom with space for the whole family. Check out apartments in other Paris neighborhoods as well!
Summer activities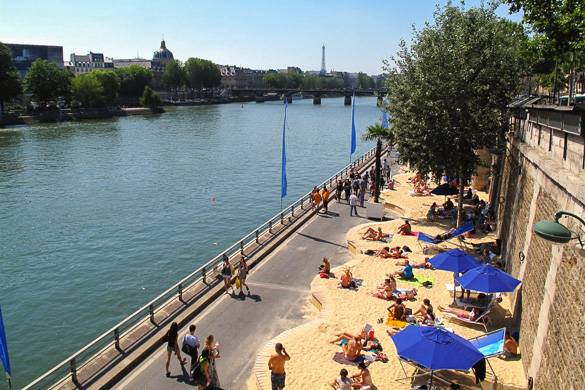 Parisians all dream of the beach in summer, making Paris Plages the perfect place for them to soak up the sun.
While Paris might not be like sunny Barcelona or beach-facing San Diego, the city has lots of spaces to swim and get some exercise. Most famous of the Paris pools is Piscine Molitor, an art-deco icon recently rehabilitated to a four-star resort. Another option that's more open to the public is Piscine Joséphine Baker in eastern Paris. Of course, there's also Paris Plages, which transforms the Seine into a beach each summer. There's no swimming, but you can lounge on a beach chair or attempt to build a sandcastle model of the Louvre!
Also along the banks of the Seine are bike paths and other recreational areas, great for runners or those looking to get a workout with a view. These paths are updated throughout the year and peak in the summer, as Berges sur Seine creates spaces for unique activities, from hopscotch to floating gardens.
Great summer events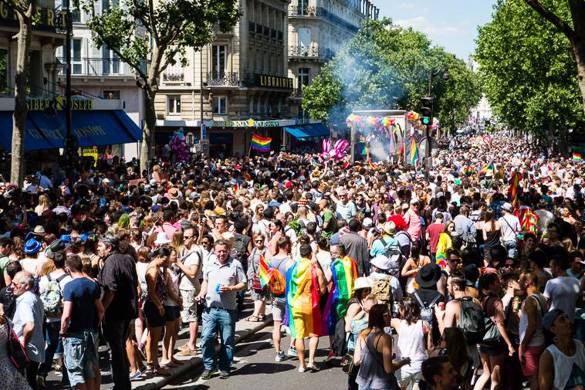 Pride events in Paris add a splash of color to the grey architecture and are a great way to celebrate the summer.
Paris is a great place to celebrate history, identity, or the arts! Long known as a hub for LGBT communities, Paris hosts a large and boisterous Pride parade each year (this year on July 2). Another flamboyant festival is the Carnaval Tropical, a Mardi Gras-inspired parade that celebrates sports around the world (a nod to the Euro Cup) this year on June 4-5. A little earlier in the calendar comes Les Soldes, a national sale period from June 22 to August 2, 2016. Take advantage of the government-sanctioned discounts for some great souvenirs, or use this great event to purchase the right Pride costume!
For a less commercial and more historic summer celebration, consider La Fête des Loges, a fair that has been held in the Saint-Germain-en-Laye forest every year since 1652. Whether it's carnival rides, French provencal foods, or craft products that you're seeking, you'll find it here! Don't forget about France's favorite holiday: Bastille Day!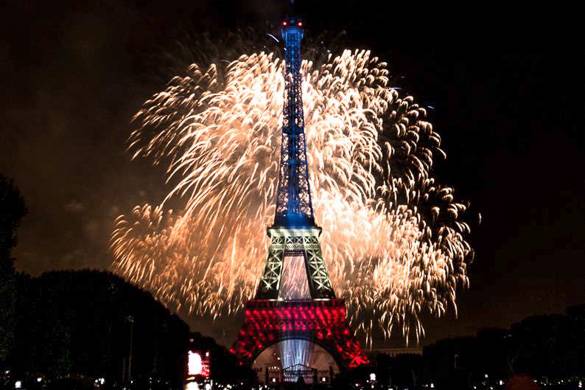 Even the Eiffel Tower shows its French Pride on July 14!
France's national holiday combines pomp and circumstance–a military parade down the Champs-Élysées–with flair in a classically French style. Take advantage of the excuse to celebrate with a bottle of wine, a picnic with friends, or a delicious meal. You can cross something off the list of things you absolutely must do in Paris and pay homage to France while you're at it.
Summer in Paris is reason enough to celebrate, so get out and experience some of the great things the city has to offer!