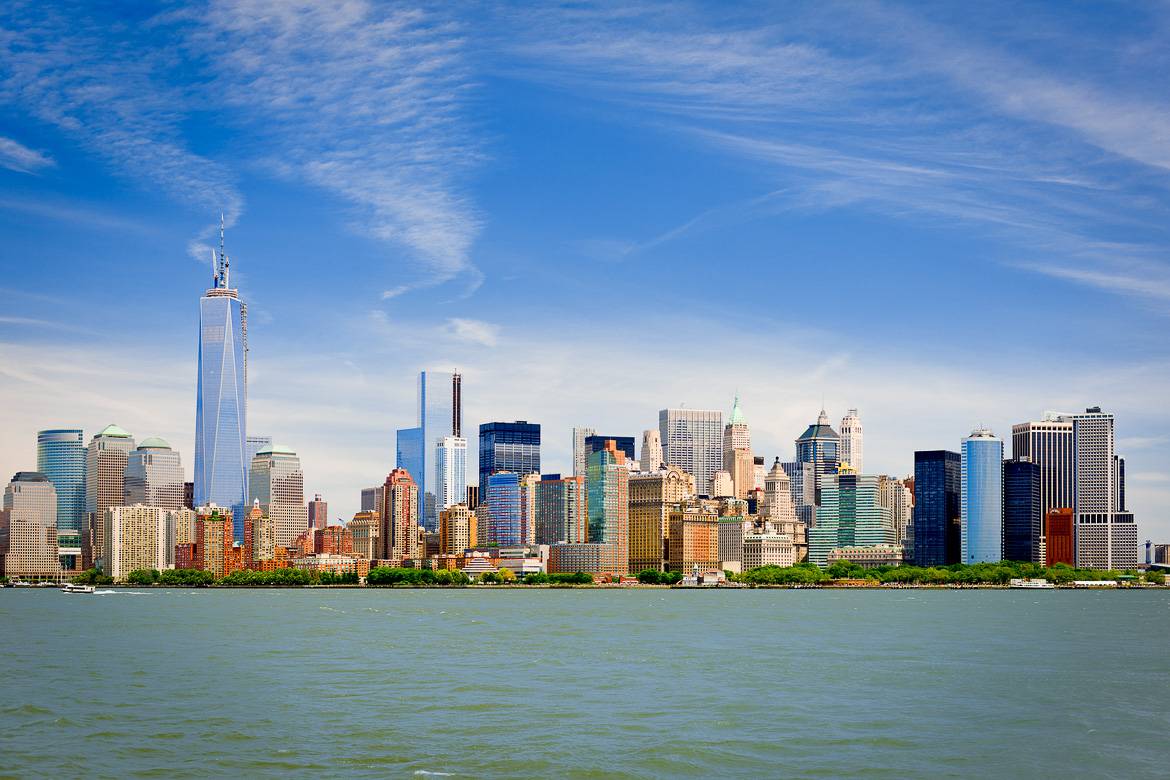 The Manhattan skyline is one of the most iconic and breathtaking in the world
As any native New Yorker will tell you; once the heat arrives, so does a flurry of excitement. Summer is a great season to reap all that New York has to offer, like musical performances, parades, theatre, or a day at the beach. Here are some things during the 2014 season to add to your New York summer to-do list!
Watch outdoor movies in NYC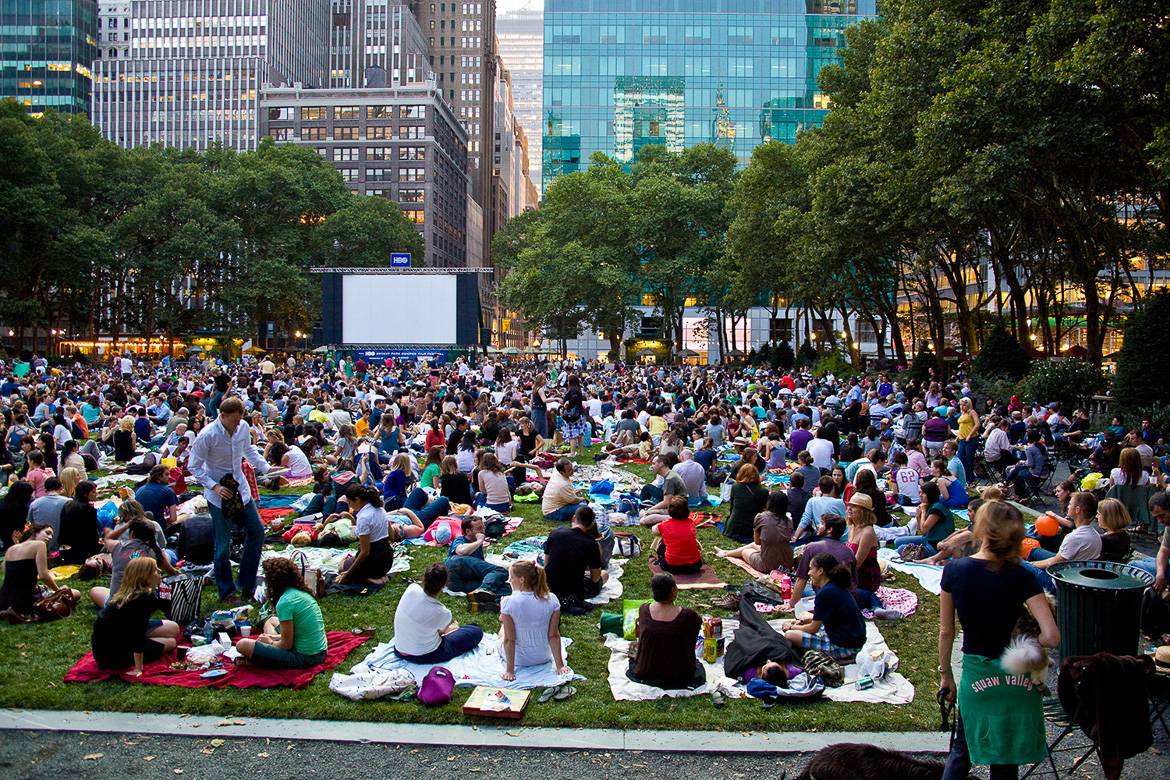 New Yorkers pack a picnic for special Bryant Park movie screenings. (Photo credit: Jason Kuffer)
Warmer weather in New York brings plenty of lovely evenings perfect for outdoor movie screenings with friends, family, or your significant other.
Bryant Park (located between 40th and 42th Streets and 5th and 6th Avenues in Midtown) hosts an annual series of movie screenings (this year's series is called HBO Bryant Park Summer Film Festival) beginning in May. Bring a blanket, come for a free showing, and enjoy movie magic beneath a New York sunset. Fan favorites including Saturday Night Fever, National Lampoon's Vacation, Key Largo, The Karate Kid, and The Shining will be shown, among others.
World-famous Central Park has a comparable event, the Central Park Conservancy Film Festival, held between August 18 and 22. Spread your blanket on the grass north of the park's Sheep Meadow (around West 72nd Street) and grab a spot at 6:30 p.m. before the show starts at 8:00. This year's theme, "Scenes from Our City," depicts films in which New York takes center stage: Big, The Royal Tenenbaums, The Way We Were, Ghostbusters, and Rear Window.
Cultural summer in NYC
New York is arguably the best place to see live music in America. There's a wealth of mostly outdoor summer festivals from which musical connoisseurs can sample.
Central Park SummerStage at Rumsey Playfield attracts popular guests every year. SummerStage is a free festival that also sponsors live performances in almost every New York borough. This year's lineup in Central Park includes breakout sensation The Neighbourhood, indie darling Beck, and 90s alternative chart-toppers Toad the Wet Sprocket.
An early-morning show rivalry continues with Good Morning America and the Today Show each hosting their own respective summer concert series, the former's at Rumsey Playfield and latter's in Rockefeller Center. Both programs are free and open to the public, run roughly from May to August, and feature contemporary music superstars.
Madison Square Park also has their own festival, the Oval Lawn Series, which celebrates an array of folk, jazz, and soul artists. Singer-songwriter Suzanne Vega kicks off the festivities on June 19.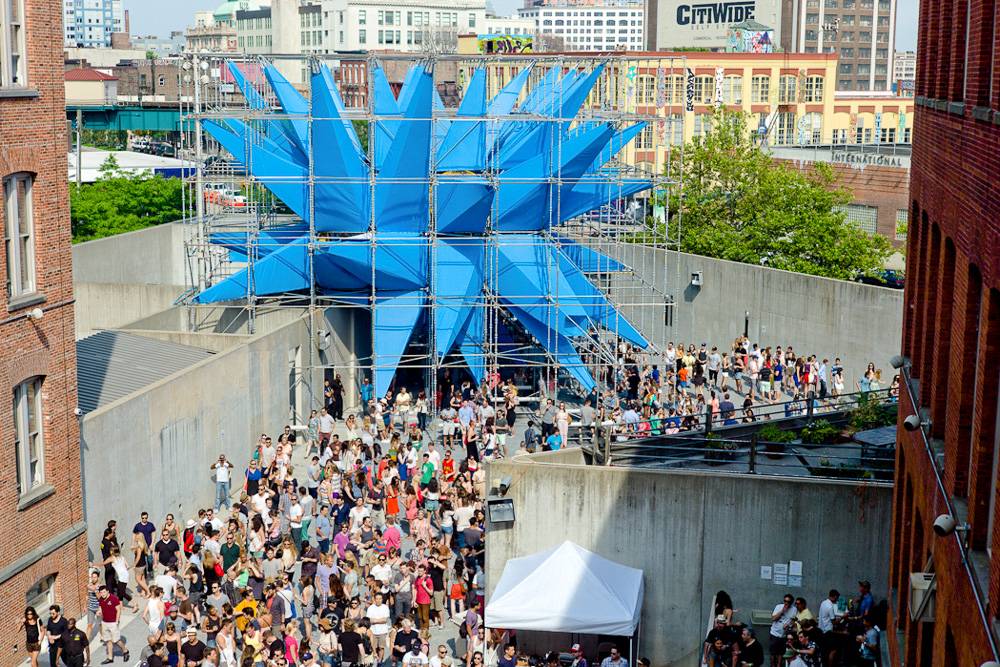 The MoMa PS1 WarmUp series attracts visitors to Queens for innovative music. (Photo credit: Tom Giebel)
If you're in the market for something more experimental, pay a visit to Long Island City in Queens for the annual MoMa PS1 WarmUp, which debuts up-and-coming musicians and DJs. Why not turn it into a day trip by exploring more around Queens?
Movie screenings aren't the only event Bryant Park hosts in the summertime. For a few weeks in midsummer, Broadway in Bryant Park highlights the best of off-Broadway and the Great White Way around noon and free of charge.
If classical music is more your style, you're in luck: The New York Philharmonic continues their Concerts in the Park tradition this summer with a series of four outdoor concerts in Brooklyn, the Bronx, Manhattan, and Queens.
Why not go to Brooklyn for a lovely day of music? Prospect Park is home to the Celebrate Brooklyn! festival, which will showcase acts like Brazilian songstress Bebel Gilberto and alternative rockers Dum Dum Girls for free, as well as ticketed shows by Jack Johnson, The National, and Neutral Milk Hotel. The park and concert series also happens to be right in Park Slope, one of the best neighborhoods in Brooklyn.
Cultural events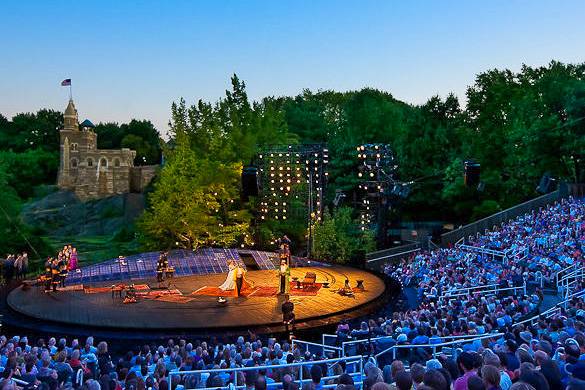 Central Park's Shakespeare in the Park attracts A-list actors and theatre fans of all ages to its stage
Theatre, dance, and culture combine to make summer 2014 memorable in New York.
The time-honored New York tradition Shakespeare in the Park features two of the Bard's most esteemed plays this year: the witty Much Ado About Nothing and the tragic King Lear. Much Ado runs from June 3 thru July 6 and King Lear from July 22 thru August 17. Shows are held at the Delacorte Theater in Central Park and tickets are free, but distributed via online lottery or standby line on the day of each performance. Keep in mind that the theater is outside and open-air, so be sure to consult the weather forecast before you go.
For a little more variety, the Summer on the Hudson festival takes place in Riverside Park from May thru September and hosts a season's worth of free events for all ages, from Tai Chi lessons to dance parties.
From July 7 to August 16, the Lincoln Center Festival sponsors edgy and innovative productions all across Manhattan ranging from ballet to contemporary dance to opera (ticket prices vary). Also hosted by Lincoln Center is the Mostly Mozart Festival, paying tribute to the Austrian composer and all those inspired by his legacy in the form of music and dance (some events are free; others vary in price).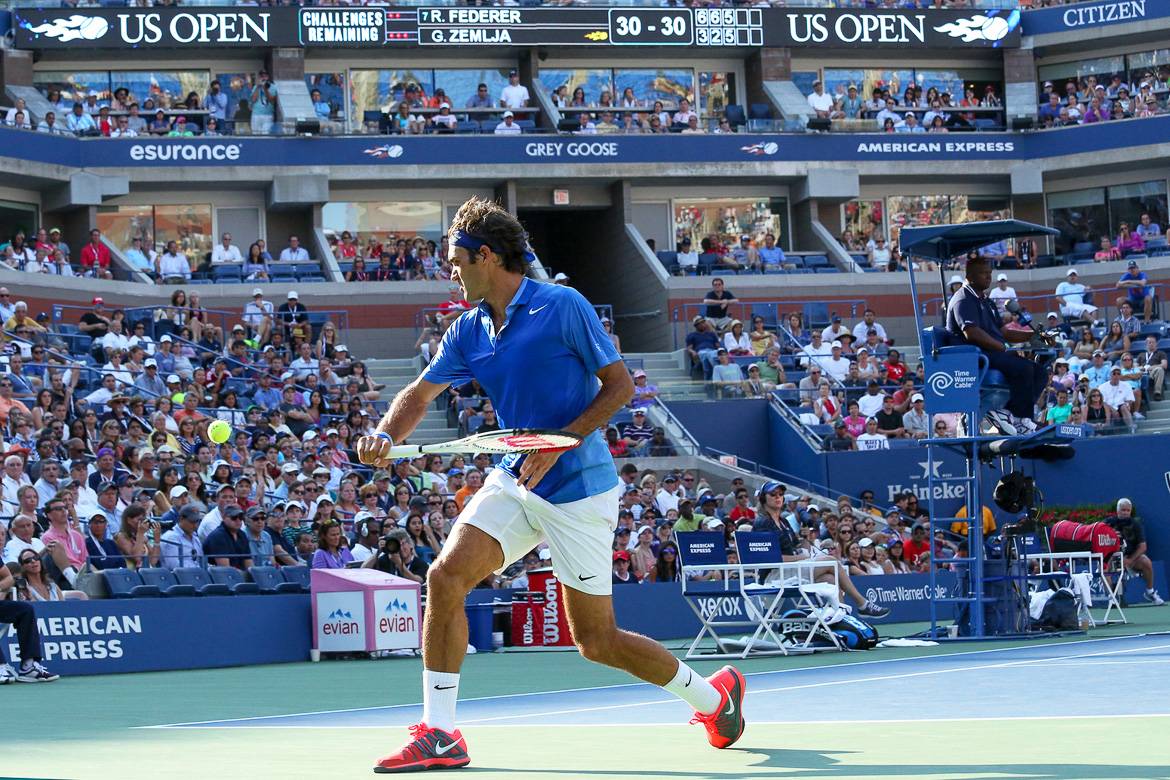 Tennis greats like Roger Federer battle for the trophy at the U.S. Open
If you're a sports fan, the US Open is a perfect fortnight of entertainment. The greats of the tennis world will descend upon the USTA Billie Jean King National Tennis Center in Flushing for two weeks' worth of intense matches in the fourth and final Grand Slam tournament. Tickets range from below $100 to the upper hundreds, and the stadium can be accessed via the 7 subway line and other public transportation.
Beat the heat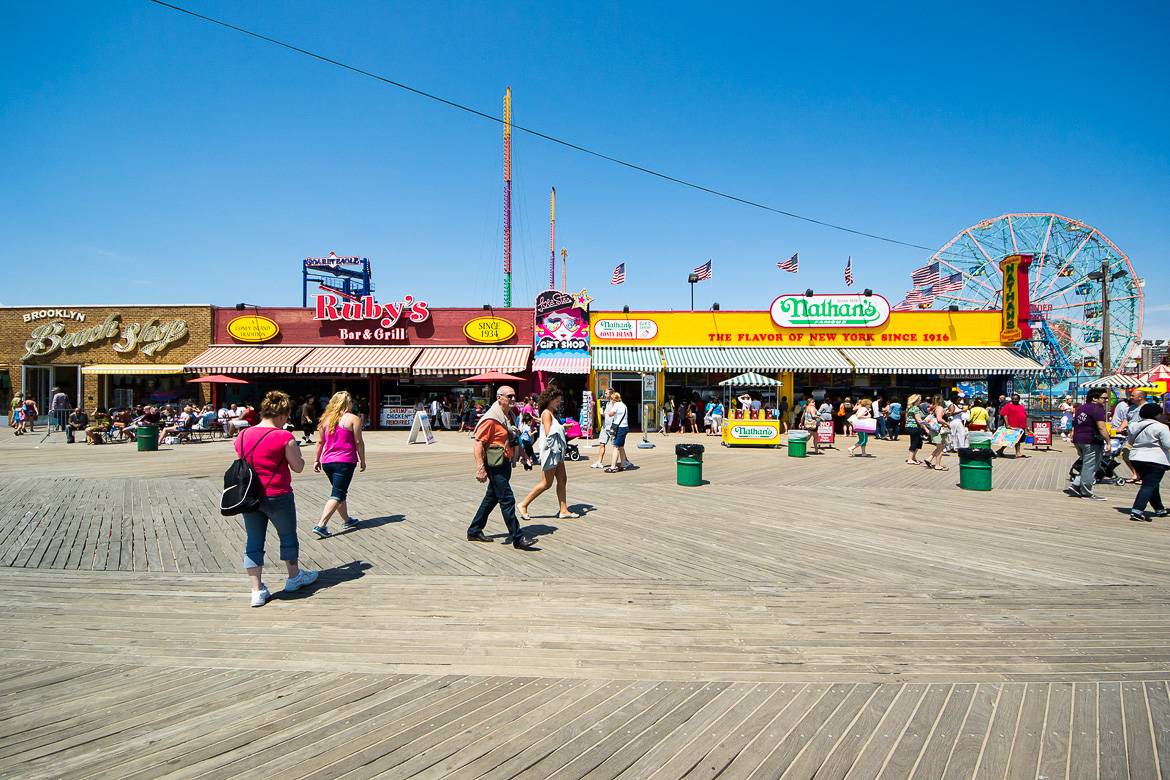 Coney Island is a feast for the senses with amusement rides, tantalizing food, and beachfront property
New York's northeast location leads to cold winters and very hot summers. If the humidity proves to be too much, why not make a splash at one of the city's many swimming pools? Astoria Pool—located in Astoria Park, named for its Queens neighborhood—is the city's largest pool. It's Olympic standard size and free to the public.
McCarren Park Pool in Greenpoint, Brooklyn reopened in 2012 after extensive renovations and is a popular spot to swim in the neighborhood for free.
On the Upper East Side, Asphalt Green offers swim camps, classes, and sports for every age group, with special deals.
The Sports Center at Chelsea Piers lets patrons take a dip in the Olympic-sized pool and also teaches swim classes. Paid memberships entitle guests to even more activities. The view from sun decks overlooking the Hudson River rivals any you'll find in New York.
If you're in search of sand, New York is home to several beaches guaranteed to satisfy the beach lover in you. Rockaway Beach in Queens is the perfect place to test your surfing skills, but be mindful of restrictions placed in the aftermath of Hurricane Sandy.
New Jersey's Sandy Hook is only a 40-minute ferry ride from Manhattan's Financial District and is great for a day of relaxation and people-watching.
Long Beach, with its brand new boardwalk and youthful spirit, is a terrific hotspot just south of Long Island. Speaking of Long Island, why not take the weekend to travel out to Montauk, the furthest point east on the isle? Its quintessential beach town scores thousands of visitors each year.
Lastly, no list would be complete without Brooklyn's iconic Coney Island. The neighborhood draws visitors not only to its coastline, but to the legendary boardwalk, amusement park rides, New York Aquarium, and carnival oddities.
Mingling with friends is easy thanks to New York's vast network of rooftop bars. For something a little quirky and theatrical, make a reservation at Gallow Green above the McKittrick Hotel in Chelsea. Otherwise, our list of the top five rooftop bars in New York City should give you plenty of options for a night on the town.
To experience New York in the summer, why not stay in one of our New York vacation rentals or bed and breakfast accommodations? New York Habitat can help you live and feel like a local this summer.
Can'-miss NYC summer events
Mark your calendars for the special holidays, parades, and festivals held only in the summer!
On June 8 this year, the annual Puerto Rican Day Parade, one of the largest heritage parades in the city, will make its way from 44th to 79th Street along 5th Avenue. The parade honors the heritage of the thousands of Puerto Ricans who call New York home.
In the final days of June, Pride Week hosts events across the boroughs to celebrate and campaign for the rights of the LGBTQ community.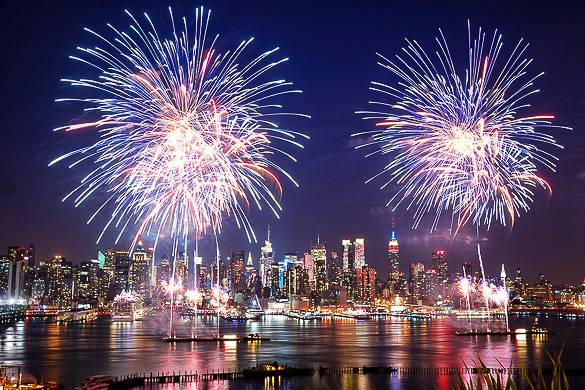 Dazzling fireworks over New York celebrate America's July 4th independence day
Independence Day is a massive celebration across the nation, and New York pulls out all the stops to commemorate America's birthday. 2014's Macy's Fourth of July Fireworks will return to the East River so that residents of Brooklyn and Queens may be able to view the spectacle along with Manhattanites. You can also take a ride to Coney Island and watch as foodies compete in the Nathan's Fourth of July Hot Dog Eating Contest and attempt to win the gastronomic race.
French culture takes the stage on Bastille Day (July 14) with music and festivities to boot. Keep in mind that most of the events will fall on the first Sunday after July 14, not the actual date.
Harlem Week, which is actually a month-long celebration, brings music, dancing, family fun, food, sports, and the arts to shine the spotlight on the Manhattan neighborhood.
The summer entertainment continues into August with Summer Streets. Avenues running from the Upper East Side to the Lower East Side are closed to traffic for pedestrians to walk, bike, and play. The series runs on three consecutive Sundays (August 3, 10, 17) from 7:00 a.m. to 1:00 p.m.
If you're looking to extend your New York experience past the summer months, try monthly rentals. Check out our New York furnished apartment rentals or roommate shares!
What are your favorite things to do in New York in the summer?