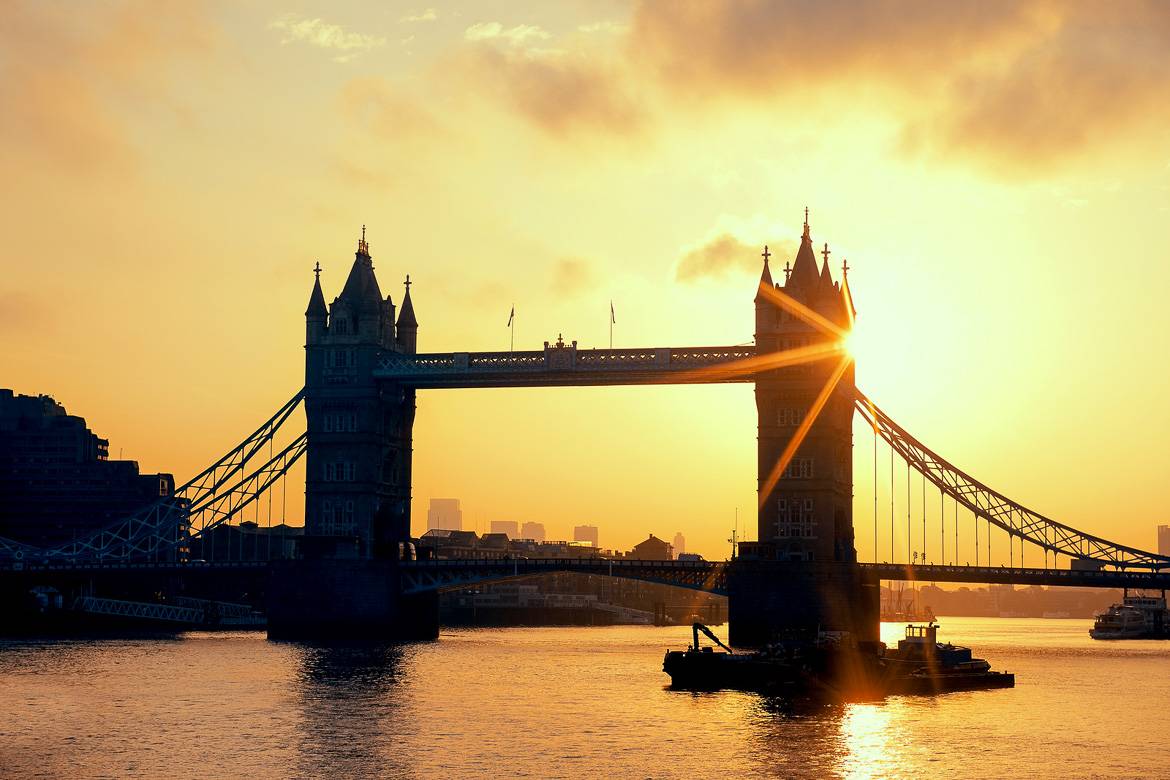 Catch a sunset behind the Tower Bridge and over the Thames in London this summer.
Ah, London in the summertime. The city is filled with warm breezes and cloudless skies and is most pleasing during this season, and there's no shortage of activities to enjoy! Whether it's lounging in the shade or cheering on your favorite sports team in the sun, London offers a variety of fun and exciting events to make your summertime memories extra special.
Read on to discover all that London has planned for the 2014 summer season with this list of festivals, cultural events, movies, and more!
Watch outdoor movies in London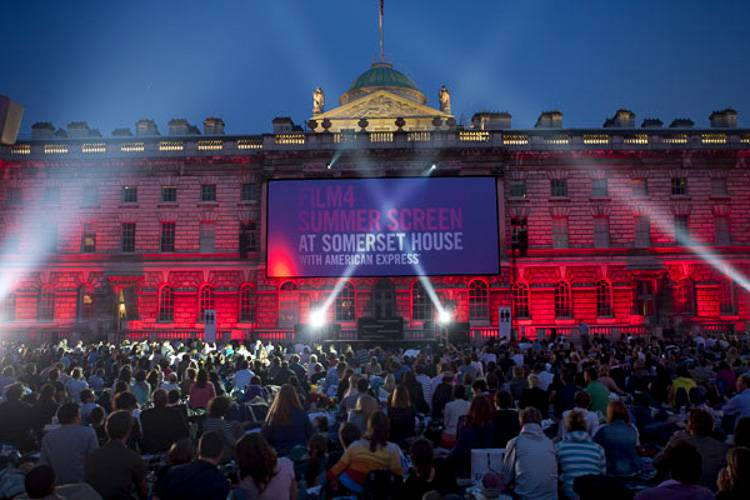 Absorb the splendor of the Film4 Summer Screen at Somerset House.
Pop Up Screens: Looking for a romantic night out with your significant other? Perhaps you'd like to spend some downtime with friends. This cult-classic movie night takes place all over London and is usually outdoors. Film lovers can indulge in popcorn and a bar while watching a favorite flick. This season kicks off with a showing of the hit film Notting Hill at St. John's Church in Notting Hill on May 4th. It will be indoors, rain or shine! Tickets cost £12 plus a £1.20 booking fee. If you're interested in staying in the area, you may want to learn how to live like a local in Notting Hill.
Salute the end of the summer with Film4 Summer Screen, a famous month-long August event at Somerset House in Westminster. Moviegoers will enjoy a giant screen and surround sound under the stars in a breathtaking 18th-century courtyard, ensuring that every guest has the best seat in the house! Featured films this year include an eclectic mix of classics, musicals, and cult hits such as The Royal Tenenbaums, Hairspray, and Gentlemen Prefer Blondes! Plus, we suggest touring the beautiful neighborhood of Westminster before the show. You can learn all about it by watching our video tour of Westminster.
Kew The Movies: Another outdoor movie night takes place in the garden outside of Kew Palace in Brentford, and at a second location in Wakehurst, West Sussex. Much like the other film events, it offers an exciting environment for a fun-filled family-friendly get together or date night. Ticket prices range from £14.50 for children to £16.50 for adults. 2014 films include Dirty Dancing, Gravity, and Romeo and Juliet.
Set in the most romantic location above the city, Rooftop Film Club at Bussey Building is a panoramic rooftop film club which allows guests to overlook the city from the top of a multi-level warehouse space. Unique to the open-air movie scene, this event includes cozy seats and high-quality wireless headphones, so there is no need to bring a blanket! Tickets are available for £22. This year's movies include Pretty Woman, Anchorman 2: The Legend Continues, and Top Gun.
Summer culture in London
Music festivals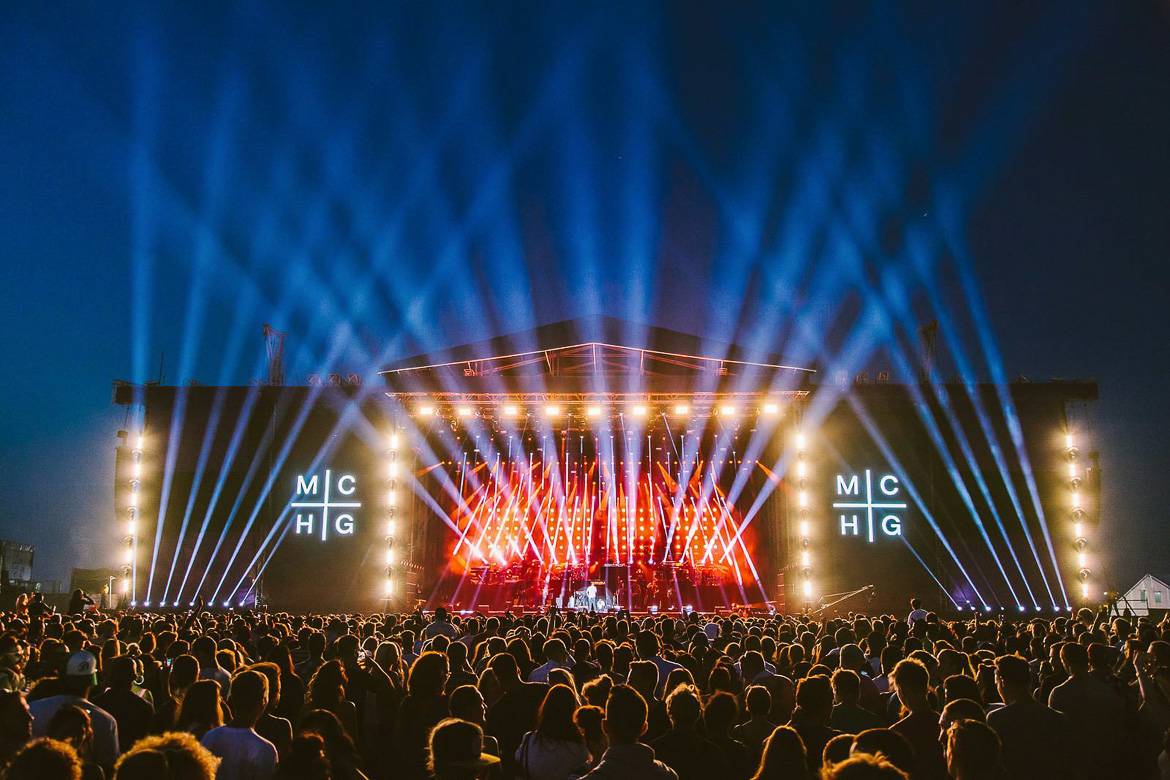 The brightly lit stage dazzles at Wireless Festival.
Get cultured for free at West End Live, an iconic live performance event at Trafalgar Square in Westminster. The annual affair features live bands, play performances, and interactive exhibits from museums around London. Though admission is free, there is limited space and entrance is on a first come, first serve basis, so arrive early! If you are looking to stay in Westminster, check out our blog article about how to live like a local in Westminster, London.
You won't need a tux to attend the BBC Proms. The "Proms" are short for 'promenades,' an informal and affordable classical music concert experience. Beginning in May and continuing throughout the summer, BBC Proms will offer an impressive array of live classical music at a low cost. The famous promenade festival was started in 1895 by Sir Henry Wood and takes place at Royal Albert Hall, Cadogan Hall, and the Royal College of Music. Ticket prices for this event range from £12 to £90 per seat!
Somerset House Summer Series: There is nothing quite as pleasing as listening to live music in the open air, and this summer event allows you to do just that. Located at the beautiful Edmond J. Safra Fountain Court, the Somerset House Summer Series will play host to musical acts such as Agnes Obel, Little Dragon, and Kelis during the 2014 season. Tickets cost £28.50 plus a booking fee.
The now-famous iTunes Music Festival at The Roundhouse offers a long list of big-name bands on its stage. The music extravaganza is now a month-long celebration that has been going on since 2007. Past performers have included Muse and One Direction, but music lovers shouldn't get their hopes too high: The only way to snag a ticket is by winning competitions for U.K. iTunes users!
Yahoo's Wireless Festival consistently presents one of the best lineups of the year! The three-day celebration in Finsbury Park will take place from July 4-6th, 2014. Some of this year's performers include Pharrell Williams, 2 Chainz, Drake, and Outkast. A three-day ticket for this fest will cost you £172.
The British Summer Time festival may be the most famous London music event due to its location in the popular and romantic Hyde Park. Of course, its consistently impressive lineup helps too. This summer's acts across 10 days of music (July 4 – July 13, 2014) include Neil Young & Crazy Horse, Black Sabbath, and MC Busted. Daily tickets sell for £76.59.
Cultural events
Regent's Park Open Air Theater: The famed Regent's Park is the setting of this open-air theater that's just as magical as its featured plays. The audience here sits facing a brightly lit stage in stadium seating among towering trees. This summer's lineup includes classic plays like All My Sons, Hobson's Choice, and To Kill A Mockingbird. Prices for these performances range from £35 to £55, depending on the seat.
Shakespeare's Globe Theater allows viewers to enjoy classic Shakespearean plays the way they were meant to be shown: in an authentic 17th-century environment. The round, extravagant theater is an approximation of the theaters in Shakespeare's day! The 2014 season opens on April 23rd and will present classics like Hamlet, A Midsummer Night's Dream, and Julius Caesar.
Open Garden Squares: Nature lovers, rejoice! This enchanting two-day event (June 14-15, 2014) offers more than 200 gardens to explore throughout 25 London boroughs. Whether you choose to cycle through the luscious greenery or enjoy a guided walk, these gardens are sure to impress gardeners everywhere. Tickets bought in advance will cost £10, while tickets purchased on June 14 & 15 will cost £12.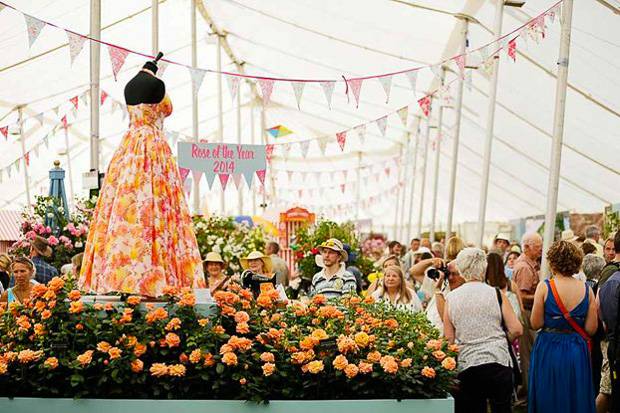 Floral arrangements at The Hampton Court Flower Show are so imaginative!
Polish your gardening skills this year with tips from the pros at the Hampton Court Flower Show at Hampton Court Palace. The largest annual flower show in the world, this stunning affair includes classic floral gardens, water gardens, and creative conceptual gardens. Professional gardeners will give advice on all things planted, from the best way to grow fruit and veggies to which products to buy! Tickets range from £21.00 to £34.00.
Sporting events
FIFA World Cup: Soccer (known as 'football' in Europe) is the most popular sport in the world, so it's no surprise that the FIFA World Cup is highly anticipated in London. Though the World Cup is in Brazil this year, there are sure to be wild parties throughout the city of London!
For a truly special London experience, we suggest attending the Wimbledon tennis tournament! Held at the All London Club since 1877, Wimbledon is generally considered the most distinguished tennis tournament in the world, and certainly the oldest! The games take place over a two-week period from June 23rd to July 6th, 2014.
Live like a local in London this summer
Our furnished apartments allow travelers to experience London in a comfortable home-away-from-home environment. We offer accommodations for every need, from inexpensive to luxurious, in every neighborhood of the city! This means you can decide which summer activities you like best (hopefully the list above helps!) and live right next door. Tenants can choose between visiting for a short stay in our London vacation rentals or a longer stay (one month or more) in our London furnished apartments.
All of our apartments are in close proximity to public transit, so you won't need to worry about how to get around London. Both our vacation rentals and furnished apartment sublets are equipped with modern amenities. These accommodations are real homes owned by real Londoners, which allows tenants to experience the city in an authentic and unique way. Plus, with such exciting events held throughout summer 2014, you won't want to miss out!
Be sure to search through our entire selection of London accommodations to find your ideal home.
Beat the heat in London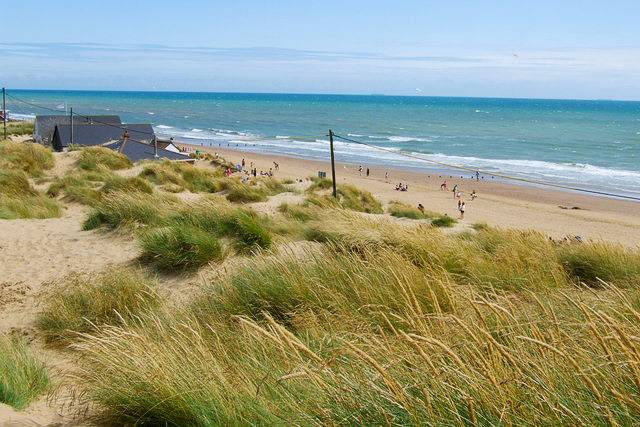 The sunny shores of Camber Sands
When the bright rays of the London sun get to be too much, don't run indoors. Instead, catch a tan at one of the many public swimming pools! There are many to choose from (even a Turkish bath at Ironmonger Row Baths in Islington!), like the Golden Lane Leisure Center, Tooting Bec Lido (the largest pool in the UK), and Serpentine Lido in Hyde Park.
If you're longing for the feeling of sand between your toes, head to the beach! Though London isn't known for its beaches, there are plenty of nearby shores in England to indulge. These include Camber Sands, Ramsgate, Margate, Joss Bay, and Botany Bay.
Don't miss these London summer events!
Trooping the Colour: Line up with the locals to celebrate the Queen's official birthday at this military parade! On Saturday, June 14 at St. James's Park, view the spectacular sight as the Queen leads the troops from the Household Division to Buckingham Palace.
Pride London: Join the LGBT community and allies on the streets of London during this famous party that celebrates LGBT pride. The week-long event runs from June 22-29. Pride culminates with its annual parade, which is an exciting street party of marchers, dancers, and singers!
Kids' Week: Children will love this month-long event from August 1-31 that's intended to engage youth in live theater. The annual event is in its 16th consecutive year of making future performers smile. On-stage and backstage activities take place at many of the West End's most famous theaters!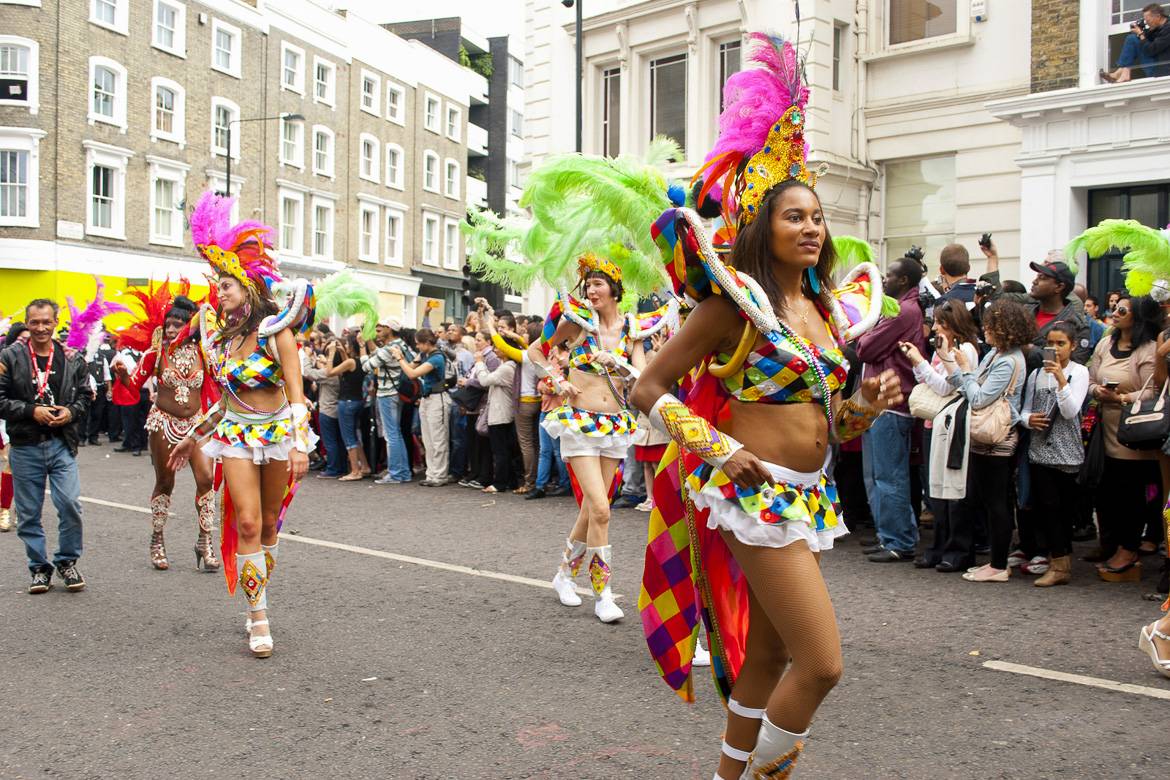 Colorful parade participants dance through the Notting Hill Carnival
Notting Hill Carnival: You're invited to London's Caribbean-themed street party, the biggest in all of Europe! Bright colors and exciting energy run rampant, and the giant parade features live music, costumed marchers, and enticing food stands. The annual festival takes place on the August Bank Holiday weekend, which falls on August 24-25, 2014.
Tall Ships Regatta: London really does have something for everyone, including sailors! The Falmouth Tall Ships Regatta welcomes over 40 sailing vessels on August 28 for three days of nautical activities before they race on August 31st. The Royal Greenwich Tall Ships Festival will last for five days from September 5-9 and will also include an array of family-friendly activities.
Open House London: Are you an architecture lover? You'll love Open House London, the annual event that allows people to explore the intricate designs of over 800 buildings across 30 boroughs for free. This year, it takes place from September 20-21.
Are you overwhelmed by all of these opportunities in London? Don't fret; you've got the whole summer to enjoy! Travelers on a budget may also want to read our blog article on the top 10 free things to see and do in London. Meanwhile, coffee lovers in London should get familiar with the top 10 coffee shops. Which London events would you like to attend?