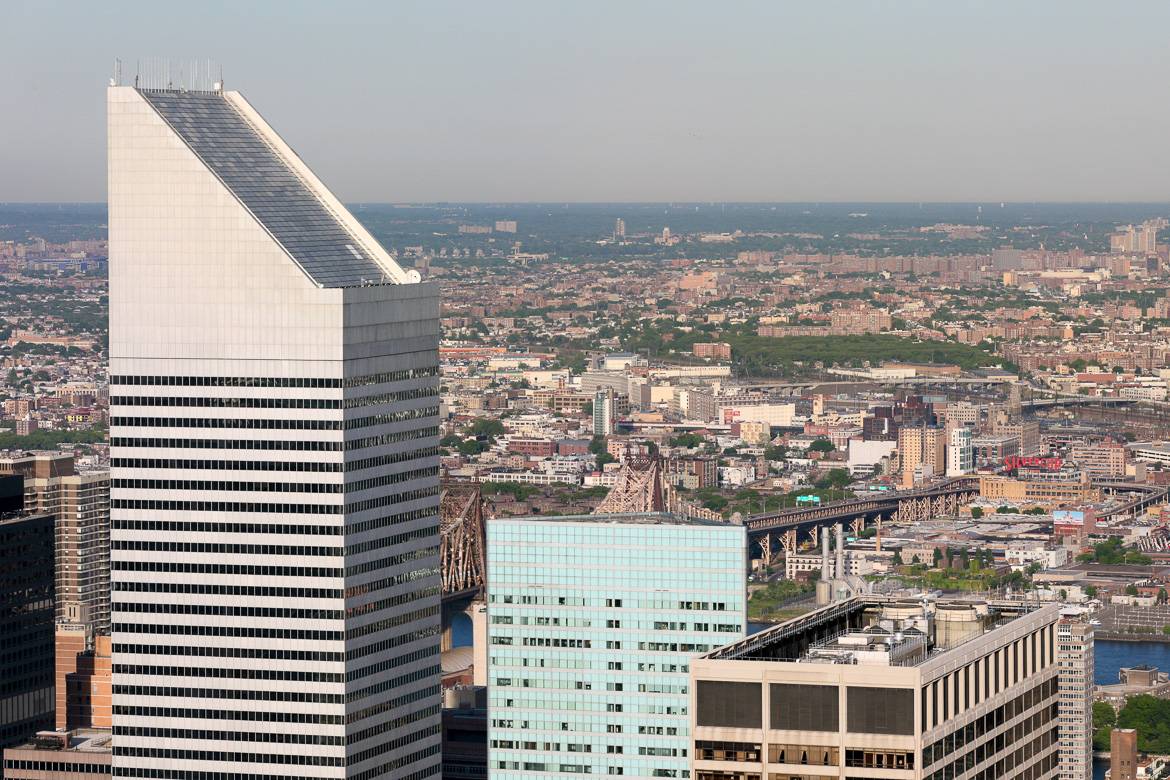 Enjoy a view of Queens and the Queensboro Bridge from Midtown Manhattan
Welcome to the second article of our new series about New York City's boroughs! In our first article, we introduced you to the Bronx. Now, we'll tell you about the most culturally diverse borough in all of New York City: Queens! Like the Bronx and Staten Island, Queens is often overshadowed by Manhattan and Brooklyn, which is a real shame given how much this borough has to offer.
The borough is comprised of numerous cultural enclaves full of authentic shops, restaurants, and festivals. For example, there's Chinatown in Flushing, Little India in Jackson Heights, a slice of Greece in Astoria, and so much more. This makes Queens a true melting pot of cultures, and definitely a borough worth experiencing. Queens also boasts some truly fantastic museums, sprawling parks, and even a couple of white, sandy beaches! For residents, there's a sense of space that you won't find as easily in Manhattan, giving you a borough full of possibilities. Read on for some of the best things to see and do in the area!
Welcome to Queens
Queens is the largest of the five boroughs and second-largest in population after Manhattan. It's located on the western end of Long Island, and bounded by the East River and the Bronx to the north, Hempstead to the east, Brooklyn to the south, and the East River and Manhattan to the west. The west side of Queens is very urban, while the eastern side is more suburban. Some of the best parks of the borough can be found in the south. Queens is also home to both of NYC's airports (JFK International and LaGuardia), is very well-connected by subway. The A, G, J, and Z trains connect Queens to Brooklyn, and the E, F, M, N, Q, R, and 7 trains connect Queens to Manhattan. The 7 train is an especially great way to get a sense of the borough, as it runs mostly above ground through Queens.
Queens has many authentic cultural enclaves. Flushing has a fantastic Chinatown, Jackson Heights features many South-Asian shops, restaurants, and even a Bollywood movie theater, and Astoria is known for its Greek heritage. Together, these enclaves make Queens a fantastic and vibrant borough that you'll want to keep visiting again and again! It won't come as a surprise that famous former residents of Queens include Donald Trump, Paul Simon & Art Garfunkel, Nicki Minaj, and Lucy Liu. Do as they did and explore Queens like a local!
Things to see and do in Queens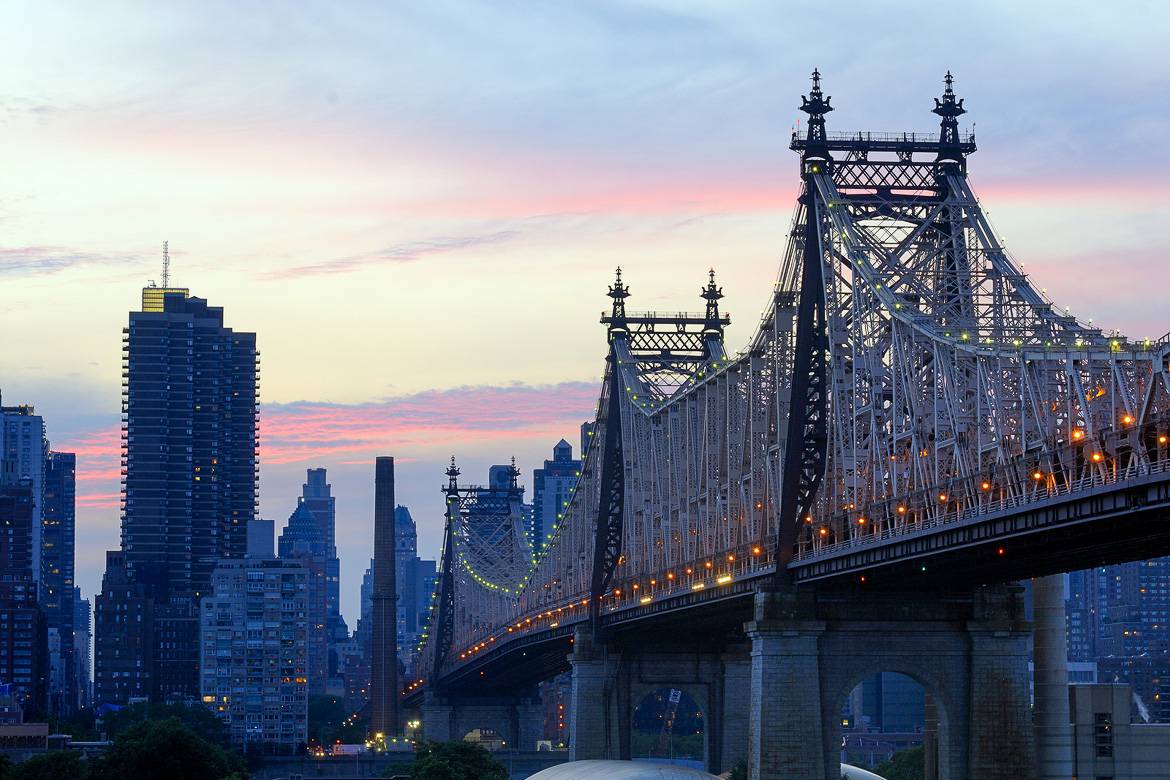 The Queensboro Bridge in New York City
While they may not be as flashy as the skyscrapers of Manhattan, Queens boasts many beautiful landmarks too! The Queensboro Bridge is an icon in the skyline that connects Midtown Manhattan to Long Island City in Queens. There's the Unisphere, a 12-story-high steel earth globe; Citi Field, home of the New York Mets; the Billie Jean King Tennis Center, host of the US Open Grand Slam; and the beautiful King Manor, a 200-year-old house in Jamaica. However, Queens is perhaps best known for its truly wonderful museums.
The Museum of the Moving Image pays homage to the art, history, and technology of the silver screen. The museum was renovated in 2011 to become one of the most fun and dynamic museums in New York City. Check out our article on the Museum of the Moving Image for more information.
The Queens Museum of Art was recently expanded to house visual arts, cultural events, and the Panorama of the City of New York, a beautifully accurate scale model of the five boroughs.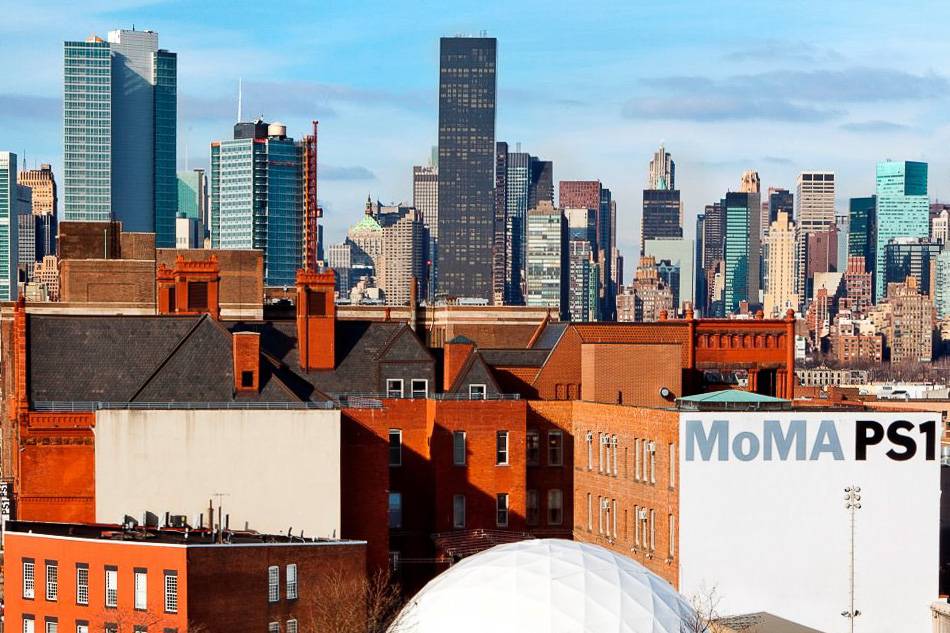 The MoMa PS1 Museum backs up to the Manhattan skyline in Queens
The PS1 Museum is affiliated with the famous MoMa (Museum of Modern Art) in Manhattan, but offers a much more relaxed environment. The museum is located in a beautiful, Romanesque former school, and the old classrooms create wonderful spaces for the art on display. Other great museums in the borough include the New York Hall of Science, the Queens County Farm Museum, the Noguchi Museum, the Louis Armstrong House, and the Museum of African Art.
Students will be drawn to Queen's universities, like the eponymous Queens University, Queens College, and Saint John's University.
When it comes to parkland, Queens has plenty to offer. There's the beautiful Queens Botanical Garden, a smaller and cheaper alternative to the ones in Brooklyn and the Bronx. If you visit in early spring, you can see the magnificent cherry blossom trees in bloom.
Gantry Plaza State Park is located on the banks of the East River in Long Island City. Due to its location, it boasts marvelous views of the Manhattan skyline. Highland Park and Astoria Park are two other lovely green spaces in the borough.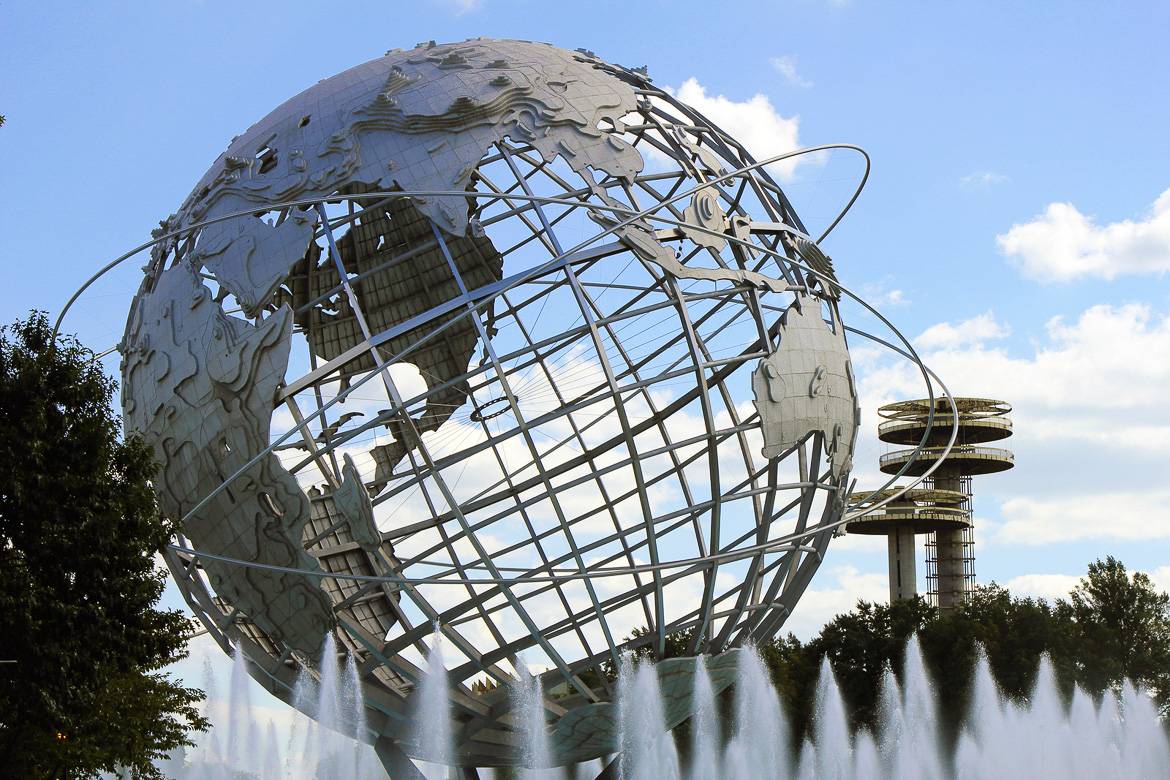 The 12-story-high Unisphere in Flushing Meadows-Corona Park is left over from a former World's Fair
Flushing Meadows-Corona Park is home to the New York Mets baseball team and the site of the U.S. Open tennis tournament. It's also well-documented in movies. The park was originally built for the 1939 New York's World Fair on the site of a former dumping ground, refernced as the 'valley of ashes' in The Great Gatsby. The present-day park and Unisphere also played a big role in the movie Iron Man 2.
Jamaica Bay is a huge wetland estuary (it's almost as big as Manhattan!) in south Queens. The bay consists of many small islands and a labyrinth of waterways teeming with wildlife, especially seabirds. Photographers love to visit the bay, as it has prime views of the distant Manhattan skyline (remember to bring mosquito repellant in the summer!).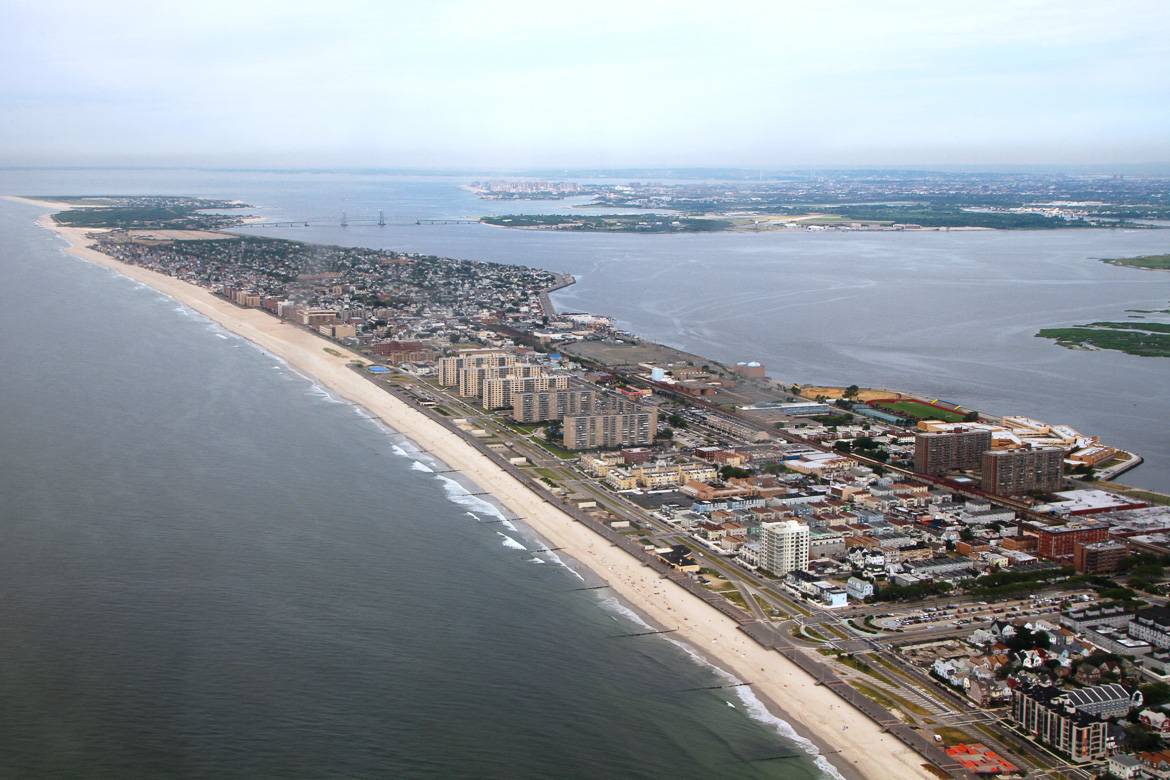 The Rockaway Peninsula and Jamaica Bay in Queens
South of Jamaica Bay is the Rockaway Peninsula, lined spectacular beaches for enjoying the blue waters and cool sea breeze of the Atlantic Ocean. In the summertime, the Rockaway beaches like Breezy Point Tip, Jacob Riis, and Rockaway Beach make great day trips to escape the heat of the city. Check out our top 5 beaches in New York City for more beaches in the metropolitan area!
Shopping in Queens
Queens also offers some great shopping centers for a more urban experience. Steinway Avenue in Astoria and Jamaica Avenue in Jamaica are the places to go for fashion deals. Meanwhile, Ditmars Boulevard and Austin Avenue in Astoria offer everything from small boutiques to chain retailers.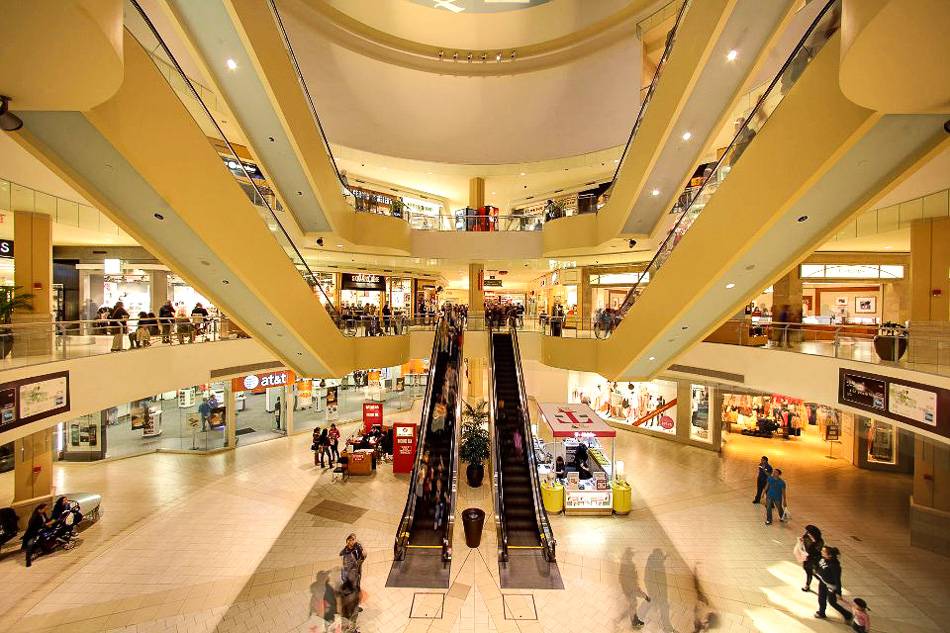 The Queens Center Mall offers a huge selection of retail
You'll also find many malls in Queens to do all your shopping under one roof. Queens Center Mall has a huge selection of chain retailers like Macy's, H&M, JC Penney, Forever 21, Banana Republic, Bath & Body Works, and a Disney Store. The smaller Queens Place Mall still has a great selection of stores, including a Target and Designer Shoe Warehouse. Rego Park Center is a lovely open-air mall that offers discount stores such as Century 21 (a less crowded outlet than the one in Lower Manhattan) and Costco. The SkyView Center, Atlas Park, and Bay Terrace are other malls in the area.
Farmers' markets have become popular all over in New York City, and Queens has some of the best. On Sundays, you can shop for fresh fruits, vegetables, dairy and more at the Jackson Heights Greenmarket. At the Forest Hills Greenmarket, you'll also find fresh produce alongside wine and cooking demonstrations. Both markets close at 3:00 p.m., so be sure to come early! The fast-growing Sunnyside Greenmarket near Lou Lodati Park is known for its delicious baked goods and is open on Saturdays. Other great farmers' markets in Queens include the Queens Botanical Garden Farmers' Market, Astoria Greenmarket, and Jamaica Farmers' Market.
Stay or live in Queens
People visiting New York City often don't immediately think of Queens when looking for accommodations. Here's a well-kept secret: staying in Queens you can save a lot of money on living space. You can travel to Manhattan and Brooklyn from Queens in mere minutes via subway, so you won't miss a thing on a New York City holiday. Take a look at our vacation rentals in Queens if you're looking for a short trip.
If you're coming to New York City for a longer term to work or study, living in Queens is a fantastic option. Furnished apartments in Queens are more affordable compared to other areas of the city, and by staying in Queens, you'll get to experience what it's truly like to live in NYC like a local! You'll have access to a fully equipped kitchen as well, so you can make use of all the great farmers' markets in the borough.
If you're a student or intern, renting a furnished room in a Queens apartment can be a real money-saver. Living with one or more roommates also helps you meet new people with little effort, so you'll have people with whom you can explore the neighborhood. Even if you're working or studying in Manhattan, the commute from Queens is amazingly easy and fast.
Cafes, restaurants, and nightlife in Queens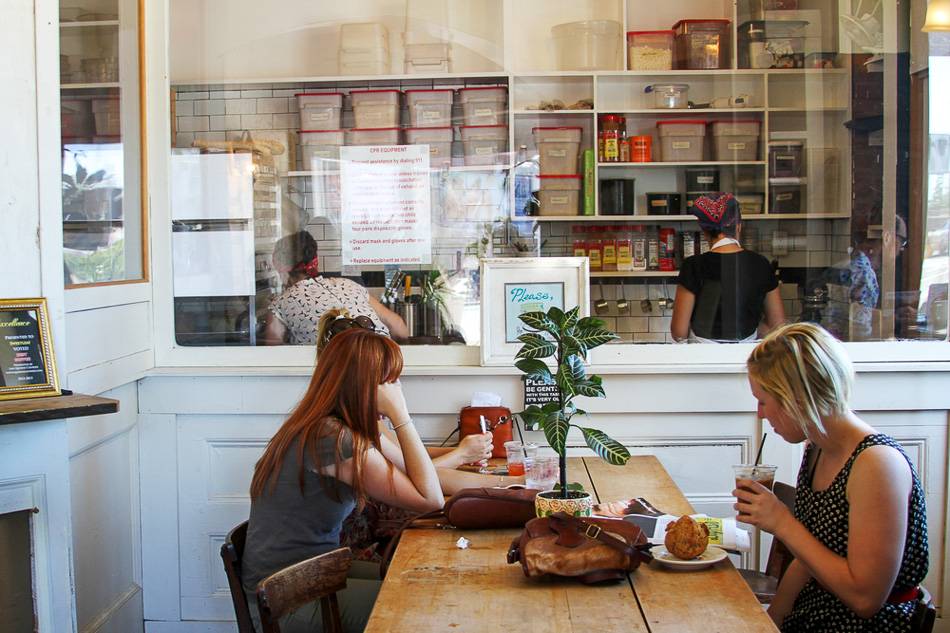 Enjoy a great cup of coffee at Sweetleaf in Queens
Coffee is serious business in New York, and there are several cafes in Queens that are at the top of the coffee hierarchy in the city. The baristas at Sweetleaf on Jackson Avenue serve fresh fair trade coffee and delectable baked goods to boot. Coffeed on Northern Boulevard grinds its own beans and makes a delectable pour-over coffee. Odradek's Coffee House on Austin Street has a great atmosphere, and serves some delicious tea blends alongside their coffee. Norma's on Catalpa Avenue is a lovely café that serves great coffee and tasty baked goods and sandwiches. Other notable coffee shops in Queens include Cafe Bench, Breadbox Cafe, Communitea, Bakeway, Fix, and New Post Coffee Shop. Check out our top 10 coffee shops in New York City for more great cafes in the Big Apple.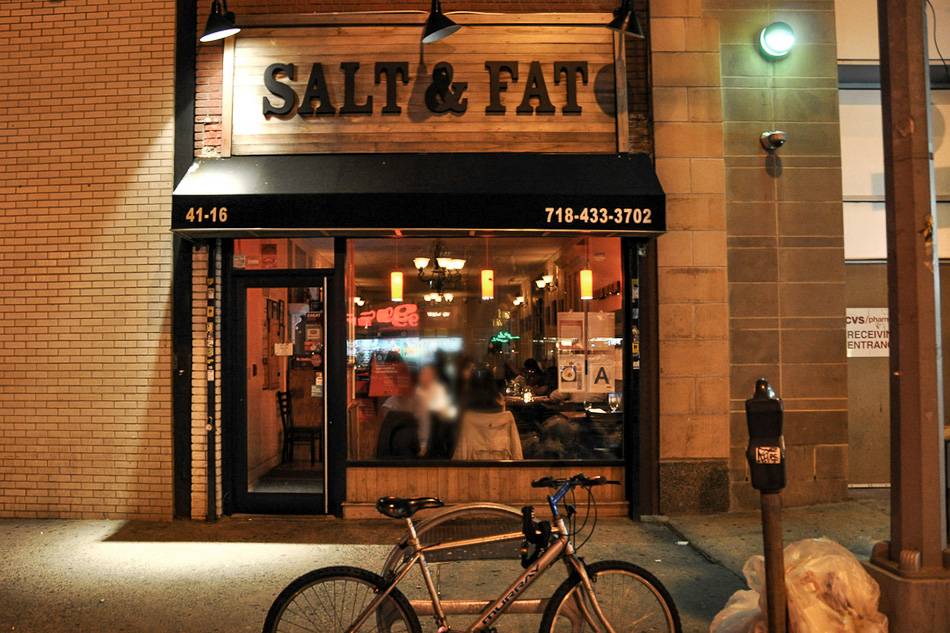 The Asian-American fusion restaurant Salt & Fat in Queens
When it comes to dining in Queens, you'll be in for a treat. You can find every major global cuisine somewhere in the different neighborhoods of Queens. If you're craving Greek food, head to Astoria; visit Flushing for Chinese and Korean, Jackson Heights for Indian, Corona for Italian, and Romanian, Mexican and Irish food in Sunnyside. There are too many restaurants in Queens to list here, but the following will delight any foodie.
SriPraPhai on 39th Avenue serves delicious Thai food
Nan Xiang Dumpling House on Prince Street serves some of the best dumplings in New York (and that's saying something)
Taverna Kyclades on Ditmars Avenue serves authentic Greek food
Salt & Fat on Queens Boulevard is a great Asian-American fusion restaurant
Jackson Diner on 74th Street is a fantastic and affordable Indian buffet restaurant
Seva Indian Cuisine and Sugar Freak are both also outstanding options for Indian food
See our article to tour the world with food in New York City and find more global culinary treats.
As for nightlife, The Bohemian Hall & Beer Garden on 24th Avenue is the oldest beer garden in New York City, and one of the most popular places to drink in the summer. Sweet Afton on 34th Street is a notable Astoria bar with a good beer selection and delicious cocktails. Another Astoria bar, DiWine on 31st Avenue, is cute, cozy, and has an extensive wine list. Dominie's Hoek on Vernond Boulevard has a nice bohemian vibe. Austin's Ale House and Penthouse 808 are two other can't-miss Queens bars, and you'll find many Irish pubs in Woodside.
We hope you've enjoyed this introduction to Queens! Of course, the borough is so large, there's much more to see. What's your favorite place in Queens?