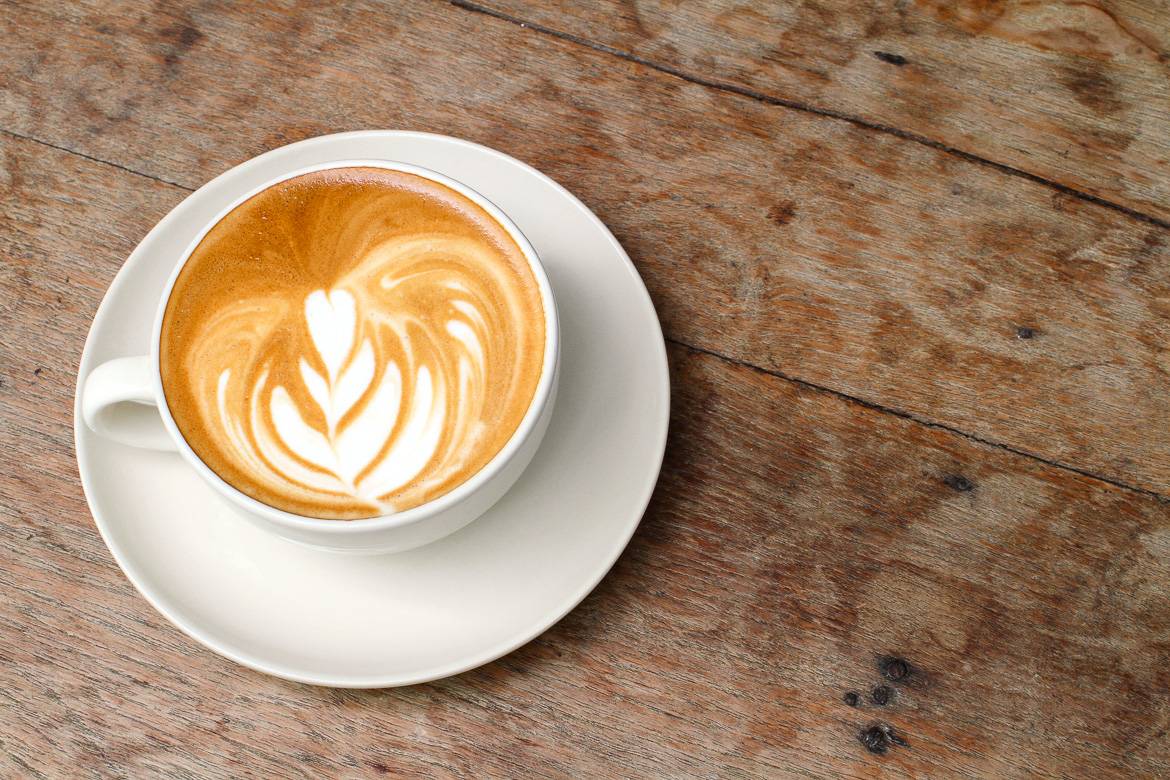 Enjoy a perfectly brewed cappuccino in New York City
Along with many other cities around the world, New York City has adopted a new wave of coffee culture over the past decade. While well-known American chains can be found around the world, New York City's coffee culture has moved away from the corporate giants and begun to emphasize specialty coffee. Specialty coffee is coffee that's typically made from fair trade and/or organic beans that are freshly ground for each individual cup. This so-called "third wave" coffee movement has opened the door for small, cozy neighborhood cafes where the baristas know customers by name.
These cafes serve rich coffee, but they also offer people a quiet workspace, a reading haven, or a social spot for meeting friends (very much like the cast of Friends at Central Perk!). In the past few years, specialty coffee shops have opened all over the city; almost too many to choose from. Therefore, we've compiled a list of our top 10 coffee shops in New York City, particularly specialty cafés in Manhattan and Brooklyn, for you to use to find a strong brew in the city!
1. Café Grumpy
Café Grumpy is the place to go for a fresh-brewed cup of coffee. The café started out as one shop on Meserole Avenue & Diamond Street in Greenpoint, Brooklyn, but has spread to four locations in the city. The Greenpoint shop is still the most famous, though, due to its appearances on the television series Girls. Show creator Lena Dunham's character Hannah works in a Greenpoint coffee shop, and Café Grumpy is used for exterior shots. If you're a fan of Girls, the Greenpoint location is a must-visit, though if you prefer a quieter spot, Café Grumpy on 20th Street & 7th Avenue in Chelsea, Manhattan has a tranquil garden space. Our guide to living like a local in Chelsea will teach you more about Café Grumpy and the surrounding neighborhood!
2. Brooklyn Roasting Company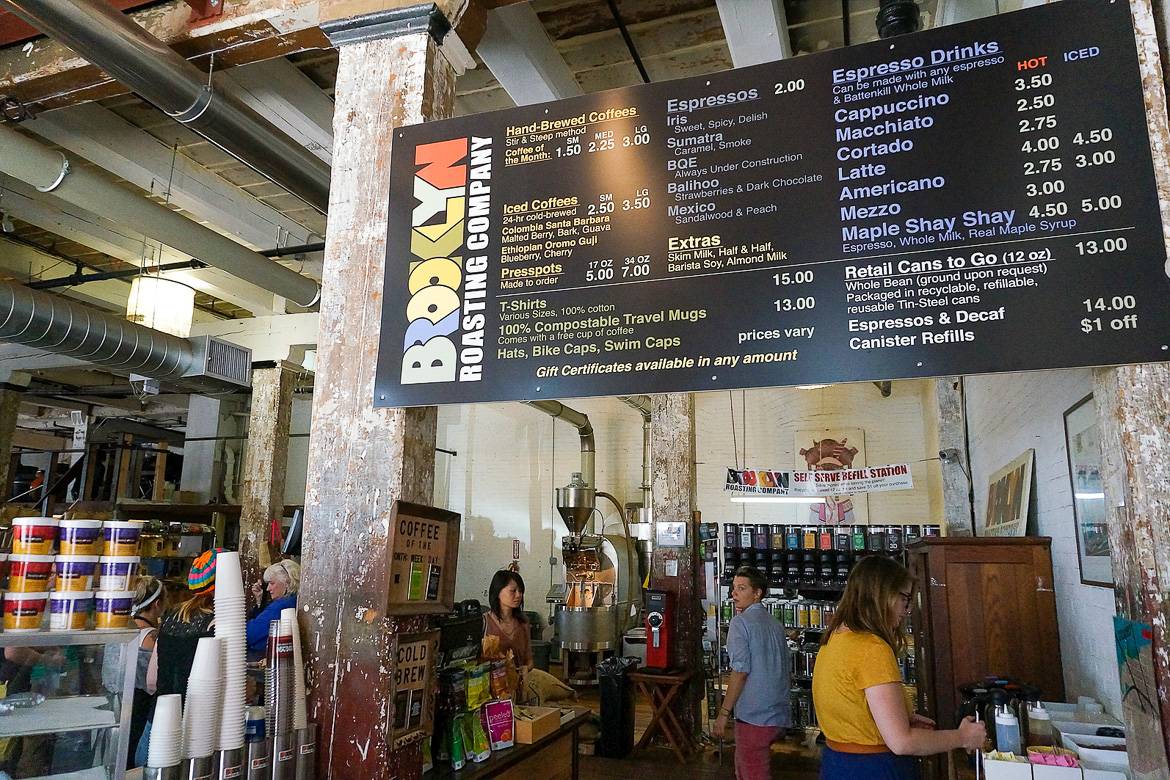 The Brooklyn Roasting Company is a geniune neighborhood staple. (Photo credit: Kristina D.C. Hoeppner)
Brooklyn Roasting Company is another Brooklyn staple that offers a fantastic selection of fair trade and organic coffees. The café's original location is within an old warehouse just a block from the East River and the Manhattan Bridge in DUMBO.
The spacious café is furnished with recycled and re-purposed furniture, making it delightful and authentic if you want to spend time inside with a delicious cup of coffee. On a hot day, you can take your (iced) coffee to go and enjoy it in Brooklyn Bridge Park for the amazing view of the Manhattan skyline. The shop's second location on Flushing Avenue & Washington Avenue is equally spacious, and the coffee is outstanding to boot!
3. La Colombe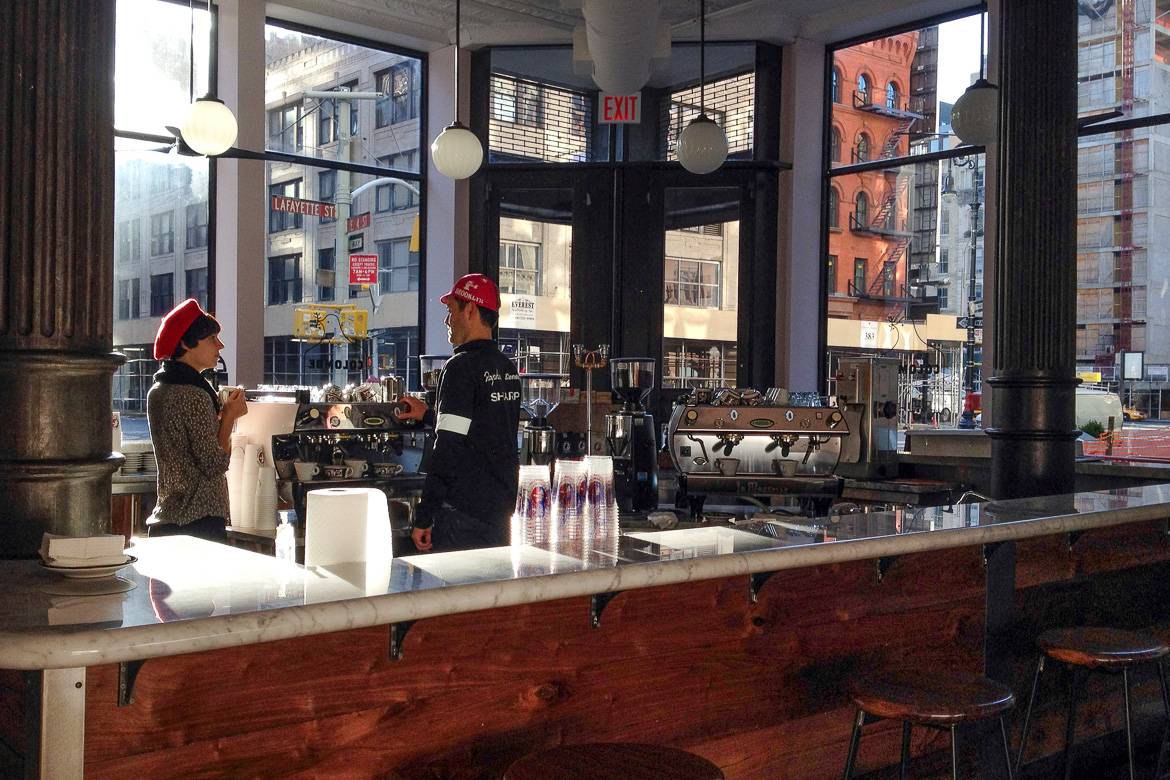 Sample a delicious cappuccino or espresso at La Colombe in SoHo. (Photo credit: Dan Nguyen)
Just like Starbucks, the USA's most famous coffee chain, La Colombe has its roots in Seattle. Founders Todd Carmichael and French native Jean Philippe Iberti met in Seattle during college and founded La Colombe Coffee together years later. The brand has three locations in Manhattan: one on Church Street (Tribeca) and two on Lafayette Street (SoHo & NoHo). The SoHo location on Lafayette & Prince Street brews exceptional cappuccinos and espresso, plus offers fine pastries like almond croissants to accompany your coffee.
4. Blue Bottle Coffee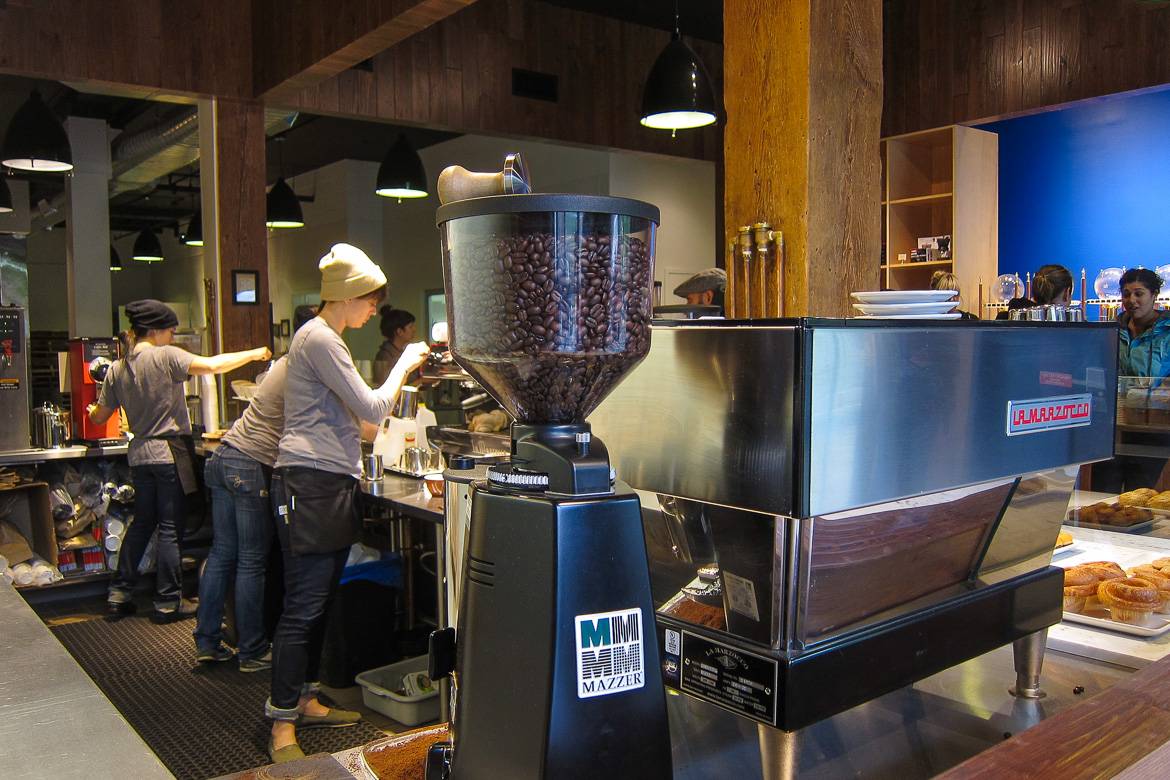 New York's Blue Bottle Café serves artisinal hot and iced coffees. (Photo credit: Scott Beale)
Blue Bottle originally hails from California, but now boasts five locations in New York City that serve some of the freshest coffee you can get in the Big Apple. Want to know their secret? They use a pour-over method to brew each individual cup.
Blue Bottle's flagship shop is in Williamsburg on Berry Street & 5th Street, but the Chelsea location on 16th Street & 10th Avenue is notable for being right at the base of the High Line, a fantastic elevated park built on an old railroad bed! Take a scenic walk through this green space and enjoy splendid views of Midtown Manhattan skyscrapers, including the Empire State Building. Stop at Blue Bottle halfway along the High Line for a refreshing cup of coffee or espresso; on a hot day, the New Orleans iced coffee is absolute bliss.
5. The Chipped Cup
The Chipped Cup on 149th Street & Broadway in Hamilton Heights is an authentic neighborhood espresso bar. Order their premium latte with regular, soy, or almond milk, and be sure to try one of the fresh pastries. The Chipped Cup also has free Wi-Fi to encourage you to sit down with a laptop and accomplish some work. In the summer, the shop's garden patio is a great spot to meet friends for coffee.
6. Think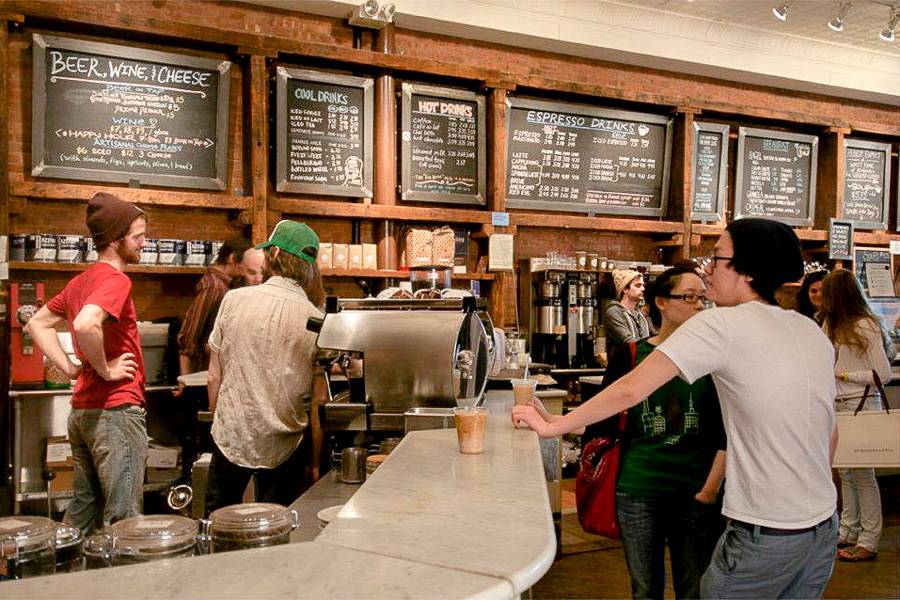 Taste a traditional Americano at Think in Manhattan
Think specializes in fair trade coffee and maintains relationships with individual farmers at the source of their coffee. As a result, they can tell you exactly where each individual coffee brand has come from! There are six Think locations in Manhattan, and each offers something different. The NoHo location on Bleecker Street & Bowery has a cozy atmosphere and plenty of seating, and the Americano and the hot chocolate are the menu's stars. There's also a Think coffee location inside NYU's bookstore on Mercer Street & 3rd Street. It's a popular student hangout for the atmosphere and the ability to pick up some books or NYU merchandise while you're there.
7. Gorilla Coffee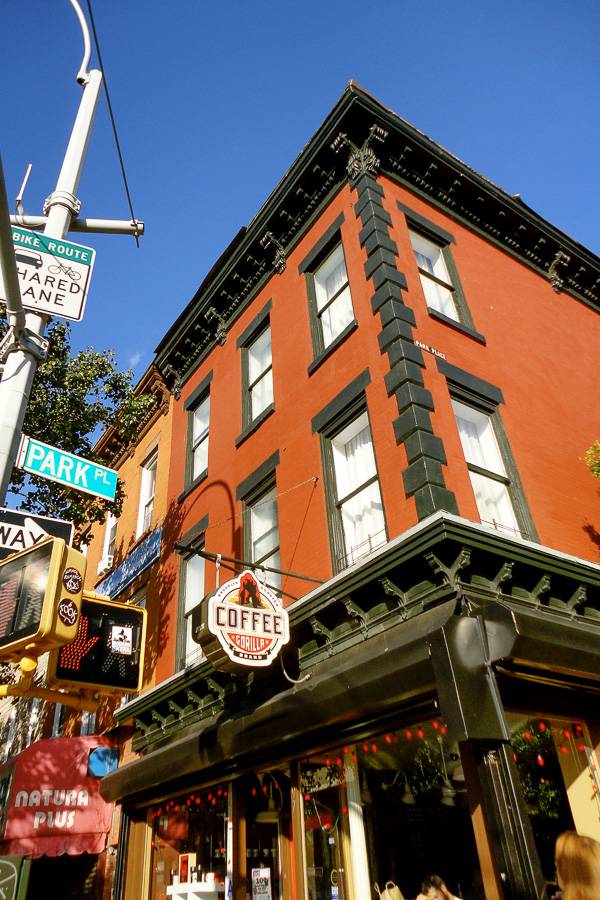 Gorilla Coffee is a neighborhood staple in Brooklyn's Park Slope. (Photo credit: Sheryl Yvette)
Gorilla Coffee has found a home in Brooklyn's Park Slope for over a decade. The coffee shop on the corner of Park Place & 5th Avenue serves strong espresso and sells fresh coffee beans, so you can enjoy your own Gorilla cup first thing in the morning at home.
Of course, you'll need a kitchen with a proper coffee maker to enjoy the beans, so have a look at our vacation rental apartments in New York City! These apartments come with fully equipped kitchens and can provide the perfect home away from home during your visit to the city.
8. Stumptown Coffee Roasters
Duane Sorenson founded Stumptown Coffee Roasters in 1999 and helped revolutionize coffee shops in the United States. The brand was one of the first to personally visit and form relationships with their coffee suppliers. They roast their beans on-site, which comes through in the fresh taste of their deliciously brewed hot and iced coffees. The shop currently has two locations in New York City: one on 29th Street & Broadway and one on 8th Street & MacDougal Street. The latter is more spacious and even offers tasting classes!
9. Ninth Street Espresso
Ninth Street Espresso began with just one location on 9th Street & Avenue C in the East Village about 10 years ago, and three more New York City locations have been added since. The East Village location remains a classic with its minimalist furnishings that invite you to sit down and enjoy a drink. Cappuccinos are perfectly foamed and the café is known for its signature latte art. You can also buy fresh beans to take home; we recommend the Alphabet City blend!
10. Joe
This family-owned coffee shop began as a café in the West Village in 2003, and quickly expanded to eight additional locations in New York City and even two in Philadelphia! The original West Village shop on the corner of Waverly Place & Gay Street is a cozy neighborhood bistro with friendly baristas and distinctive coffee. At Joe's Pro Shop on 21st Street & 6th Avenue, you can learn the intracacies of the art of coffee-making and buy the equipment you need to brew your own cup of Joe at home.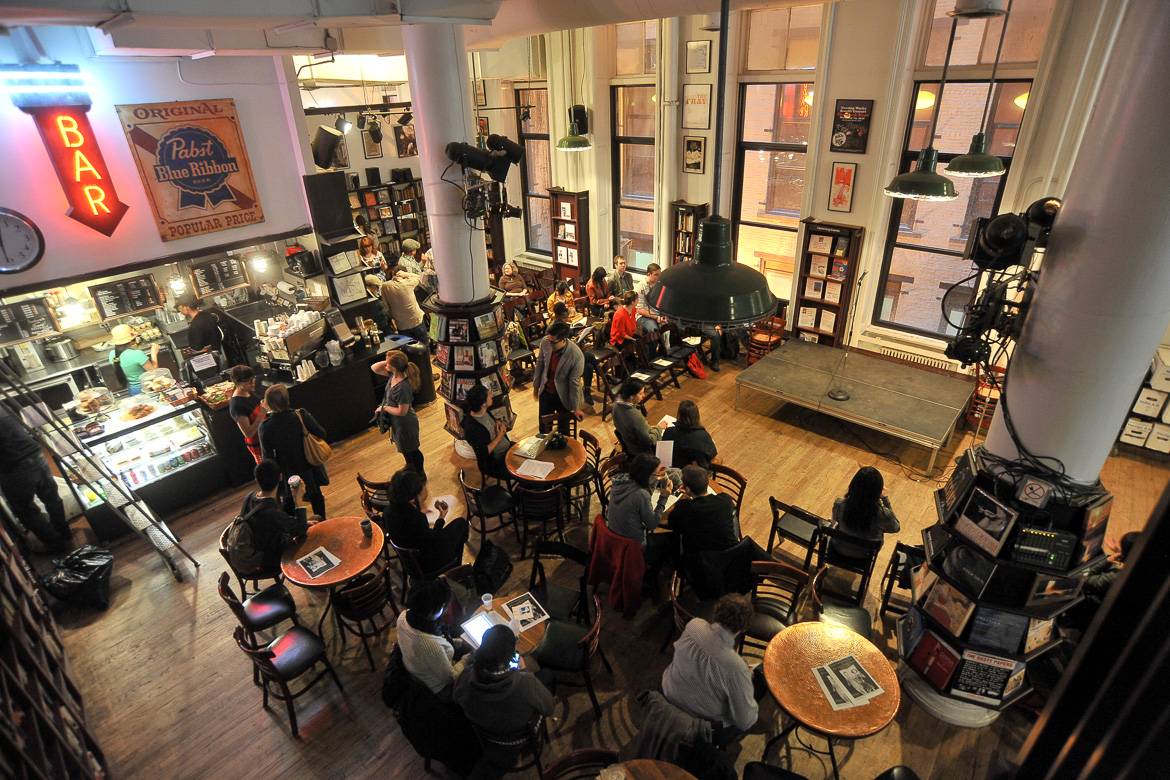 The lofty interior of the Café at Housing Works Bookstore (Photo credit: Asterio Tecson)
If you can't get enough of our top 10 coffee shops in New York City, we have an added bonus. Housing Works Bookstore Café is a combination coffee shop/bookstore on Crosby Street & Jersey Street in SoHo. The shop is largely operated by volunteers and donates all profits to the charity Housing Works, which helps homeless people living with HIV/AIDS. The bookstore has an inspiring selection to enjoy with a wholesome cup of coffee.
We hope you've enjoyed this introduction to New York City's thriving coffee culture! What's your favorite local coffee shop?