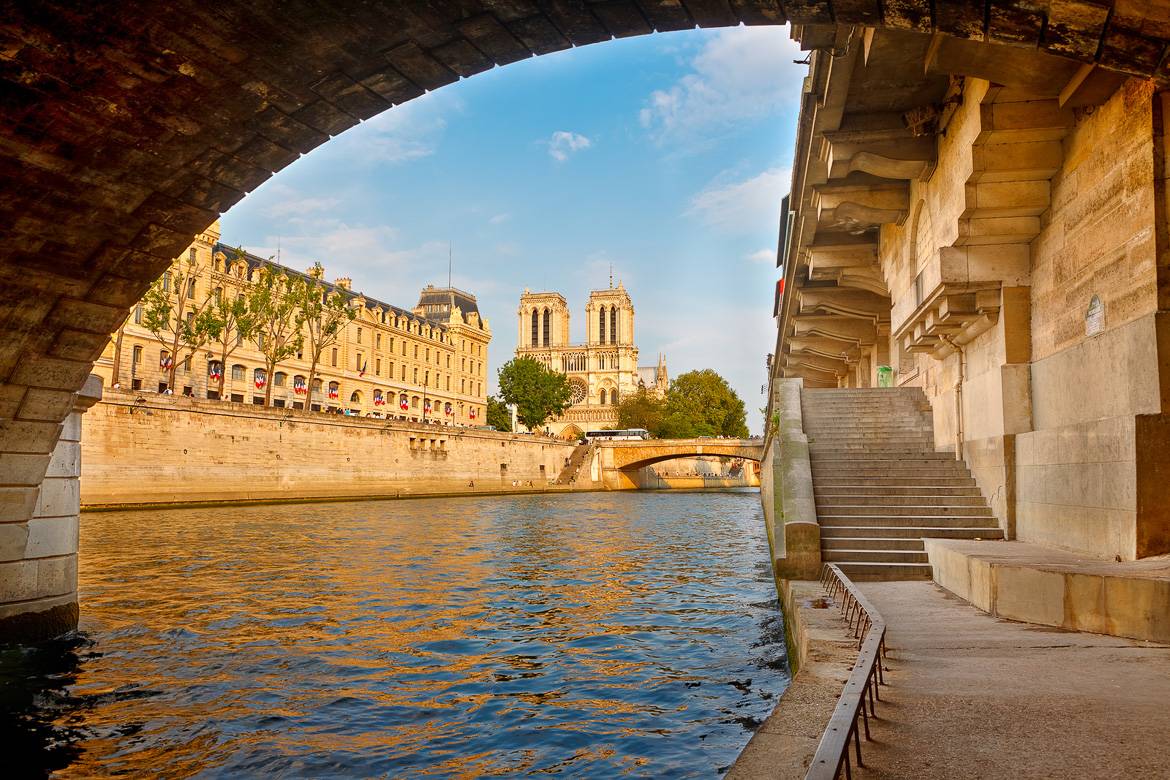 Stairs separate the busy city from the quiet Seine River.
"Why isn't there an elevator in my apartment building? I have to walk up multiple flights of stairs!" This is the cry of the beleaguered traveler who is dismayed to find that they will have to carry heavy bags up several stairs before taking a well-deserved nap after a long flight. We hear you, and you're not alone in your woe! In this article, we hope to help you understand why your building was designed without a roomy elevator, and why this might actually be a good thing.
But first, get ready for a bit of history.
1. Upward mobility and the social standing of stairs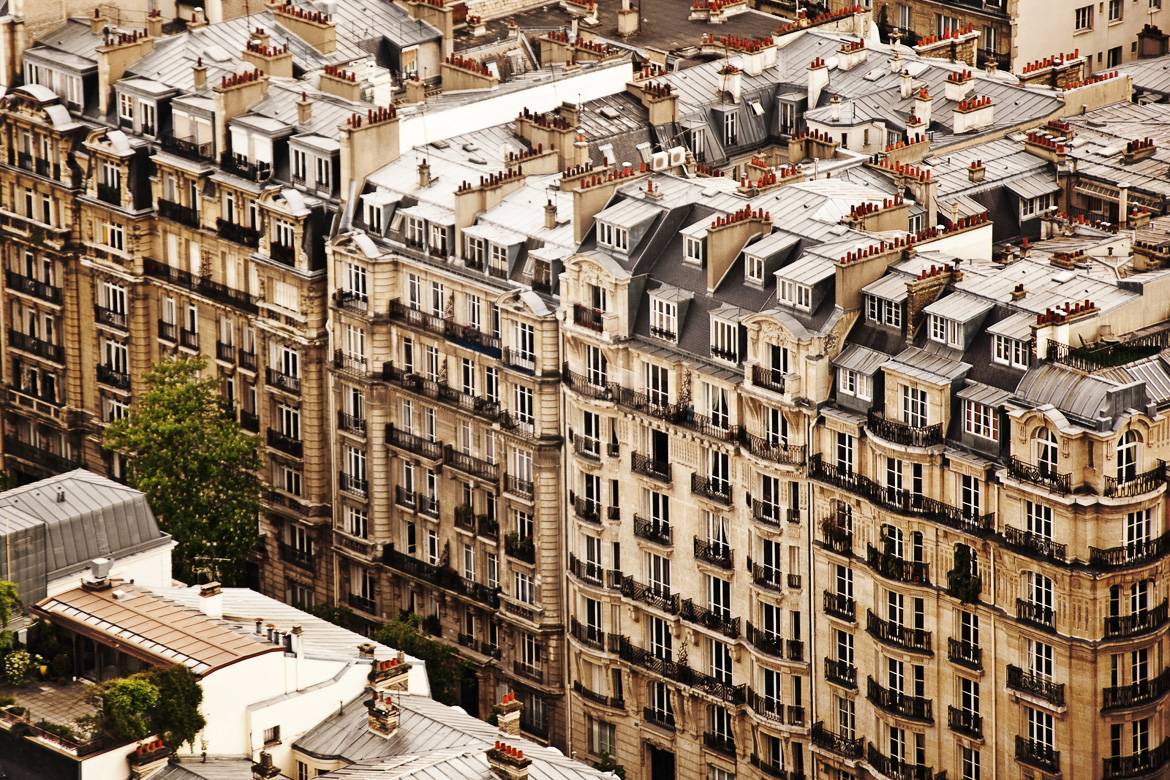 Haussmann's grand style made its mark with the rebuilding of Paris
Paris was a pretty dismal place in the mid-19th century. The medieval-era streets twisted aimlessly through dark, leaning buildings, and roads were often barely wide enough for one cart to traverse. In 1853, Napoleon III appointed George Haussmann to open, unify, and embellish Paris. The sweeping style and delicate filigree that characterizes Paris architecture today is largely a result of Haussmann's work. With a new architectural order came a new social order, and the new buildings' staircases were largely at the center of it.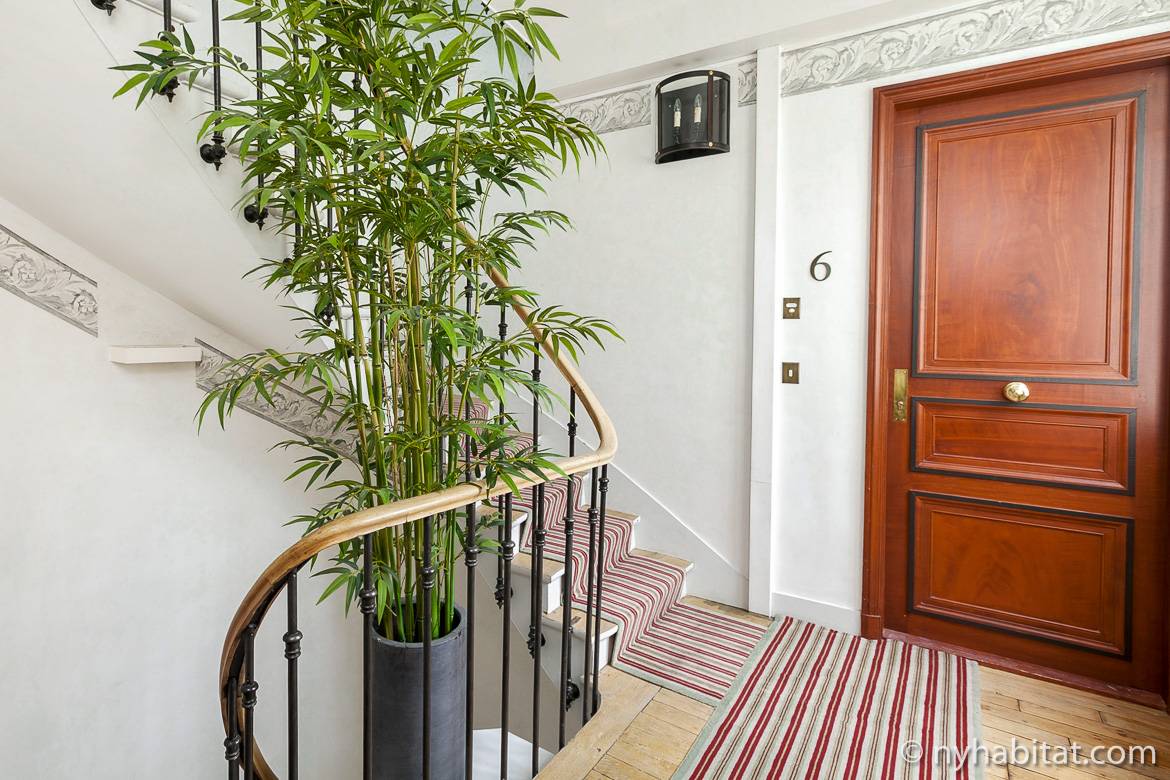 Walking up to a Paris apartment can be a beautiful experience
In the past, elevators were novelties that only prestigious hotels and city centers could afford to install. As a result, Haussmann designed most of his buildings without elevators, following a building plan that divided different floors by social class. The ground floor was designed for shopping and commerce, while the first floor (a.k.a. the second floor in the United States) housed the building's shopkeepers. The second floor (U.S. third floor), called the étage noble, was reserved for wealthier families. The design of upper-level floors depended on the architect of the building, but the top level was almost always a great place to watch the sun set over Paris.
Haussmannian apartments weren't the only places to utilize the symbolism of stairs. The Grand Staircase at the Opéra de Paris was almost as much of a reason to attend the opera as the opera itself. The whole building was designed to facilitate one's ability to see and be seen, and walking along the lobby's sweeping staircase was the equivalent of stepping into the limelight.
2. Why aren't there any elevators now?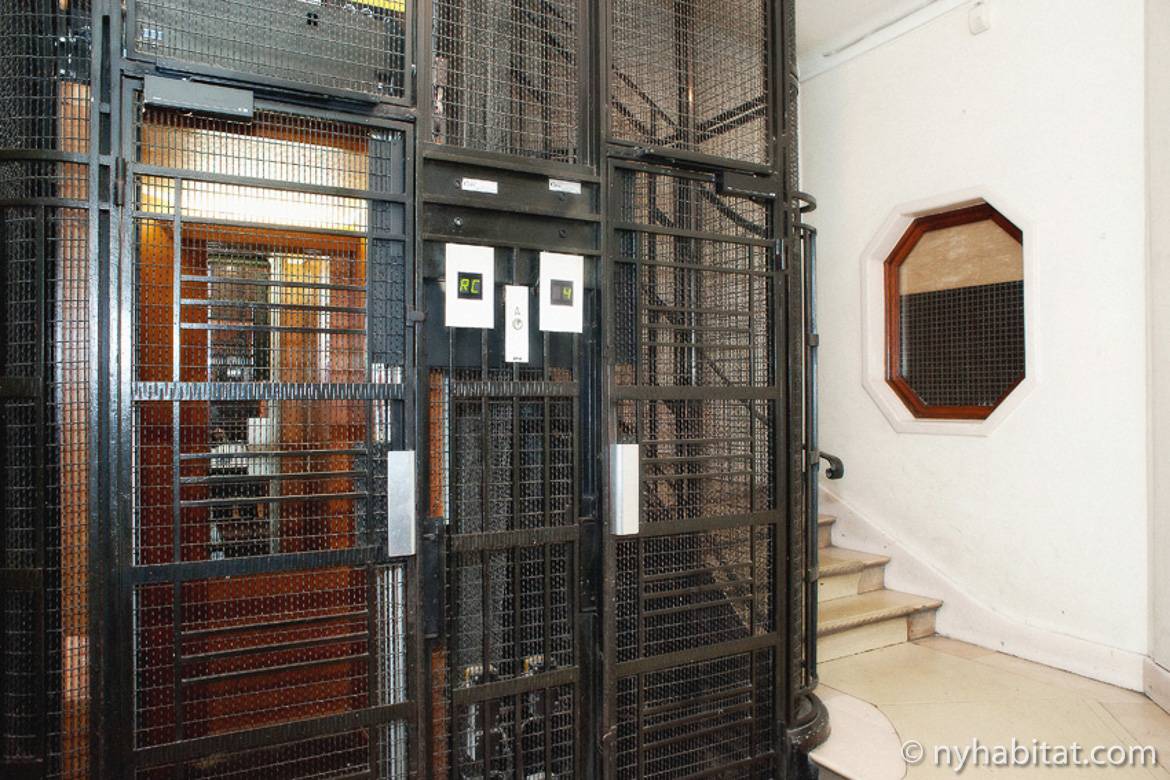 Because buildings weren't originally designed for elevators, space is split between elevators and stairs.
Many travelers to Paris are surprised to discover that there are very few elevators in the city, even in the 21st century. It's a subject most guidebooks forget to mention. Those who do discover a rare elevator are sometimes vexed to find that it is much smaller than an American elevator. The reason for this is that most Parisian elevators were installed decades after the building was built, and many of them have to share the space with the preexisting stairs. It's often therefore nicer to live in a building that maintains its original large staircases than it is to live in a building that has unsuccessfully tried to make room for both.
Besides, most guests who opt to stay in an authentic Paris apartment are trying to experience Paris as Parisians do. To put it bluntly, Parisians expect stairs, whether it's out of habit or to keep in shape. If you really want to experience Paris properly, you must expect to climb a lot of stairs, even in the Paris Metro, which is as famous for its stairs as for its art. On the positive side, most Paris stairs were designed to be shallow and easy to climb so corseted ladies didn't faint, or worse; reveal an ankle.
If you're curious about whether or not the apartment you've booked has an elevator, check the description on New York Habitat's website. Often there are also pictures of the entrance hall and staircase/elevator. Our agents are also happy to tell you whether or not your apartment has an elevator. And don't forget; floor numbers are different in the U.S. than in Paris! A second-floor apartment in Paris will be accessible via two flights of stairs.
When in doubt, ask your agent. We do our best to help you avoid any surprises!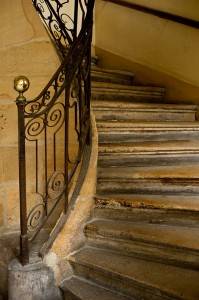 19th-century stairs are well-loved by both time and travelers
3. The art and personality of Paris stairs
Several centuries on from the practical motivations of George Haussmann's stairs, Parisians have turned their staircases into an art form. Here are just a few ways Parisians have reinvented stairs:
There's no better way to understand the character of a building than to check out its staircase. This staircase is built in the old Haussmannian style, with beautiful, sweeping stone curving around an iron filigree railing. From looking at this classic and elegant staircase, you can expect this building to uphold all the grand traditions of the Belle Époque. The mark of a truly historic building is often its well-travelled and slightly uneven stairs. You can find some examples in our beautiful vacation rentals in Paris.
For a more modern approach to this Paris tradition, check out the Centre Pompidou, a building as known for its visible plumbing as it is for its color. Pay specific attention to its avant-garde staircases. Bright colors, clean lines, and a metal body define this building as a futuristic icon of Paris.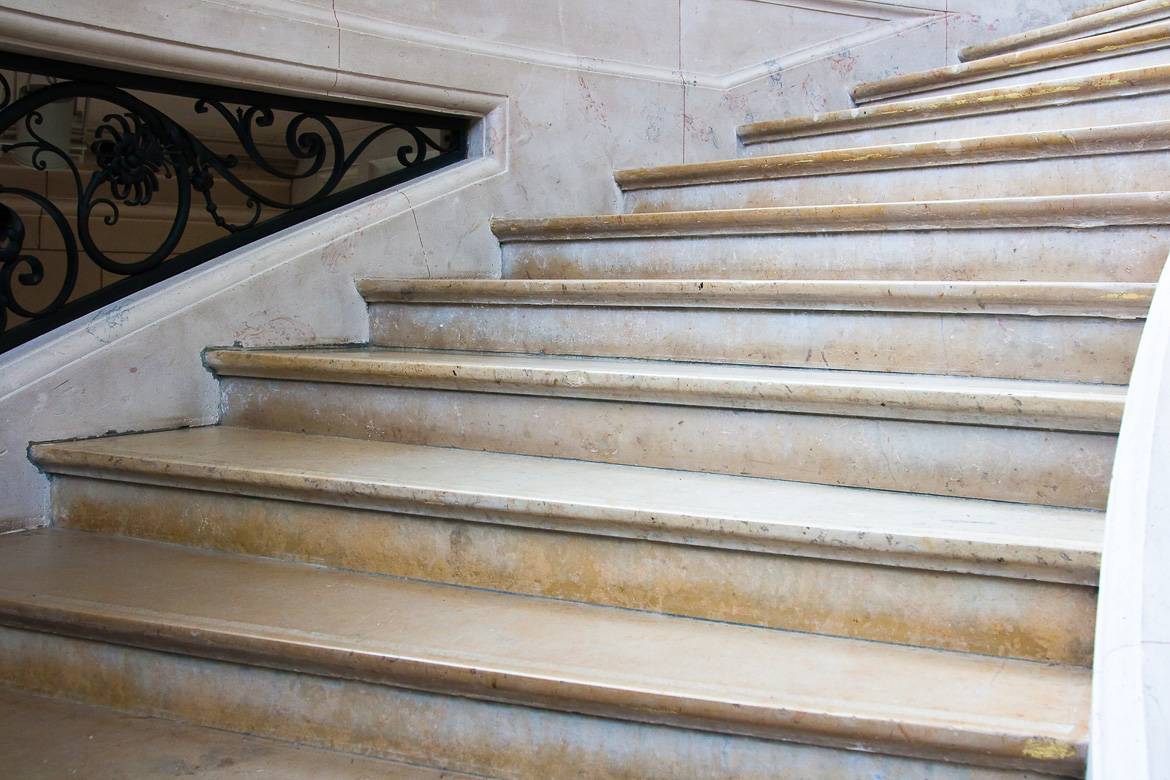 A formal staircase is an expression of stature in Parisian society
Welcome to one of the stateliest buildings in Paris. At least, that's what this staircase is telling us, with its finely polished white marble and iron filigree relief. While some Paris buildings are more traditional and some are contemporary , this crisp staircase takes you back to an era of kings and revolutionaries when the formation of government was something of an academic sport. Hunt for this kind of staircase in old palaces, museums, and governmental halls.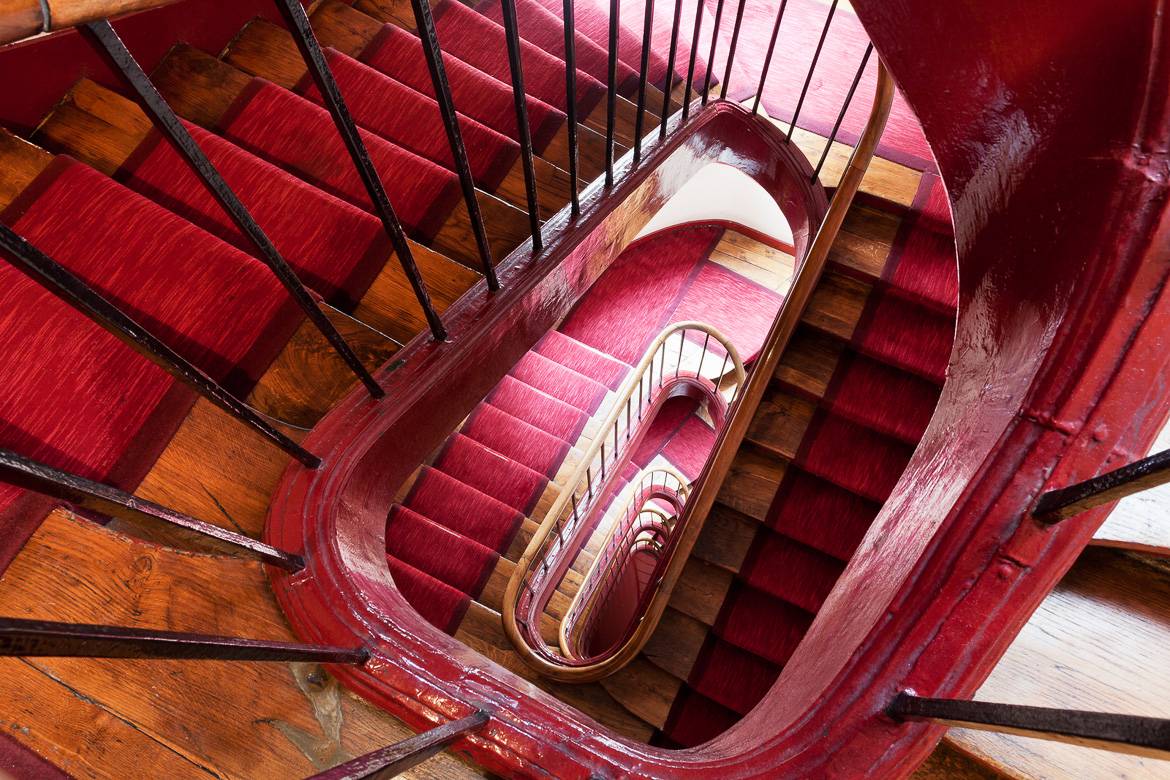 Walk up the red carpet to your Amélie-approved apartment
The traditional Paris staircase is what it says on the tin: a set of functional steps in the traditional style without all the bells and whistles. This wooden staircase keeps it simple with a basic railing and wooden steps, but adds vibrancy and energy with its red paint and carpet. Large windows fill the space with light, and the twisting bannister is tempting to anyone who ever wondered what it would be like to slide down the whole thing.
Explore all the different types of Paris stairs with a peek at the photos of our furnished rental apartments!
4. The A-list of stairs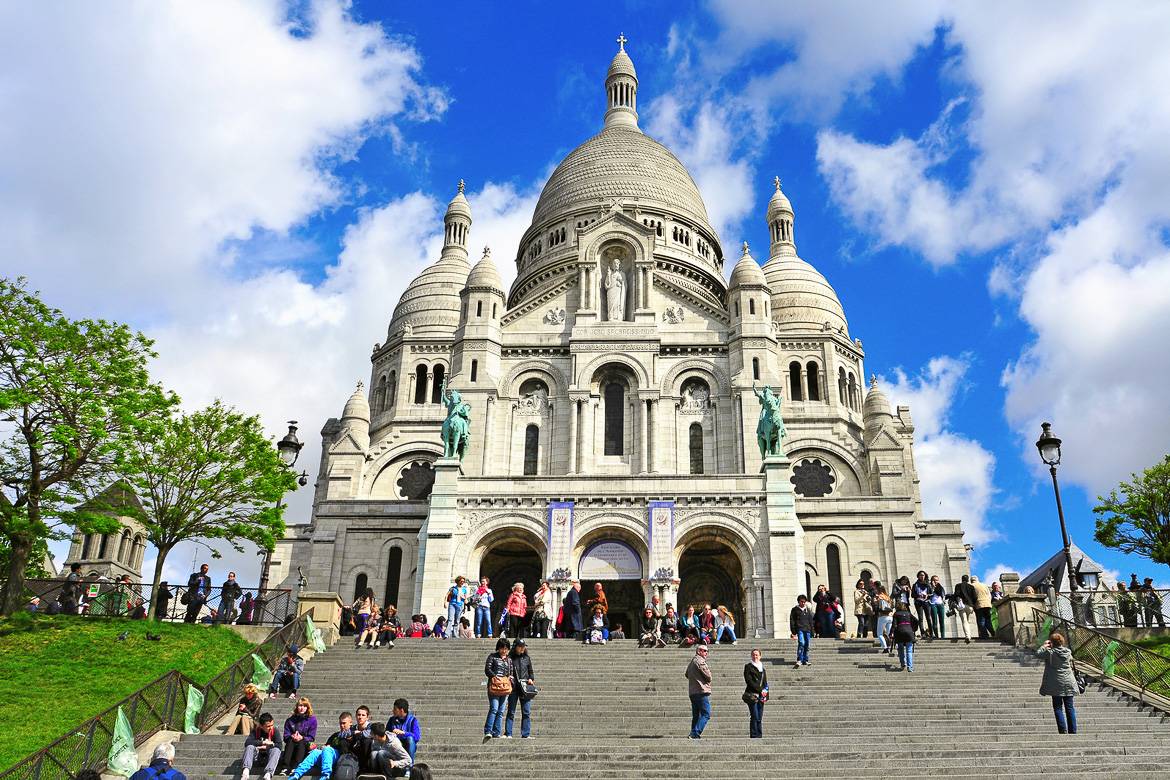 Walk the stairs of Montmartre and discover one of the city's best neighborhoods
What visit to Paris is complete without a photo at the Montmartre stairs? Located in the vibrant neighborhood of Montmartre, this grand stairway connects Rue Lamarck and the Sacré-Coeur Basilica. After starring in Midnight in Paris, it quickly ascended among the ranks of the most famous stairs in the world. In fact, the Montmartre stairway is so famous that it's listed alongside the Eiffel Tower and Notre Dame as one of the most photographed places in the city. But the most enchanting thing about the Montmartre stairs happens after dark. After the sun sets, the paved slopes flanking the stairway illuminate with hundreds of tiny lights to form a mirror image of the starry sky. And that's just the tip of the iceberg! Find out what else there is to see and do in Paris.
Did you know that at just under 6 meters long, the Rue des Degrés is the shortest street in Paris? It's also a staircase of just 14 steps. Originally built to connect Rue de Clery and Rue Beauregard, this tiny staircase-street is also the quietest street in the city!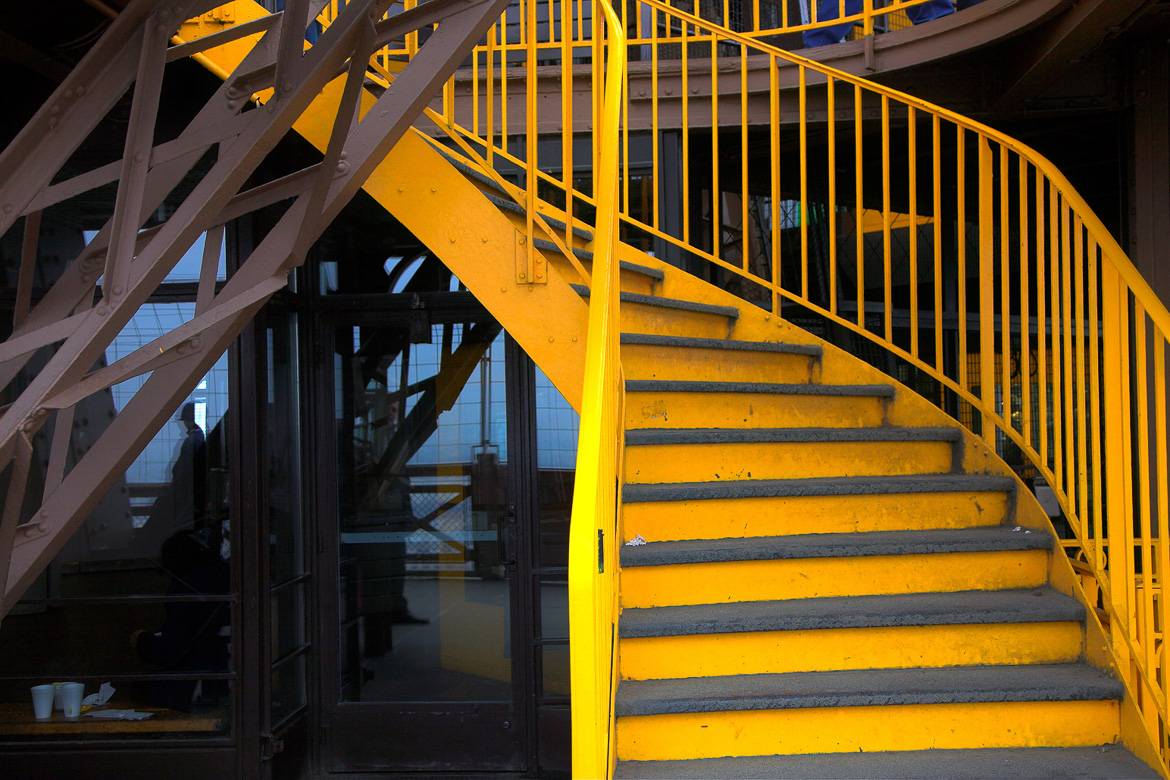 These modern stairs lead to the top of the Eiffel Tower
Paris's top prize for stairs has to go to the Eiffel Tower. If you wanted to climb the Eiffel Tower without taking an elevator, you'd have to climb 1,665 steps to reach the top! These stairs aren't cheap, either. In 2009, an American bought just 2.7 meters of the Eiffel Tower staircase for a whopping

€

550,000. Discover more about Paris' most iconic landmark!
Stairs can also be full of history. If visiting the most famous locations of the French Revolution is on your to-do list, be sure to check out the stairs in the Palais de Justice. As you climb them, you can imagine how Danton, Robespierre, Marie-Antoinette, and more walked that same path… on their way to the guillotine!
The history Parisian staircases is as varied and unique as the people who have traveled them. The stairs of Paris are not meant to be seen as a problem, but rather as a work of art with a traditional foundation.
At New York Habitat, we do our best to inform you about whether or not the building you're renting has stairs or an elevator, and our agents are always eager to answer any questions you may have.
Do you have any pictures of the staircases you've seen on your journey?