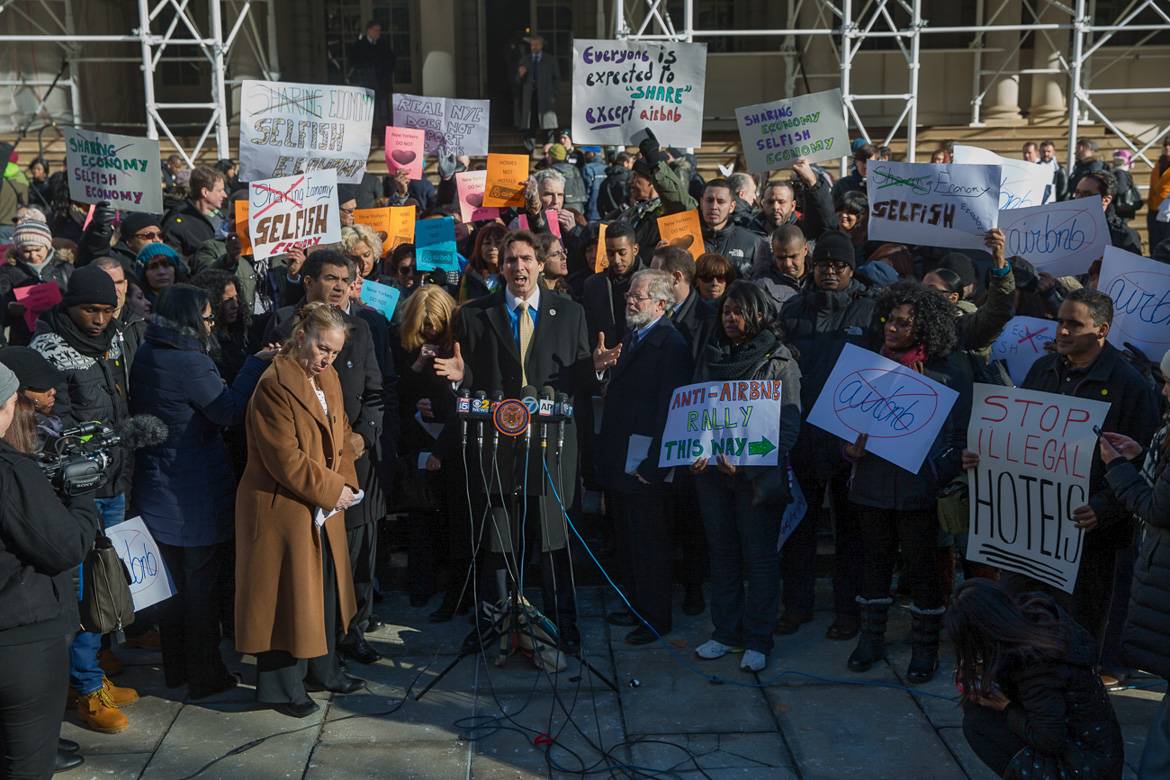 People rally outside of New York City Hall to protest illegal hotels in the city. (Photo credit: William Alatriste, New York City Council)
On January 20th 2015, the New York City Council conducted a hearing about short-term rentals and the legislation affecting them. This controversy affects all New Yorkers, since illegal rentals can result in safety and noise concerns, as well as overcrowding and a decrease in building services. Illegal rentals can even result in eviction of the leaseholder and their guests. New York Habitat attended the hearing as our agency actively monitors the status of apartment rental laws in order to provide the most reliable service possible.
Changes are coming to the manner in which the city deters illegal rental activity, which will have a large impact on city residents and tourists alike. Therefore, it is important for all New Yorkers and their guests to understand the controversy and outcome of the hearing.
What is the status of short-term rentals in New York as of January 2015?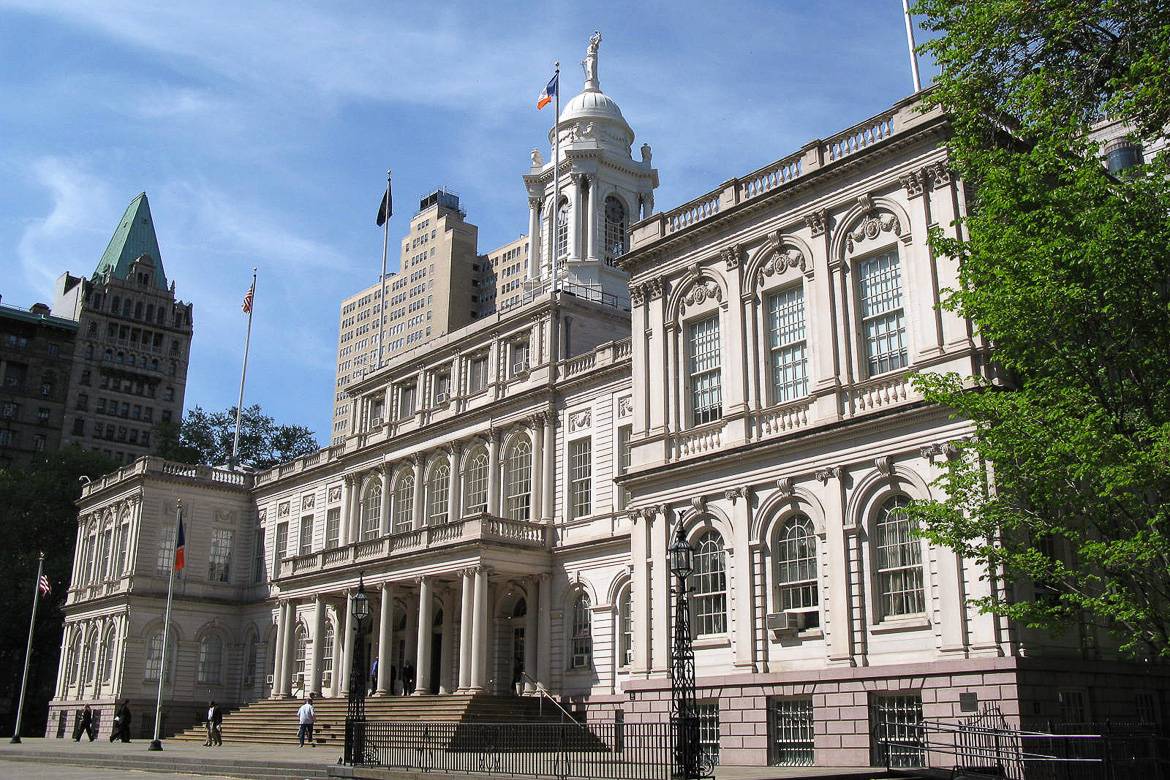 New York City Hall in Lower Manhattan
New York property laws set the length of time and manner in which a unit can lawfully be rented, and limit the conversion of units from permanent residences into transient hotels. These regulations were put in place in order to protect the safety, privacy, and quality of life for residents and tourists, as well as to curb the city's affordable housing shortage.
Among the controversial legislation is Chapter 225 of the Laws of 2010 (NYC's "Illegal Hotel Law"), which bans certain apartment from being rented for less than 30 days. Many apartments in NYC are subject to the ban, with a few exceptions like single-family homes. For an in-depth discussion of the law and New York Habitat's efforts towards compliance, please read this blog post about Senator Krueger's message on the Vacation Rental Ban Law.
What was the hearing about, and what was the outcome?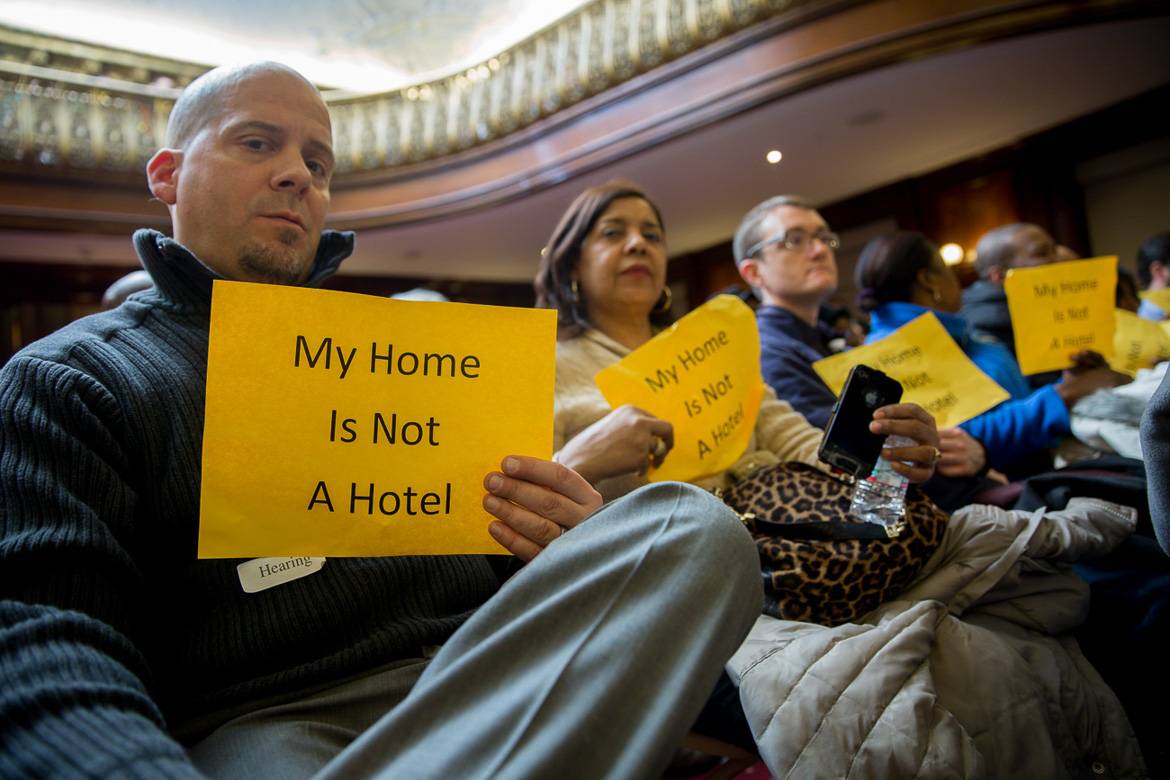 Home owners protest illegal hotels during the New York City Housing Hearing. (Photo credit: William Alatriste, New York City Council)
The hearing focused on community concerns regarding the proliferation of illegal hotels (apartments in buildings with 3 or more units that are rented to visitors for less than 30 days rather than to permanent residents). These can be large-scale operations or individual apartments.
The City Council focused on the increase in illegal hotel activity and the preventative measures which could be taken to combat the problem. They suggested that online listing platforms are at least partially to blame for their failure to inquire as to the legality of their listings.
"Airbnb facilitates absentee landlords turning rooms into illegal hotels and sucking up units that otherwise go towards permanent affordable housing," said NYC Public Advocate Letitia James.
Airbnb is less concerned with conducting due diligence and more focused towards efforts to change the law to conform to their business. When asked if the company currently lists illegal apartments in NYC, they said they "don't look too closely at what individuals are doing" on the platform. The Council critically pointed out that such platforms should identify and remove illegal listings.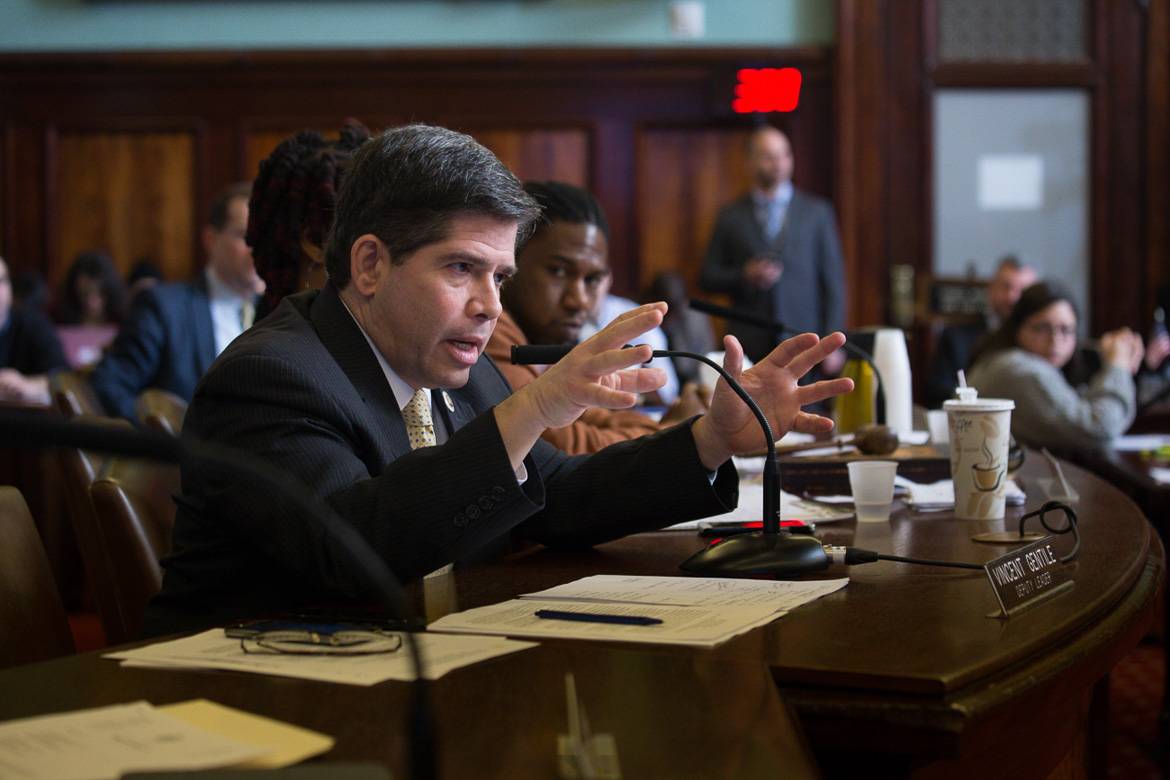 The Council holds a press conference and hearing about Airbnb. (Photo credit: William Alatriste, New York City Council)
The hearing made it clear that the City Council is intent to provide greater resources to combat illegal hotel activity, regardless of the role online listing platforms play in the activity. This will come in the form of additional inspectors for the Office of Special Enforcement (OSE), the task force that investigates illegal hotel complaints and takes appropriate enforcement action.
"The testimony we heard today puts a human face on the destructive impact of illegal hotels. It is abundantly clear that we must provide the [OSE] with the tools and resources it needs to hold these illegal hotel operators accountable," said Mark Levine, a member of the City Council.
In fact, the OSE has already begun to implement new enforcement measures, including a mobile data platform for apartment inspections. The platform will allow users to report potential property violations from a mobile device and will provide real-time data to OSE inspection teams in the field to increase cooperation and efficiency in a streamlined mobile process. This video shows how city officials are organizing and adapting to curb the threat of illegal hotels.
What is New York Habitat's position following the hearing?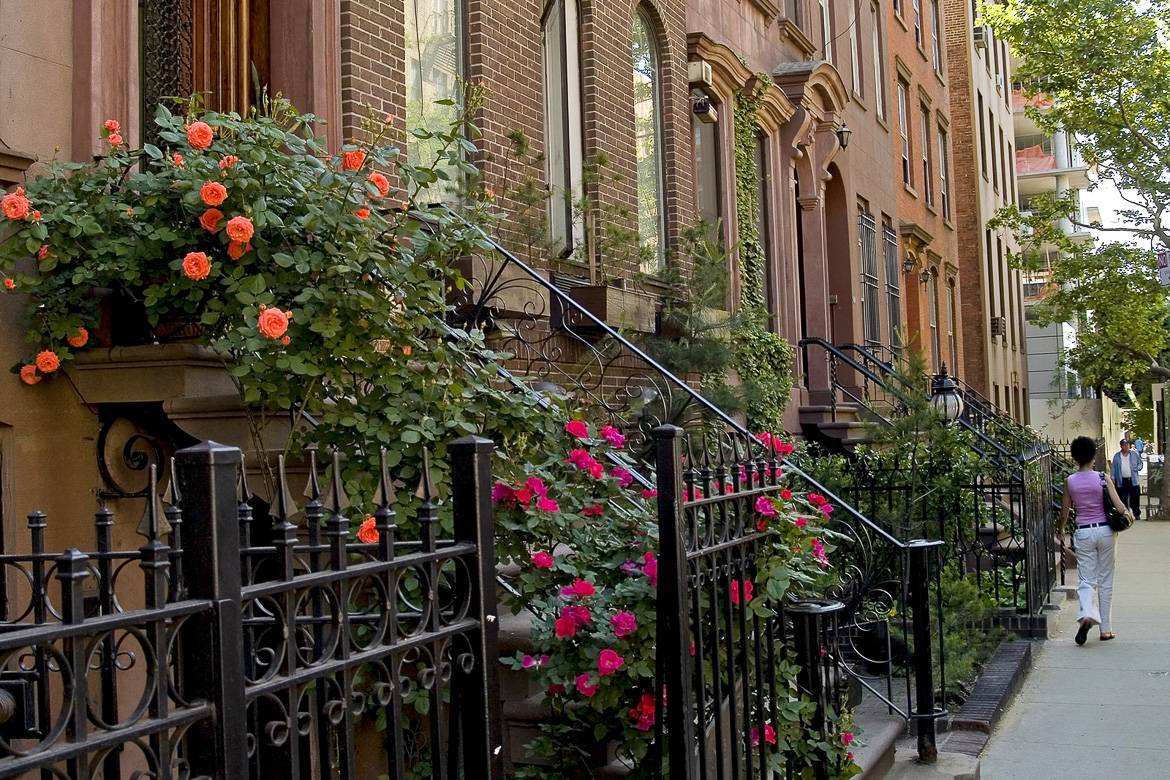 Rows of brownstone buildings are a typical element of New York City architecture
New York Habitat works closely with government officials and applauds efforts to curb illegal hotel activity. Companies should tailor their business models to comply in good faith with the law and reduce unfair competition.
As a licensed brokerage firm, New York Habitat's vetting process involves investigating properties and public records to verify that the manner in which the property is advertised is consistent with the law and building policies. This hard work and attention to detail eliminates the need for clients to determine the legality of their rental activity alone, giving them peace of mind during what could otherwise be a stressful process.
You should always use a licensed New York broker or realtor when searching for an apartment, but if you book without proper assistance, it's important to protect yourself. Get a written document from the host saying that he or she is entitled to rent the property in its listed manner, and that the rental is in compliance with applicable laws and building policies.
While brokers are obligated to be proactive and conduct due diligence prior to listing an apartment, online listing platforms are not. Brokers offer additional protections, such as the ability to relocate a client in the event of a problem or property violation. Online listing platforms drop listings with violations after the fact and leave hosts and their guests out to dry.
This exhibits the impact of the Council's hearing and the importance of using a licensed broker to find an apartment or a tenant, rather than taking the risk of using an online listing platform that fails to investigate the legality of its listings. New York Habitat coaches its hosts on rental procedures and best practices, and guides its guests by offering advice and suggestions for their stay.