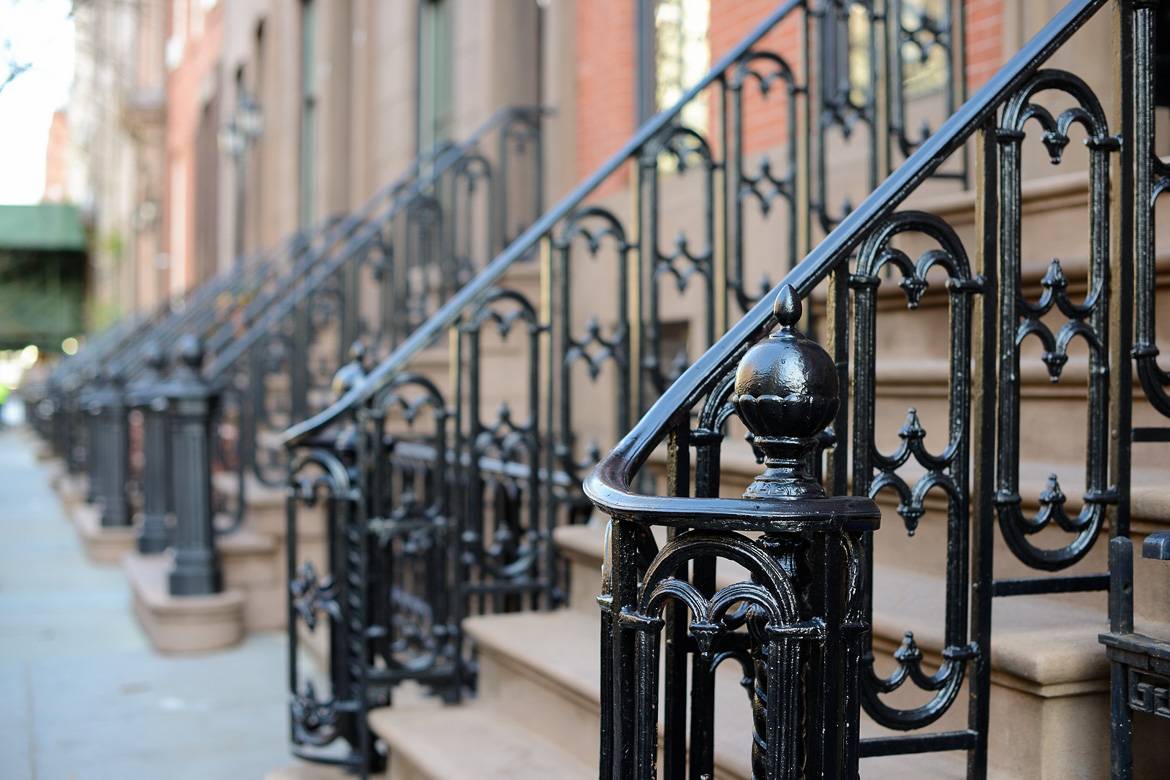 Central Harlem's rich history means it is home to the traditional brownstone apartment
Welcome to Central Harlem:
Perhaps no neighborhood in New York can match Harlem for its artistic and cultural output, thanks to the works of its African-American community. The Cotton Club at 142nd and Lenox made icons of bandleader/composer Duke Ellington and singer Lena Horne; activist Marcus Garvey is immortalized by the eponymous park; and famous residents have included the likes of Maya Angelou and Kareem Abdul-Jabbar.
Central Harlem is north of Central Park, south of the Harlem River, west of 5th Avenue and Harlem River Drive, and east of Morningside Park and Edgecombe Avenue (guide to the neighboring districts of Morningside Heights, Hamilton Heights and Washington Heights here). Although an area of historical significance for centuries (the Continental Army successfully prevented the British from invading New York during the American Revolution), Harlem became world-famous thanks to the period known as the Harlem Renaissance. The era, linked to the 1920s, witnessed an explosion of literature and the arts from the district's black population.
Central Harlem's location in upper Manhattan means it has great access to everything downtown, as well as the outer boroughs, through extensive transportation. Subway lines such as the A, B, C and D run underneath; above ground, the neighborhood is serviced by Metro-North at 125th Street and bus routes.
Go Shopping in Central Harlem: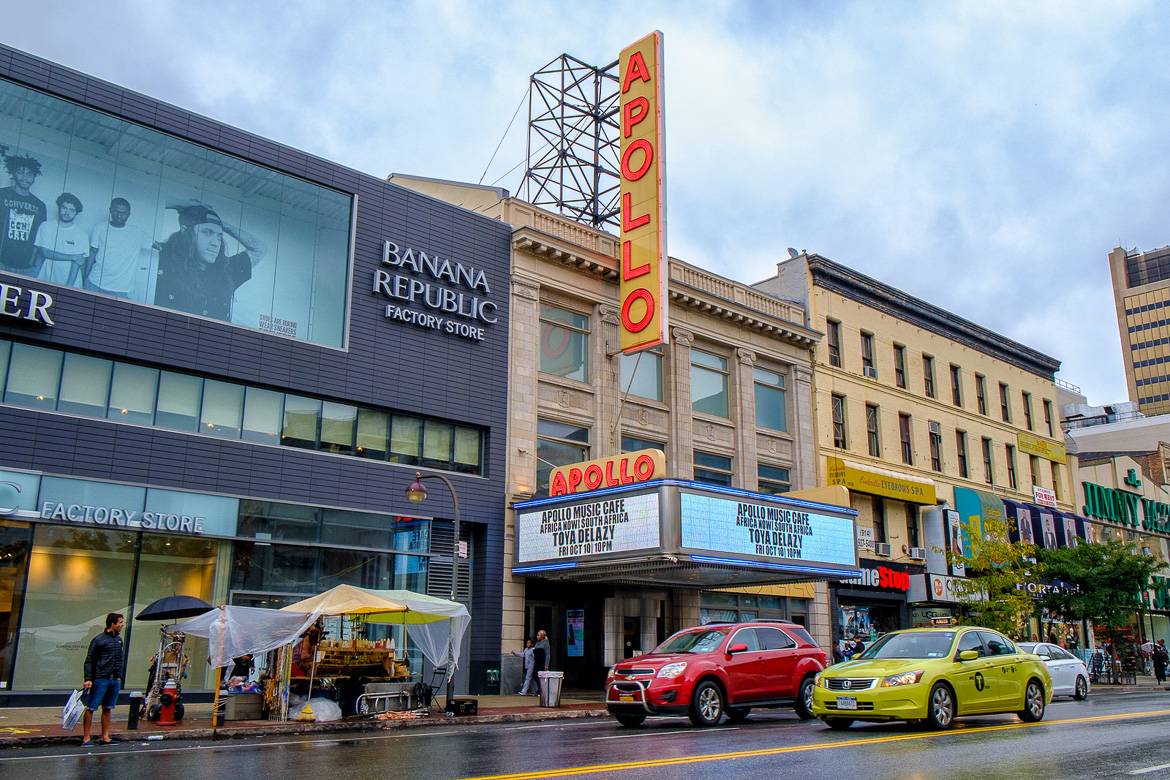 Something old, something new: the fabled Apollo Theater sits next to updated shopping centers
Several main shopping streets weave throughout Central Harlem. 125th Street is a leading thoroughfare (subway and Metro North stations are on this block) and home to discount fashion franchises such as Marshall's and H&M. On the southern end of Frederick Douglass Boulevard you'll find a handful of boutiques; further up, more practical everyday shops like pharmacies, supermarkets, and Harlem USA, a mini-shopping mall. Lenox Avenue/Malcolm X Boulevard (both names are correct) have a wealth of businesses, especially restaurants and cafes.
Central Harlem is home to some city-known stores. For expertly tailored menswear, B. Oyama is the best of the best. Carol's Daughter, Trunk Show Designer Consignment brings international and Garment District creations to Harlem. Grandma's Place is a must for families; this toy store, with its multicultural dolls and a massive inventory of puppets, is downright magical. And don't miss Harlem Wine Gallery and Bebenoir while you're in town.
Farmers markets bring the best of local produce to urban settings. Enrich your cooking by visiting the 125th Street Farmers Market for foods such as various honeys, marinades, herbs and Caribbean flavors. Non-profit organization Harvest Home sponsors chapters at Lenox Avenue and Harlem Hospital to bring fruits and other goods to your dinner table. Keep in mind that because these markets rely upon fresh harvests, they are seasonal – generally the season lasts between June and November.
Coffee, Restaurants and Nightlife in Central Harlem: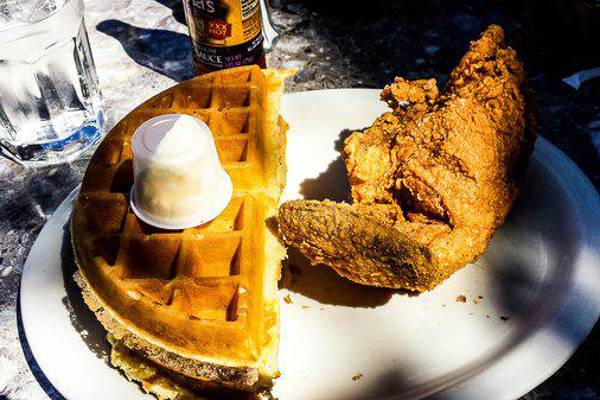 Soul food is the name of the game at Sylvia's Restaurant
Foodies will be delighted to sample a range of great restaurants in Central Harlem. For good, old-fashioned soul food, stop by Sylvia's Restaurant (brunches, known as Gospel Sundays, are a must). For something a little more adventurous, try Zoma – its spicy Ethiopian dishes are sure to satisfy. Evoking the days of yesteryear is Harlem Shake, whose burgers and hot dogs and milkshakes transport patrons to the 1940s and 1950s. Other worthy eateries are Amy Ruth's, Red Rooster, Melba's, Corner Social, Lido, Chez Lucienne, Patisserie Des Ambassades, Lolita's Restaurant and 5 & Diamond.
Who says that you can't dine inexpensively in New York City? For less than $8, these Central Harlem locations will fill you up without emptying your wallet. Guests rave about Oui Oui's pizza (other perfect pizza parlors here) and delicious crepes. For West African fare, try Kaloum Restaurant – they only serve Senegalese meals. And for those of you determined to stick to your healthy 2015 resolutions, Island Salad can help you continue that goal without scrimping on taste. Don't miss out on Jacob Restaurant, Custom Fuel Pizza, IHOP, Tropical Grill & Restaurant, and Marina's Soul Food & Salad Bar. Additionally, explore New York's international food scene with our guide!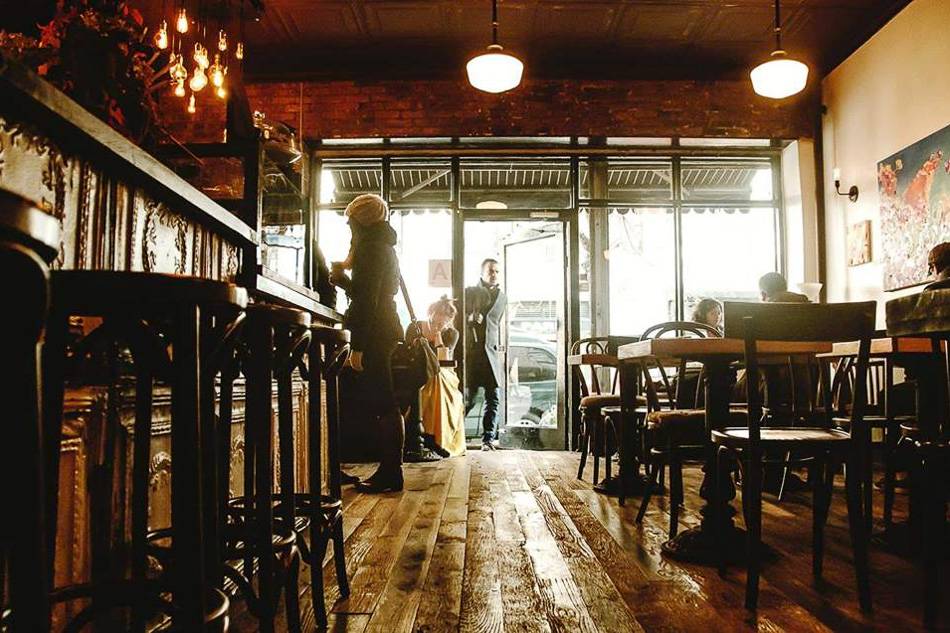 Coffeeshops in Central Harlem may remind visitors of the hippest Greenwich Village cafes
Need to caffeinate? Il Caffe Latte offers a whole menu of coffees; once you've finished your mug, why not explore the coffee shop's art gallery? For a chic yet comfortable vibe, there's Lenox Coffee – with rich brews, baked goods, and frequent poetry readings and musical performances galore. Aspiring tea sommeliers won't want to miss Serengeti Teas & Spices, which offers a varied collection of African flavors – you can even schedule a tea testing reservation! Other notable spots include Café Amrita, Astor Row Café, and Double Dutch Espresso. And why limit yourself to Harlem? Check out our favorite coffee shops across the city!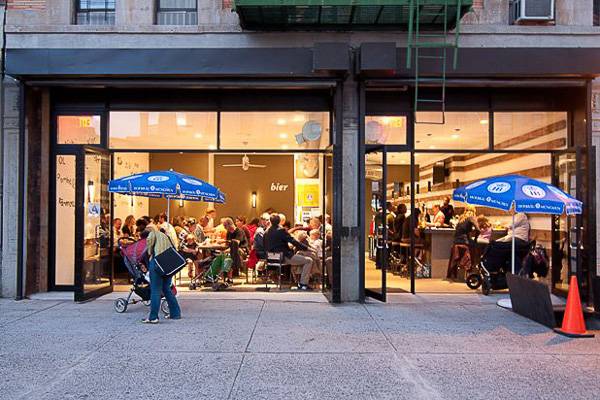 Germany comes to Central Harlem at Bier International
After hours, zoom around Central Harlem for exceptional bars and nightlife. For a taste of Germany in the middle of Manhattan, there's Bier International – the first of its kind in Harlem. Traditionalists will enjoy the pub-like feel of Harlem Tavern, while modernists will appreciate Chocolat Restaurant Lounge's contemporary décor. The area's oldest jazz dive bar, Paris Blues, sponsors live music every day of the week. 67 Orange Street, Moca Bar & Lounge, Barawine, Cove Lounge, The L lounge, W XYZ Bar, American Legion Post 398, and La Bodega 47 Social Club are additional great places to visit. For music and dancing, there's Ginny's Supper Club (downstairs from the Red Rooster Harlem) which recreates the mood of an old speakeasy, jazz and blues performances included. For a multimedia experience, there's Shrine – with a rotating playlist of rap, hip-hop, jazz, R&B and African/Caribbean music, it is a diverse and one-of-a-kind spot in all of New York. Don't neglect the iconic Apollo Theater while you're in town, either.
Stay or Live in Central Harlem:
Looking for a change in scenery from Midtown or the Village? Central Harlem is not to be overlooked! And why should it be, when you've got some of the best apartment architecture in the city! Our team can help you find the perfect rental whether you are vacationing here or seeking to make New York a more permanent home with a furnished rental. Looking for a roommate? We can help too! We'll collaborate with you every step of the way to create a smooth transition into the wonderful hubbub that is Central Harlem.
Things To Do And See in Central Harlem: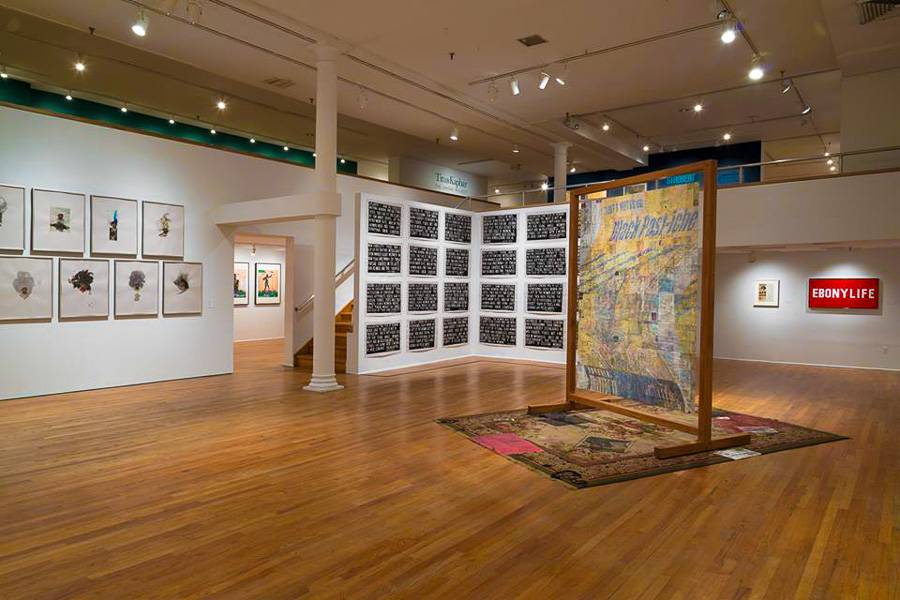 Afrocentric art is on display at the Studio Museum Harlem
Central Harlem might not be as close to the prestige of the Museum Mile (our guide to the Museum Mile here) as its East Harlem neighbor, but it can claim one exceptional gallery among its ranks: The Studio Museum in Harlem. This museum exhibits and celebrates works from artists of African descent. There is a permanent collection on site, as well as rotating exhibits which are on display for several months.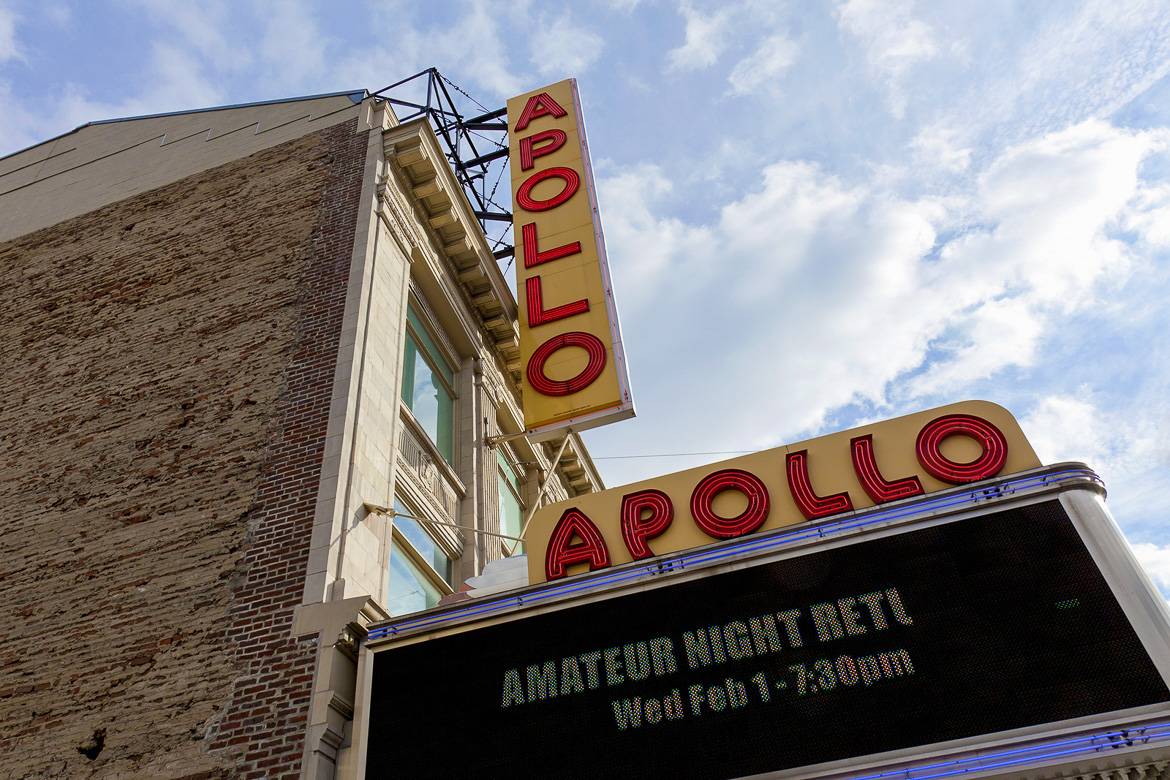 The Apollo Theater continues its tradition of bringing magnificent artists to the stage
Landmarks are very much a part of Central Harlem's history. Abyssinian Baptist Church is one of the oldest of its kind in the country; Harlem's tallest skyscraper, the Adam Clayton Powell Jr. State Office Building, stands as a fine example of Brutalist architecture. The Duke Ellington Circle honors a pioneer in American music with a statue in the center of the traffic circle. For study, nothing tops the Schomburg Center for Research in Black Culture, one of the most prominent libraries devoted to the preservation of Afrocentric history. And why not spend an evening at the Apollo Theater, where performers such as Ella Fitzgerald, Aretha Franklin, and James Brown have taken the stage?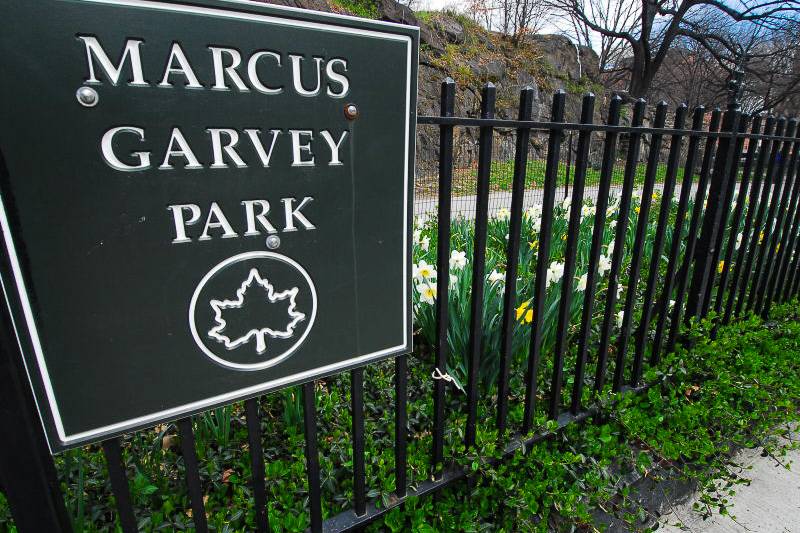 (Re)named for activist Marcus Garvey, this park dates back more than a century
Once you've finished the architectural and artistic tours, why not take advantage of the great outdoors? There are handball courts and barbeque spots at Saint Nicholas Park, a Kodak-worthy manmade pond at Morningside Park, a playground accessible for disabled children at Marcus Garvey Park, and many lovely features – including the exquisite Wisteria Pergola – on the northern end of Central Park (our guide of Central Park here). Afterwards, take a look at our guide to other free things to do in New York.
What are your favorite places in Central Harlem, readers?
Related apartment rental posts from New York Habitat: