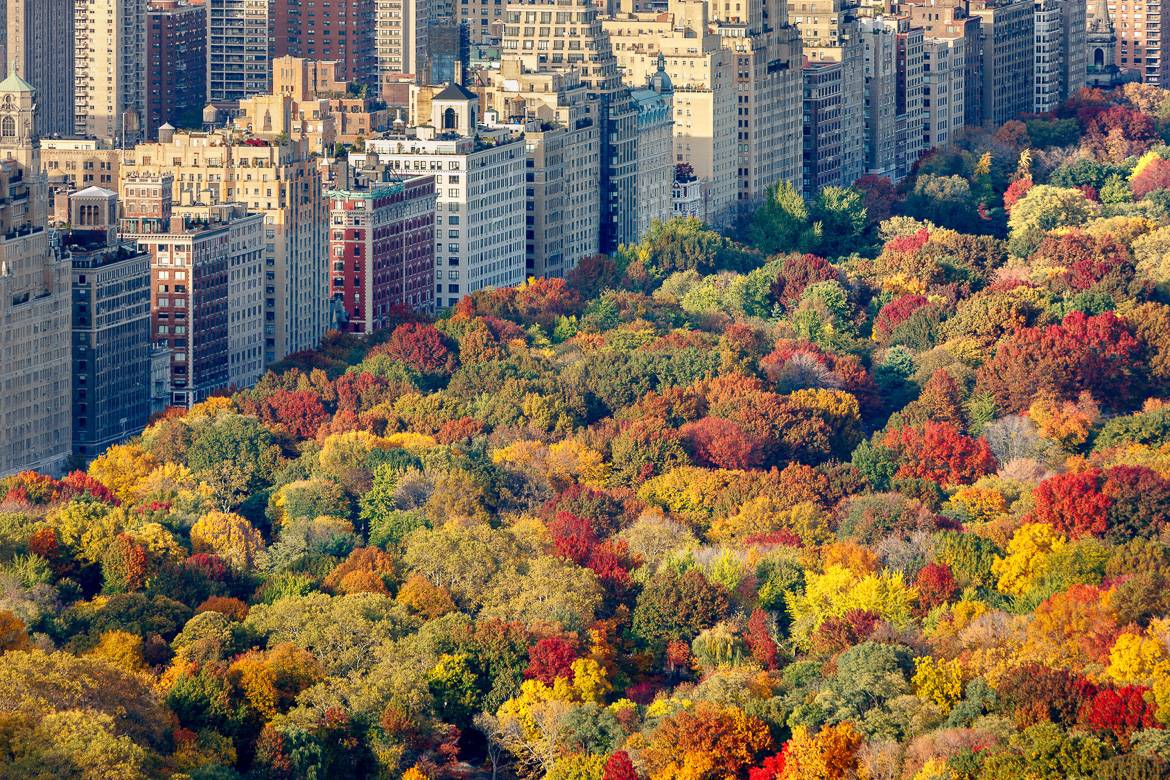 The beautiful foliage makes fall in NYC magical.
Thanksgiving in New York brings crisp autumn air, colorful leaves falling to the ground, and the smell of pumpkin pie. There's plenty to do and see with your family, from the Macy's Thanksgiving Day Parade to ice skating in Rockefeller Center. One thing is for sure: you'll need a place to stay. Keep reading to find the best apartments for spending Thanksgiving as a family in New York!
Three-bedroom triplex in a Harlem townhouse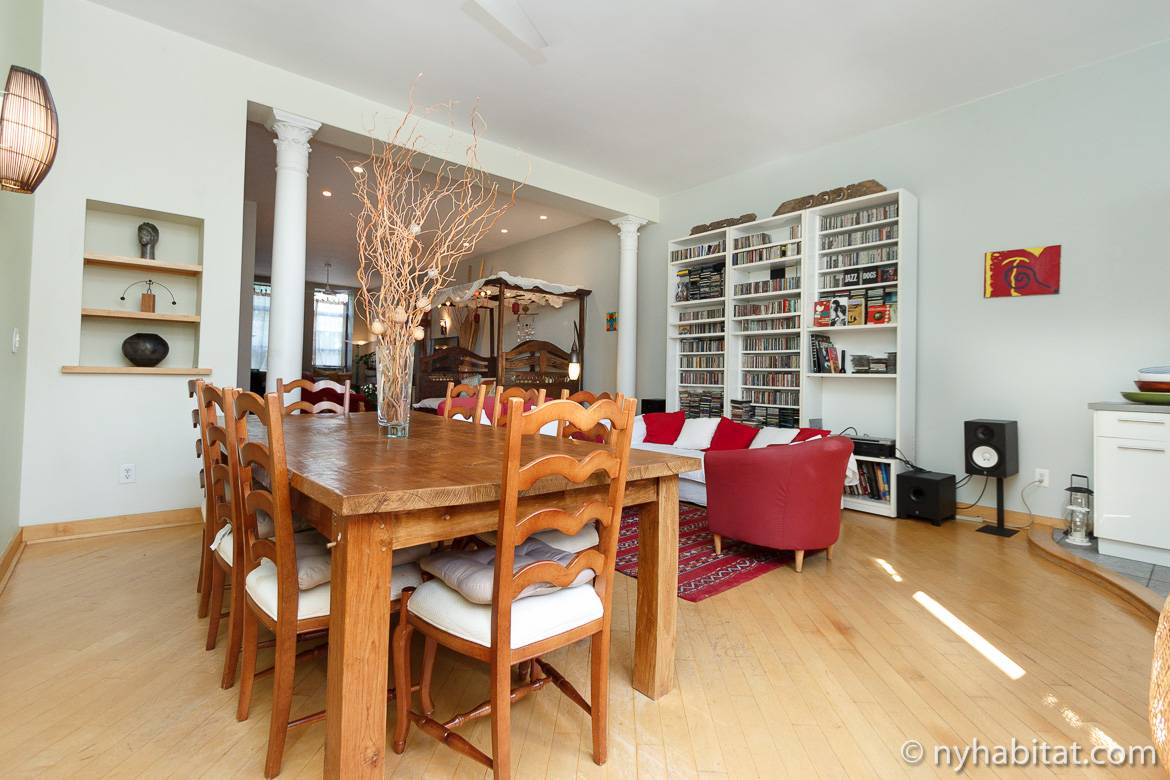 This Harlem vacation rental is perfect for larger families, as it sleeps up to 12 people!
This three-bedroom vacation rental in Harlem, Manhattan is the perfect place for you and your family to stay during your Thanksgiving trip, as it can accommodate up to 12 people! The apartment is located on the basement, 1st, and 2nd floors (European lower ground, ground, and 1st floor) of a brownstone. It features a security system, a terrace, and a garden. The dining table is the perfect spot for a Thanksgiving dinner, and the kitchen provides ample space for you and your family to congregate and prepare dinner. It's furnished with all the needed appliances for cooking a Thanksgiving meal! After the last slice of pumpkin pie has been eaten, step out onto the terrace or make your way to the garden below and enjoy the beautiful color-changing trees in your surroundings. When you're full, take a walk around the area and see how the locals live in Central Harlem!
Four-bedroom duplex apartment in Clinton Hill, Brooklyn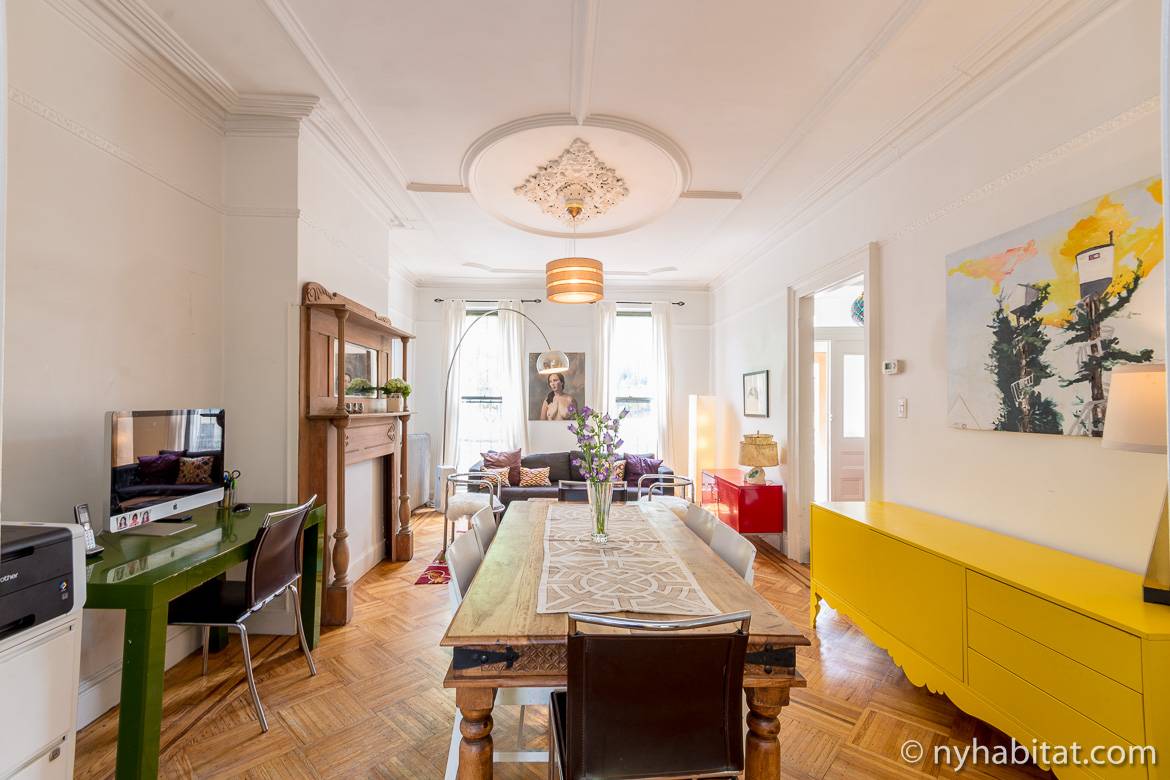 You'll fawn over the exquisite details in this apartment, like the hardwood floors, high ceilings, and pops of color!
Make your family smile with this four-bedroom Brooklyn vacation rental! The apartment features hardwood floors, high ceilings, and ornate details. This four-bedroom duplex apartment is situated on Quincy Street and Franklin Avenue in Clinton Hill, Brooklyn. As you enter the apartment, you'll find yourself on the 2nd floor (European 1st floor). Upstairs you'll find the bedrooms, two of which are perfect for kids! One of the bedrooms has a child-sized bed, and the other has a bunk bed. The kitchen is the perfect spot to bake a pie (or two!) to enjoy in the dining room as a family. Before you leave, be sure to explore Brooklyn!
Duplex two-bedroom apartment with garden in landmark Upper West Side townhouse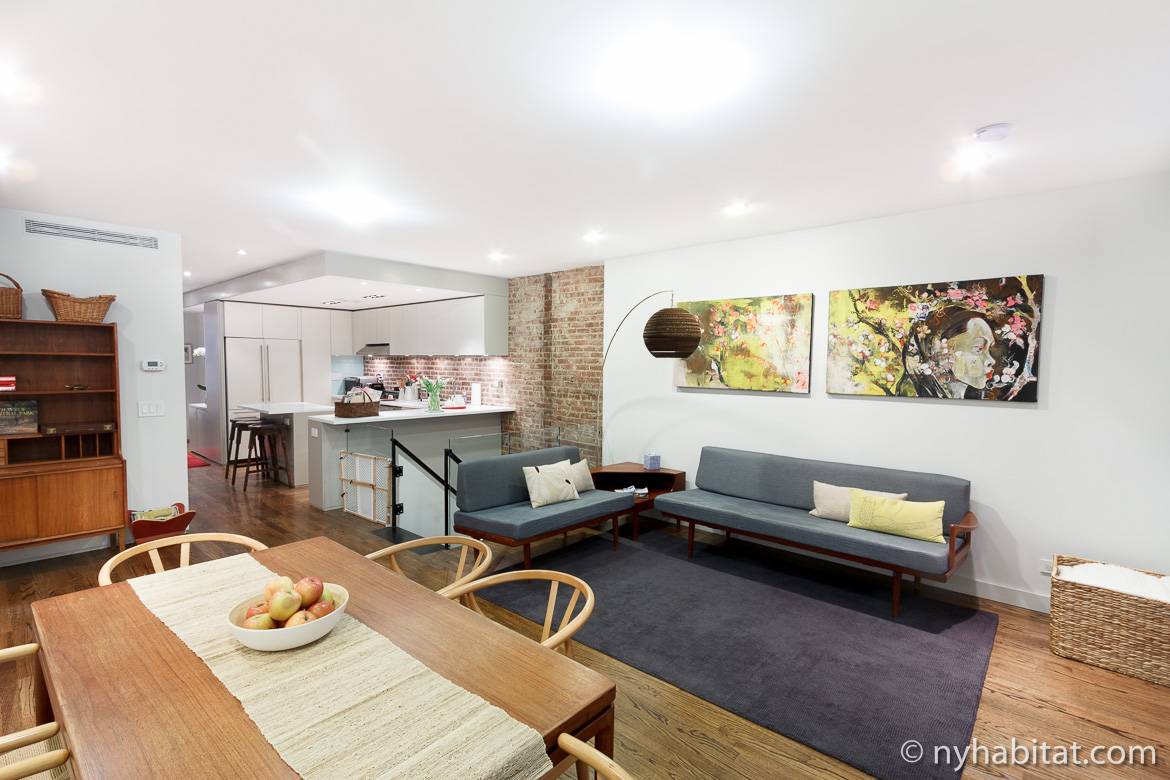 Be close to all the action at the Macy's Balloon Inflation in this Upper West Side apartment.
Welcome to the Upper West Side! This furnished vacation rental is located on 84th Street and Columbus Avenue. Its location puts it minutes away from Central Park and The American Museum of Natural History, which happens to be home of the Macy's Thanksgiving Day Parade balloon inflation! With a stay in this rental, you'll be able to beat the crowds and see all the balloons up close and personal, which will definitely amaze your kids. This rental can sleep up to seven people. Bedroom 2 offers a child-sized bed in addition to the full-sized queen bed already in place. This townhouse has also been declared a landmark building, and features a private backyard and a washer and dryer in the unit. After dinner, head out and experience Upper West Side life!
Three-bedroom townhouse with garden in Brooklyn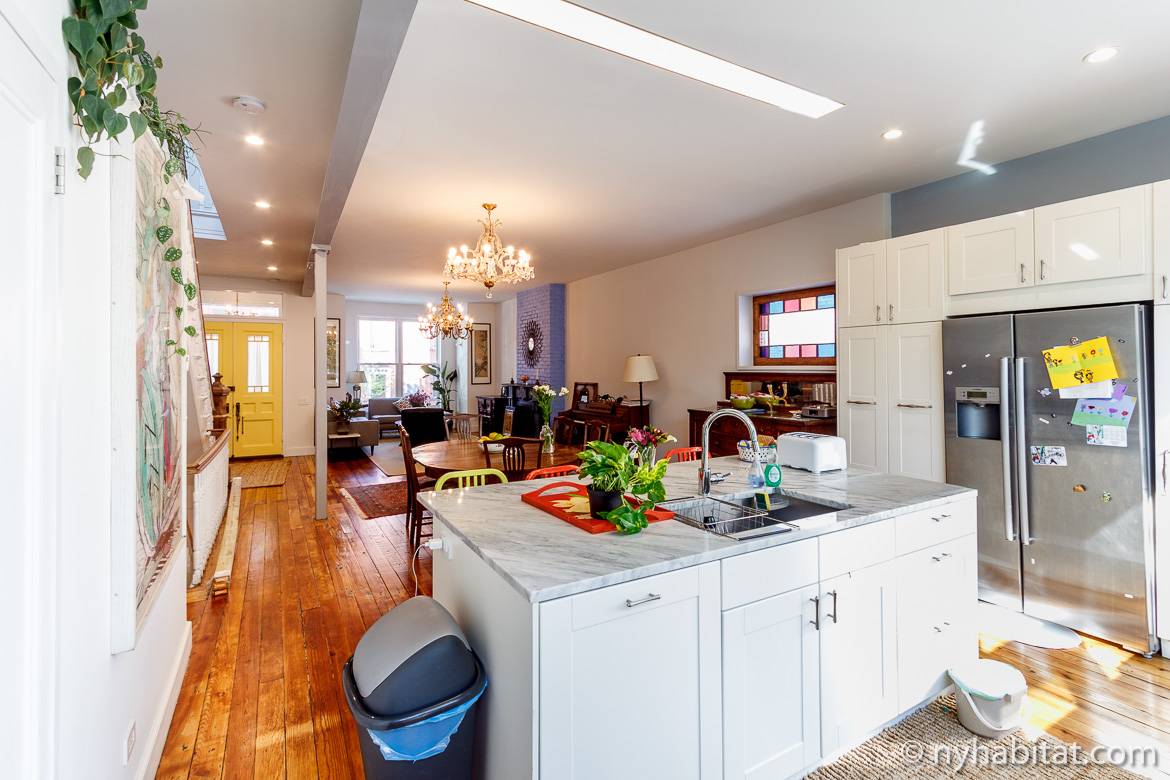 The open kitchen of this triplex apartment is the perfect place to gather your family and bake a few pies!
Experience New York City like a true New Yorker! This three-bedroom triplex apartment is both luxurious and stylish, and is located in Park Slope, Brooklyn. With this vacation apartment, you'll be able to experience New York City from a quiet, residential area like a true local. Two living rooms, three bedrooms, four bathrooms, and a kitchen mean this apartment can accommodate up to six people. The eat-in kitchen is the perfect place to spend some time as a family, and allows the kids to observe and help while the adults prepare Thanksgiving dinner. Once last piece of pie is gone, be sure to explore Park Slope!
Three-bedroom apartment in Greenpoint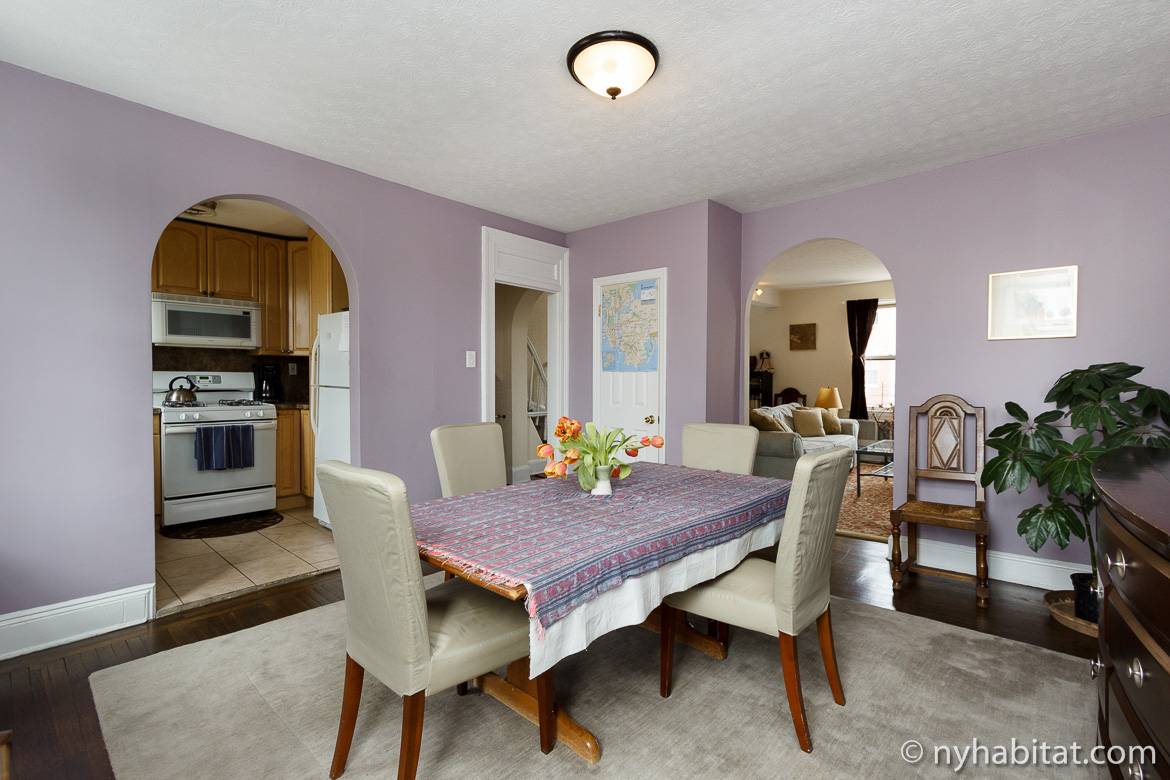 Enjoy beautiful views and delicious cuisine by staying in this Brooklyn vacation rental!
Greenpoint, also known as "Little Poland," is a neighborhood in northern Brooklyn. The area is known for Polish and other great cuisine and beautiful views of Manhattan and Queens. This three-bedroom vacation rental is a great place to spend Thanksgiving with your family, as both living rooms offer plenty of seating space and all of the bedrooms are furnished with queen-sized beds. The dining room (labeled 'living room 2' on the apartment page) is a great place to sit down and enjoy a meal in the comfort of your own vacation rental. The kids will beg you to take them to McCarren Park (0.5 miles/ 805 meters) which has plenty of open space, a skating rink, a few sports fields, and even a playground.
Three-bedroom vacation rental in Astoria, Queens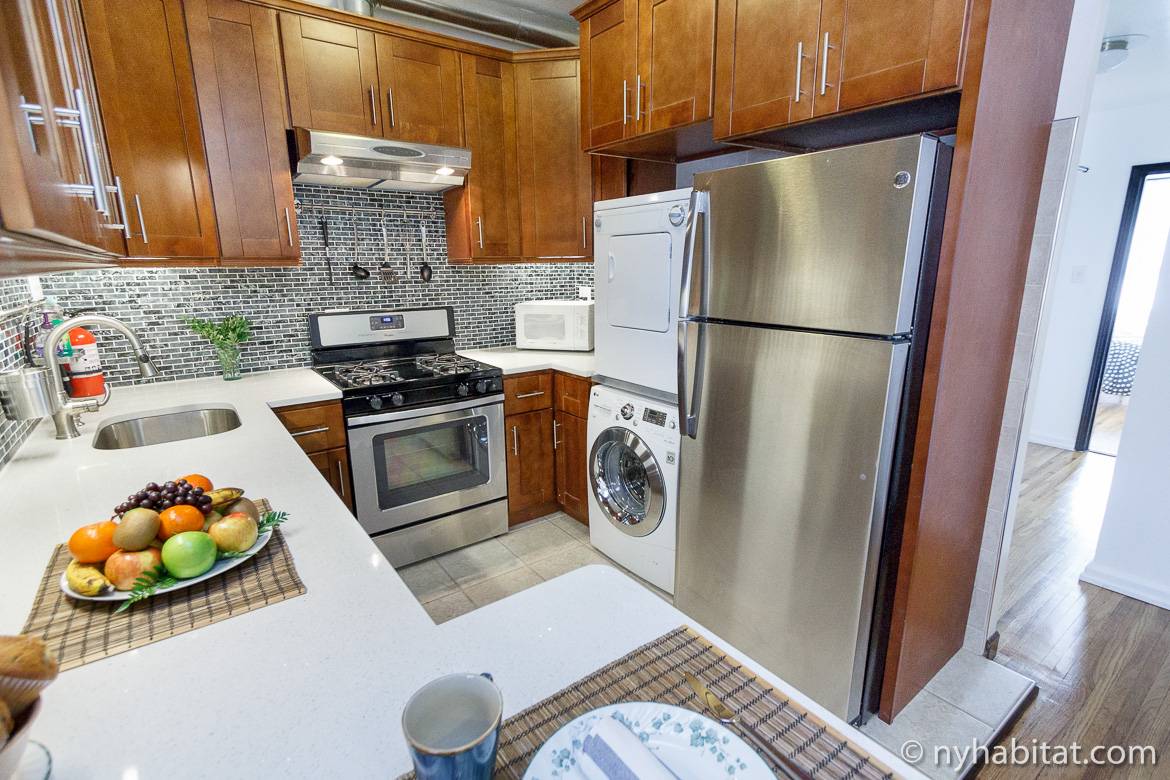 This apartment is all about comfort and convenience, as it features plenty of seating options and a washer and dryer.
This three-bedroom apartment in a 1950s townhouse is an ideal place to spend Thanksgiving with your family. This Queens vacation rental on 31st Road and 21st Street can accommodate up to six people. Don't worry if you're not familiar with Queens, there's plenty to do and see! Although you may not be in Manhattan, the energetic neighborhood of Astoria is easily accessible by subway or by one of the two bridges that lead into Manhattan. You can easily get there to watch the Macy's Thanksgiving Day Parade, and come home to prepare Thanksgiving dinner in the open kitchen. The kitchen provides all of the appliances you may need, and even features a washer and dryer.
Two-bedroom townhouse apartment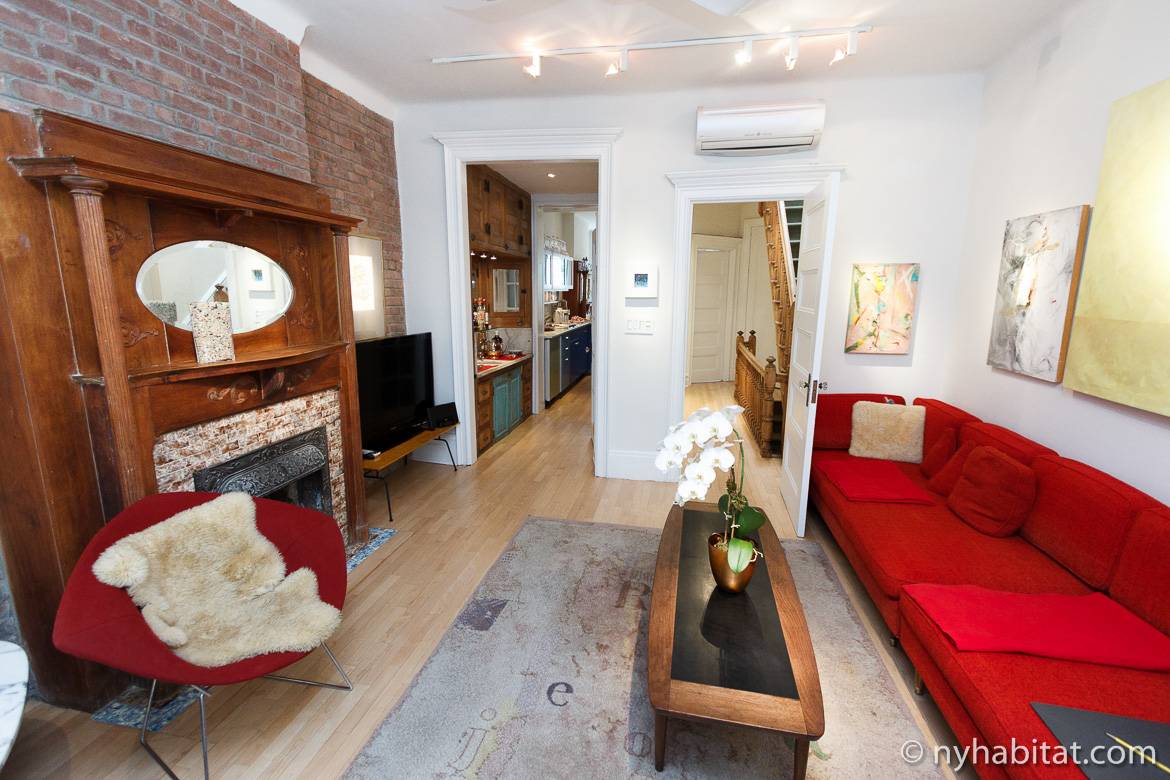 Get cozy by the fireplace in this chic vacation rental in Harlem.
Experience this ultra-chic two-bedroom duplex apartment in Harlem that sleeps four! After exploring Harlem all day, get ready to relax in this vacation rental that features a private balcony and a Jacuzzi. This apartment has two living rooms, both of which will encourage everyone to spend the day sharing their gratitude. The first living room features plenty of seating by the fireplace, while the second functions more as a dining area with additional seating space.
Whichever area of New York City you decide to explore, these apartments are ideal places to spend Thanksgiving as a family. There are plenty of family-oriented things to do in New York, from pumpkin picking to museums, and everything in between!
If you stay or have previously stayed in one of the apartments mentioned above, we'd love to hear you share your experience!