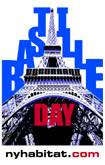 Got the post-holiday blues? Was your 4th of July a disappointment? Well, fear not because you've got another chance to celebrate in the streets, party to some great music and enjoy some terrific food. And if you're thinking you couldn't possibly look at another hot dog after that 4th of July barbecue, you won't have to. How about some delicious crepes, a toasty baguette, or some yummy freedom fries instead? Well, maybe not the freedom fries.
This celebration is about all things French. Bastille Day is the French national holiday commemorating the 1790 Fete de la Federation, held on the first anniversary of the storming of the Bastille in 1789. Every year, New York Habitat sponsors the French Institute's Bastille Day Celebration. This year's celebration will be on July 16 from noon to 6:00 p.m at East 60th Street from Fifth to Lexington Avenues on the Upper East Side. We hope you'll join the fun, and especially hope you'll stop by our sponsorship booth, which will be located on 60th between Madison and Park. Don't forget we have also plenty of Upper East Side accommodations for you to fully enjoy the celebration.
This year, New York Habitat will be playing an even bigger part in the festivities, having partnered with American Airlines to sponsor this year's grand raffle prize.
The grand winner will receive roundtrip airfare for two to Paris, with a one week stay in one of New York Habitat's fabulous, fully furnished Paris apartments.
There will be lots of other great giveaways at the celebration, along with the great food and shopping courtesy of the finest French-themed restaurants and businesses in the City.
So take a chance on that trip to Paris. And you might feel like you've won just by showing up. Because on Sunday July 16th, a few blocks of New York City will be magically transformed into the streets of Paris. No plane ticket or passport required.


WHAT:
Bastille Day Celebration
WHEN:
Sunday July 16 from Noon to 6:00 p.m.
WHERE:
East 60th Street (from Fifth to Lexington Avenues)
New York Habitat's booth will be on 60th between Madison and Park
INVITATION:
Bastille Day 2006
MORE INFO:
www.bastilledaynyc.com