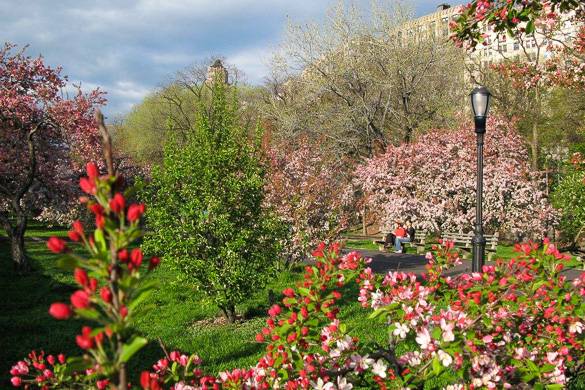 Riverside Park
People generally don't think of New York City as the best place to enjoy nature, but you might be surprised by how many beautiful green spaces there are! Community gardens and farms, many of which used to be nothing more than vacant lots full of trash, balance out the city's hustle and bustle and some even produce fresh local produce. Community gardens are managed and cared for by local residents, often in cooperation with public or private organizations and agencies. Why not stay in a furnished apartment or vacation rental near one of these peaceful community gardens and experience the best of both worlds?
1. Morris-Jumel Community Garden – Washington Heights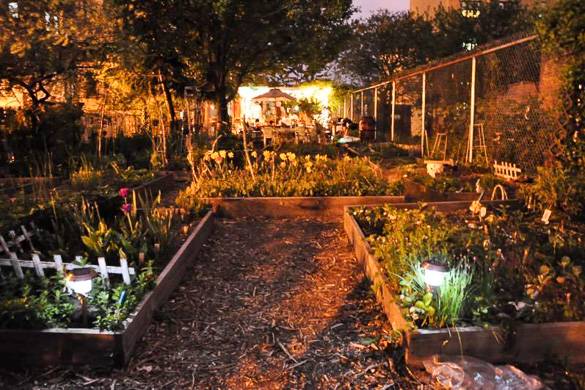 See what's growing at the Morris-Jumel Community Garden.
Transport yourself to New York City's colonial history at the Morris-Jumel Community Garden! The garden is located on the site of the original vegetable gardens of the Morris-Jumel mansion, built in 1765. The garden is notable for its feral cat colony. The cats are neutered/spayed, vaccinated to prevent rabies, and provided food and shelter in return for warding off rats. Be sure to also visit the Morris-Jumel mansion itself, which still stands as the oldest remaining house in Manhattan and is now a museum open to visitors.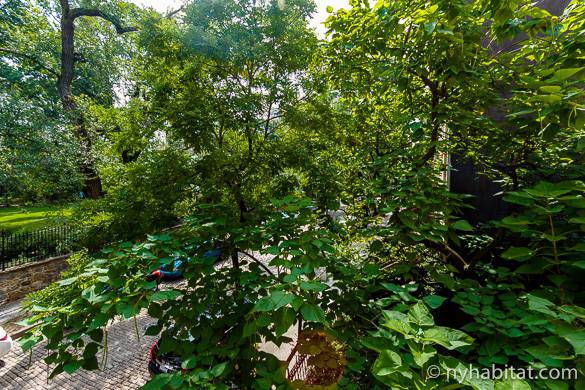 Enjoy the green garden views from the window of this Washington Heights studio apartment
If you're a nature lover, this stylish furnished studio, located in the historic district of Washington Heights, is just a short walking distance from the community garden and mansion. Additional perks of the apartment include its proximity to Yankee Stadium and the Cloisters Museum of medieval art. The greenery of park views right from the windows of this apartment will make you feel surrounded by nature at all times.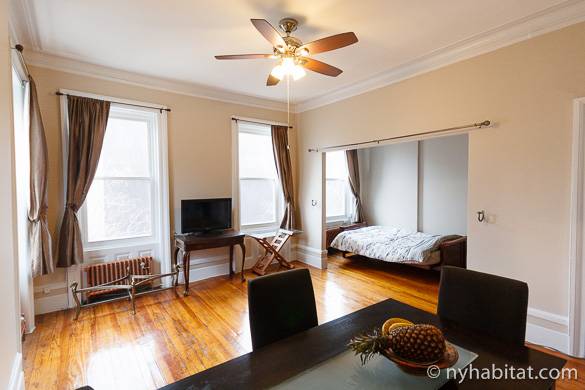 Rent this furnished alcove studio near Morris-Jumel Community Garden
This Washington Heights alcove studio furnished rental is located in a pre-war brownstone building on Jumel Terrace and 162nd Street. Its location puts you within walking distance of Morris-Jumel Community Garden so you can enjoy the outdoors right in your own neighborhood. Take a short walk to Highbridge Park for stunning Harlem River views.
2. Clinton Community Garden – Hell's Kitchen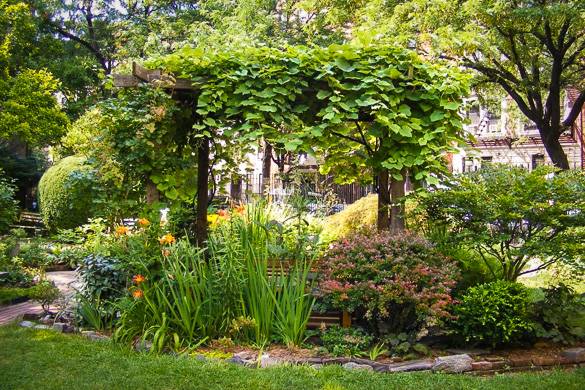 Clinton Community Garden in Hell's Kitchen, Midtown Manhattan
The Clinton Community Garden is a peaceful green oasis in the middle of the bustling Midtown Manhattan Hell's Kitchen (also known as Clinton) neighborhood. The garden is a perfect place to observe both flora and fauna. Not only does the garden engage in beekeeping, but it's also a common stop for migratory birds, with reports citing dozens of different bird species.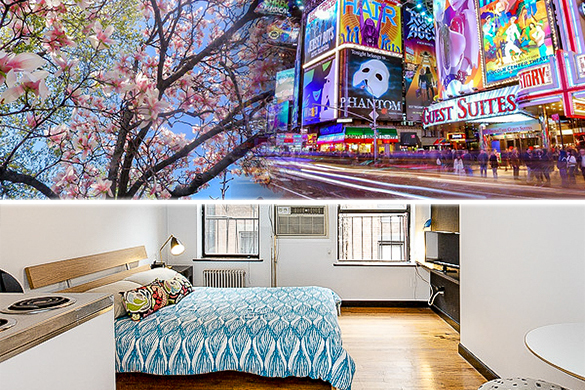 This vacation rental lies between the peaceful Clinton Community Garden in Midtown West and the electricity of Times Square
This cozy Midtown West vacation rental is located right near the garden, but is also just blocks away from the heart of Times Square. On any given day you can choose between the peace and quiet of the garden and the fast-paced excitement of NYC's famous Times Square.
3. West Side Community Garden – Upper West Side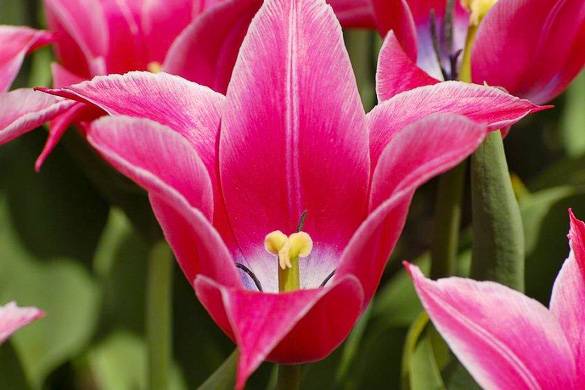 Enjoy thousands of tulips at this community garden.
The West Side Community Garden is colorfully decorated with thousands of tulips and various other species of flowers. Check online for the specific blooming periods for the different types of flowers and for lists of various free events that take place at the garden, including movie screenings, flower-arranging lessons, concerts, and potluck meals.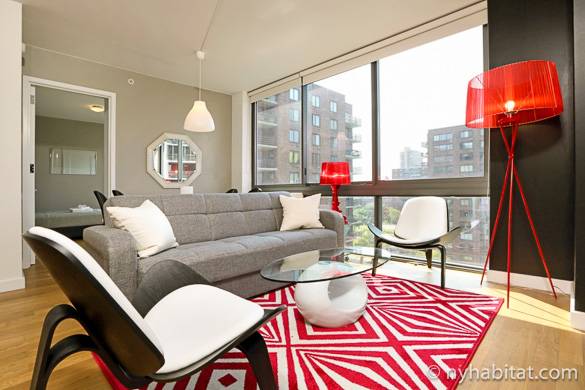 This two-bedroom apartment in a luxury building on the Upper West Side is close to Central Park
This two-bedroom furnished rental, located near the garden, is a great option for families. It also has the luxury of a rooftop terrace in addition to a gym and an indoor swimming pool. Craving even more green space? The apartment is located blocks from Central Park, perfect for when the kids need to frolic outside. The Upper West Side location also puts you amid great shopping and museums.
4. 103rd Street Community Garden – Upper East Side, East Harlem/El Barrio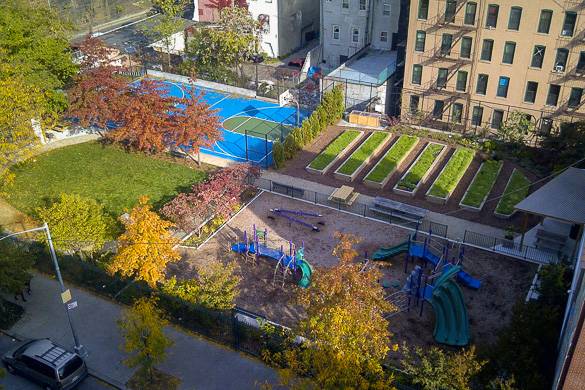 103rd Street Community Garden offers diverse activities.
The 103rd Street Community Garden has something for everyone! In addition to a vegetable garden, it contains a large lawn, a playground, and a basketball court. The park has hosted outdoor movie nights in the past, so check online to see if there are any unique events coming up.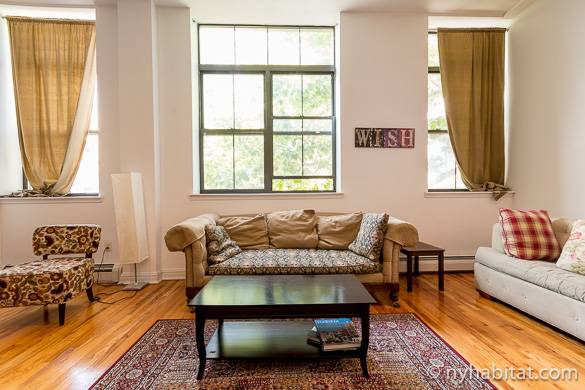 Fit the whole family in this three-bedroom, two-bath vacation rental
If you're bringing the family to NYC on vacation, nothing beats having a community garden within walking distance of your vacation rental apartment. You can enjoy all that the garden has to offer while staying in this three-bedroom/two-bath vacation rental on the border of the Upper East Side and East Harlem, also known as El Barrio. This apartment is family-friendly, with a large dining table to fit everyone for a home-cooked meal, and bedrooms with multiple beds so everyone can have their own space. Convenience is key, so having a washer and dryer right in the unit lets you get the family laundry done right at home. When the kids get restless indoors, you can head to this neighborhood community garden where they can play at the playground or basketball court, attend one of the outdoor learning events about urban gardening, or just have a picnic (there are even BBQ grills here!). Afterwards, stay for an outdoor movie under the stars. You can also head out and explore the surrounding neighborhood; Central Park is nearby and the Museum of the City of New York and El Museo Del Barrio provide options for a cultural and educational excursion.