Summer 2007 brings New York City'sannual Restaurant Week. This year, the event will take place between July 16th and 20th, as well as between July 23rd and 27th. A great variety of restaurants will open their doors to the public to offer three-course gourmet meals for a fraction of the price. Don't miss your opportunity to sample dishes that many people only get to dream about. Book an apartment like the fashionable digs listed in Trendy Accommodations in the Lower East Side New York, visit a gourmet restaurant, and become a New Yorker for a week.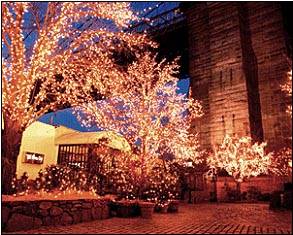 Each restaurant is offering a specific prix-fixe menu. The lunches are being offered for $24.07 per person and the dinners are priced at $35 per person. These prices do not include beverages, taxes, or gratuity, so please remember to take that into consideration.
At OpenTable.com, visitors can explore the list of participating restaurants in the city. It is also possible to make reservations on the site.
While many of the restaurants are serving both lunch and dinner for restaurant week, some establishments are only serving one meal or the other. Make sure to verify that your desired restaurant is serving the meal in question.
This event takes place all over the borough of Manhattan and also has a participating restaurant in Brooklyn and Long Island City, Queens. Use this event as an opportunity to explore gourmet dining, while taking in the wonders of an unfamiliar city neighborhood. Down for some soul food? Check out a Harlem accommodation. Or if you're more of the trendy and sophisticated cuisine lover: consider East Village apartments for your stay. The event is happening all over the city so it's all about what you like!
Here are a few posts discussing some hot New York neighborhoods:
What New York neighborhoods can you suggest? Are there any standout restaurants on the list? Let us know and comment below.