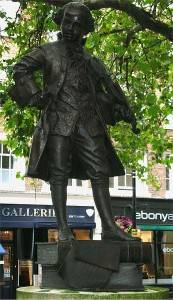 Photo of the Mozart statue near Pimlico
New York Habitat's prime London Vacation Rentals in Pimlico are a few steps away from Causton Street, where the Clash practiced tracks for London Calling in the long-gone Vanilla Studios, and a scenic walk to Ebury Street, where Mozart wrote his very first symphony. But these two at-oddsdistinctions are not why Pimlico earned its place at Number Three on our list of Must-See Musical Sights in London—and it's certainly not because "Pimlico" is in a famous song. (It doesn't rhyme with anything. Go on, we dare you to try!)
Pimlico made our list simply because of its excellent location exactly three short stops away on the Victoria Line from Brixton—so, in the words of Eddy Grant's 1983 hit, you can "rock down to Electric Avenue" anytime you want. And staying in a New York Habitat's apartment in Pimlico will certainly help you "take it higher."
A neighborhood of Lambeth, Brixton is, excuse the pun, one of the most electrifying areas of London. It has a huge marketplace that sells Trinidadian and Guyanese rotis (wraps with spiced fillings), among a million other things you shouldn't live without. In fact, the avenue got its name from this famous, sprawling marketplace, which was the first shopping area in London to have electricity.
It is also worth forcing yourself out of your fabulous Pimlico accommodation and taking the Tube three stops to check out: Bookmongers, a secondhand bookstore whose wares reach up to the ceiling; Photofusion, one of the most cutting-edge art galleries in London—or any other city; the retro Ritzy cinema playing arthouse and independent films; the reggae and dub music stores abounding; and the Duke of Edinburgh pub that hosts a backyard barbecue on summer Sundays.
Although Eddy Grant's "Electric Avenue" was a skating rink smash in '80s America, it was considered social commentary in London, where its reggae influences reflect Brixton's vibrancy and diversity, as well as the population's predominantly Caribbean, African and Indian roots.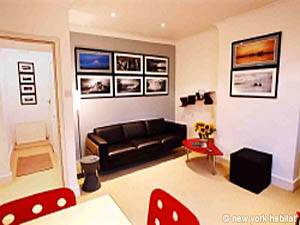 New York Habitat's rentals in nearby Pimlico not only make this don't-miss area accessible, they also happen to reflect the absolute best in mod accommodations. The design factor in these flats is absolutely through the roof. Not only do you have to see it to believe it—but you've got to stay in one of our furnished London flat rentals to truly get a sense of what Swingin' London was all about.
Check out this one-bedroom Accommodation in Westminster (LN-491) . It puts the Design Museum to shame—and Terence Conran created that!  Nearby Tachbrook Street has a food market during the week so you can buy provisions to bring back to your pad.
Pimlico's proximity to Electric Avenue—just a Tube ride and the Thames away—makes it our Number Three Must-See Musical Sight in London. Pimlico's super-stylish accommodations make it a must-stay.
If you have missed the previous top musical must sees in London look back at:
Now, let us know how long it takes to get that Eddy Grant song out of your head leave your comments below…and remember to check back next week for #2 in the count down of top must see musical sights in London.