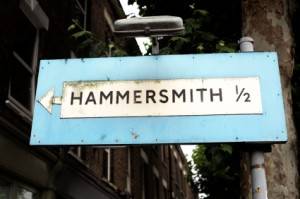 They say you save the best for last—but Number One of New York Habitat's Must-See Musical Sights in London won't be saved for long so best to see it now! The top spot on our list is reserved for none other than the time-honored, self-proclaimed "world famous" Hammersmith Palais, a venue that had been hosting the hottest acts on the London music scene since 1919 but will be demolished soon to make way for a shopping center.
Not familiar with the Palais? Think CBGB's in NYC, another recent concert casualty. Think The Clash's classic "(White Man in) Hammersmith Palais," a song ironically condemning the commodification of music. Think live shows from The Clash, The Cramps, The Cure, The Pogues, PiL, Bowie and almost any band that mattered. Better yet, think of booking a nearby London vacation rental as soon as possible and being one of the last people to snap a shot of the Palais' famed façade, one of the only parts still standing. Forget "if walls could talk"—imagine what you'd hear if they could sing!
When the Palais first opened on 242 Shepherd's Bush Road, it showcased ballroom dancing and jazz bands (including one featuring Elvis Costello's father). It withstood air raids and a brief stint as a hockey rink before becoming London's definitive live music venue in the late '70s, then morphed into a haven for West Indian and Brit-Asian all-nighters, integrating current musical and cultural influences into the community. To say the least, the Hammersmith Palais was a stalwart institution—to say it better, in the words of Joe Strummer, it was a refuge for a "roots rock rebel."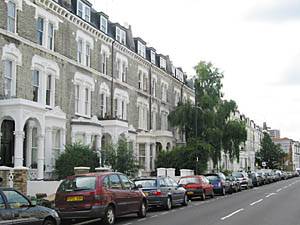 Despite the impending destruction of the Palais, Hammersmith is certainly worth a stay in itself. A happening part of West London, Hammersmith is packed with historic pubs, such as the 17th century Dove, the world record holder for having the smallest bar (which didn't keep writers Graham Greene or Ernest Hemingway away, or stop Sir Alec Guinness from enjoying a pint of—what else?—Guinness). There are also plenty of parklands along the riverside, among them Furnivall Gardens, a good place to catch the upcoming Oxford and Cambridge boat race.
A few weeks in a New York Habitat vacation rental in Fulham-Hammersmith will acquaint you with experimental theater at The Lyric; cinema and art at Riverside Studios, a former water pump factory on the Thames; a lively weekly farmers' market; the Chelsea and Fulham football clubs; and more music at the Hammersmith Apollo.

Some recommended accommodations are:
Rent an apartment in Hammersmith and get a first-hand, last-chance glimpse at musical history—or at least look longingly at the empty lot where the Palais once stood. Like many Londoners, instead of singing "God Save the Queen," you'll find yourself saying, "God Save the Palais!"
What was your pick for our Number One Must-See Musical Sight in London? Check out the rest of the list:
and leave us your comments.