Number Four on the Top Five list of musical must-see sights in London is Belgravia, one of the most beautiful and exclusive enclaves the city. The homes are owned by foreign governments, aristocrats, real-life royalty and rock n' roll royalty alike. Even the Sultan of Brunei has a hard-to-miss place here. Can you imagine what the block parties must be like? Picture a Playboy Mansion on each street, only with old money, a lot of history and a lot more clothes (from nearby Harrod's and Harvey Nics, naturally). Staying in a Belgravia vacation rental is the closest most of us will ever come to starring in a Merchant Ivory film.
Last week, New York Habitat brought you amazing accommodations and long-term rentals in World's End, London, the birthplace of British punk—but in the words of Monty Python, "Now for something completely different."
So you're wondering why Belgravia, London made our list. The wide avenues and Georgian architecture that surround Belgrave Square also provided the setting for the musical movie My Fair Lady, starring Audrey Hepburn. Remember the songs? "Does enchantment pour out of every door, no, it's just on the street where you live."
Guaranteed you'll find enchantment on any street or well-kept mews you walk down in the neighborhood—and in any of the outstanding Belgravia apartment rentals here that New York Habitat has to offer:
– A stunning 2-Bedroom Accommodation in Belgravia – Westminster (LN-260) on Chesham Street between Pont Street and Eaton Square (one of Henry James' favorite places); it also has two bathrooms and a daytime porter.
– A bright and modern Studio Vacation Rental in Chelsea – Kensingston (LN-545) with easy access to the shopping of High Street Kensington, as well as the various museums of of South Kensington (Victoria & Albert, Natural History…).
Honestly, staying in one of these London accommodations will transform you like Eliza Doolittle and transport you to another world and time.
A few steps away and you're standing by the lovely Belgrave Square, a 10-acre park of unparalleled, overgrown beauty. Unfortunately, it's gated and locked, meant for residents' use only—but if you befriend the sultan, you may get to borrow his key. However, even the views from outside the fence are breathtaking and there are benches all around the park that are perfect places to take a tea (or coffee) break.
The smaller cottages lining Belgravia's many mews were originally used as stables, and local pubs like The Star Tavern (built in 1703, and the place where England's Great Train Robbery was planned over a few pints) were originally intended to serve the servants who worked in the nearby mansions.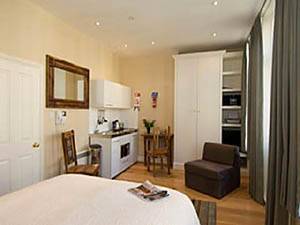 London Vacation Rental: Studio in Earl's Court: LN-545
Of course, for the full My Fair Lady experience, a shopping trip is in order—and you're in luck!
New York Habitat has many accommodations, like those listed above, that are just a short walk from label-laden Sloane Street and some of the world's most serious department stores—not to mention Harrod's illustrious Food Hall, where you can get lost for days and still survive on a steady supply of shortbread.
By the way, a few streets away from your vacation rental in its musical movie setting is the house where Ian Fleming, creator of James Bond, lived. Look for the blue plaque at 22 Ebury Street. Just like Bond, Belgravia is a British institution—refined, cultured and oh-so-cool. Stay in an accommodation just steps away from where Audrey danced and 007 came to life.
If you missed number 5 on the count down of London's top music sites check out: Top Five must-see musical sights: London – # 5 World's End
Look for next week's #3 must-see musical sight in London—and let us know your favorite movie filmed in London in the comments section below.