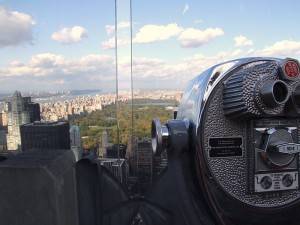 Normally, the best views of Manhattan are found on the shores of Brooklyn, Queens, New Jersey or on an island in the middle of New York Harbor. Thanks to modern architecture, however, visitors no longer have to leave the island of Manhattan to appreciate the full landscape of the city.
Gazing out of high-rise windows has been a favorite past time of New Yorkers since the advent of the skyscraper. Looking down on New York from 70 stories above adds a unique perspective–people and cars vanish in the distance, the city itself like a living version of the map in your pocket. The Rockefeller Center GE building, commonly referred to as 30 Rock, is home to the best observation deck in New York City. New York Habitat has apartments just around the corner from Rockefeller Center and the 30 Rock observation deck.
Thanks to major renovations completed in 2005 the 30 Rock observation deck, or "Top of The Rock," beats out the Empire State Building's own viewing floor. Despite giving up 16 floors and years of name recognition to the Empire State Building, the Top of The Rock's Midtown West location makes it more ideal for central Manhattan views. Name a point of interest in New York City and you can probably see it from the Top of The Rock. When seen from above, the scale of Central Park is tangible–amazingly untouched by Manhattan's relentless developers. The Chrysler, Empire State and myriad other buildings seem to be swimming in a sea of concrete, held together by the rivers East and Hudson on either side. Viewing New York City from The Top of The Rock's open air deck is an absolute must-see for any visitor to the city.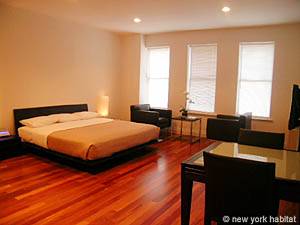 New York Vacation Rental: studio in Midtown West (ny-12424)
Reaching Rockefeller Center is relatively easy from anywhere in the city, but those wanting to walk to the Top of the Rock to catch a glimpse of a New York sunset should try one of these apartments in Midtown West:
–Studio apartment in Midtown West-Chelsea (NY-12424).
–1-bedroom vacation rental in Midtown West-Chelsea (NY-12092).
Which observation deck do you prefer? The Top of The Rock or the observation deck at the Empire State Building? Comment Below.
If you have missed the previous top New York Views read:
#5: Liberty State Park, Jersey City New Jersey