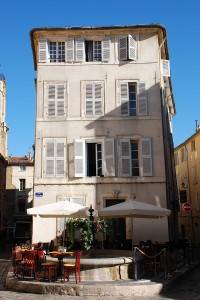 A Plaza in Aix-en-Provence, South of France
The cosmopolitan town of Aix-en-Provence is worth a stay under any circumstances, but if you're a fan of cinema, then you definitely want to stop there between November 28 and December 2 for the Festival Tous Courts.  As its name indicates, this highly regarded cultural event has been focusing on short films directed by young artists for the past 28 years. More than ever dedicated to provide budding creators from all over the world with an opportunity to express themselves, participate in workshops, work and play together, this festival is also the perfect opportunity for any movie lover to discover new talents while enjoying the charms of one of the France's most sophisticated towns.
Once you've had your fill of celluloid thrills, you can go out and explore everything that the former capital of independent Provence has to offer. Wandering the colorful, lively streets of the Old Town and the dignified, tree-lined avenues of the 17th and 18th centuries, you'll come across attractive squares, fancy fountains and ornate buildings. Celebrated art institutions and prestigious schools have been ubiquitous since the early days and explain why Aix has remained consistently popular among students and art connoisseurs of all ages.
No matter how busy you get, do not fail to have a look at the soaring Sainte-Victoire Mountain to the East, and to pay homage to its biggest fan, the painter Paul Cézanne, by visiting his former studio. To complete the perfect tour, take a walk on majestic, beautifully shaded cours Mirabeau, from the elegant townhouses on one end to the fashionable cafés on the other. And make sure to cap your day with a calisson, the local lozenge-shaped candy made from almonds and crystallized melon.
For a full immersion, nothing beats living right there. That's why New York Habitat made sure to have a wide range of fully furnished vacation rentals in Aix-en-Provence for you to choose from.
If all you need a funky, colorful pad, check out our studio vacation rentals in – Aix Center – PR 982 located on a pedestrian street only three blocks from cours Mirabeau and right around the corner from city hall. It really cannot get more central!
Looking for a little bit more space? How about our 2-bedroom apartment in Aix-en-Provence Center – PR 920? This third-floor walk-up overlooks one of the prettiest squares in Aix and will give you the opportunity to go market right outside your door every day.
If you cannot live without a garden, our spacious 1-bedroom vacation rental in Aix-en-Provence Center – PR 1000 has one for you. It is shared with the owners, but there's plenty of room for everybody, and a private space with a summer kitchen will be all yours.
If you are looking for tranquility, we have a 4-bedroom – Aix-en-Provence – PR 565, overlooking the French countryside. Large enough to easily accommodate up to 6 people, it offers plenty of room for everybody and comes with a lovely garden and sumptuous swimming pool.
Have you personally been to Aix-en-Provence and would like to let us know what you thought?