The New York apartment and hotel market continues to show strong occupancy, with an especially hot market in the Times Square area, in Midtown West.
The May 7th issue of Crain's New York Business reports on its continued growth and popularity in Lisa Fickenscher's article (entitled "Times Square Push" in the print version). The article notes that Times Square has 25% of Manhattan's hotel rooms and accounts for 9% of the city's total economic output.
New York Habitat has looked at its bookings over the past year and found that similar to the study mentioned in Crain's, over 30% of our bookings for vacation rentals are occurring in a Midtown West.
The apartments in the Times Square area:
One of the most important factors in selecting an apartment or a hotel room for your stay is to find something to meet your specific needs. With hundreds of offers within walking distance of Times Square, New York Habitat has the perfect mix of apartments in Midtown West and bed and breakfast rooms in New York City, especially in Midtown West to meet the needs of even the most discriminating travelers.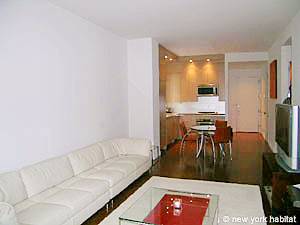 Some typical examples include a one-bedroom in Midtown West (NY-11423) in a high-rise building with views of the Hudson River for $297 a night.
New York Habitat also has some unique offerings to add a little something extra to your New York experience. These apartments include a 1-bedroom apartment in Midtown West (NY-12092) near the middle of Times Square that is located on a high-rise building's penthouse floor with a terrace for $405 a night.
Additional Midtown West Neighborhood info:
The study in Crain's goes on to note that eight out of every 10 tourists visit Times Square during their vacation. New York Habitat points out that because of its subway hub that includes the 1,2,3,7,S,A,C,E,N,Q,R and W trains, access to the rest of the city is convenient.
When visiting events at Javits Center including The Toy Show, The Auto Show and The Travel Show consider staying near Times Square because since it is one of the most accessible neighborhoods to the convention center.
Also, with a growing diversity in retail shops and restaurants in the neighborhoods because of the growing fulltime community, this is one of the best places to set up base during your New York vacation.
Photograph provided by francois-roux-photography.com