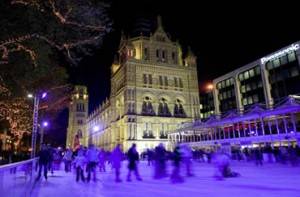 Photo of the Natural History Museum's ice rink in London
Winter is a wonderful time of year in London! If you picture it as cold, gray and dreary, it's time to put down the Dickens book and experience the real thing for yourself. While it may be chilly, the atmosphere is festive, the city is splendidly lit up, locals and tourists alike are full of good cheer and there are plenty of activities to make the season even more spectacular. That's why, as our special gift, New York Habitat is bringing you a list of can't-miss, must-do events to make your winter trip the crowning highlight of your year—and perfectly located London accommodations to keep you cozy, comfortable and warm.
One recommendation that no visitor should skip is the ice skating rink set up outside the London Natural History Museum on Cromwell Road in Kensington–Chelsea. This 1,000-square meter open-air rink, open through January 18, has the breathtaking Victorian building as its backdrop, which is even more dramatic during evening skating sessions (until 10 p.m.), when the museum is bathed in light. The ice-side Café Bar is on hand to help you warm up with traditional cold weather treats like mulled wine and hot chocolate.
If you want to make the most of the sunlight, book a morning skate session (from 8:45 a.m.) then spend the rest of the day exploring the museum's excellent exhibits (the admission itself is free) and browsing through the Christmas Fair: twenty-five chalets set up with different weekly vendors selling everything from homemade jewelry, ceramics and handcrafted toys to beloved British snacks, seasonal ornaments and souvenirs.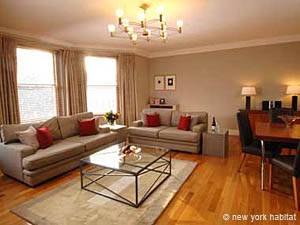 London Accommodation: 2-bedroom rental in Kensington, Chelsea (LN-644)
Because the Natural History Museum is such a perfect place for children, it boasts its own adjacent junior rink for younger skaters. There are also wheelchair sessions on specific dates and a special viewing platform for those who want to watch the action on the ice but aren't exactly eager to lace up and fall down themselves.
The Natural History Museum is a central sight in Kensington-Chelsea, which is one of the most renowned and well-visited areas in London—and for good reason. In addition to the neighboring Victoria and Albert Museum of Art, the kid-tastic Science Museum and the beautiful Bromptom Oratory, the neighborhood has everything the holiday shopper could hope for in the form of Harrod's world-famous department store, the five-story, fashion-packed Harvey Nichol's and the internationally esteemed designer shops dotted along Sloane Avenue. Everyone on your list will be ecstatic—and you'll be done in one afternoon!
Of course, the best place to drop off your bags and shake off the cold is in an accommodation in Kensington or a flat rental in Chelsea, such as:
•    A contemporary and colorful 1-bedroom rental in Kensington-Chelsea (LN-642) in Stanhope Gardens, within easy walking distance of all the area attractions. This deluxe apartment comes with a balcony and access to a 2.5-acre private garden square and courtyard.
•    A spacious and spectacular 2-bedroom vacation rental in Kensington-Chelsea (LN-644) near the neighborhood's royal parks and museums and Knightsbridge's high street shopping. This apartment comes with access to a gym/sauna, and has its own laundry and parking space.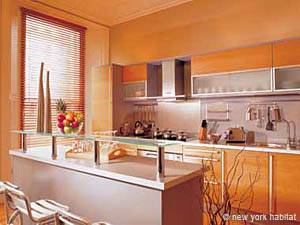 London 3-bedroom accommodation: in Kensington - Chelsea (LN-646)
•    A glamorous and gorgeously designed 3-bedroom duplex in Kensington-Chelsea (LN-646), minutes from both the South Kensington and Gloucester Road central underground stations. This rental comes complete with a private terrace, three separate showers/WCs and two bathtubs.
For some heartwarming winter fun, head to the ice skating rink at London's Natural History Museum—and to truly make your season bright, stay at a New York Habitat vacation rental in Kensington-Chelsea.
Make sure you check back for the city's other winter wonders—and comment below about your favorite part of London's holiday season.