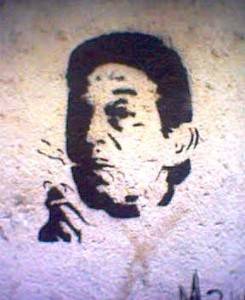 Every once in a while an iconic artist will capture the spirit of a generation. Just as Bob Dylan became the symbolic yet enigmatic figure for a generation of Americans, so too did Serge Gainsbourg encapsulate the feelings and desires of the French. While Dylan surely made controversial statements through his music and public persona, Gainsbourg nearly created a firestorm wherever he went. Contemporary France's ultimate provocateur was reviled and admired at the same time for an oeuvre that crossed genres and a mouth that always had something to say. The Cité de la Musique, in the 19th arrondissement of Paris, has dedicated a multifaceted exhibit to the man who once burned a 500 Franc note on live television. New York Habitat apartments won't cause as much of a stir, but situate guests steps from the Gainsbourg retrospective, in the midst of a culture that he helped define.
Parisians have lined up to pay homage to the painter, writer, actor, director and musician since the October opening of the exhibit, with visitors expected to exceed 100,000 when the exhibit closes on March 15th. Gainsbourg's career was as tumultuous as the era in which he lived. He experienced Nazi-occupied France as a boy, influenced the May1968 student-worker protests and was eulogized by French President François Mitterrand. Opinions on Gainsbourg's artistic achievements and public persona are mixed, but his artistic, cultural and social influence cannot be denied.
New York Habitat has dozens of apartments still available in the 19th arrondissement before the popular temporary exhibit closes for good in mid March. Here are a few to help apartment hunters get started:
-This 1-Bedroom apartment Rental in Bastille, La Villette – Buttes Chaumont (PA-4480) features large french windows, modern amenities including a dishwasher and washing machine, and a coded security system.
– This studio vacation rental in Quartier Latin, St Michel-St Germain-Notre Dame (PA-3658) features a central location, smart design touches and an unbelievable rate.