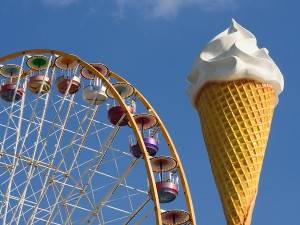 The city of Paris is known for many things – its sidewalk cafes, haute cuisine and designer fashions. But amusement parks? Not so much. That is unless you've heard of the Foire du Trone, the annual country fair that takes over Paris' Bois de Vincennes each spring for two entire months – this year from April 4-June 1. With dozens of rides and flashy arcades, the Foire de Trone is a perfect way to get outside, enjoy the spring weather and take part in an age-old French tradition.
Located by the 12th arrondissement of Paris, the Foire du Trone, or Fair of the Throne, is the largest funfair in Europe, attracting roughly 5 million visitors each year. But this event's roots date back to the year 957, when the French monarchy reigned supreme. Today, the county fair has all of the modern-day rides you'd expect from an amusement park – roller coasters, a Ferris wheel and bumper cars – but some traditional elements remain, like the acrobats and jugglers.
Another reason not to miss the Foire du Trone? Many of the rides at this event last a whopping eleven minutes, if not longer! Hard to believe if you've ever been to an American amusement park and spent most of your day waiting in lines for millisecond rides. Admission to the foire is free but you'll need to purchase tickets for the rides. A 'Party Pass' costs €34 and buys 25 rides.
The Foire du Trone is located on the Pelouse de Reuilly, a path that cuts across the Bois de Vincennes in the 12th arrondissement. New York Habitat has dozens of conveniently located apartments in the 12th arrondissement, including these fun digs: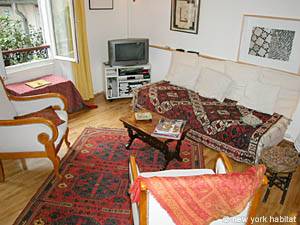 Paris Accommodation: 1-bedroom in Pere Lachaise PA-2824 photo
This duplex 1-bedroom vacation rental in Bastille – Pere Lachaise – Nation (PA-2824), located near Gare de Lyon and Place de la Bastille. The apartment features a charming spiral staircase and eclectic furnishings.
This pristine 1-bedroom vacation rental in Pere Lachaise – Nation (PA-3877), located on Rue de Reuilly near the Bois de Vincennes and Place de la Bastille. The living room has a French window with eastern exposure overlooking the courtyard.
With spring in the air, it's time to break out of hibernation and have some fun. What better place is there to let loose than a county fair in Paris? Win a teddy bear for your sweetheart, indulge in some greasy carnival food and enjoy the thrill of the rides.
Have you ever been to the Foire du Trone? Think is sounds fun? Share you thoughts with us.