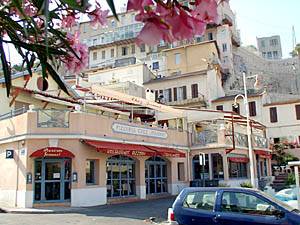 Cafe in Marseille, South of France Photo
Marseille tends to get a bad rap when it comes to South of France vacation destinations – and that's a shame. While it's not for everyone, Marseille has so much to offer to the discerning traveler. You can find various lists of Marseille attractions easily enough; but New York Habitat would like to have a serious talk to you foodies out there about just how amazing Marseille can be.
Bouillabaisse was invented in Marseille, and the city's authentic restaurants take great pride in being a part of this bit of France's culinary history. A hearty fish stew, it is traditionally served with several kinds of delectable fish on a plate, the bouillabaisse broth in a bowl, and small sliced of grilled bread in a basket or tray with a side of rouille, a mayonnaise made of olive oil, garlic, saffron and cayenne pepper.
While even the hole-in-the-wall places have decent bouillabaisse, it's recommended to splurge a bit and go to a higher-end restaurant for your first experience. Start off with a selection from the raw bar, tuck into a bouillabaisse and then end the meal with tasty treats inspired by the North African and Middle Eastern influences of Marseille.
Almost any time of day is a good time for pastis, the unofficial drink of Marseille. In fact, it's not unusual to see market vendors, fishermen and other early morning risers sipping a pastis from the wee hours right up to lunchtime and beyond. While most popular in Marseille and a cool, refreshing drink throughout the South of France in summer, 130 million liters are sold each year – which works out to over two liters per citizen!
Made from star anise, it was invented by alcohol producers as a way to recoup profits lost when wormwood, the "active" ingredient in absinthe, was banned in the early 20th century. While pastis is roughly the color of a weak Scotch when poured from the bottle, water is added in generally a 5:1 ratio, turning it a milky, yellowish color and served over an ice cube or two.
As with any favorite, pastis has been incorporated into a wide variety of locally made cocktails – but it's advisable to take it slow, as pastis is stronger that its crisp, herbal taste implies. We recommend trying Death in the Afternoon – pastis with Champagne – invented by none other than Ernest Hemingway.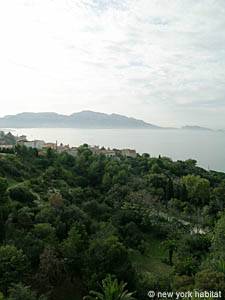 Photo of Marseille: South of France
Are you ready to dig in? Then check out this
2-bedroom vacation rental in Marseille (PR-23)
, located in one of the beautiful area of Le Vallon des Auffes, a traditional small fishermen's port in the heart of the city. This apartment is on the 14th floor with an amazing 360-degree view over the Vallon des Auffes and the Mediterranean Sea. Or, nestled in the hills and facing the sea, this
2-bedroom rental in Marseille (PR-932)
is located in the Bompard near Corniche Kennedy, in Marseille's colorful 7th district.
While Marseille might not be on everyone's vacation agenda, foodies follow their noses and are richly rewarded with the most succulent seafood the Mediterranean has to offer. Have you ever visited a place specifically for the purpose of eating a local delicacy? Let us know in the comments! And for more South of France travel tips, keep browsing our articles.