Columbus Circle marks the southwest corner of Central Park and includes a monument to Christopher Columbus, shopping, museums and a gateway to Central Park. Today, we are going to explore some of the top activates and sites around Columbus Circle.
Traveling to Columbus Circle is easy; it is served by the 1, A, B, C and D subways. Columbus Circle is located between the neighborhoods of Midtown West and the Upper West Side. When rising out of the subway tunnels the 1st thing that you will notice is the statue in the center of the traffic circle. The monument, which was built to commemorate the 400th anniversary of Columbus' voyage to the Americas, was designed and created by Italian sculptor Gaetano Russo. Atop the monument stands Christopher Columbus. In addition to being a sight to be seen, Columbus Circle marks the point where all distances are measured to in New York City.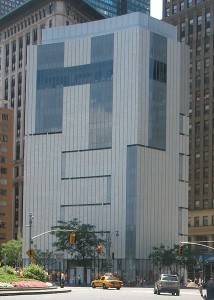 2 Columbus Circle: Museum of Arts and Design
Columbus Circle has plenty of other activates too:
1st you'll want to check out the Time Warner center which is along the western side of the circle. The towers were completed in 2003 and are 55 stories tall. The Time Warner Center has three floors of shops on the lower levels including Borders Books, Whole Foods Market and many specialty retailers. In addition the 4th floor has some of Manhattan's top rated restaurants (be prepared to spend a pretty penny to visit them).
To the north is the one of Donald Trump's famous New York City Skyscrapers
If you are ready for some New York City realization head to the northeast where you will find the Merchant's Gate entrance to Central Park. Take a stroll through the park to reenergize before your next stop on your New York tour.
Lastly to the south you will find 2 Columbus Circle known as the lollipop building, which has been through a rocky history. The building, which for many years was considered as an architectural eyesore by some and an architectural gem by others, has been transformed into the Museum of Arts & Design with a new design that is often criticized as much as the old design. The museum has more than 54,000 square feet of exhibition space for its extensive collection.
If you are interesting in checking out Columbus Circle it's a great idea to choose either a vacation rental in Midtown West or an apartment in the Upper West Side. Some gems in the neighborhood include:
A 1 bedroom Upper West Side Accommodation (NY-14209) located just 4 blocks north of Columbus Circle on the 42nd story of a high-rise building.
A 1 bedroom vacation rental apartment in Midtown West (NY-4646) in a building with hotel-like amenities and located between Times Square and Columbus Circle.
Let us know your favorite activities,  shops and cafes around Columbus Circle in the comments section below.