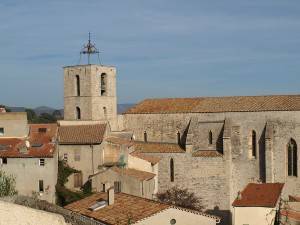 Church of Saint-Paul in Hyeres France
Although not as world famous as some of the hot spots on the French Riviera, the walled town of Hyères has nevertheless been around for much longer than many of them, all the way back to the fourth century BC, to be exact, when it was a Phoenician settlement. The Romans took over two centuries later, the Middle Ages brought their fair share of barbarous invasions and devastating wars, but Hyères survived through it all and is now a well-preserved, attractive city offering a wide range of options to its happily surprised visitors.
History buffs will be happy to check out the Castle of Saint Bernard, perched on top of its hill, the Olbia archeological site, where Greek, Roman and medieval artifacts have been excavated, and the picturesque Old Town. If you're into contemporary art, a visit to the early modernist Villa Noailles is a must. Nature lovers will wander through many gardens and parks, the most spectacular of which being the Parc Olbius Riquier, whose main features include a dense, varied collection of trees, a glasshouse with tropical plants and exotic birds, a lake, and a zoo. As for those who cannot stand still, opportunities to indulge in water sports abound and can be fully enjoyed all year round.
But that is not all. As soon as you get out of the town, you will enter a seemingly endless nature's paradise. Not only is the whole area as pretty as can be, but it also boasts widely different ecosystems such as a rocky coastline, dunes and sandy beaches, pines groves off old salt marshes, and hilly woodlands. Those, in return, host an extraordinary biodiversity in terms of flora and fauna, all of which will keep even the less scientific-minded among us engrossed for hours.
In order to fully enjoy everything that Hyères and its surroundings have to offer, there is no better base than staying right there in a French Riviera vacation rentals.
Depending on the size of your party, you may stay this sea front amazing 3 bedroom Villa – Hyères (PR 1207) with 24/7 security personal. This property has a taerrace, garden, pool and a parking space. You will be able to fully rest in this little piece of paradise.
If you prefer it more intimate, we have a smaller but still spacious 1-bedroom rental – Hyères Marina (PR 714) that basically stands by the water. Also a few steps away from a lively assortment of restaurants and cafés, it is the perfect pied-à-terre.
One of the benefits of staying in the marina is its proximity to the enchanting Golden Islands (Les Îles d'Or). Porquerolles, the largest one, is home to a renowned botanical conservancy, Port-Cros, the smallest one, wins the beauty prize for its historical nature reserve, and Le Levant, at the easternmost tip of the archipelago, is mostly occupied by a French navy facility but remains open to outsiders. Nothing spells "vacation" like a cooling boat ride on pristine waters to one of these floating gardens.
If you are familiar with Hyère's multiple charms, would you care to share with us what you think of them?
Related apartment rental posts from New York Habitat: