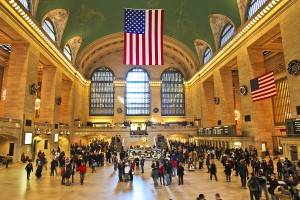 Photo of Grand Central
Recommending a visit to
Grand Central Station
will not enlighten any tourists.  Most visitors to
New York
have already drawn up plans for a visit to one of New York's famed landmarks before doing their apartment research.
And just about every travel guide makes mention of the landmark in their opening pages. It is located in Midtown East, a highly popular neighborhood offering plenty of convenient accommodations for travelers. Nonetheless, there is much more to Grand Central than commuters and architecture. The station is so big and so old (built way back in 1913) that it has dozens of quirks and a sometimes surprising history. One of the secrets that has actually made its way into many guidebooks is the curious Whispering Gallery.
Grand Central's whispering gallery is one of those quirks of architecture that still seem strange even after you've heard a perfectly plausible explanation. Located right next to the famous Oyster Bar and Restaurant is an eerie acoustic and architectural oddity. In this location, two people can stand at either end of the low ceramic arches, dozens of feet apart, and whisper sweet nothings into one another's ears. The whisper, inaudible from a foot away, sounds like a shout to the person at the other end of the arch. According to experts, this occurs because the speaker's voice travels the curve of the domes ceiling. Plausible enough, but all of the logic in the world doesn't make whispering to someone across a room any less fun. The spot has become well known by tourists and some brave souls have even used the arch to whisper a marriage proposal from dozens of feet away.
Grand Central Station is always a-buzz, whether at the height of rush-hour in April or at 4 o'clock in the morning in December. Much like the Midtown neighborhood it calls home, Grand Central never sleeps. Luckily, New York Habitat has dozens of Midtown East accommodations where you can catch some shut eye while the city hums outside. Below are a few to get your search off the ground:
-This studio rental apartment in Midtown East (NY-9232) is housed in a high-rise building with 24-hour doorman, gym and swimming pool. The studio even offers panoramic views over the East River and the United Nations buildings.
-This 1 bedroom loft apartment in Gramercy – Midtown East (NY-12330) is located on the 4th floor of a converted historic warehouse. The amenities includes a piano and a modern kitchen. Two large windows facing park avenue provide lots a natural light.
–  This 2-bedroom rental apartment in Midtown West-Chelsea (NY-14577) is just blocks from Grand Central Station. The stylish apartment occupies the entire 3rd floor of a brownstone building.