Welcome to the second part of our 2-part series dedicated to discovering DUMBO, a great neighborhood in Brooklyn, New York!
Make sure to watch Part 1 of our series on DUMBO. Also make sure to subscribe to our YouTube channel to stay updated on our future videos.
Video Tour of DUMBO part 2 , Brooklyn, New York (6:04)
"DUMBO" actually stands for Down Under the Manhattan Bridge Overpass, and it is located in Brooklyn, just on the other side of the river from Manhattan, between the Brooklyn and Manhattan Bridges.  The bridges can be traveled by automobile, bicycle and even walked across.
St. Ann's Warehouse
If you live in DUMBO, you don't need to go to Manhattan for world-class theater. St. Ann's Warehouse stages some of the best shows in the city in an intimate space. Many productions come straight from Europe, like the acclaimed musical, "Brief Encounter," which went on to Broadway last year.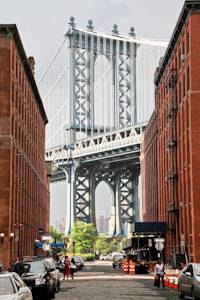 View of the Manhattan Bridge and the Empire State Building (through the arch) from DUMBO - Brooklyn
Water Street and Main Street
There are many great specialty and independent shops in DUMBO that give it a small-town feel.
Water Street is a cobblestoned street where there is a wonderful pastry shop, Almondine (85 Water Street), you can buy handmade chocolates from Jacques Torres, and Powerhouse Arena (37 Main Street) is a great bookstore and gallery space.
Nightlife – Front Street between Jay and Pearl Streets
There's nightlife in DUMBO, as well. On Front Street, between Jay and Pearl Streets, you can check out Superfine, a fun bar with a pool table and live music, and reBar, a gastropub and movie theater that screens small independent films.  Or if you're feeling adventurous, the nearby Galapagos Art Center puts on burlesque shows.
Art Galleries – Front Street between Adams and Washington Streets
You'll find loads of galleries and art studios  in DUMBO. There are a dozen galleries just inside the building at 111 Front Street.
A fun time to visit is on the first Thursday night of the month when they're open late and art lovers crowd the streets. Local artists and designers mean good shopping, too: look for handmade furniture, jewelry, and crafts in the neighborhood's many boutiques.
Shopping Scene
There are multiple independent shops in DUMBO, from upscale to artsy.  Here are a few that you'll want to check out:
•Zoe (68 Washington Street, shopzoeonline.com) – a 3,500 square-foot store where you can find both men's and women's clothing.
•Melville House Bookshop (145 Plymouth Street, mhpbooks.com) – where you'll find literature, especially literary fiction, non-fiction and poetry.
•City Joinery (20 Jay Street, cityjoinery.com) – check out the amazing furniture, made one piece at a time.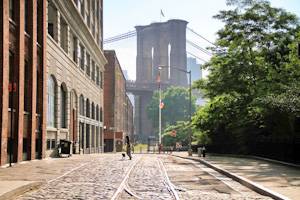 View of the Brooklyn Bridge early morning from DUMBO
•Pomme (81 Washington Street, pommenyc.com) – a children's store where you'll find clothes, artful toys and mod furniture.
•Stewart/Stand (141A Front Street, stewartstand.com) – a fantastic store where you'll find men's gifts, furniture and other functional design objects.
There's nothing better after a long day of shopping than to head home, relax a bit and prepare a home cooked meal to replenish your weary body.  And there's no better way to do that while in New York City than to rent a furnished apartment or vacation rental from New York Habitat. In a furnished apartment, you'll get more space than a hotel and access to a fully equipped kitchen.
Take a look at this fully furnished 2 bedroom, 2 bathroom apartment (NY-14829) located in Prospect Heights, just 4 subway stops from the DUMBO area. This apartment is situated on the ground floor of a 3-story low rise building which features air conditioning in each room, a sofa bed for extra sleeping arrangements and, of course, a fully equipped kitchen.
This furnished studio apartment (NY-14910) is in Clinton Hill, and also very accessible to DUMBO, as well as other areas. This studio comes furnished with a queen sized bed and a double sized futon and has a decorative fireplace as its center for décor. This rental also includes air conditioning for the hot summers, along with cable T.V.
This furnished 1-bedroom is within walking distance of DUMBO in Clinton Hill (NY-14905). The bedroom has air conditioning and the kitchen is equipped with all the utensils needed to prepare a home-cooked meal.
Restaurants
Of course, you won't want to cook every meal in your furnished apartment.  Luckily, you'll find many great restaurants in DUMBO.  Here are a few places that won't disappoint:
The River Café (1 Water Street, rivercafe.com)
Grimaldi's Pizza (19 Old Fulton Street, grimaldis.com)
rebar (147 Front Street, rebarnyc.com)
Superfine (126 Front Street, 718-243-9005)
Galapagos Art Space (16 Main Street, galapagosartspace.com)
Well, that's a wrap of our 2 part series on DUMBO here in Brooklyn.  If we've missed any of your favorite hot spots here, be sure to leave us a message in the comment section below.
Related apartment rental posts from New York Habitat: