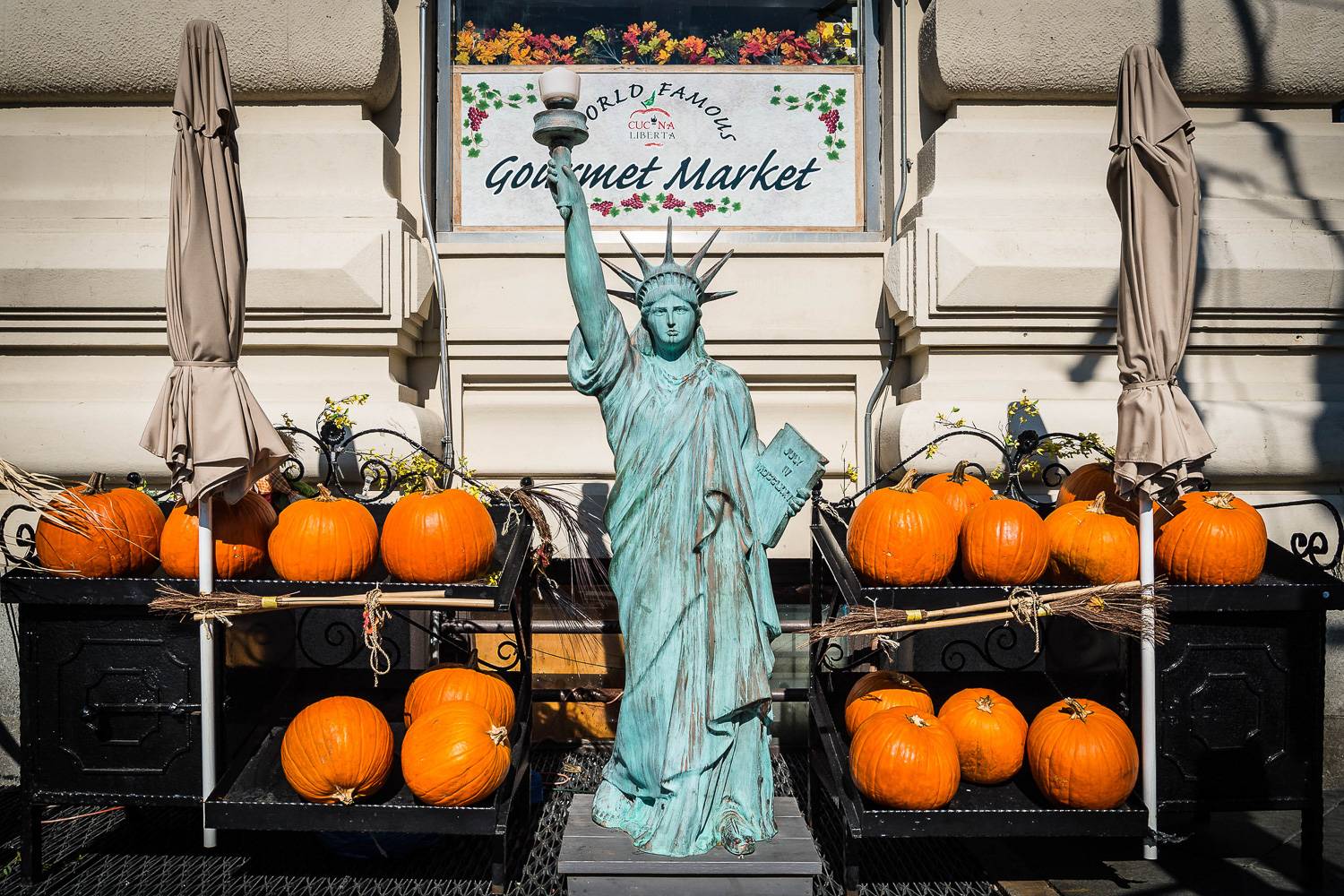 Celebrate Halloween with a New York twist this year! (Photo credit: Spiros Vathis https://www.flickr.com/photos/vathis/15487392707/)
New York City is home to 8.5 million people, and on the night of Halloween, the city may become home to more than a few ghosts, ghouls, vampires, and witches! There's nothing to fear though, as the plethora of Halloween events and activities promises a scary good time for all ages and interests. There's plenty of creepy haunted houses and attractions for those looking for a good scare, incredible pumpkin carvings for the artistically inclined, and be sure not to miss the opportunity to don a costume or see the amazing costumes that will come out of one of the most fashionable cities in the world on All Hallows Eve. And of course, if you're looking for accommodations for a short or long stay in the Big Apple, New York Habitat makes it scarily easy to find your perfect apartment. Read on for our guide to the best things to see, do and celebrate this Halloween… if you dare!
Carve out some time to see a dazzling pumpkin display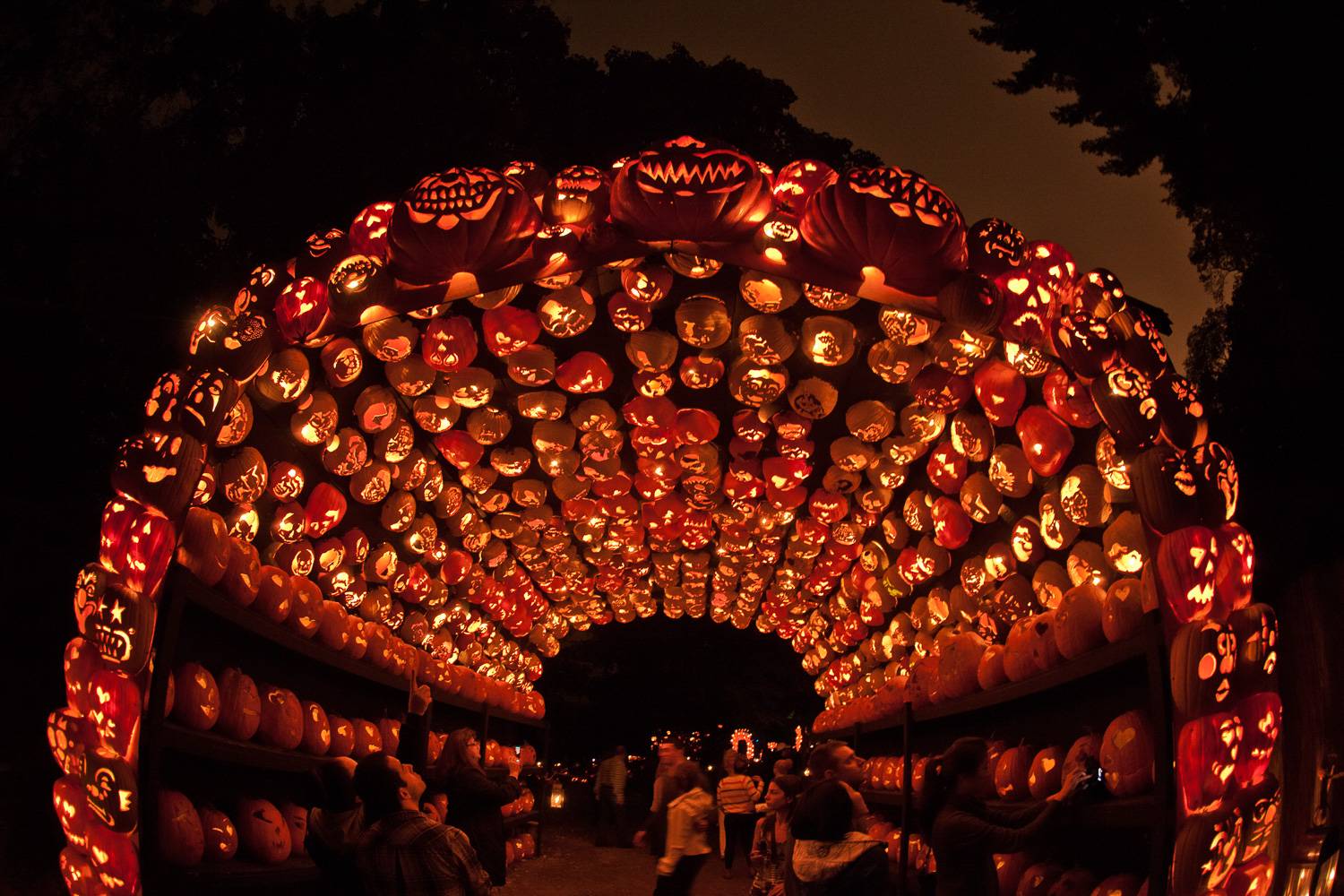 The radiant Great Jack o' Lantern Blaze will dazzle you with its fantastic carved pumpkin displays. (Photo credit: Anthony Quintano)
New Yorkers know that the best and most festive way to light your path through the Halloween season is with a spectacular carved jack o' lantern! Thankfully, the New York area has one of the best pumpkin displays in the country at the annual Great Jack O' Lantern Blaze at Van Cortlandt Manor, New York. The annual display arranges more than 7,000 fantastically-carved pumpkins illuminated by candles and often arranged into fantastic shapes (past displays have included witches, dinosaurs and more). The event is ticketed but great for all ages and will inspire your kids' imagination and creativity. An hour north of Manhattan via the Metro-North Hudson Line from Grand Central Terminal, it also makes a great autumn day trip!
For something a little closer to home, you can also head to Central Park on October 28 for the annual Halloween Pumpkin Flotilla at Harlem Meer. Artistically carved and candlelit pumpkins will be floated out on miniature rafts from the shores of the lake at dusk, creating a breathtaking sight as the light reflects off the water. You can even bring a pre-carved pumpkin of your own to contribute (for tips on where to find a pumpkin, check out our NYC fall guide). The event is free and will also feature Halloween crafts and a costume parade.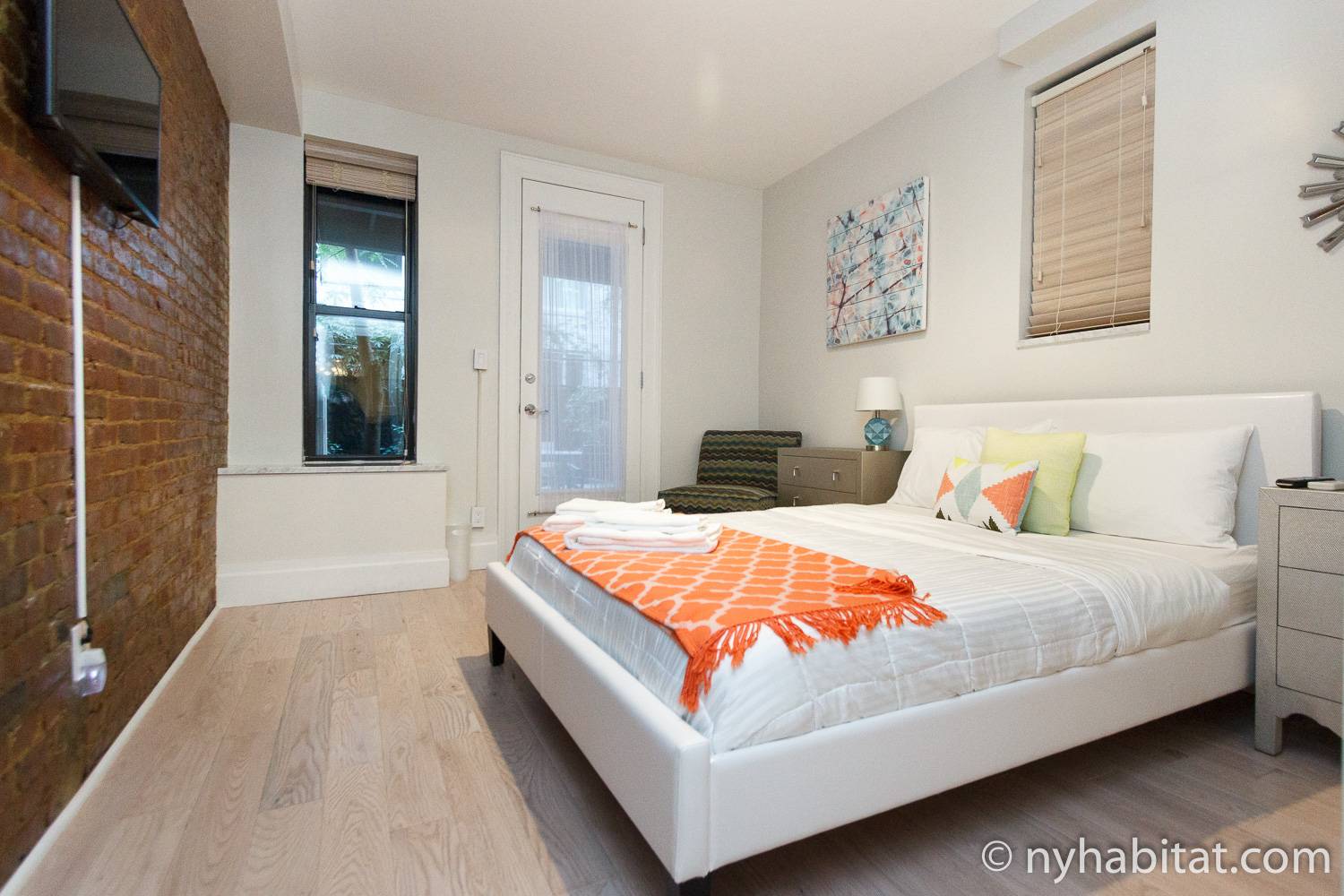 The perfect vacation rental for Halloween has plenty of space for your whole group (and plenty of elbow room to carve a pumpkin).
This 4-bedroom vacation rental apartment on the Upper West Side will make your face split into a jack o' lantern grin! Because of its convenient location, you'll be close to Central Park for all your pumpkin carving and pumpkin-picking needs. You can also fit all of your ghoulish guests into this apartment, as it has 4 bedrooms and sleeps a grand total of 14 people and can seat 8 at the dining table! There's even an outdoor terrace with a table and chairs so you can enjoy sitting out in the crisp autumn air. It'll also come in handy when it's time to carve pumpkins—you can do so outside (for a way easier cleanup) or inside, as the kitchen has a huge wraparound marble-style countertop and breakfast bar. Finally, if you get hit with unpredictable October weather, you'll be ready for anything with the available heat or air conditioning.
Have a thrill at a famous Halloween costume parade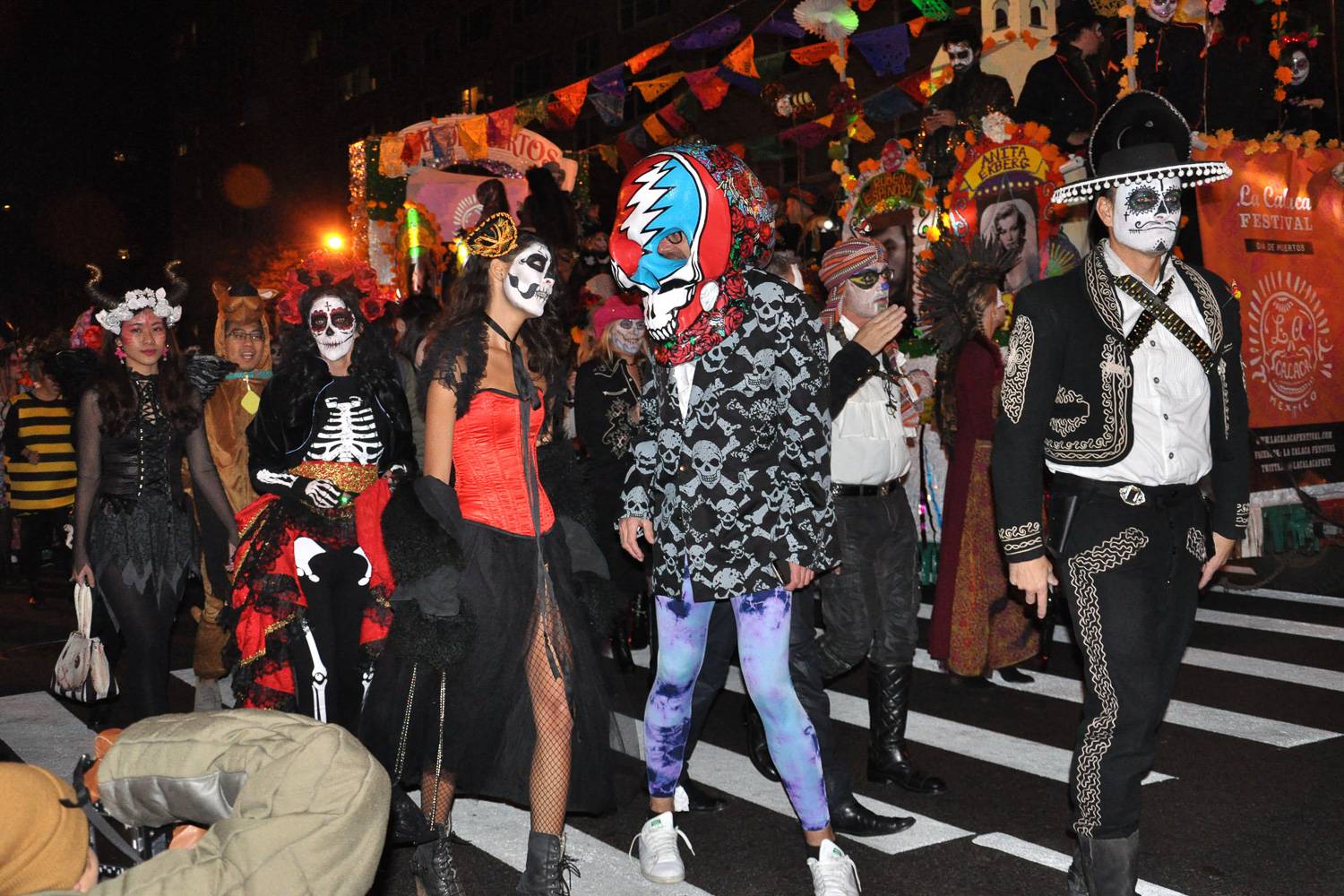 Walk with over 50,000 people (or ghosts, or witches, or skeletons) at the Village Halloween Parade! (Photo credit: Peter T https://www.flickr.com/photos/rr5706507/)
No tribute to the best parts of an NYC Halloween is complete without a mention of the world-famous Village Halloween Parade! The parade is known as being the largest public Halloween event in the United States and is one of New York's quirkiest and most beloved annual events. On October 31, get yourself down to Greenwich Village to watch the parade, or don your best costume and join 50,000 others as you walk in the parade (it's free to participate—all you have to do is show up in costume!). It's not just humans who can get in on the Halloween fun, either; October 14 marks the annual Dog Parade and Costume Contest at Luna Park in Coney Island! If you have a furry friend you'd like to bring, make sure you register ahead of time. Otherwise, just show up and stand by to watch some of NYC's cutest canines show off their spookiest, funniest and most glamorous costumes. Why not get into the spirit and wear one too?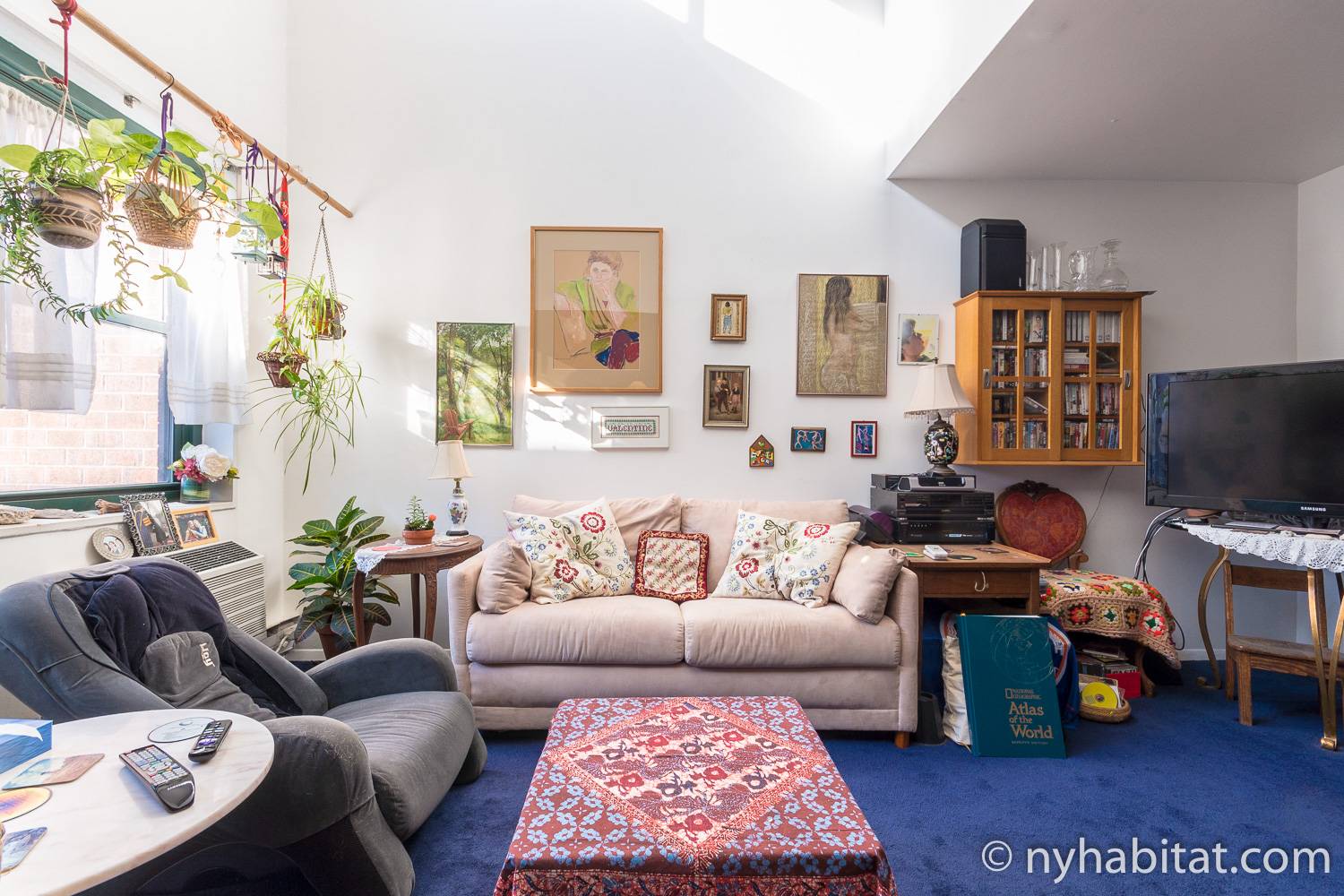 A roommate share is a laid-back option that will put you close to the big parade.
You really can't be in a more prime location for the Village Halloween Parade than this 3-bedroom apartment share in the West Village. It can get crowded when spectators show up for the parade on Halloween night, so you'll appreciate being only a few blocks from the start of the parade route. Additionally, if the parade is your type of scene, you'll also love the eclectic vibe of this apartment with its unique artworks, plants and bohemian textiles. You'll also have the added bonus of an instant sense of community with an apartment share, which also helps you save on rent! Enjoy the privacy of your very own space at the end of the day when you retire to the private bedroom which has a double bed, personal armchair and generous storage in the closet, as well as a large window to admire the scenic West Village.
Kooky Halloween fun for the kids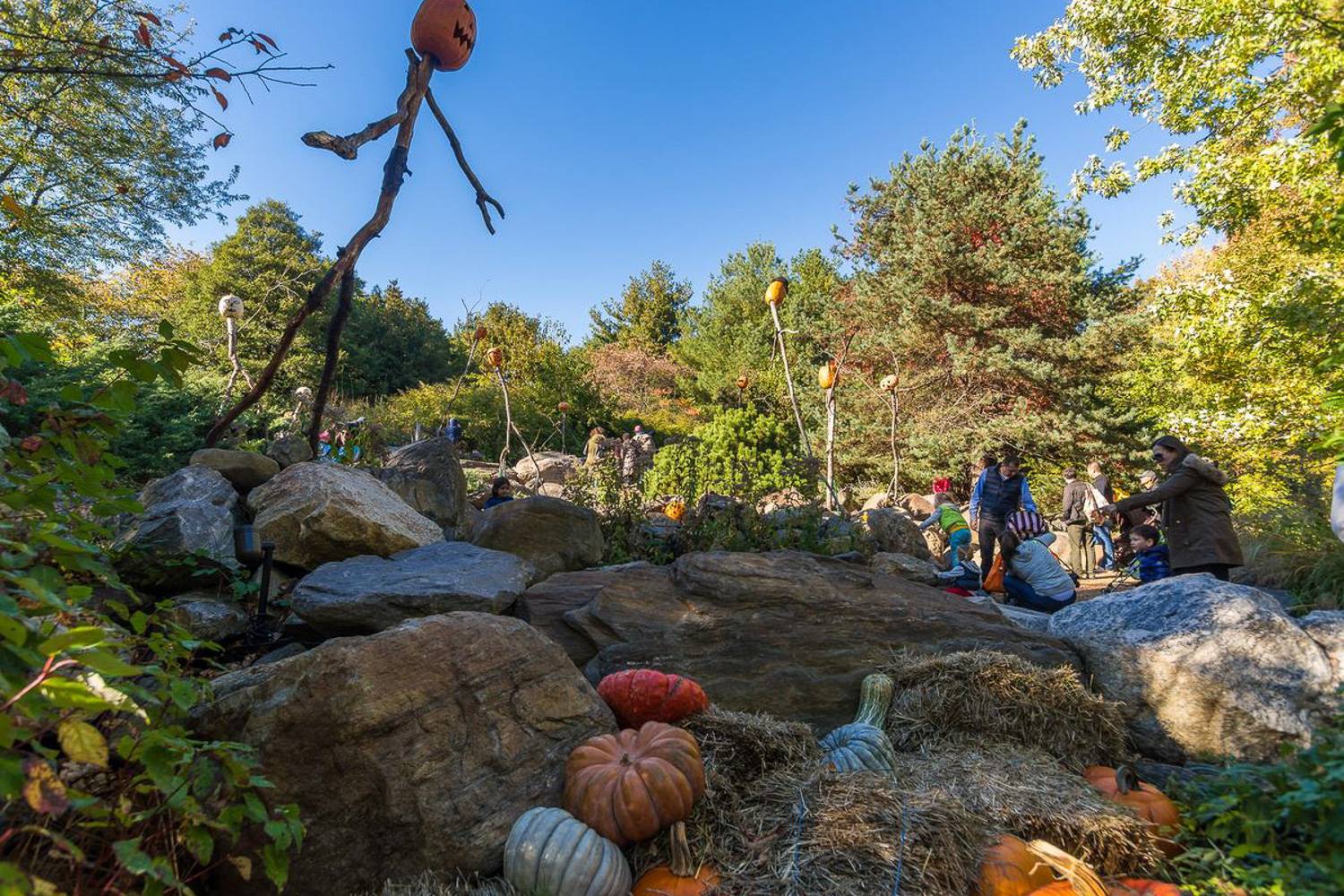 The New York Botanical Garden's friendly pumpkin ghouls will welcome you for some family fun. (Photo credit: Adam Brown enthusiastphotoblog.com)
If you're bringing kids along this Halloween season, you may feel like you're limited in the things you can do, especially if your children are young or not fond of being scared. Never fear, though; New York City offers plenty of children's activities that are a safe bet for fun for the whole family. Make the trek uptown to the Bronx for family fun the whole month of October at the New York Botanical Garden. Their children's garden gets a spooky makeover with pumpkins, gourds and other fall decorations and there will be plenty of Halloween-themed children's activities. Also in the area, you can visit the Bronx Zoo weekends in October for Boo at the Zoo, an annual event with crafts, candy, costume parades and educational activities about the zoo's animals and Halloween-themed animal feedings.
October 27 hosts another great opportunity for some educational fun at the American Museum of Natural History when they host their annual Halloween Celebration. 30 of the museum's galleries will be open for character meet and greets, children's music performances, and Halloween treats. Kids are encouraged to come in costume! If you're on the other side of the East River, Brooklyn's Prospect Park hosts its annual Halloween Walk on October 27 for kids to show off their scariest costumes and bump into a few friendly Halloween monsters scattered throughout the park.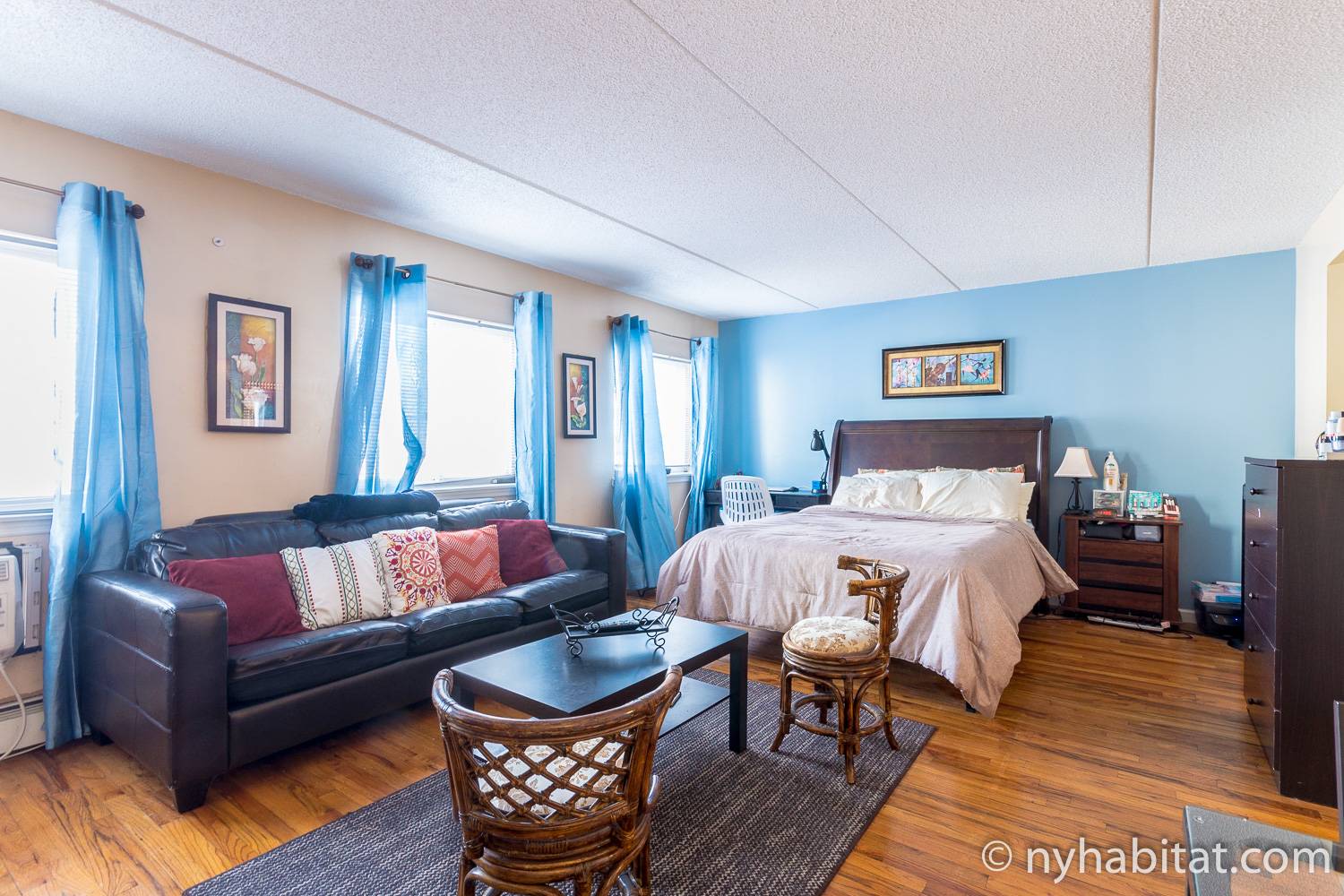 A studio in the Bronx is a thrifty option for staying with the family.
If you know you want to have the perfect Halloween with the kids, then you'll probably also want a low-hassle and convenient rental. Fortunately, you can have the best of both worlds in this studio furnished apartment in the Bronx! An affordable alternative to the high rent of Manhattan, this studio still comes with all the perks of having your own apartment, including a full kitchen, a flat screen television and even a small dining area. With a remarkable three windows, natural light pours into this studio, and two closets and a full-sized bathroom make life convenient for a small family. Amazingly, this studio is also perfect for a family of four, as the convertible sofa folds out into a queen-sized bed for the kids! With a stay in the Bronx, you'll also enjoy the authenticity and community feel of a more residential area, convenient transportation south to Manhattan, and the Bronx Zoo and New York Botanical Garden in your backyard.
Dare to be scared at a haunted attraction
For the boldest thrill-seekers among us, Halloween isn't complete without a visit to a chilling haunted house or attraction. Fortunately, you have a few options in New York City, including the return of Blood Manor, a traditional house of gore that features actors in horrifying makeup ready to scare patrons at every turn. For something a little tamer (safe for kids 10 and up), try the Gravesend Inn Haunted Hotel, a creepy attraction presented by students of the New York City College of Technology. If you're truly brave, you can also check out This Is Real in Brooklyn, a high-intensity simulated kidnapping and immersive horror experience that lasts several hours.
Want to rub elbows with the paranormal instead? See if you can find a guided ghost tour around New York, including tours of haunted Broadway and Greenwich Village's spooky history. For the most spine-chilling experience, you can always strike out on your own ghost tour. We have a few ideas of some of the most haunted places in New York!
Mingle with monsters at some of New York's best parties and celebrations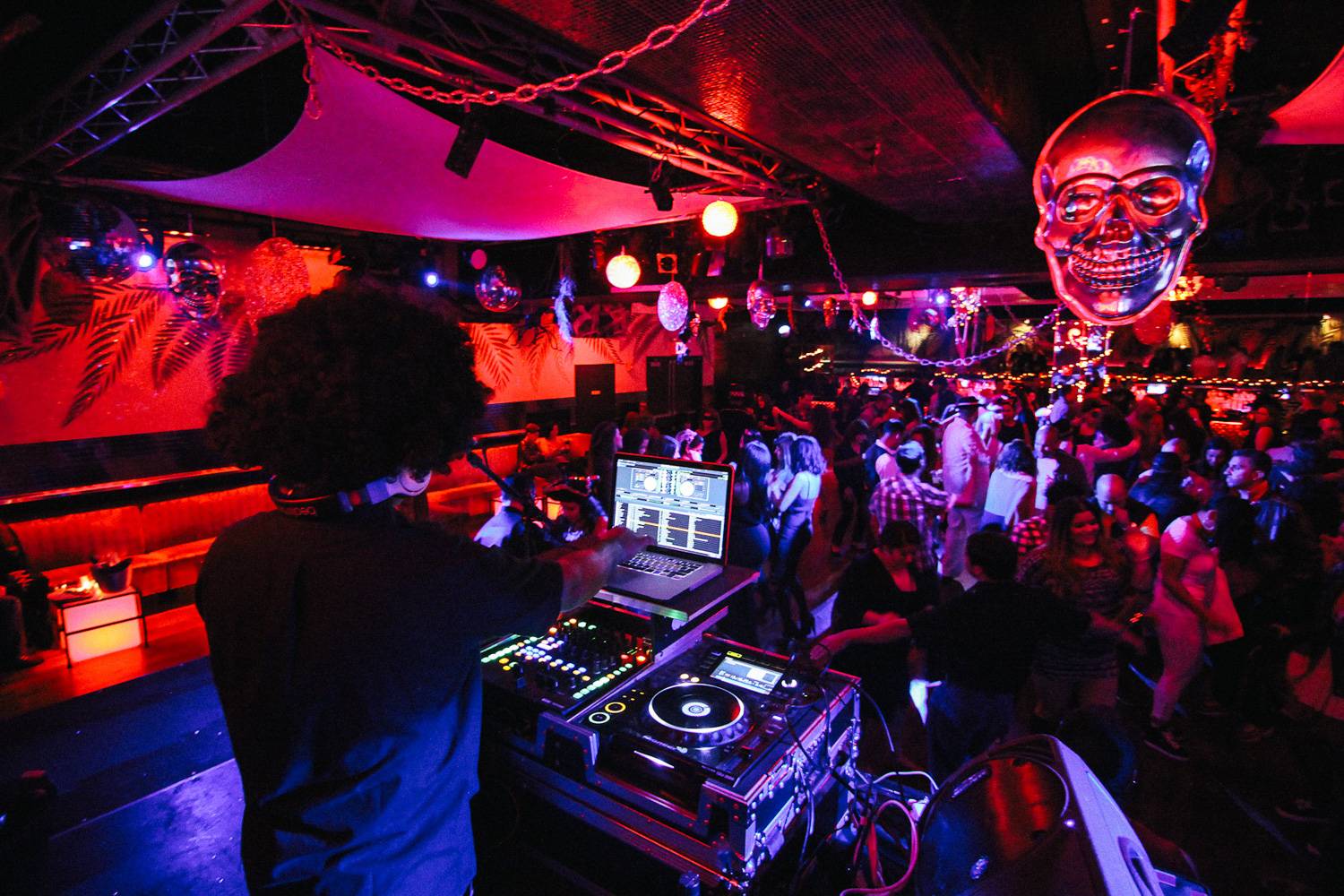 Dance the night away at a spooky Halloween theme party! (Photo credit: Copacabana NYC)
What's Halloween without a good party? Throughout the city on Halloween night and the weekend before Halloween, venues throughout the city will host costume parties and special events. For an upscale event, the McKittrick Hotel will be hosting its annual masquerade ball. The hotel, which is home to a popular immersive theater performance called Sleep No More, will host a fancy-dress masquerade party with an open bar (that means adults only!) on October 26, 27 and 31. For something a little more accessible and cheaper, you can go to the Monster Ball party at Stage 48 in Midtown for an event featuring multiple DJs and dancing. Both events are age 21+ and ticketed.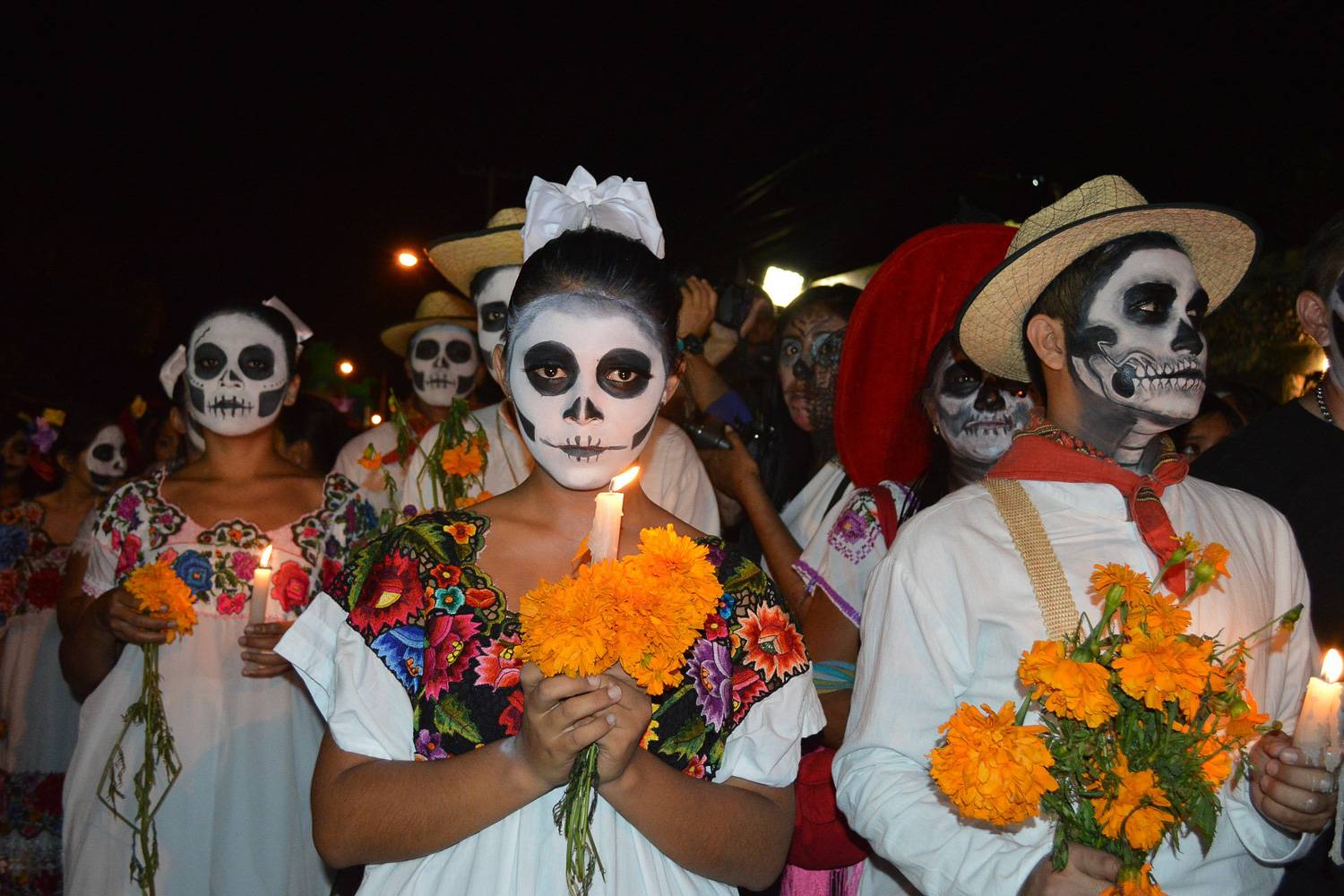 The brilliant colors of Día de los muertos will put an authentic cultural spin on a Halloween tradition.
The ghastly fun continues at the church of St. John the Divine as they host their annual Halloween Extravaganza. The event features a screening of a silent-era horror film (this year's selection is The Phantom of the Opera) with a live organ accompaniment. Afterwards, a procession of ghouls in nightmarish masks put on a show amidst the aisles and gothic architecture of the church. For a celebration that's more on the revered and happy side, head to the colorful celebration of Día de los Muertos (or Day of the Dead) at St. Mark's Church in-the-Bowery in the East Village. The event is a nod to the traditional Mexican holiday and will feature workshops, dance, music and more along with the sights of the splendid bright colors of the traditional holiday. The event is free to attend and will be held October 26-28.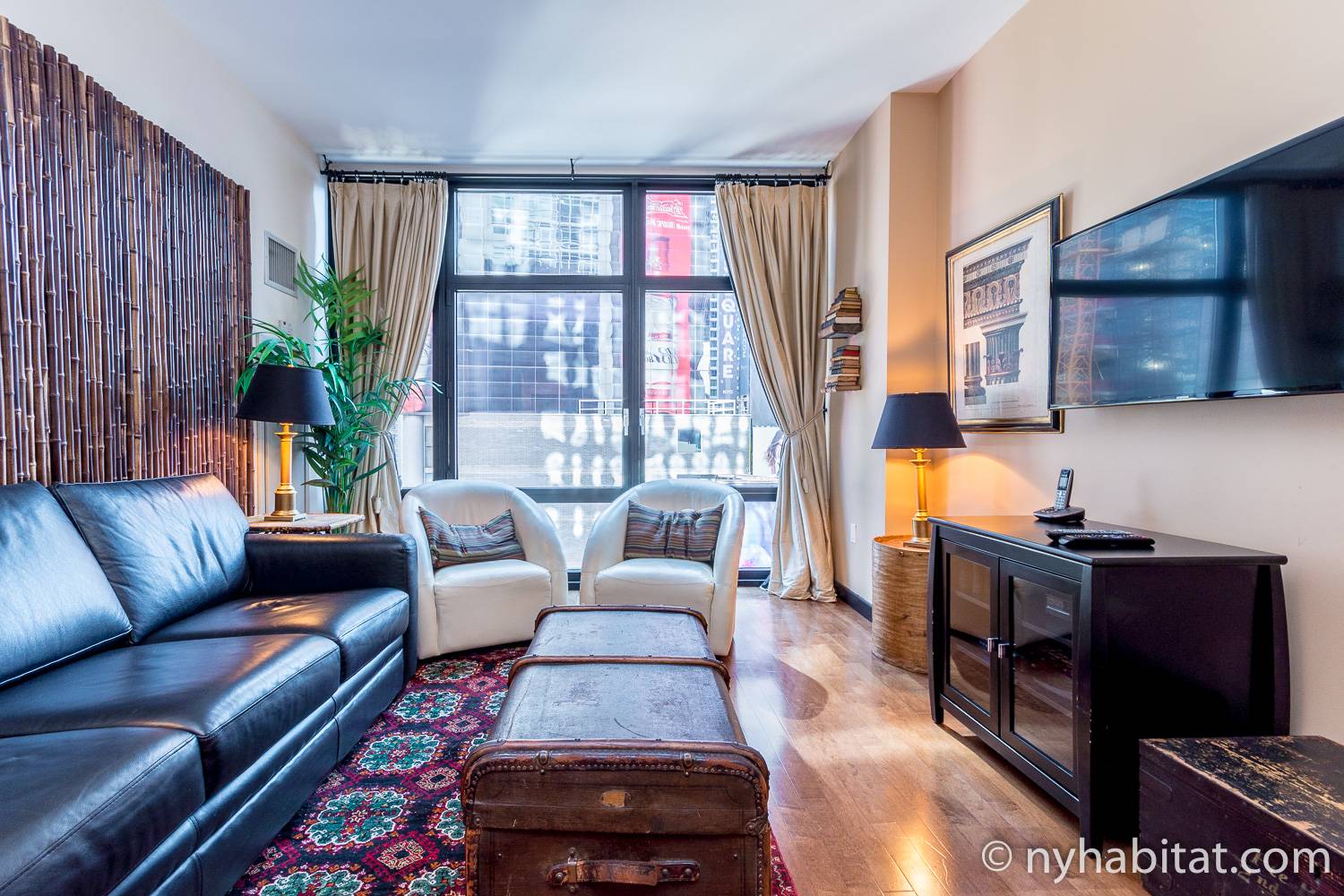 You'll be near all of the best Halloween parties when your apartment's living room window looks out onto Times Square.
Anyone who comes to New York looking for a serious good time needs an apartment that works as a serious home base. Fortunately, this 1-bedroom furnished apartment rental in Midtown West might just be the perfect place! In the living area, you and your friends will find plenty of seating on a classic leather sofa to lounge around and watch a scary movie on the flat-screen TV as you prepare for a night (or day) out. The full kitchen offers island-style seating to enjoy some drinks or dessert from one of the many area bakeries in this popular part of the city. A queen-sized bed in the bedroom and soaking tub in the bathroom offer some perfect places to rest sore feet at the end of the night. Finally, possibly the greatest highlight of this apartment is the huge windows in the living area that look out into the heart of Times Square! With a view like this, you'll be right on the pulse of everything happening in the city, and getting around to the best parties and celebrations is a breeze.
Of course, the fun you can have in a place like New York City during Halloween is virtually limitless—it's all what you make it—but we hope this guide gives you some great places to start! Need some costume inspiration? Why not ride the subway around the city and see if you can spot anyone dressed up as their favorite character or movie monster, or even just gather some style inspiration from fashionable New Yorkers? If you try anything in our guide, share your photos with us on Facebook, Twitter or Instagram. Wishing you just the right amount of tricks and all the best treats this Halloween!