Paris and New York City mirror themselves in many ways. Both are international capitals of the arts and style and the two city's enjoy millions of visitors each and every year. In addition to the permanent museum collections and landmarks are a concerted effort by both cities to continue to evolve and change with the seasons.
Both city governments encourage a revolving line-up of performances and attractions and the summer is the time of year when they both truly come alive. We've already told you about the open-air film festival in Paris this summer, and again New York won't be outdone. Bryant Park, a green oasis in the heart of Midtown, between Midtown West and Midtown East, will be holding a film festival on its central lawn on Mondays all summer long. Guests staying in Manhattan with New York Habitat can enjoy an evening at the movies and the park, all at the same time.
The annual Bryant Park Film Festival will again open the main lawn to picnicking families and couples dining al fresco while classic films play on a giant screen. The festival has become a major midtown attraction so anyone looking for a good patch of grass should arrive a few hours before the movies start between 8 and 9pm. Consider an accommodation in Midtown East or an apartment in Midtown West to fully enjoy the festival.  This year's celebration includes the classics Dog Day Afternoon, Kramer vs. Kramer and Close Encounters of the Third Kind, among others.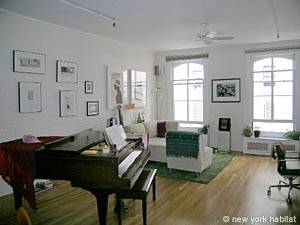 New York Accomodation 1 Bedroom in Midtown East (NY-12330)
One of the nicest things about the festival is that it gives visitors a feel for the lives of real Manhattanites. The Bryant Park Film Festival is
free to the public and shows movies on Monday nights until August 17th
.
-This Studio vacation rental in Midtown West (NY-14826) puts you right down the street from Bryant Park and features hotel-like amenities such as a 24-hour staffed front desk, on-site laundry facilities, a 24-hour gym and a lounge area.
-This 1-bedroom Loft Accommodation in Midtown East (NY-12330) boasts a quintessentially New York loft layout, hardwood floors and a renovated bathroom.
What will you be watching more at the Bryant Park Film Festival; the movies or the myriad New Yorkers in the crowd and passing by?