It probably comes as no surprise that New York City has the world's best pizza. It's one of the many things for which the Big Apple is famous, and a staple in the diet of most New Yorkers. With so many variations (fresh mozzarella, grandma pies, and how about a veggie pie?), there is surely a flavor to appease everyone. Pizza is a relatively cheap meal and an easy way to make your time in the city truly authentic. The streets are brimming with pizzerias, and though we swear they're all good, we've managed to pick ten favorites. Here is our list of the top pizza spots in NYC.
Lombardi's Coal Oven Pizza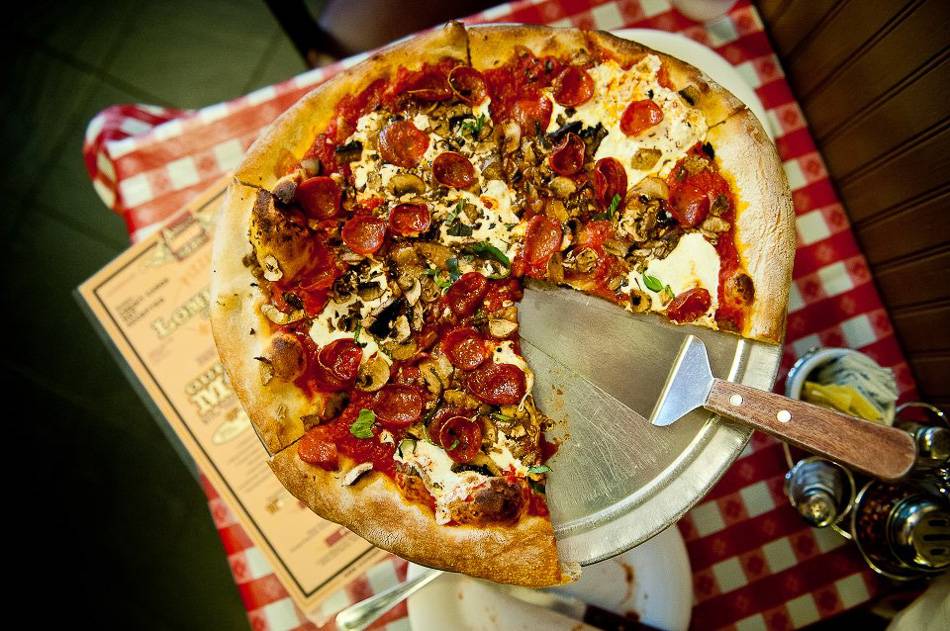 A classic Lombardi's pizza pie
Are copies ever as good as the original? No, and that's why Lombardi's pizza is still on top. Boasting the distinction of being the first pizzeria in America, it has been on the same street for over 100 years and more recently expanded the shop to accommodate its crowds of followers. You can't miss this place; just look for the shop with the Mona Lisa eating a slice of pizza in the window!
Every pie here is made in a coal brick oven and served with smoky thin-crusts that are crisped to perfection. Thanks to its expanded interior, the long lines have been diminished, more tables are available for diners, and there's now a bar that serves beer and cocktails.
Lombardi's is located on 32 Spring Street in Nolita and is accessible via the 4 and 6 trains at Spring Street. We love the white pizza pie, priced at $18.50 (small) and served with mozzarella, ricotta, romano cheese, oregano, basil, black pepper, and garlic-infused oil (no sauce).
Hours: Mon-Thurs, Sun: 11:30 am-11:00 pm; Fri-Sat: 11:30 am-12:00 am.
Fun Fact: This establishment is cash-only. Don't have any dollar bills in your pocket? That's okay, there's an ATM on the premesis
2. Roberta's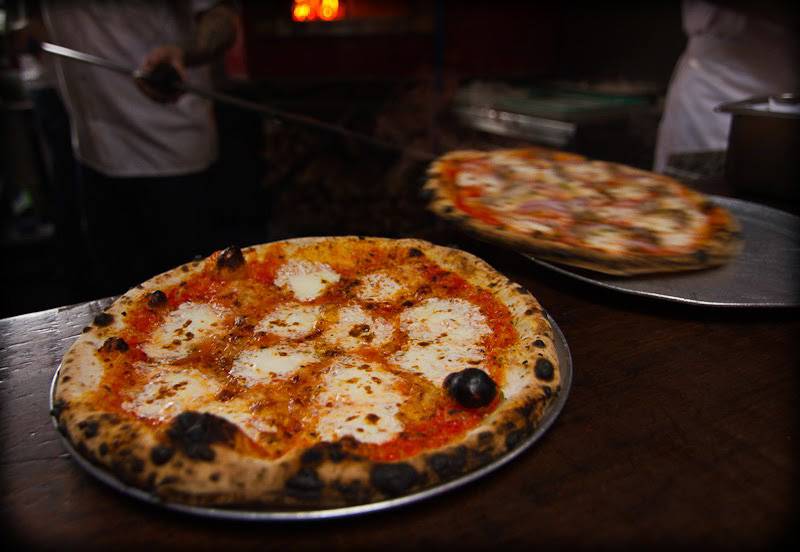 A Roberta's Famous Original pizza pie
Ask a New York City hipster where he gets his pizza, and they'll tell you it's Roberta's. That's not just because it's in East Williamsburg (261 Moore Street), it's because the food here is to die for and a must-try in the area. The place caters to a young crowd, with signature pies named Cheesus Christ and The Nightman, though the old-fashioned interior of white-brick walls and exposed wood beams is likely to attract anyone.
Roberta's also has its very own vegetable garden, so all the toppings are fresh-picked. We suggest ordering the Paparizza pie, featuring romesco, mozzarella, smoked paprika sausage, and onion for just $15. The Famous Original pie is priced at $14.
The pizzeria is easily reachable via train; just hop on the L line to Morgan Ave. You also won't have to go far if you live in the area. Look through our New York City furnished apartment rentals to find a place to live near Roberta's.
Hours: Mon-Fri: 11:00 am-12:00 am; Sat-Sun: 10:00 am-12:00 am.
Fun Fact: This eatery dabbles in retail, selling hipster-friendly merchandise with humorous designs. Check out their shirts!
3. Artichoke Basille's Pizza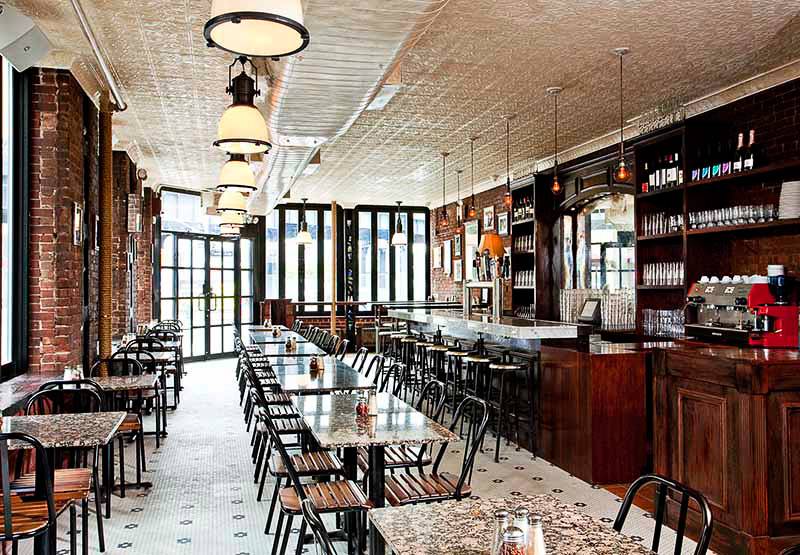 The charming interior of Artichoke Pizza
Cousins Francis Garcia and Sal Basille opened this pizzeria on 14th Street in 2008 and have since enjoyed a slew of praise from critics, New Yorkers, and tourists ever since. Large, cheesy, doughy slices are served here, filling stomachs without taking much from wallets! It's a popular place without much seating, so be prepared to wait in line and eat on the go. We suspect you might finish your slice by the time you get to the door!
As per the name, try an artichoke slice for $4.50. If you're not near 14th Street, that's okay! There are now three different locations where you can get your fix: 328 E 14th Street, 114 10th Avenue, and 111 Macdougal Street.
Hours vary by location. Each stays open as late as 5:00 am on specific days of the week.
Fun Fact: The art of pizza-making runs in the family. Before the founders opened Artichoke, they worked at their family's Italian restaurant on Staten Island.
4. Nick's Pizza
With the help of a regular gas oven, Nick Angelis has made the perfect pizza, which is now sold at his namesake pizzeria Nick's. Nick's is open in three locations, and the pie has been hailed by many as New York's best.
We have to agree. Each thin-crust slice offers the perfect cheese-to-sauce ratio and locally made and grown toppings that create a powerful explosion of flavor. Atmosphere varies based on location: The original Nick's has a kitschy feel as a real friendly neighborhood pizzeria in Forest Hills, Queens (10826 Ascan Avenue, Forest Hills NY). If you're not familiar with the area, read our blog on the NYC Borough of Queens.
There are now two additional locations: Manhattan's Upper East Side (1814 2nd Avenue), with an elegant interior great for first dates, and Rockville Centre on Long Island (272 Sunrise Highway) in a brick building under a large neon sign that reads "NICKS". Prices also vary: A large pie will cost you $17 in Manhattan, $15 in Queens, and $14 in Long Island. All three locations offer seating, so bring the family and pile into a booth. It's pizza time!
Hours: Vary with location. The Queens location closes at 9:30 pm; Manhattan and Long Island locations close at 10:00 pm.
Fun Fact: Aside from pizza, customers can't get enough of Nick's cannolis and house salads.
5. Sal & Carmine's Pizza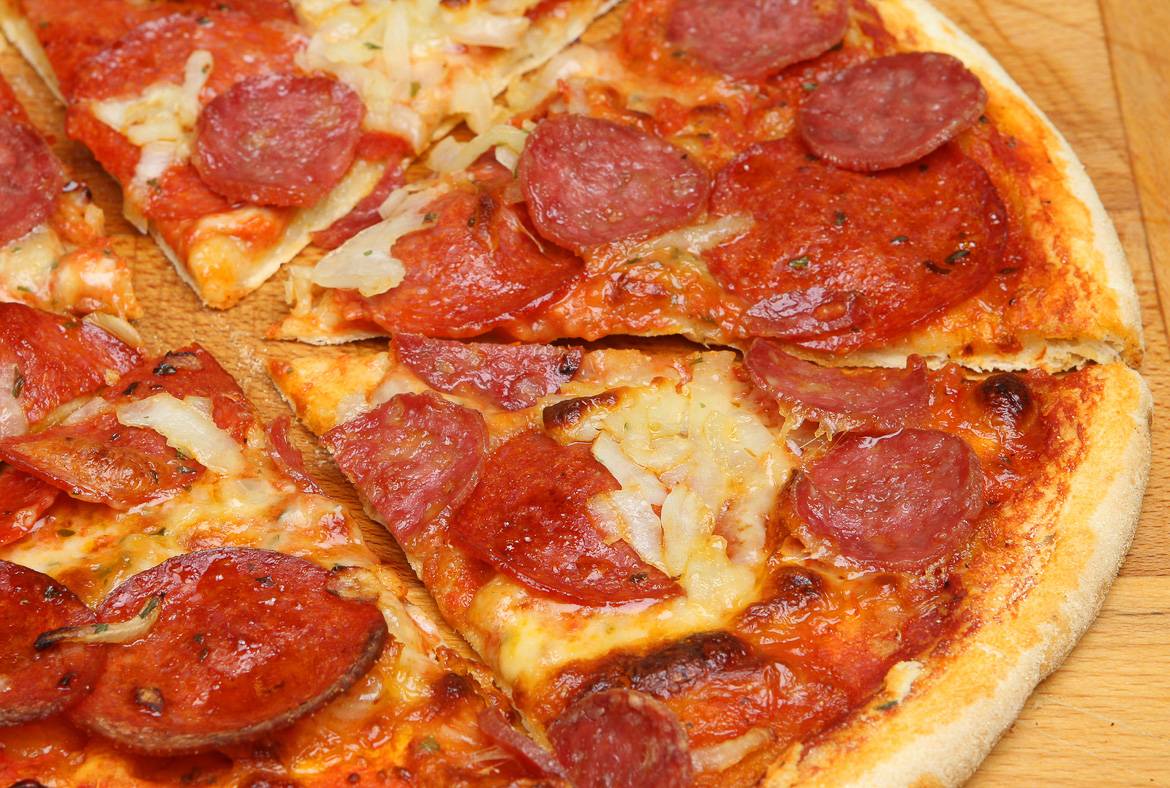 A mouthwatering pepperoni pizza from Sal & Carmine's
You might not suspect that this unassuming pizza place in the Upper West Side has a cult following of fans. You might even pass it without giving it a second glance, but you'd be missing something great. Come in, sit down (you are likely to find an empty table) and ask for a slice; you won't regret it. Pies are great for families and groups, but during lunchtime, the hefty slices are just right to satisfy your hunger. Though this eatery is famous among locals, you won't have to stand in a long line.
A regular cheese slice goes for $3. At 2671 Broadway, Sal & Carmine's is easily accessible via the 1, A, B, and C trains at 103rd Street. After dinner, how about a scoop of ice cream? Find out where to go with our top ten ice cream spots in New York.
Hours: 11:30 am-10:00 pm
Fun Fact: Sal and Carmine are known and respected for their love of the craft, and can usually be found flipping pizza crusts inside their shop. If you enjoy the pizza, be sure to tell them yourself!
6. John's of Bleecker Street
With its long list of testimonials from celebrities like Jack Black, Regis Philbin and Vanilla Ice, how could this pizza not be good? The coal-fired pies are served in a traditional hole-in-the-wall pizzeria setting made more authentic by its surprisingly short wait. After all, this is one of the best pizza spots in the Big Apple, and twenty minutes in line here is a gift. As Jack Black said, "…it's so good I get it plain," so try the regular pie for $14.50. Slices are not served here. This spot on 278 Bleecker Street is accessible via the 1 and 2 trains at Christopher Street.
Hours: Mon-Thurs: 11:30 am-11:30 pm; Fri-Sun: 11:30 am-12:30 am.
Fun Fact: Founded by Italian immigrant John Sasso in 1929, the original John's was located on Sullivan Street. John and his family have not owned the business since 1954 when he sold it to the Vesce brothers.
7. Ray's Pizza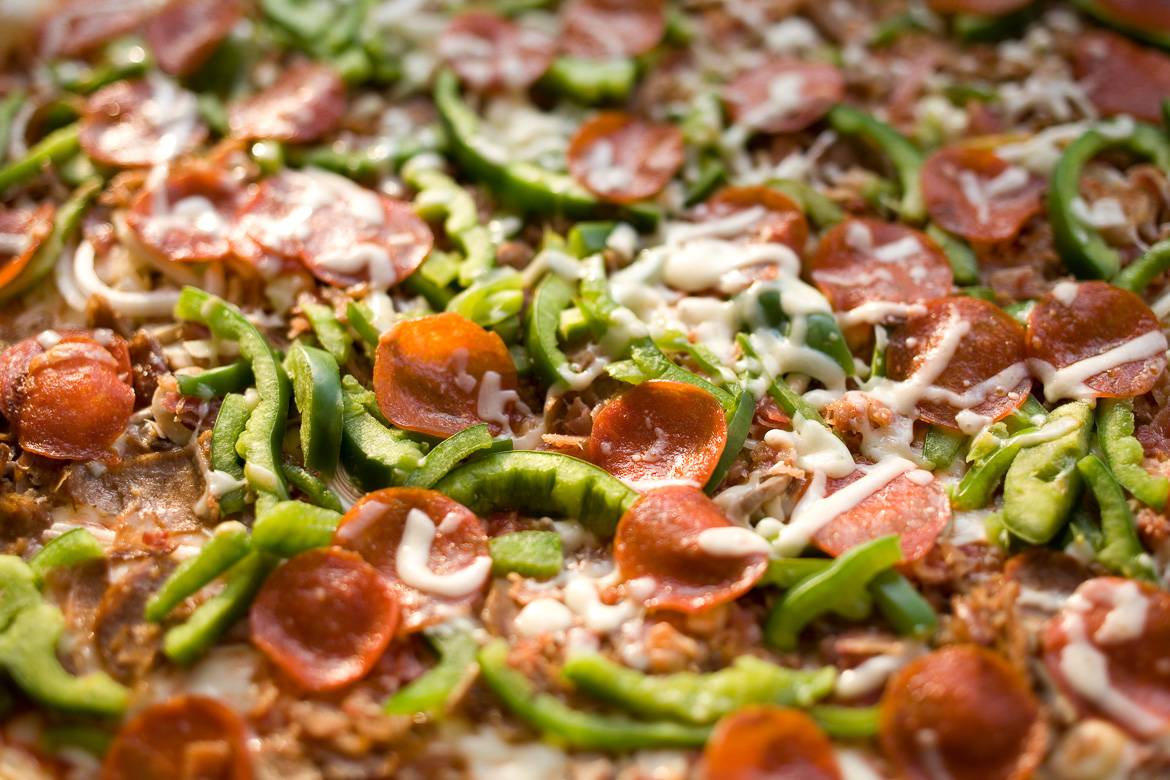 Try the toppings at Ray's Pizza!
When you're worn out and weary on the streets of Manhattan and dusk is starting to fall, you don't want to worry about where to eat. Instead, find a Ray's. Ray's Pizza has been a comfort food to New Yorkers since 1964. Now with seven locations in Manhattan and one in Long Island, you can find a slice uptown, midtown or downtown. Ray's has you covered!
Exact locations are 1827 Second Avenue, 462 Columbus Avenue, 831 Seventh Avenue, 736 Seventh Avenue, 1710 Broadway, 195 E. Houston Street, and 204 Ninth Avenue in Manhattan and 1530 Old Country Road in Long Island. Serious eaters should order the Ray's Special Slice ($5.50), smothered in extra mozzarella cheese and topped with pepperoni, sausage, meatballs, mushrooms, bacon, green peppers, anchovies, and onions.
All locations are close to trains. Besides, with so many locations, you can probably walk to one. If pizza can't wake you up, you may need something stronger; head to one of the top ten coffee shops in NYC.
Hours vary with location, but most are open late. The Midtown locations don't close their doors until 5:00 am.
Fun Fact: There are many Ray's Pizzas throughout the city that may not be affiliated with the original. Make sure you are at Famous Original Ray's Pizza!
8. Di Fara Pizza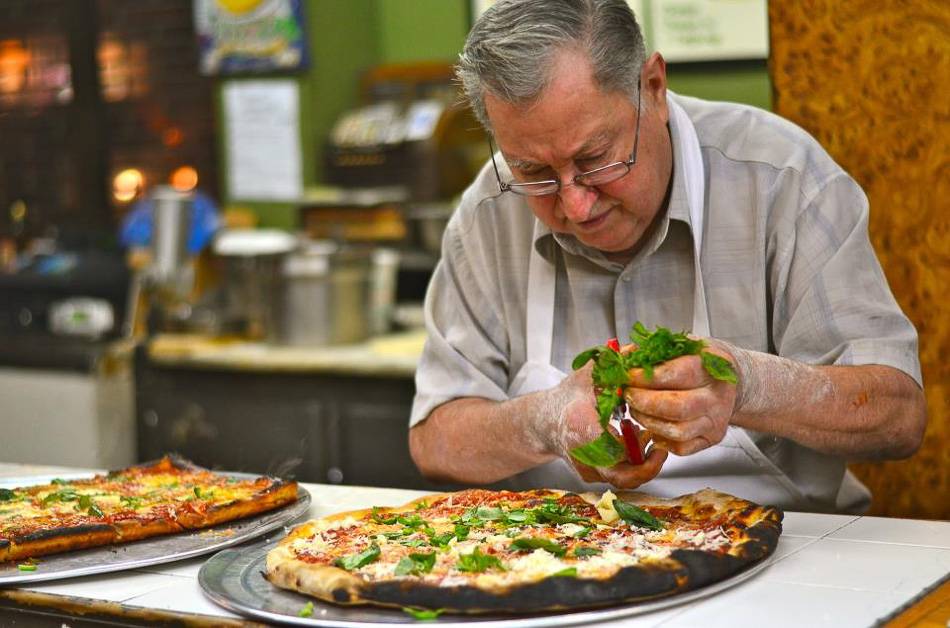 The art of pizza-making at Di Fara's
Do you want some tasty, reliable old-school New York pizza? Come to Di Fara's in Midwood, Brooklyn! Voted among the city's best pizzas by a host of credible news sources including Zagat, The New York Times and USA Today, this place boasts consistently long lines, so be prepared to wait! The owner, Domenico DeMarco, is from Italy (Maybe that's why it closes in the middle of the day for a lunch break? How authentic!) and can be found perfecting pies in his kitchen on 1424 Avenue J. Get the regular slice for $5: it comes with loads of cheese and fresh basil for an added kick. To get here, take the Q train to Avenue J.
Hours: Closed Monday and Tuesday. Open Wed-Sat: 12:00 pm-9:00 pm and Sun: 1:00 pm-9:00 pm. Closed for lunch break 4:30 pm-6:00 pm.
Fun Fact: Look for the portrait on the wall of Domenico making pizzas, and compare it to him in the kitchen. The painting is remarkably accurate!
9. Totonno's
Ask any pizza fanatic where they first fell in love with the dish, and they are sure to give the same answer: Totonno's. The pizzeria is so beloved and legendary in NYC that it doesn't even need a website. At 1524 Neptune Avenue in Coney Island, its no-frills interior offers black-and-white tiled floors and walls filled with memorabilia of old New York and newspaper clippings exclaiming praise for Totonno's. They don't serve slices, so you'll have to get a whole pie, and bring cash (they don't accept credit cards). Afraid to splurge on the whole pie? Don't worry, we can assure you'll eat it all up, as the crust is crispy and the creamy mozzarella cheese is homemade. A large pie will cost you $19.50. Access this hotspot via the D, F, N, and Q trains at Coney Island-Stillwell Ave.
Hours: Closed Mon-Wed. Thurs-Sun: 12:00 pm-8:00 pm.
Fun Fact: Nick Angelis of Nick's Pizza is a huge fan of Totonno's. He has described childhood memories of being taken there by his father.
10. Paulie Gee's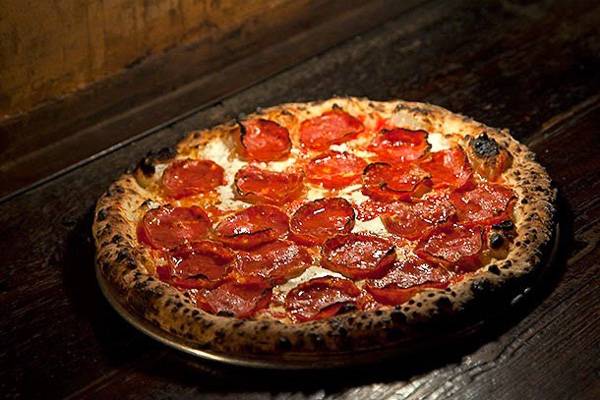 A hot pepperoni pizza at Paulie Gee's
Though the name may sound hokey, the food is anything but. Located on 60 Greenpoint Avenue in Greenpoint, Brooklyn, Paulie Gee's serves contemporary pies in a dark, old-fashioned, and reluctantly romantic setting. Well, romantic to the young crowd at least. Hip to the times, Paulie Gee's knows who it's serving and caters to them, offering vegan pie options, vegan desserts, and loud music.
Come for dinner (it opens at 6:00 pm) for a pie (they don't serve slices). We recommend the Grapeful Dead pizza ($17), served with baby spinach, olive oil, mild gouda, shaved parmigiano reggiano, and house-pickled red grape halves. There is also a vegan Grapeful Dead pie ($16) served with nutritional yeast instead of cheese. Access this favorite spot via the G train at Greenpoint Avenue, or rent an apartment in the neighborhood! Take a look through our many NYC apartment rental options.
Hours: Mon-Fri: 6:00 pm-11:00 pm; Sat: 5:00 pm-11:00 pm; Sun: 5:00 pm-10:00 pm.
If ten options aren't enough, here's one more that we just can't leave off the list!
Bonus Pizza Spot: Denino's
Less well-known than the others on this list, Denino's of Staten Island is a hidden treasure. Though it might be a long trip if you're not already on the island (you'll have to take a bus from the ferry), we promise it's worth your time! It doesn't sell slices, only pies, so come here for dinner and bring your friends. Our recommendation is the large cheese pie, which will cost you just $14.70.
Hours: Mon-Thurs: 10:00 am-10:00 pm; Fri-Sun: 10:00 am-11:00 pm.
Fun Fact: While you're dining, take a look around. You can learn the history of Staten Island just by looking at the pictures on the walls!
Lastly, here's a tip for the pizza-lover on a budget: If you have a dollar in your pocket, this city won't let you go home hungry. Instead, pop into one of the many shops that sell slices for just $1. These include 2 Bros Pizza, Joey Pepperoni, and .99 Pizza.
Is your favorite NYC pizza place on this list? Tell us in the comments!