New York City is known throughout the world as a melting pot of cultures, and nowhere is this more apparent than when you look at the city's food! Whether you're looking for Chinese food, Dominican cuisine, or Russian delicacies, you'll find all of it and more in the Big Apple. Manhattan, Brooklyn, and Queens even contain whole neighborhoods devoted to different culinary traditions. It's clear that New York is an absolutely delightful city for foodies!
In this article, we'll take you on a culinary world tour all within New York City. We'll start with Korean food in East Asia, and work our way west all the way to Mexico. We'll also introduce you to the best neighborhoods for each type of cuisine so you'll know how to let your tastebuds guide you around New York City.
Korean food in New York City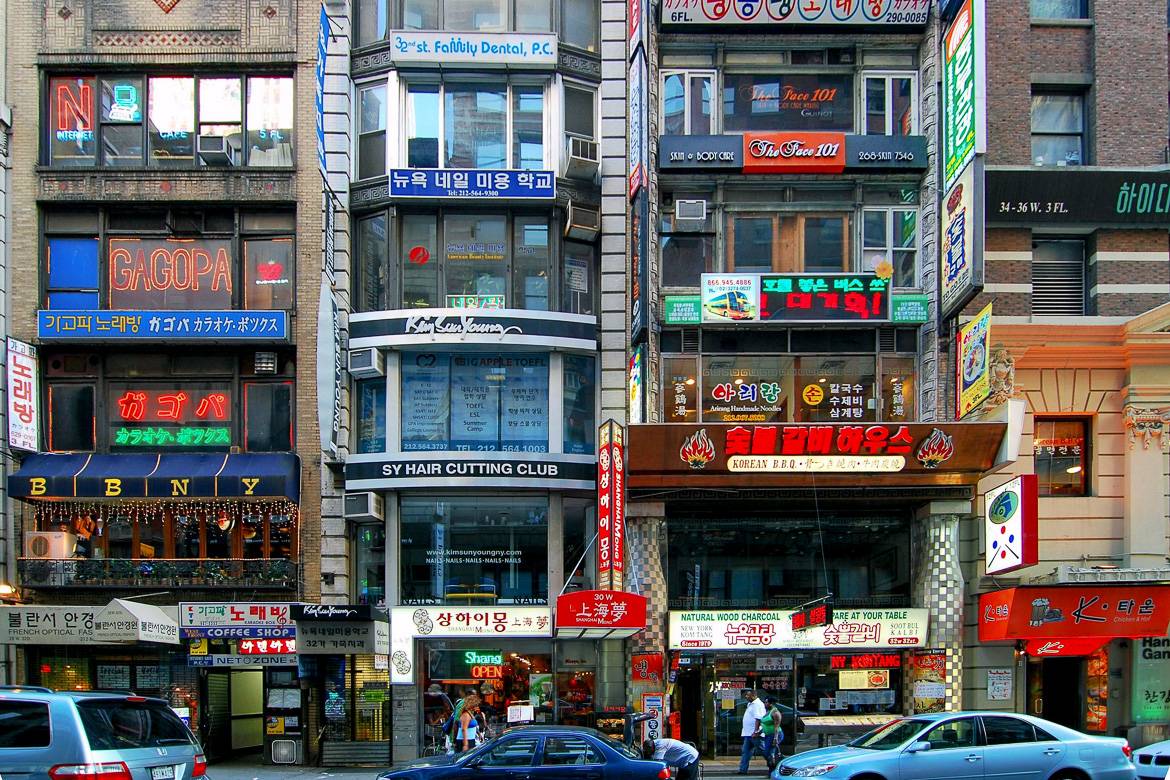 Koreatown on 32nd Street in Midtown Manhattan, New York City
Koreatown, found on 32nd Street between 5th Avenue and Broadway in Manhattan, is one of the most central culinary neighborhoods in New York City. All along the street you'll find wonderful restaurants and shops serving the best of Korean cuisine, which largely showcases rice, meat, and vegetables. A meal is often comprised of many side dishes featuring ingredients such as soy sauce, sesame oil, red chilies, and soybean paste. Koreatown is a fantastic place to taste Korean food, and you must check out some of our favorite spots.
For a luxurious Korean dining experience, head to Gaonurri and enjoy an amazing view of the Empire State Building with your delicious Korean cuisine!
Cho Gan Gol on 35th Street & 6th Avenue is another beloved Korean restaurant that offers great value for your money.
Koreatown offers take-out for lunch or dinner.
Woorjip is one of the most popular Korean delis on 32nd Street for its absolutely delicious food.
E-Mo, a tiny hole in the wall, is another popular take-out restaurant. If you're staying in a vacation rental apartment in Midtown Manhattan, you can easily bring dinner back to your place to enjoy!
Chinese food in New York City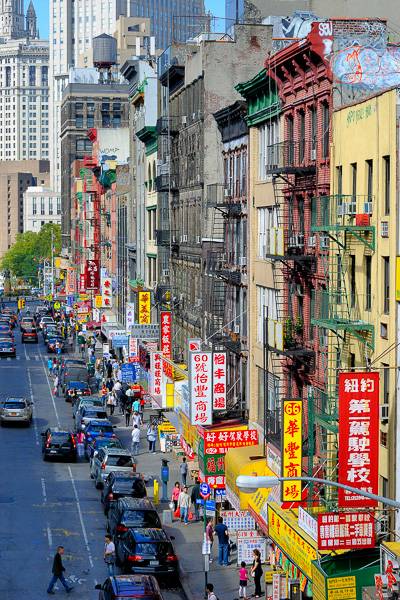 Chinatown in Lower Manhattan
Chinese cuisine hardly needs an introduction: fusion Chinese food has taken the USA by storm. Chinese food is just as popular in New York City as it is in other cities around the world, and as a result, the city boasts
three
Chinatowns spread throughout three boroughs! There are always amazing Chinese restaurants nearby no matter where you're staying in New York.
The most well-known yet smallest of the three is Chinatown in Lower Manhattan.
For some great value for your money, head to Prosperity Dumplings on Eldridge Street, which is a must for dumpling fans!
Big Wong King on Mott Street is another fantastic affordable restaurant.
Joe's Shanghai on Pell Street is a very popular restaurant for lunch and dinner, so go before or after rush hours to enjoy your delicious soup dumplings in peace.
Vivi Bubble Tea on Bayard Street is a great place to try a variety of bubble teas. Check out our video tour of Chinatown to see what the neighborhood is like!
Flushing, Queens's Chinatown is the second-largest of New York City's Chinatowns.
For very affordable and absolutely delicious noodles, head to Xi'an Famous Foods, a small eatery in the basement of a mall on the corner of Main Street & 41st Road.
Golden Palace (on Cherry Avenue & Kissena Boulevard) is slightly easier to find, and a fantastic place to try authentic northeastern Chinese cuisine.
The Food Court in the New World Mall on Main Street & Roosevelt Avenue offers an amazing selection of Asian food and enough seats to go around. You'll also find a great Asian supermarket upstairs.
SkyFOODS on College Point Boulevard & Roosevelt Avenue is another amazing grocery for fresh Asian produce.
Brooklyn's Chinatown in Sunset Park recently overtook Flushing as the biggest Chinatown in New York City, although there aren't yet as many Chinese restaurants as you can find in the two aforementioned Chinatowns.
Still, XSG Dumpling House on 53rd Street & 8th Avenue offers quite possibly the best value dumplings in the entire city; they are extremely affordable and delicious.
Across the street you'll find Mister Hotpot, a modern restaurant that serves a signature hot broth.
For a less-traditional experience, head to the New Victory restaurant on 48th Street & 5th Avenue. The dishes fuse Chinese and Spanish cuisine for a surprisingly tasty result!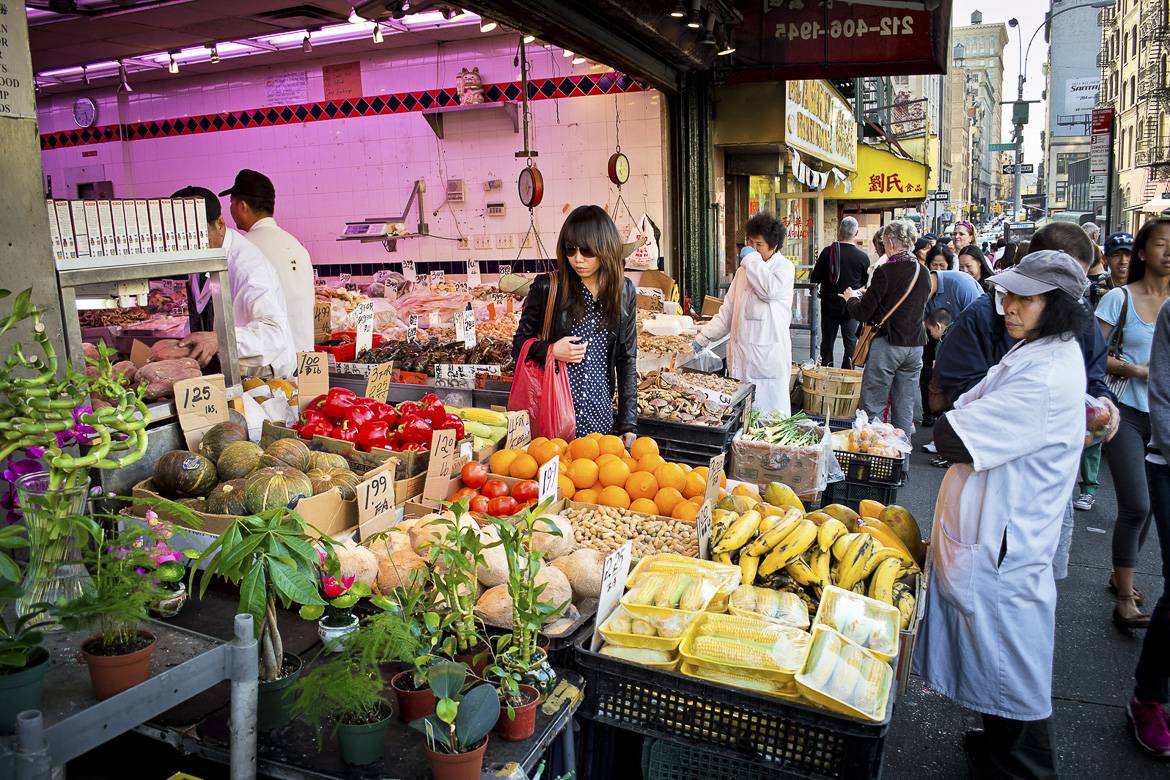 A Chinese shop selling fresh produce in Chinatown, New York City
All three Chinatowns are great areas for grocery shopping, as you can buy fresh produce on almost every street corner! The market stalls not only sell exotic Chinese fruits and vegetables like Chinese chives, silk squash, Chinese broccoli, lotus root, and durian, but also offer great deals on common fruits and vegetables. Fish and meat stalls can also be found on many streets in Chinatown, and often offer a great fresh selection. Fresh herbs and spices can be bought virtually everywhere to spice up your cooking! A great advantage to staying in a New York City vacation rental apartment is that you'll have access to your own fully equipped kitchen where you will be free to try or prepare as many new dishes as you'd like. Furthermore, by cooking at home, you'll be able to save money for your next restaurant experience in the city!
Indian food in New York City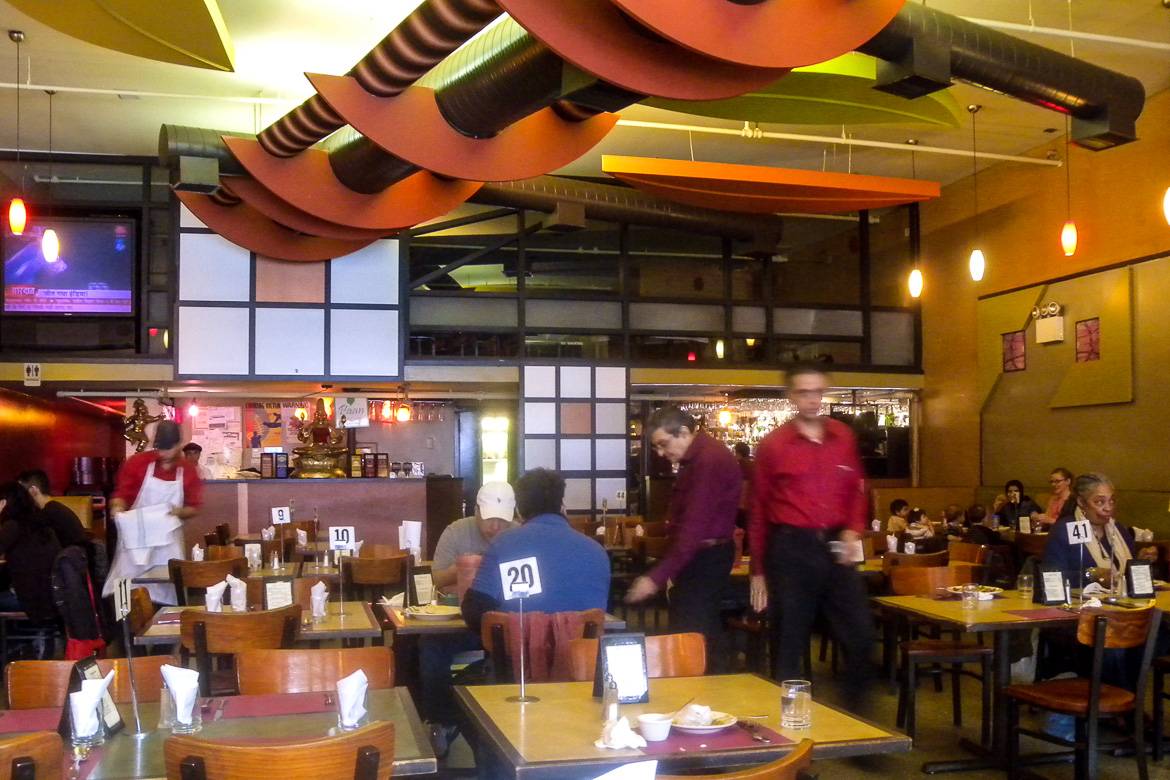 Jackson Diner in Queens, New York has an amazing all-you-can-eat Indian buffet
Part of Jackson Heights, Queens is often referred to as 'Little India.' Along 74th Street you'll find restaurants and shops selling Indian staples such as naan bread, tandoori chicken, and Masala tea.
Jackson Diner on 74th Street & Broadway offers all this and more. The restaurant has a splendid all-you-can-eat buffet serving chicken tikka, murg korma, goat curry, keer, and more.
Thakali Kitchen on 74th Street & 37th Avenue serves both Indian and Nepalese dishes.
Rajbhog Sweets on 73rd Street & 37th Avenue is a cute mix of a deli and a diner and a great place for lunch.
Patel Bros on 74th Street & 37th Avenue is a fantastic grocery store stocked to the brim with Indian ingredients. The store offers a huge selection of spices and rice, but also a variety of frozen pre-cooked meals that you can take home to enjoy in your own apartment!
If you can't get enough Indian food, you can also try one of the many other restaurants in New York City that center on Indian cuisine. You'll find Manhattan's 'Curry Row' on 6th Street and 1st Avenue in the East Village and another Little India on Lexington Avenue between 26th and 31st Streets in Midtown.
Russian food in New York City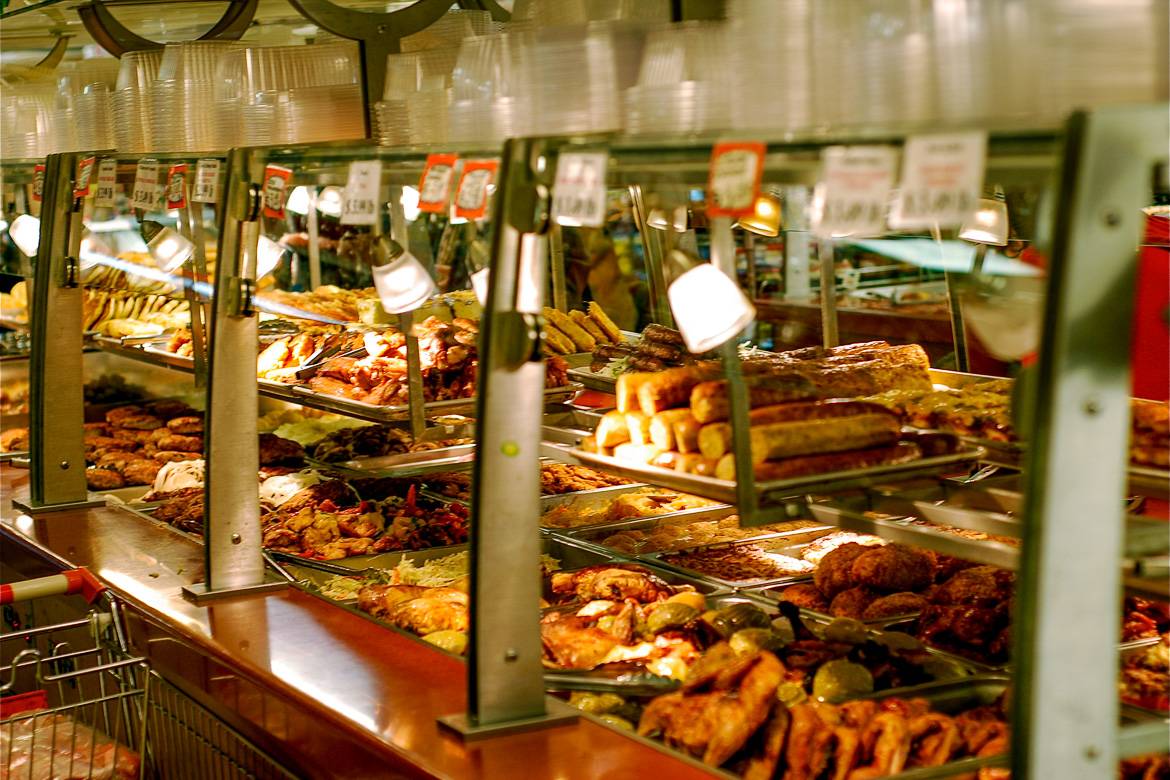 The Russian buffet at Brighton Bazaar in Brooklyn, New York City. (Photo credit: Howard Walfish)
Russian cuisine is extremely varied, but main dishes often include hot or cold soup like borscht, a variety of meats and fish, savory and sweet pies and pancakes, and several vegetables. In the seaside neighborhood of Brighton Beach in Brooklyn, you'll find several of the most amazing Russian restaurants and shops.
To get the whole Russian experience including a spectacular show, make reservations at National Restaurant on Brighton Beach Avenue & Brighton 2nd Street. This luxurious restaurant, show room, and nightclub will make for a night to remember!
Nargis Café on Coney Island Avenue & Kathleen Place is another trendy Russian restaurant in the area. It's very popular, so you might want to visit during the week to avoid having to wait for a table.
For even more affordable but still delicious fare, head to Elza Fancy Food on Brighton Beach Avenue & Brighton 4th Street.
Brighton Bazaar on Brighton Beach Avenue & Brighton 11th Street is the biggest supermarket in the area. The bakery, butcher, and fishmonger are fantastic and offer a huge selection of breads, cheeses, fish, sausages, and hams. The hot buffet, featuring dishes such as shchi (hot soup), okroshka (cold soup), pirozhki, and blini, deserves a whole day to explore. You can easily walk two blocks south from the Bazaar to enjoy your food while you sit on a beachfront bench at the boardwalk. For more information about the city's beaches, check out our top 5 beaches in and around New York City.
Italian food in New York City
Back in Lower Manhattan, Little Italy is probably the most touristy of all the neighborhoods listed here. You'll find most of the small neighborhood's restaurant along Mulberry Street, and some are more authentic than others.
Pellegrino's Italian Restaurant is one of the nicest restaurants on the street and has a great atmosphere. The homemade pasta is a standout dish, and the service is always attentive.
Nearby Benito One the Original has a great prix-fixe menu, hearty food, and impeccable service.
Florio's Ristorante on Grand Street near Mulberry Street serves typical Italian appetizers such as prosciutto alongside hearty pizzas and pastas. The restaurant has a lovely old-school charm, down to the friendly service.
Dominican food in New York City
Food in the Dominican Republic combines flavors from Spanish and African cuisine with flavors indigenous to the island of Hispaniola.
El Malecon Restaurant on 175th Street & Broadway in Washington Heights provides a great introduction to hearty Dominican cooking in New York City. Try the succulent rotisserie chicken with beans, rice, and plantain on the side.
Tipico Dominicano on 177th Street & Broadway is another nice restaurant in the area, and as an added bonus, it's open late.
Margot Restaurant on 159th Street & Broadway serves some truly authentic comfort food and has been a neighborhood staple for many years. To find out more about the neighborhood, check out how to live like a local in Washington Heights.
Mexican food in New York City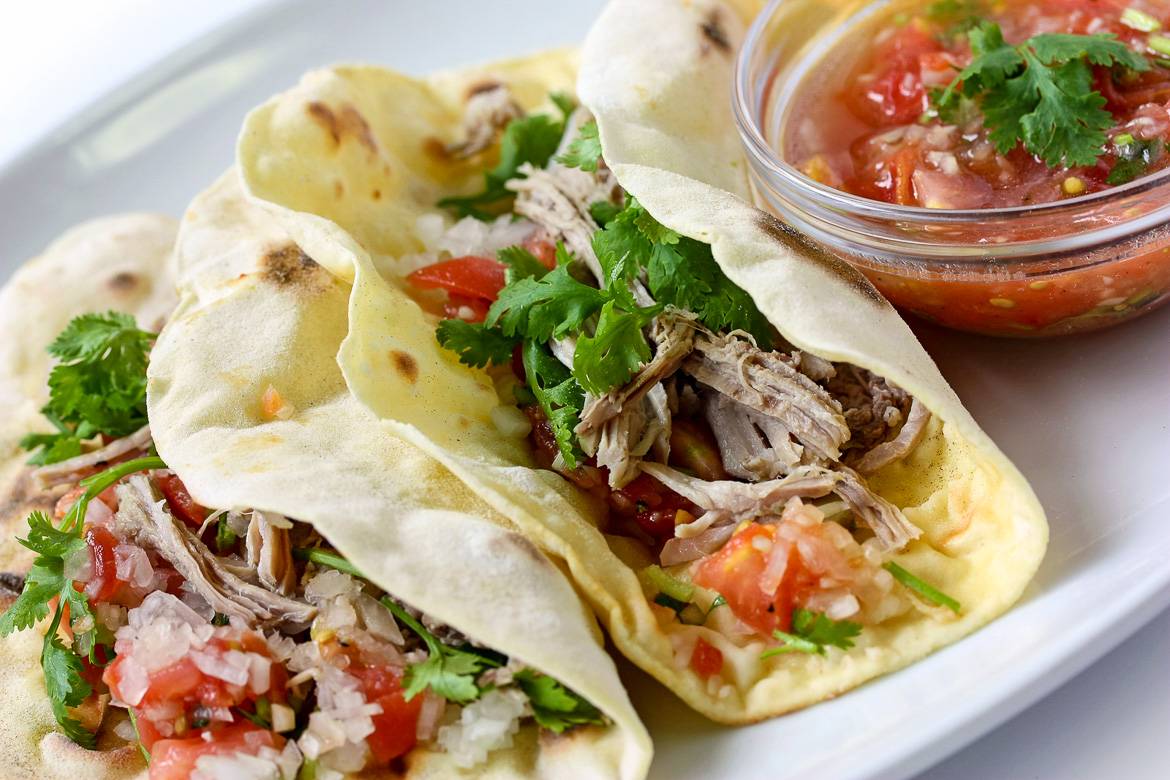 A delicious homemade taco in East Harlem, Manhattan
Like Dominican cuisine, Mexican cuisine was heavily influenced by Spanish food. However, Mexican cuisine also showcases many ingredients native to the country, such as avocado, chili, corn, tomato, and cocoa. In New York, East Harlem (or Spanish Harlem) is the home of many fantastic Mexican restaurants.
Taco Mix on 116th Street & 2nd Avenue is a hole-in-the-wall restaurant that serves amazing tacos at a great price.
Café Ollin on 108th Street & 1st Avenue is a cute and cozy place that serves scrumptious burritos.
For a proper Mexican restaurant and bar, head over to El Paso on 116th Street & 2nd Avenue. The fish tacos are delicious, the salsas are spicy, and the guacamole is heavenly.
For dessert, you can try a colored cake at one of the Mexican bakeries in the area.
If you're just looking for a quick lunch or dinner, there are many delis (or taquerias) in the neighborhood where you can buy a delicious empanada, tortilla, taco, or burrito to-go. The same goes for street vendors, which can be found all over the neighborhood. The El Tepeyac grocery store on 102nd Street & Lexington Avenue provides everything you'll need to prepare your own Mexican dinner at home for friends and family! Check out our video tour of East Harlem to find out more about the neighborhood.
We hope you've enjoyed this foodie tour of the world in New York City! What's your favorite type of cuisine?