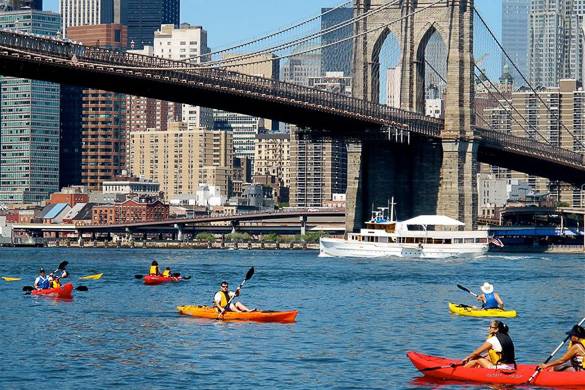 Relax and enjoy summer in NYC! (Photo credit: Brooklyn Bridge Park Boathouse Facebook page)
Everyone knows NYC is the city that never sleeps, and once you visit in the summer you'll understand why! With all the beautiful parks, outdoor events and sidewalk eateries, it's no wonder New Yorkers stay up long after the sun goes down. Read on and discover our favorite ways to enjoy an endless summer in NYC.
The essentials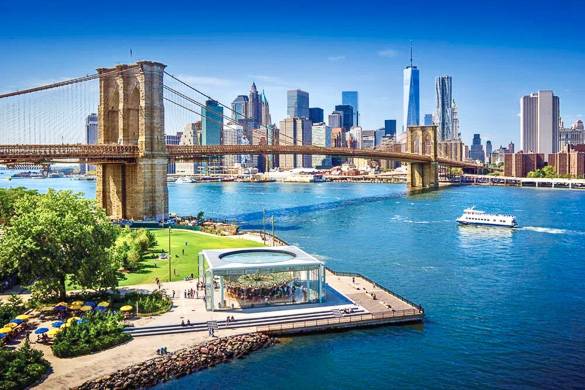 Brooklyn Bridge Park is full of summer activities, and a great view too!
NYC's parks are an essential stop on any visit to NYC, and in the summer they're a welcoming retreat from the concrete jungle. Cross the Brooklyn Bridge from Manhattan or take the NYC Ferry, and you'll end up Brooklyn's DUMBO neighborhood, featuring Brooklyn Bridge Park for a day of relaxing by the waterside. Jane's Carousel (a restored antique carousel), Brooklyn Ice Cream Factory and the Pop-Up Pool are three top spots where you'll want to bring your kids.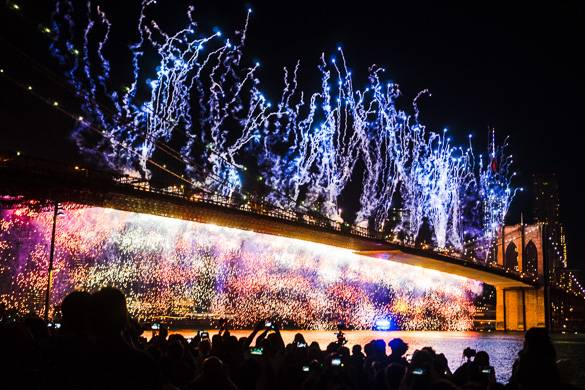 Fireworks light up the night over the Brooklyn Bridge
Another summer highlight is the breathtaking Fourth of July fireworks display over the East River. While you're in a patriotic mood, visit the iconic Statue of Liberty or take the Staten Island Ferry for free and catch a glimpse of Lady Liberty along the way. On the Queens side of the East River is the Long Island City Waterfront, with equally amazing views, a beach, playgrounds, and more!
NYC is famous for food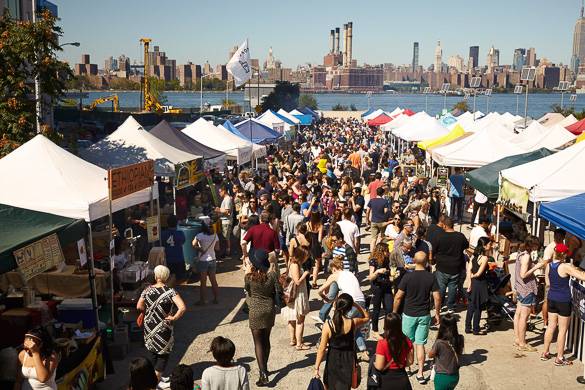 Get a taste of all that NYC has to offer at Smorgasburg (Photo credit: Smorgasburg/John von Pamer).
Probably nowhere in the world will you find as a diverse an array of foods as in NYC. From five-star fine dining options to ethnic eateries and amazing food truck fare, NYC offers a world of food flavors. One of our favorite local spots with ambiance is Brooklyn Barge Bar, a floating pier in Greenpoint that slings burgers, tacos, fries, and sandwiches, all with a side of Manhattan skyline views. Another popular destination is Smorgasburg, an outdoor food extravaganza in Williamsburg every Saturday from April to October. It's a great excuse to skip the kitchen, get outdoors and spend quality time with family or friends while sampling the multitude of food options the city has to offer!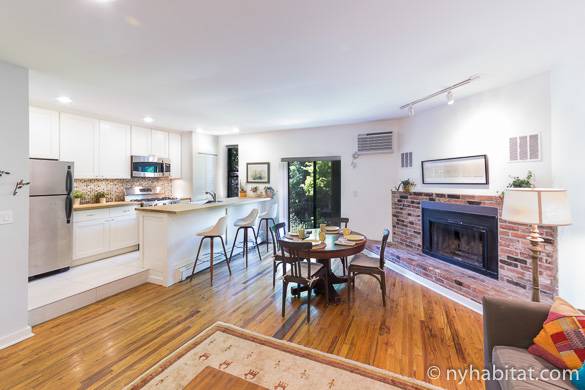 Rent this Boerum Hill apartment and be near all the summer action in Brooklyn
Rent an apartment in Brooklyn right near all the summer action! This two-bedroom apartment in Boerum Hill sits in a classic townhouse with original details like wood flooring, exposed brick, and a fireplace. Sliding doors lead to a private balcony with seating surrounded by greenery, making this a top choice for a summer rental! It's spacious enough for a family, with multiple bedrooms, full kitchen, and dining area so you can prepare meals at home. The coveted location of Boerum Hill is near the neighborhoods of Cobble Hill, Carroll Gardens, and Gowanus, all offering lovely shops, hip eateries, and beautiful tree-lined streets. When you don't feel like cooking at home, you always have Smorgasburg nearby!
Speaking of food options, it just wouldn't be summer without ice cream, and luckily NYC has plenty of choices for a frozen treat! You can find everything from the faithful Mr. Softee truck to artisan ice cream creations. For the adventurous, we suggest Morgenstern's Finest Ice Cream, featuring innovative flavors like salt and pepper, banana curry and rose vanilla. Van Leeuwen Artisan Ice Cream is another popular spot featuring unusual vegan options.
Sports and amusement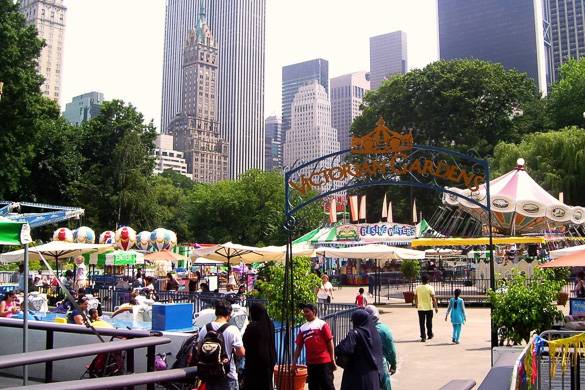 The kids will be entertained for hours with rides and games at Victorian Gardens
After all that ice cream, you may be inclined to get out and exercise, and fitness is always more fun with an inspiring view! New Yorkers flock to the green oasis of Central Park for a dose of nature while they work out. You'll find people biking, rollerblading, and jogging their way through the park's 843 acres. Take a break and head to Sheep's Meadow to bask in the sun with the locals while celebrity-spotting. If you're visiting NYC with kids (who are also full of energy), why not head to Victorian Gardens at Wollman Rink?  The whole family can enjoy amusement rides, interactive games, and clown and magic shows, all nestled right in fabulous Central Park!
The city also has plenty of scenic running routes that will motivate your workout. You can catch outdoor fitness classes (many of which are free) throughout the city. Join hundreds of yogis on a lawn surrounded by towering skyscrapers at Bryant Park Yoga, happening every Tuesday morning and Thursday evening from May 19th to Sept. 22nd. It will be a relaxing way to start or end your day!
Another popular free workout is the Meatpacking District's Sweat Sessions, 45 minute al fresco fitness classes that run every Tuesday night from May to August from 6:00-8:00 p.m. at Hudson River Park's 14th Street Park.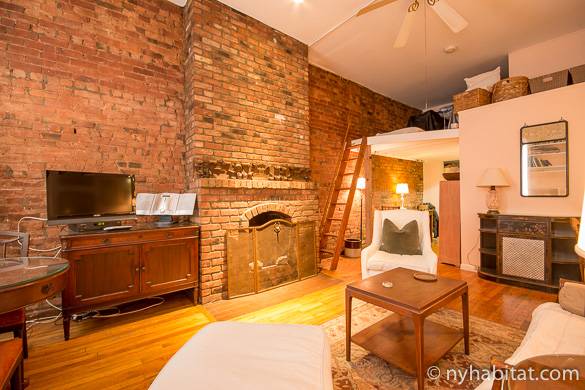 This Chelsea rental is full of "NYC apartment" character
Active travelers will appreciate the location of this spacious 1-bedroom apartment in Chelsea, with proximity not only to Meatpacking District fitness classes, but also to the waterside. Sunset views in Hudson River Park or at Chelsea Piers make them great places to get your daily exercise. This pre-war brownstone apartment gives you an authentic taste of NYC living, complete with exposed-brick walls and a space-saving sleeping loft. You'll feel like you're in a home in the country despite being tucked inside one of the trendiest areas of the city. A full kitchen offers the convenience of preparing meals at home. Since the apartment is situated on a residential street, you can escape the bustle of the city and return to a peaceful night's sleep after a long day. The bedroom with queen-sized bed overlooks a tranquil back garden, where fresh air and greenery insulate from the sounds of the city. This city never sleeps—but you surely will!
If you wake up and yearn to be by the water, you can rent a kayak, canoe or rowboat and hit the city's waterways — Manhattan is an island after all! The New York City Downtown Boathouse right nearby on the Hudson River Greenway offers free kayaking on weekends and holidays from 9:00 a.m. to 5:00 p.m. until October 9th.
Summer music festivals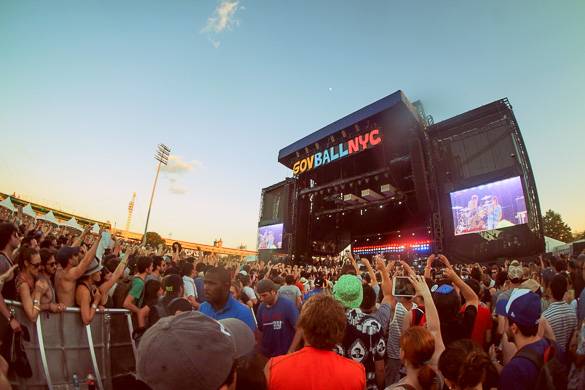 NYC summer music festivals are a big hit!
Music lovers will enjoy the summer festivals and free concerts all over the city. The Central Park free concert series is an NYC tradition, so check the list of acts and find your favorite! If you don't mind waiting in line for tickets, catch Shakespeare in the Park, presented on an open-air stage right in Central Park.
This triplex in Harlem has it all, including 4 bedrooms, 4 bathrooms and a rooftop!
This stunning 4-bedroom/4 bath triplex in Harlem is spacious, beautifully furnished and situated near all the Central Park summertime fun! A family or group can spread out in this space, which covers three floors of a classic brownstone. This modern property is bright and open. Four full bathrooms with tubs and showers guarantee no fighting over the shower, plus bunk beds, a twin bed and a crib offer flexible sleeping arrangements for all ages. Multiple TVs and common spaces will keep the kids entertained. The laundry washer/dryer right in the apartment is a must for a family on the go! The full kitchen with gas range, microwave, dishwasher and dining table for eight is a great asset when feeding a group, allowing you to save money by dining at home. Dine in the open air and enjoy the summer weather without leaving home in the backyard garden or relaxing rooftop seating area!
If you're traveling with a group of friends, they'll also love sharing this hip pad. It makes a great group rental if you're in town for some of the summer music festivals like Governor's Ball on Randall's Island (June 2-4, 2017) and Panorama NYC (July 28-30, 2017).
Hit the beach or pool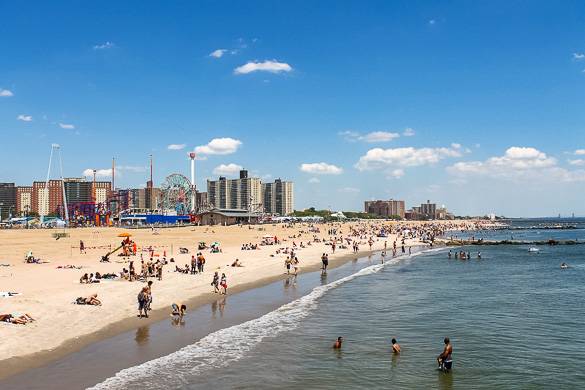 Coney Island is a summer classic
When you need a break from all the action, it's always nice to spend a relaxing day by the water. In the midst of the summer heat, you can find plenty of places to take a dip in NYC. The Parks Department's 55 outdoor pools around the 5 boroughs are free, and many are full of NYC history as well. City beaches are a fun destination for families with kids — The Rockaways and Coney Island are two that are easy to reach by public transportation!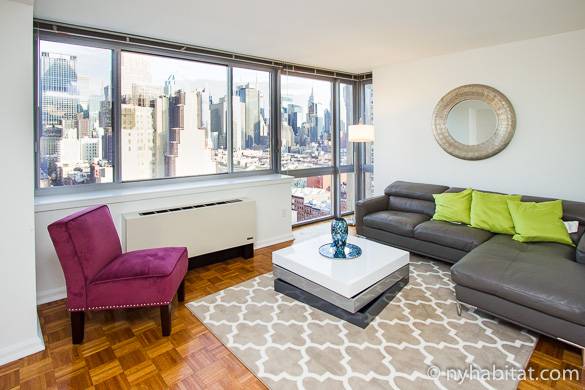 Check out the amazing views from the living room of this Midtown rental
If you don't like sand between your toes, but want to enjoy the open air, consider an apartment in the sky! This 2-bedroom apartment in Midtown West is located in a towering residential building near 52nd Street and 10th Avenue. Enjoy luxury Manhattan living with a 24-hour doorman, on-site restaurants, fitness center and, best of all — two rooftop sky decks! Equipped with everything you need for a comfortable stay, it also features parquet floors, high ceilings and wall-to-wall windows allowing for plenty of natural sunlight. A full kitchen and washer/dryer add ease to your daily tasks. You won't even need to ride the elevator to the roof to take in the sights, as you'll have a breathtaking view of the skyline right from the living room window! When you do venture out, you'll step right into the swing of the city, as you'll be located near the Theater District and Hell's Kitchen for non-stop entertainment and dining.
Whichever way you prefer to spend your summer in the city, New York City certainly has something for everyone — from rooftop lounges, to urban running tracks, to serene green spaces to connect with nature. Visit our website and find the apartment that best fits your summer goals!