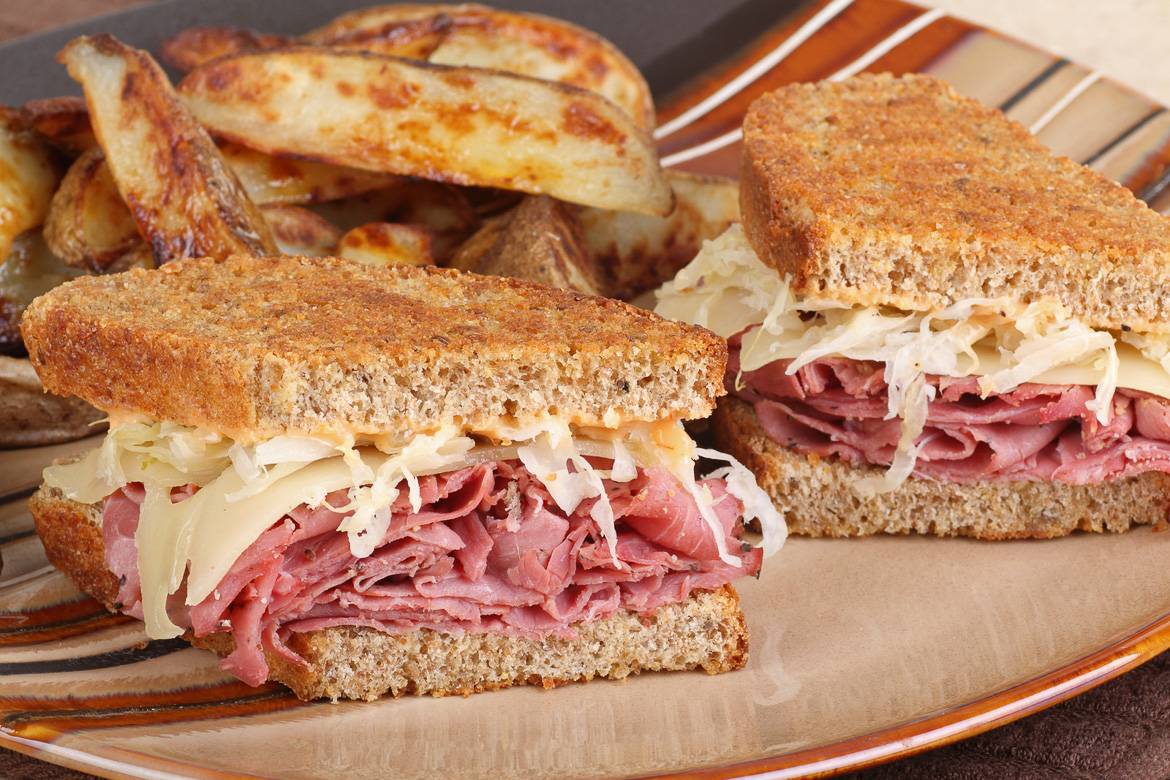 Pick up a delicious pastrami sandwich (or two!) for lunch
For a quick and tasty lunch, there is nothing like a New York delicatessen. For the uninitiated, delis are eateries where customers purchase fine goods or delicacies like smoked meats, cold cuts, breads, and more. New York is the American city most associated with the art of the delicatessen thanks to its extensive history of welcoming Jewish and Italian immigrants. Here are our picks for the best places to try a sandwich, soup, or another old-world delicacy!
1. Katz's Delicatessen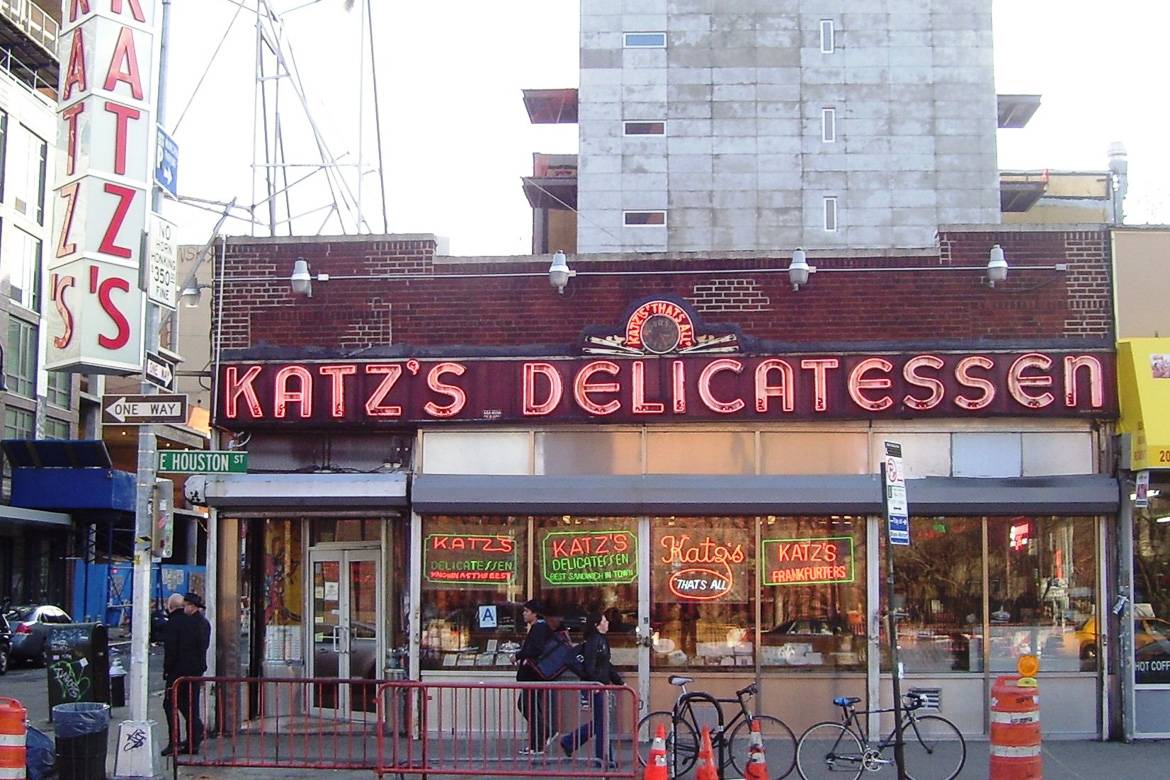 Katz's Deli is a true New York institution
Katz's Delicatessen is one of the most famous eateries in New York, notable for its history (still going strong after 125 years in business!) and its signature cold cuts. An emblem of the Lower East Side's immigrant history, the deli still retains its Jewish heritage in its menu (lox is a popular item) and by preserving its past in photographs along the walls. Their sandwiches are around $20 apiece, but the quality and size make up for the cost. Located on East Houston Street, Katz's is accessible via the F, J, or D train. Snag a seat at this New York institution during your visit, and peruse the surrounding Lower East Side too!
2. Carnegie Deli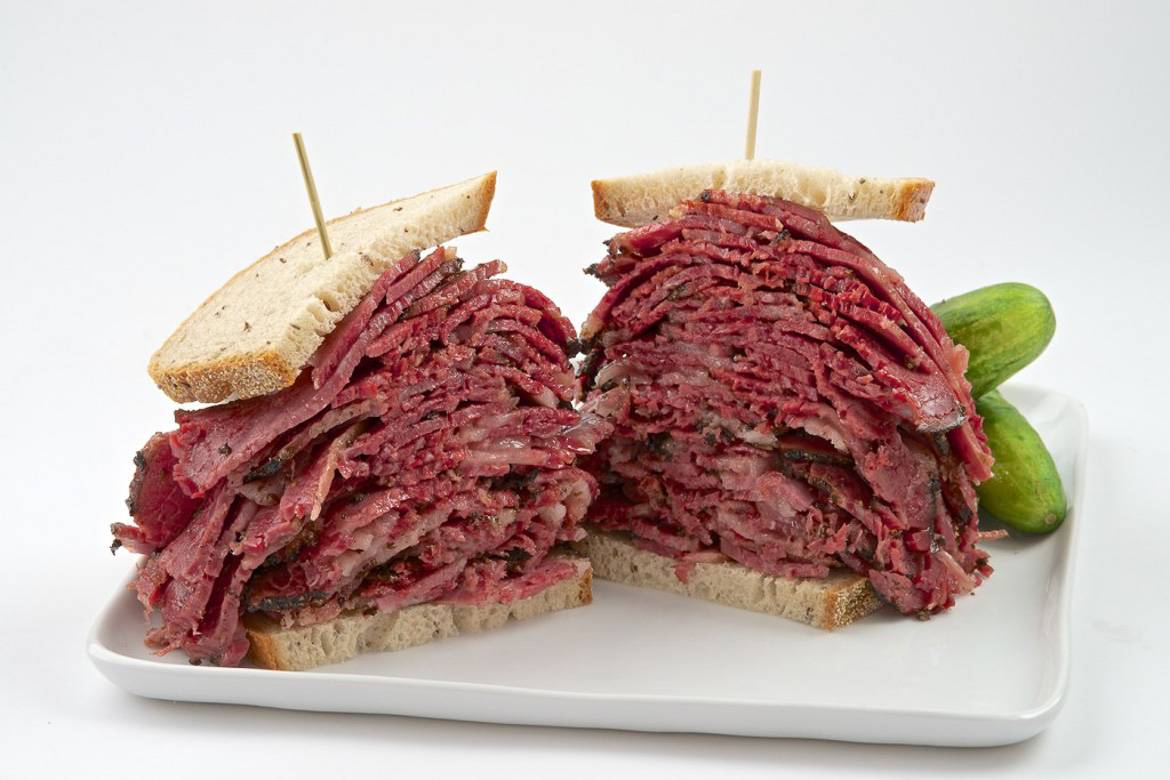 Grab a pastrami sandwich at Carnegie Deli
In business since 1937, Carnegie Deli represents the best of the city, not just in its freshly smoked and baked food, but in its location across from the iconic Carnegie Hall. There's a reason why the hot pastrami sandwich is famous, so make sure that's at the top of your order. Complete your meal with a sampling of their delicious New York-style cheesecake! Due to the restaurant's popularity, seating is at a premium, so expect lines outside just to catch a table. Prices range anywhere from $10 to $38, but be mindful of a surcharge for sharing food. Carnegie's space in Midtown makes it easily accessed by the N, D, or F subway trains and other public transport. This area in Midtown is also a great place for vacationers because of its central location. Take a look at our New York vacation rentals, including Midtown apartments.
Note: As of April 2019, Carnegie Deli is permanently closed.
3. Artie's Delicatessen
Artie's combines the environment of a traditional Jewish deli with a contemporary approach. You can find anything from burgers, to sandwiches, to broths (we recommend the chicken matzo ball soup) on the menu, and prices range between $12 and $19 for entrees. Situated on the Upper West Side at Broadway and 83rd Street, this cozy diner-like delicatessen is not far from the 1 and 2 subway stop at 79th Street. Take a walk around the Upper West Side using our helpful guide!
Note: As of April 2019, Artie's Delicatessen is permanently closed.
4. Mile End Deli (Brooklyn)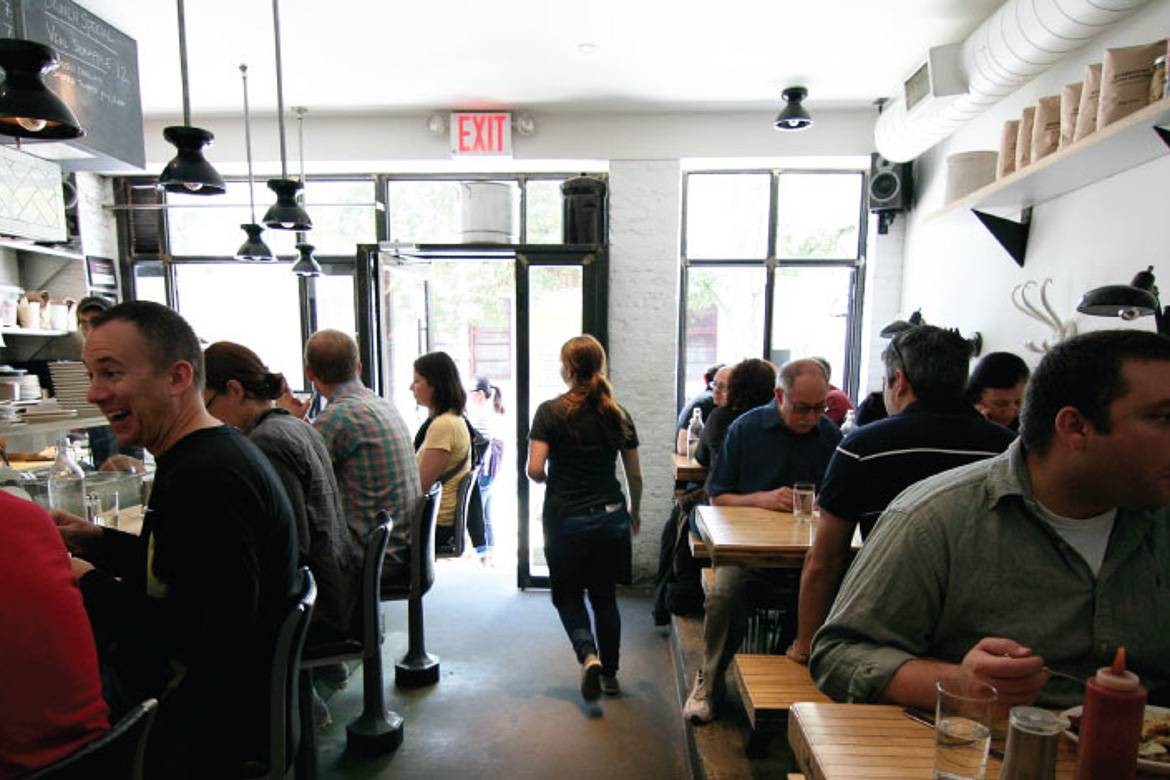 Cozy and modern style mixed with delicious meats is the rule at Mile End Deli
In the trendy Brooklyn neighborhood of Boerum Hill, you'll find an equally sophisticated deli. With its wooden tables and black-and-white color scheme, the interior is just as stylish as the clientele. You can expect classic deli items with a twist on its menu. Patrons rave about Mile End's smoked meat sandwich and smoked meat poutine; and for a roughly $15 price tag, we cannot agree more when it comes to quality. Be mindful that the space is small, so anticipate a wait. The surrounding district is full of great boutiques and beautiful brownstones for you to admire while you wait for seating. Take the A, C, or G trains to Hoyt-Schermerhorn station and you'll be within walking distance of Mile End. Brooklyn has become a leading residential borough in recent years; take advantage of its growing popularity by living in a roommate share apartment!
5. Barney Greengrass
Not every establishment gets to celebrate its 100th birthday, but Barney Greengrass did in 2008. You can thank Barney's no-frills approach: good food in an elegant atmosphere. It doesn't hurt that they're known for their excellent smoked salmon and cream cheese bagels, which we suggest you try on your next visit. The deli sits on Amsterdam Avenue in the Upper West Side and is a block away from the 1 and 2 trains at 86th Street. Did someone say bagels? Don't worry about finding the best in the city; we've compiled a list of our favorite bagel spots for you!
6. Ben's Delicatessen
Just south of the hubbub of Times Square is the Kosher-friendly Ben's Delicatessen. Inside, you'll discover a diner layout with modern upgrades and a diner-style menu– that is, pages upon pages of sandwiches, burgers, poultry dishes, and soups. The average meal costs $15, so it's an affordable option that won't make too much of a dent in your piggy bank. Take any subway line that stops in the 42nd Street/Times Square vicinity (the 1, 2, N, Q, R, 7, or S) to get there. Check off items on your shopping list, see a Broadway show, or gaze at the giant billboards while you're there; our Times Square guide can help you plan.
7. Pastrami Queen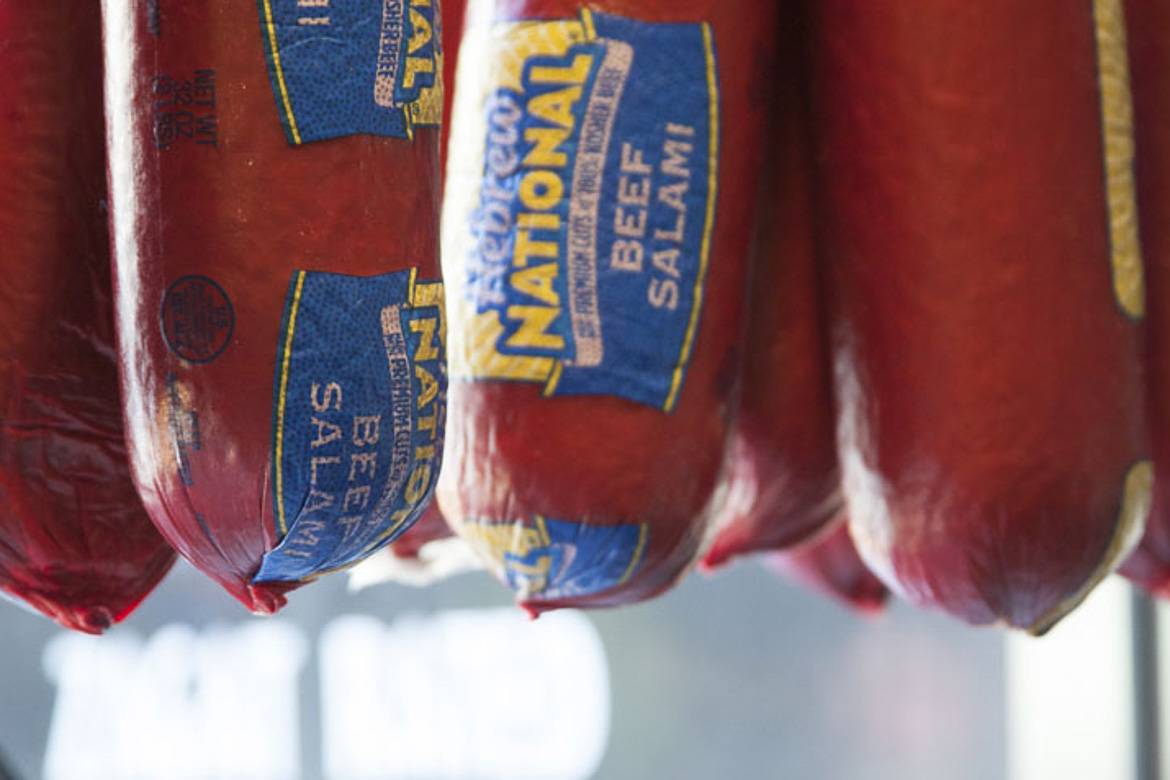 Pastrami Queen lives up to its name, taking its food (particularly meats) seriously
The small but bright interiors at Pastrami Queen are just the warmup for the main course. This underrated Upper East Side eatery displays its menu meats at the counter, so go for whatever looks best to you (though its name should give you an idea of its most acclaimed offering). A pastrami sandwich costs $16, but believe us when we say it's worth every cent. Best of all, there's seating in this small space, so pull up a chair and enjoy! For the shortest walk to Pastrami Queen, take the 4 or 6 subway to 77th Street. Why not take your pastrami on the go? The Upper East Side is home to iconic museums, plentiful shopping, and much more, and our guide will point you in the right direction!
8. Mill Basin Kosher Delicatessen
At Mill Basin, you'll find an art gallery housing paintings by Chagall, and Lichtenstein, and more, a departure from your usual Kosher delicatessen! Meatballs, turkey platters, burgers, pastrami, and corned beef crowd the menu. As a bonus, many of these items are available for delivery, and the overall average prices fare between $11 and $30. Admire the artwork while you visit, even if it's just to pick up a meal. Unfortunately, there are no nearby subway stations within walking distance. If you're traveling by public transportation, you will need to take a bus. Use this opportunity to explore the eastern side of Brooklyn that's rarely visited by tourists!
9. Ben's Best (Rego Park)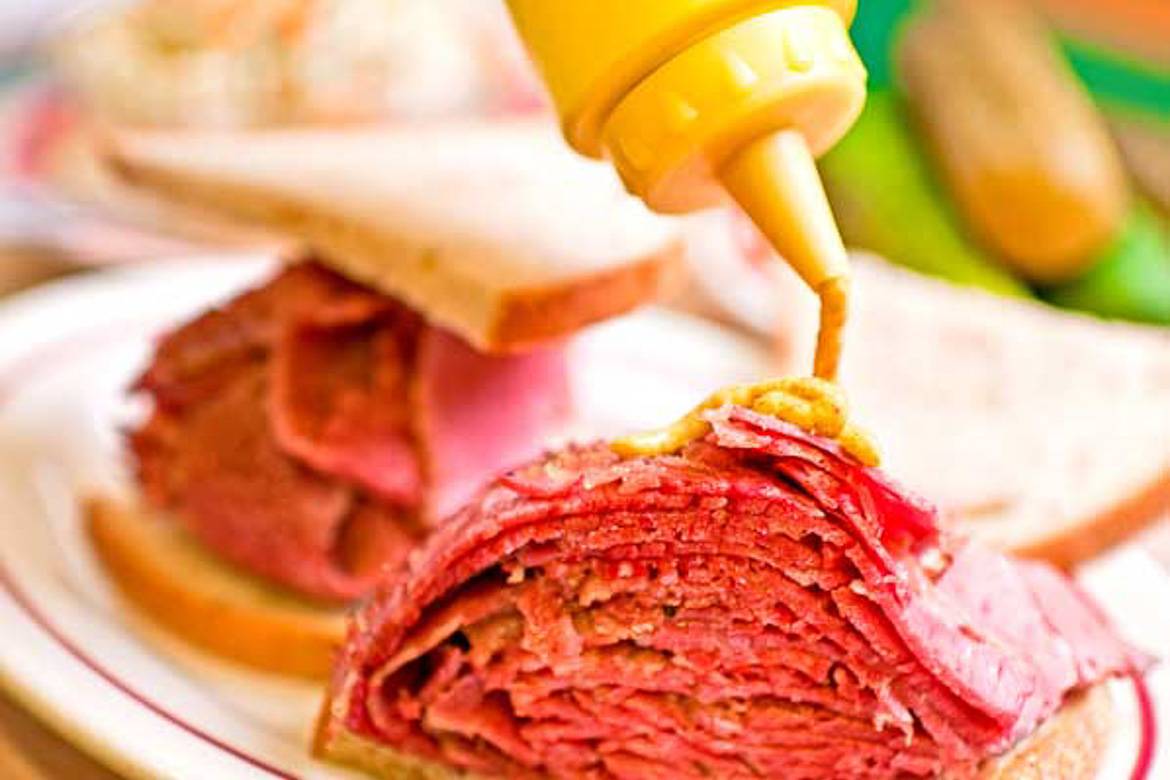 Add mustard to pastrami for a tasty meal
Time to peruse another outer borough–Queens–for the next deli on our list. The beginnings of Ben's Best date back to the Now & Then Deli in the Bronx, before it moved to the Rego Park location that has stood since 1945. Many New York politicians paid frequent visits to this institution, and homemaking guru Martha Stewart has selected the establishment for her top 14 best hot dogs in the city. As with many other delis, prices average between $11 and $30. Spring for the matzo ball soup, latkes, and thick-cut fries. Take the E, M, or R to 63 Dr – Rego Park for a walk to the deli that's less than a tenth of a mile. For more information about this wonderful borough, check out our guide to Queens!
Note: As of April 2019, Ben's Best is permanently closed.
10. 2nd Avenue Deli
Another Upper East Side addition to the list is the 2nd Avenue Deli. The title is a bit inaccurate; the restaurant sits on 1st Avenue but retains its original name since changing locations. Franks, omelets, sandwiches, and beef can be found on the menu at this Kosher spot. We recommend the matzo ball soup, a salad (your choice), and potato pierogies for an appetizer. Prices are comparable to the other entries on our list, but you can't replicate the proud Jewish heritage of the entire restaurant. Take the 4 or 6 train to the 77th Street station for easy access. Only one addition could make this better: staying at one of our furnished apartments on the Upper East Side!
Delis are only one type of spot where ethnic foods in the city are celebrated. What are your favorite authentic NYC delis?