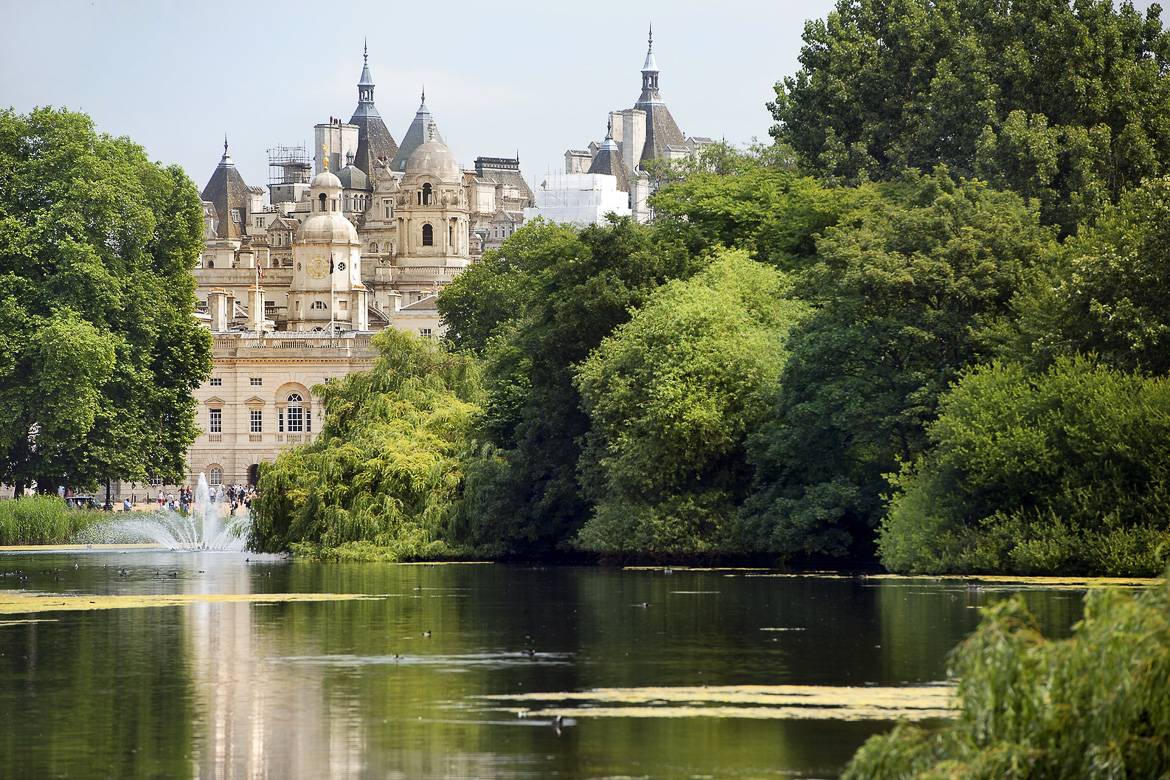 View of St. James's Palace in the oldest park in London, St. James's Park!
Parks play a vital role in a city's uniqueness, and London's are no exception! London has an abundance of parks and squares, so residents and visitors do not lack precious green space. Parks offer a retreat from city life, and are incredibly beneficial to the city's economy, healthy lifestyle, and vacation tourism. They also preserve ecological biodiversity, which benefits the environment and encourages outdoor living and wellbeing! These ten parks in London showcase exactly why having parks can be so advantageous for the city and overall population.
1. Hyde Park
Did you know that Hyde Park, one of the most well-known parks in London, is the eastern side of a continuous green space shared with Kensington Gardens? As it's more well-known, Hyde Park is often mistaken to be the entire park. There's an entertaining activity for everyone to do in this 142-hectare park, like playing tennis or soccer, swimming, horseback riding, or just taking a stroll. Outdoor enthusiasts should consider staying in the Westminster neighborhood for optimal access to Hyde Park! There are multiple London landmarks within Hyde Park for locals and tourists to visit. The Diana, Princess of Wales Memorial Walk is 7-mile walk through Hyde Park and its neighboring parks that tours famous buildings and locations associated with the princess. Another attraction in Hyde Park is the Speakers' Corner, an alluring open-air public speaking platform where the public is free to discuss and debate.
2. Kensington Gardens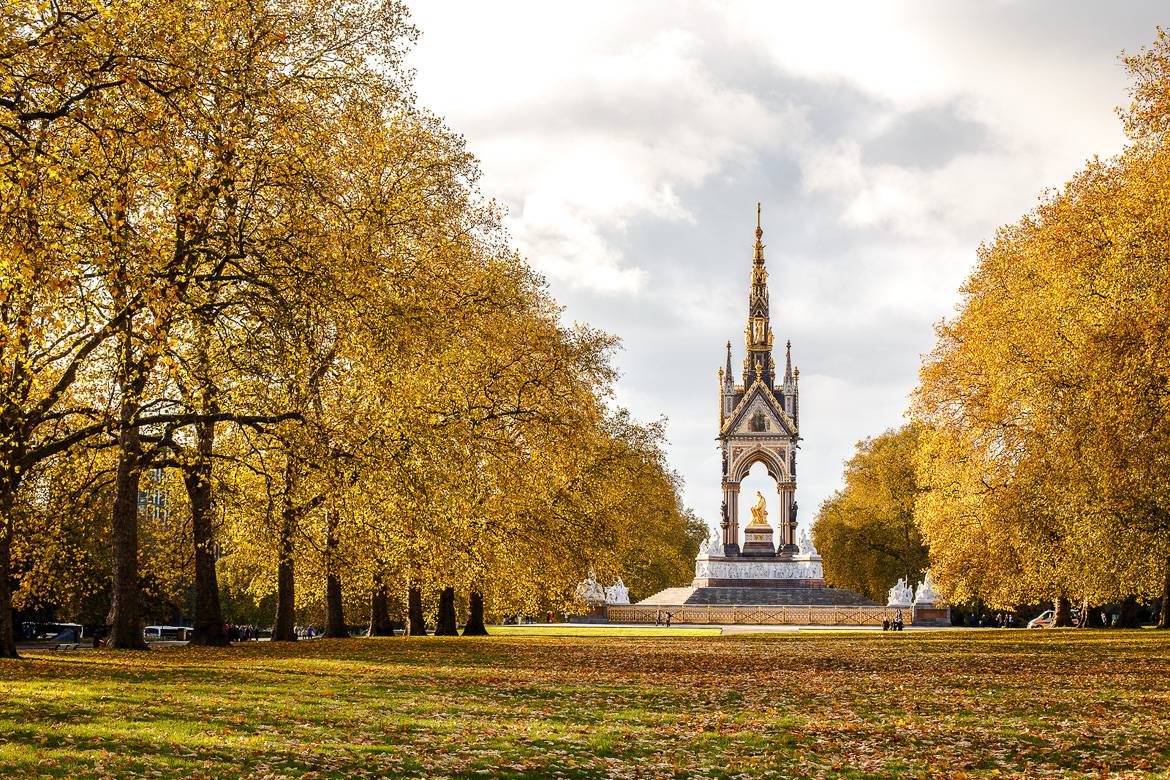 A view of the Albert Memorial in the fall foliage of Kensington Gardens
Kensington Gardens is widely accepted to be the more formal of the two adjacent parks. This park is one of the eight Royal Parks of London owned by the monarchy of the United Kingdom. This park has space for many enjoyable outdoor activities such as cycling, public playgrounds, and numerous green spaces for a picnic! Kensington Palace also resides within the gardens. The Duke and Duchess of Cambridge, Prince William and Catherine, live in this royal residence, which has been owned by the monarchy since the 17th century. Some rooms in the palace are even open to the public exploration. Be sure to pay a visit to the striking Italian Gardens, which have exquisite fountains and monuments celebrating Italian architecture. As you can see, this vast park has plenty to offer for explorers of ecological and historical beauty. Discover how the surrounding neighborhood, South Kensington, is accentuated by this iconic park.
3. Regent's Park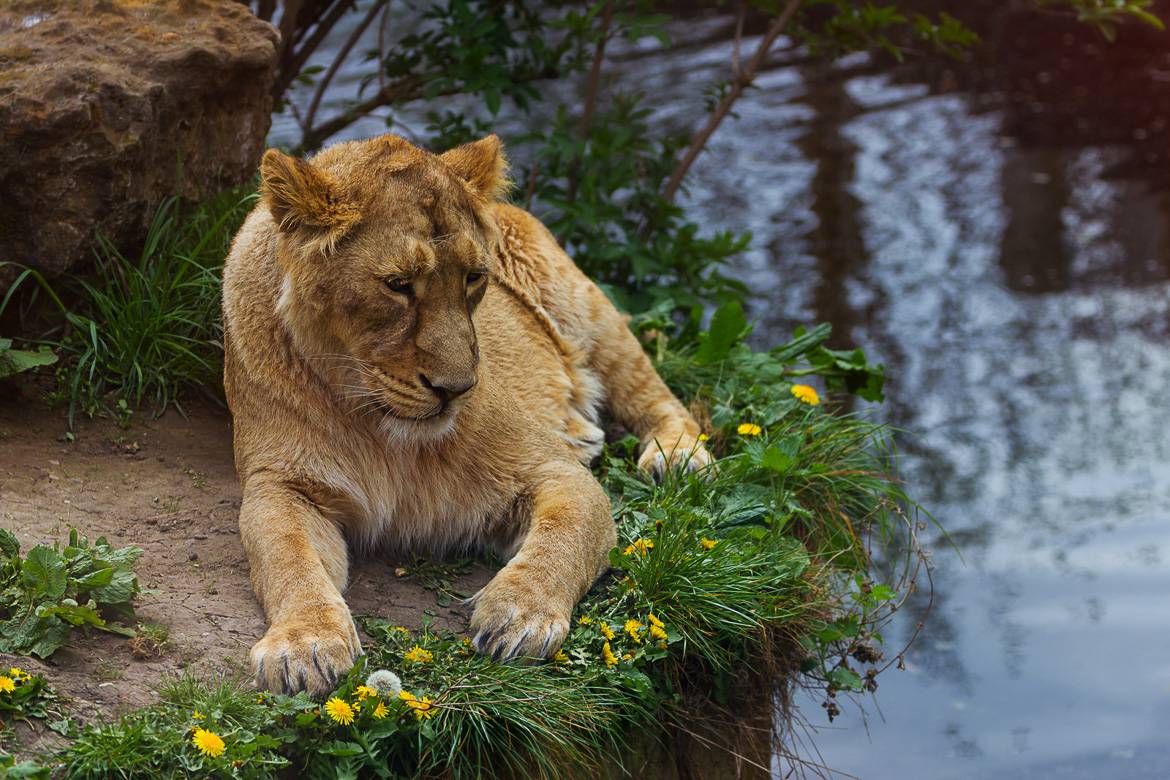 A lioness relaxes by the water in the London Zoo.
Were you aware that the world's oldest zoo is located in one of the Royal Parks of London? The London Zoo, which first opened for scientific purposes in 1828, is within Regent's Park. This zoo is open to the public and draws hundreds of locals and tourists every day. Additionally, this Royal Park is known for having a spectacular view of the London sunset. There's more that makes Regent's Park remarkable, such as the approximately 400 different species of roses that grow in the show-stopping Queen Mary's Garden. The park feels like a second home to those who enjoy rugby, football, tennis, running, and more, as the vast green spaces make Regent's Park a paradise for those who love to be active. Stay close to all the action in the park by vacationing in nearby Camden!
4. St. James's Park
St. James's Park offers beauty in an unbeatable location in the Westminster neighborhood. This park, which was founded in 1603, is bound by Buckingham Palace, the residence of the Queen Elizabeth II. With one of the most famous British icons in such close proximity to this park, many visitors are drawn to experience everything within its boundaries. Visitors can bicycle, swim, run, and even have a picnic! There are annual celebrations held at this park, such as the summer Horse Guards Parade, and the park was used in the James Bond film Die Another Day. Are you planning to live in London for more than 30 days? Explore furnished apartments in the lively neighborhood of Westminster for your stay.
5. Hampstead Heath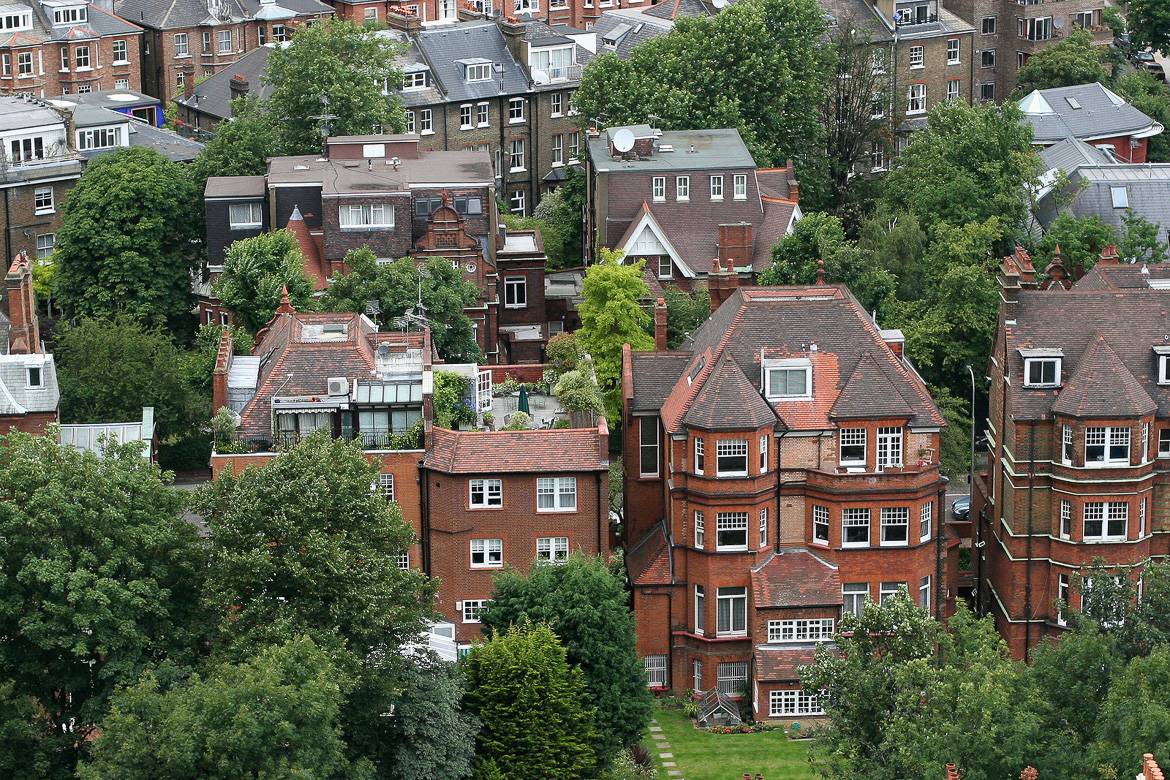 View from Hampstead Heath over residential London.
As it's one of the highest points in London, the view from Hampstead Heath is spectacular! Within the park is the Caen Wood Towers, a large ornate house that was eventually used for Royal Air Force intelligence during the World War I and II before being converted into a hospital. This historic landmark is currently being renovated and turned into luxury apartments. Hampstead Heath draws those who play sports like cricket, croquet, and fishing, and is known for its annual duathlon, a competition comprised of running and swimming. Visit and explore Hampstead Heath in its entirety!
6. Greenwich Park
Greenwich Park is the largest single green space in London. This Royal Park of London was the first to be established and is home to many exciting outdoor activities, including cricket, tennis, and outdoor fitness. This park was once a hunting ground for King Henry VIII, who introduced deer to the park for this purpose. A must-see monument within the park is the Roman Remains. In 1902, some park workers were doing routine maintenance when they uncovered the floors of a Roman building dated between 43AD and 410AD. They also uncovered Roman coins, stone inscriptions, pottery, and much more. Another main attraction is the Royal Observatory, an elevated museum dedicated to astronomy. This observatory marks the through point of the Prime Meridian in London! To enjoy this historical park, check out vacation rentals in nearby Canary Wharf.
7. Victoria Park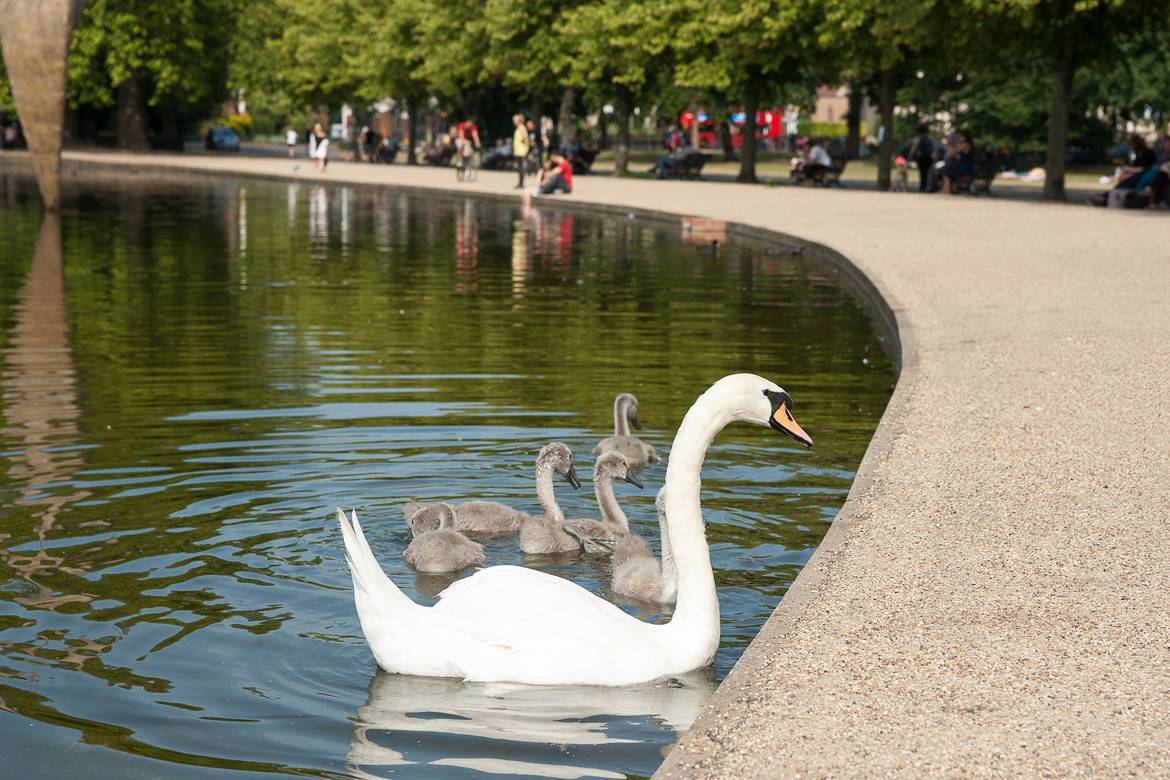 A tranquil swan and her young dwell in a pond in Victoria Park.
Victoria Park, located in the London Borough of Tower Hamlets in East London, is known for its many open-air music festivals that are held primarily in the summer. This tradition dates back to the early 80s when iconic acts such as The Clash performed for thousands of Londoners in this park. Victoria Park also offers visitors numerous playgrounds, walking paths, bowling greens, and even boat rides. While in Victoria Park, don't forget to pay a visit to the London Bridge Stone Alcoves. The original London Bridge, which was deconstructed in 1831, had pedestrian alcoves within its enormous structure. Two of these alcoves were moved to Victoria Park in 1860 and have been there ever since. Learn more about how Victoria Park accentuates the great aspects of the East End of London!
8. Holland Park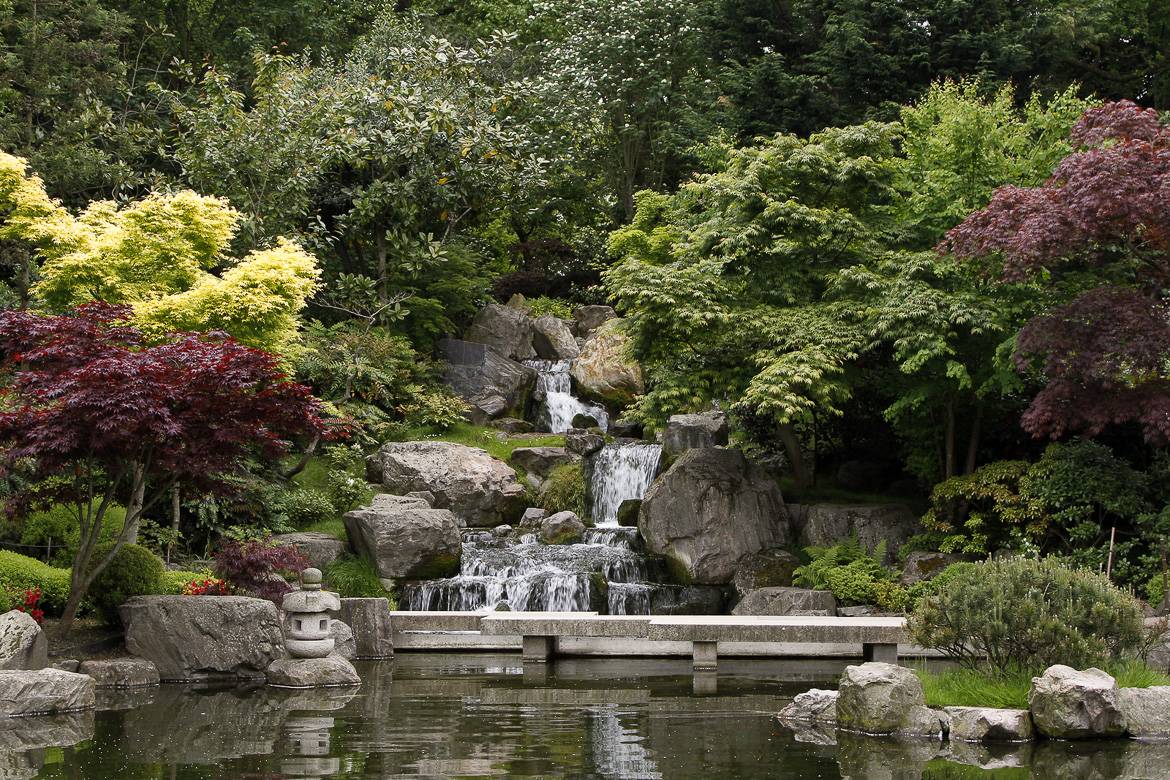 The waterfall and flora of the Kyoto Garden, within Holland Park, draws hundreds to observe its unsurpassed beauty.
Holland Park is considered one of the most romantic parks in London and boasts beauty and serenity. Within the park is the Kyoto Garden, a Japanese-style garden that was constructed in 1991 to celebrate the Japan Festival in London. This oasis's Japanese plants and tree transplant you from the United Kingdom to Japan, and the pond flourishes with Japanese Koi fish! This area of London draws vacationers to experience the many great things about Holland Park. Some of the tremendous activities that this park offers are pétanque, golf, netball, and basketball. Bring a significant other to Holland Park to experience this world-renowned romantic destination, or bring a group of friends to play some sports!
9. Battersea Park
Dueling has been a part of British history since the 19th century. Battersea Park was originally used for that sole purpose! Although dueling no longer exists, this park still gets heavy use; it has transformed into a modern green space and offers great activities for all ages. Spend an afternoon jogging, fishing, rollerblading, or playing sports like hockey or croquet. There's even a zoo for children in this delightful park, The Battersea Park Children's Zoo, which has fun exhibits for children and even opportunities to interact with the animals! Another large attraction is the Nature Reserve, a three-hectare wildlife area where wild native animals and plants flourish. Explore the other wonders of the Battersea neighborhood and its furnished apartments.
10. Green Park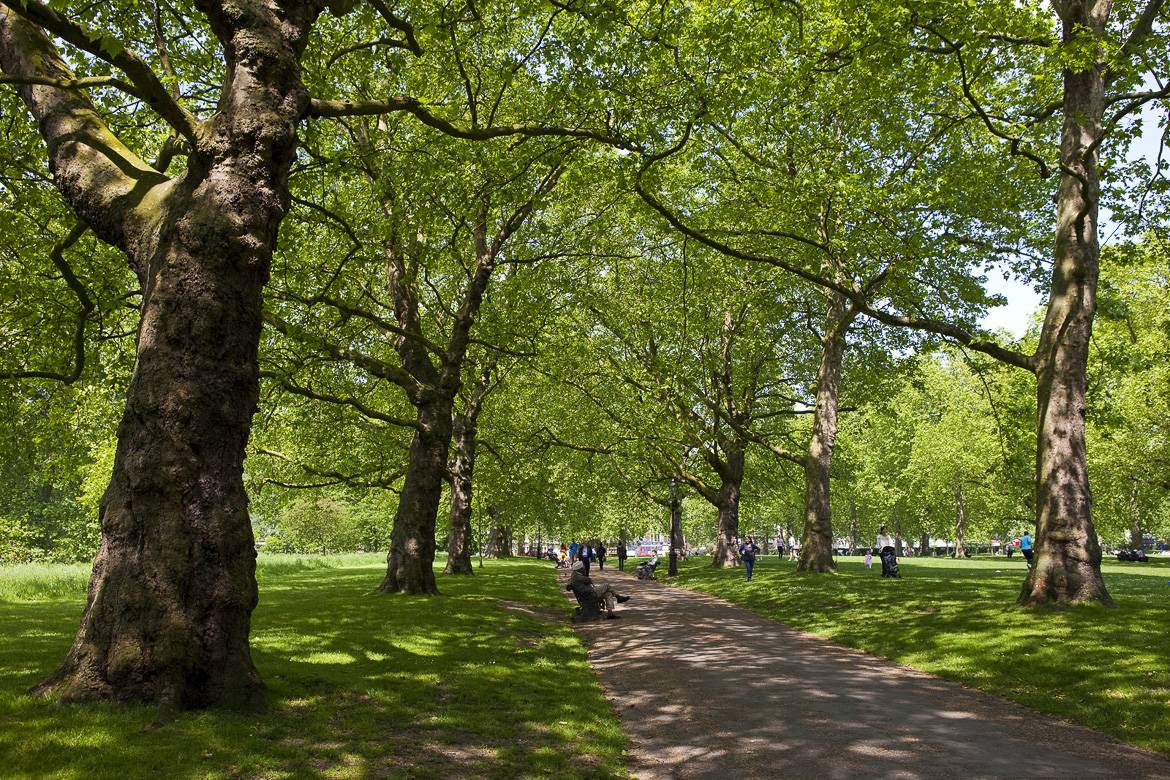 The beautiful Green Park has no shortage of lovely foliage.
The smallest of the Royal Parks is Green Park. Here you will find vast green spaces for picnics and many paths for running or cycling. In contrast to the many other Royal Parks, Green Park does not have any lakes or buildings and has very few monuments. This gives it a uniqueness that brings crowds of people through the spectacular park. One of its few monuments is the Canada Memorial, a tribute to the fallen soldiers of the World Wars. Another is the Wellington Arch, an ornate arch that's fixed at the western entrance of the park. Learn why else Green Park is such an iconic London landmark!
Did we name your favorite park in London? Let us know!