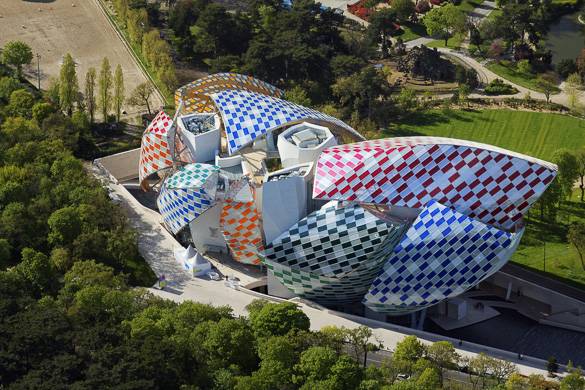 The Louis Vuitton Foundation promotes arts and culture in Paris. (Photo credit: Daniel Buren L'observatoire de la lumiere travail in situ- Guignard)
When you dream of Paris, you envision strolling through art galleries with a glass of wine in hand or dressing up in the latest haute couture and making your grand entrance into an opera hall. Paris is known as a city of the arts. Take one trip here and you will certainly see why. Go beyond all of the usual tourist sites and museums and take some time to discover this epicenter of the performing arts. Here you will find something to fit everyone's taste, including opera, theater, ballet, the latest concert lineups, and cabaret. And because it's Paris, the venues themselves are as intriguing as the events they house. On your next trip to Paris, rent an apartment near one of these iconic venues and immerse yourself in the arts and culture of Paris.
A fashion and art mix everywhere in Paris, so it's not surprising that Louis Vuitton created the nonprofit Louis Vuitton Foundation center to promote arts and culture in Paris. Of course, it could only be designed by one of the best: the famous architect Frank Gehry, whose internationally acclaimed works include the Guggenheim Museum in Bilboa, Spain. The foundation is located in the 16th Arrondissement and is worth the trip for the amazing architecture alone.
See a classical ballet or opera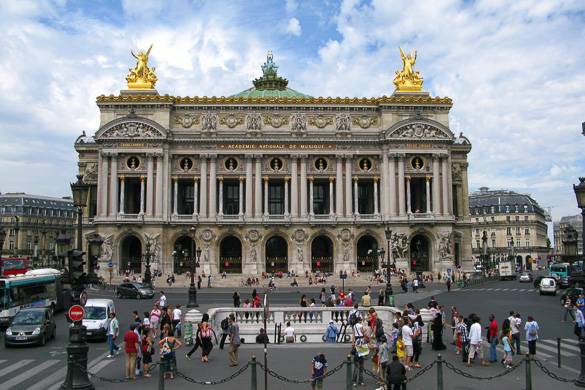 The Palais Garnier was the setting for The Phantom of the Opera.
Stroll along Paris's Grands Boulevards and you will come across many of the city's famous theaters (architectural wonders in their own right). The Palais Garnier, designed by architect Charles Garnier, is a world-famous symbol of Paris. You may recognize this venue with its grand staircase and foyer as the setting for Gaston Leroux's 1910 novel The Phantom of the Opera. It's now used mostly for ballet performances and also houses the Bibliothèque-Musée de l'Opéra de Paris (Paris Opera Library and Museum).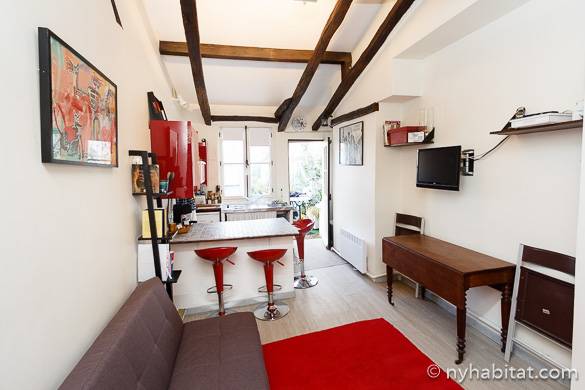 This two-bedroom duplex in the Opera area has Parisian views
Rent this two-bedroom duplex in the Opera area of the 9th Arrondissement and you'll be close to this iconic venue in literature, stage, and screen. You'll feel like a character in a French novel living in the quintessential Parisian apartment in a Haussmannian building with classic exposed beams, a large planted balcony overlooking a cobblestoned courtyard, and dreamy bedroom views over the Paris rooftops. Modern touches include a flat-screen TV and kitchen counter with designer stools. After a day roaming Paris and sightseeing, you can relax in the large en-suite bathtub in one of two bedrooms. Travel is an opportunity for learning, so while you're staying in a typically French apartment, read up on the interesting history of Haussmannian buildings and Paris's staircases.
Further down on the architectural timeline is the modern Opera Bastille in the 12th Arrondissement. Completed in 1989, it was part of then-President François Mitterrand's monument building program known as the Grands Travaux. This venue is the main facility for the Paris National Opera, with most opera performances in Paris taking place here, along with some ballet and symphony concerts.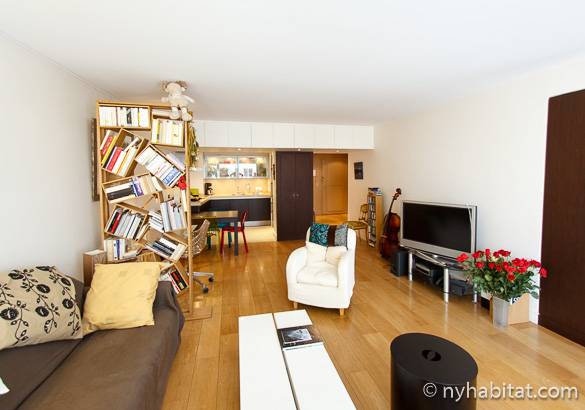 This modern Marais vacation rental has a charming balcony with plants.
Located nearby in the Marais section of the 4th Arrondissement, this one-bedroom vacation rental is equally modern in design. Entertain guests in the large living room with high-quality finishes including hardwood floors and designer furniture. This rental includes conveniences like air conditioning and in-unit laundry facilities, a modern kitchen with dishwasher and name-brand appliances, and a sleek bathroom with a rainfall shower head. Sliding Japanese doors separate the bedroom and bathroom. This apartment is sunny and very quiet, a rarity in the heart of the Marais. You'll have the added luxury of a planted balcony with flowers and greens which you can enjoy in this exquisite location in Paris' Marais neighborhood, just steps away from Place des Vosges and Place de la Bastille.
Concert halls
The Art Deco-style Salle Pleyel is a concert hall in the 8th Arrondissement in Paris. Resident ensembles include the Orchestre de Paris and the Orchestre Philharmonique de Radio France. It was a classical music venue until January 2015.
This studio in the Champs-Élysées puts you in close proximity to this concert hall venue, so you can plan your nights accordingly. This space-saving studio apartment has traditional Parisian character with its exposed-beam ceiling, yet makes efficient use of the space with a washing machine right in the apartment. This one-bedroom apartment is another option in the same area. It has a full modern kitchen with a dishwasher so you can enjoy a dinner at home before checking out the night's entertainment at the Salle Pleyel or other Champs-Élysées attractions.
Theatres
Theater lovers will want to stop by the Odeon Théâtre de l'Europe in the 6th Arrondissement, one of France's 6 national theaters and a great place to watch a play while in Paris. Originally built in the 1700s, it was inaugurated by Marie Antoinette on April 9, 1782. It has a wonderful location on the left bank of the Seine and near the Luxembourg Gardens, which means you can check off several tourist attractions on your list and still have time to catch a play in the same day.
Rent this sunny, corner unit one-bedroom vacation rental in Saint-Germain-des-Près and you'll be close to the theater and the Luxembourg Gardens. Daydream about what Parisian life was like in the 1700s in your luxurious rental while surrounded with vintage decor, antiques, chandeliers, classic exposed-beam ceilings, and beautiful hardwood floors. Entertain guests in the living room with flat-screen TV or around the dining table for four. The views on this high floor are sure to impress, and the location between Luxembourg Gardens and Saint-Germain-des-Près can't be beat. When you're done daydreaming, head out into your new neighborhood and discover all Saint-Germain has to offer!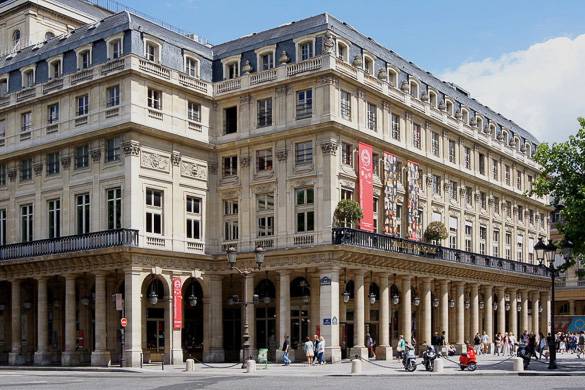 Catch a play at the Comedie-Française.
Another venue for plays in the 1st Arrondissement is the Comédie-Française, one of a few state theaters in France and the only one to have its own troupe of actors. It's also known as La Maison de Molière, after the well-known playwright.
This one-bedroom vacation rental near the Tuileries garden puts you within walking distance of this theater and the Louvre Museum so you can get your fill of the French arts right in your own neighborhood.
Cinema theaters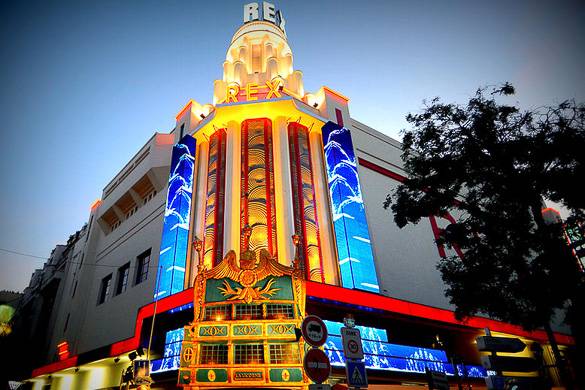 Le Grand Rex is a cinema theater like no other.
You won't want to miss the Art Deco landmark Le Grand Rex, located in the 9th Arrondissement– it's the largest cinema in Europe. Designed to make it look like you are in an outdoor theater, this venue's elaborate fantasy decor includes starred ceilings and water features. Each April, it hosts the Jules Verne Adventure Film Festival. It's also a great destination for families in December when it hosts the Féérie des Eaux, an aquatic-themed event centering on a recently-released family film.
This studio vacation rental in the Grands Boulevards area will put you in close proximity to this one-of-a-kind theater. It's located in a classic Haussmannian building with an ornate staircase and windows to make you feel like you're on a Parisian stage set all by yourself. The balcony with Paris views is the icing on the cake.
Cabarets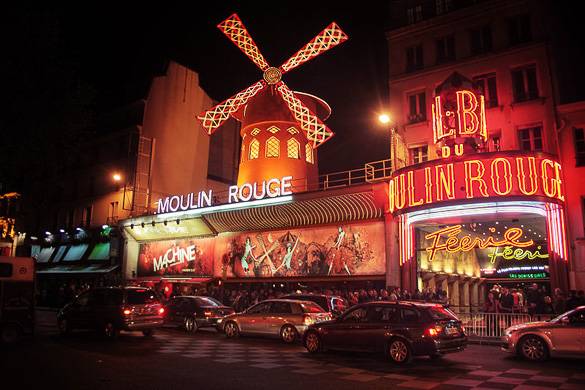 You can't think of Paris without picturing the iconic Moulin Rouge.
Next on our list of must-see entertainment venues is, of course, the famous Moulin Rouge. With neon lights and a red windmill on the roof, the venue itself looks like a stage set from the outside. This musical theater, which was the birthplace of the can-can dance and was frequented by artists like Toulouse-Lautrec, is now visited by hordes of tourists looking to enjoy some energizing musical entertainment.
This furnished studio apartment in the unique area of Montmartre situates you right in the heart of this lovely Paris neighborhood. From here you can visit Sacré-Coeur by day, the Moulin Rouge by night, and have rooftop Paris views from your apartment. What could be more French than that?
Mixed venues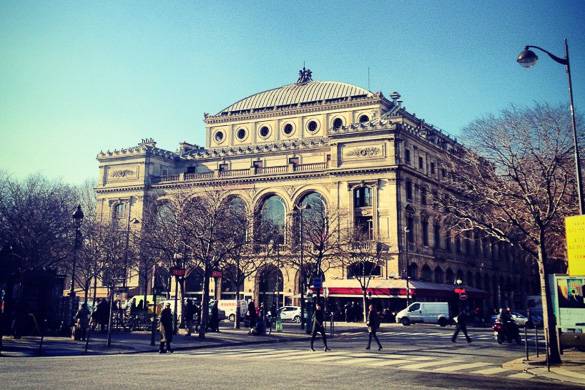 The Théâtre du Châtelet is built on the site of a former castle.
The Théâtre du Châtelet sits in an interesting spot in the 1st Arrondissement. The previous site of a châtelet, or small castle, it faces its twin, the Théâtre de la Ville, across Place du Châtelet. Head to this venue to admire its Palladian architecture and to catch a musical, opera, or concert.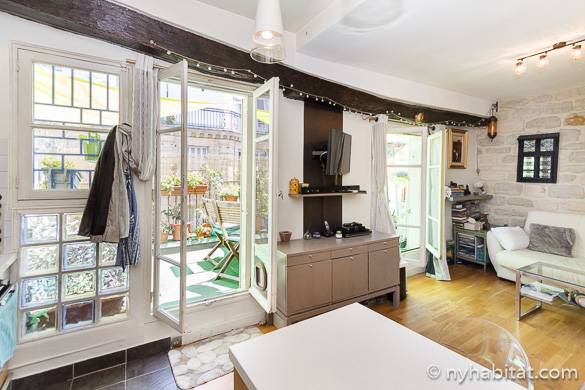 This furnished rental in Les Halles has a huge sunny terrace with views.
Rent this exposed-brick one-bedroom furnished rental in Les Halles and you'll be able to admire plenty of Paris's architecture from your huge sun-filled outdoor terrace. Sit at the outdoor dining table among the flowers and plants and enjoy dining al fresco. The benefit of living on a high floor in Paris is the amazing view that surrounds you. You may not want to leave the comfort of this apartment, but when you're not in the mood to cook, you'll still have plenty of great dining options all around. Chez Denise, an iconic neighborhood restaurant, is conveniently close by.
Paris is a city filled with art and architectural masterpieces. On your next trip to the City of Lights, you can add a little theater and history to your evening of entertainment.