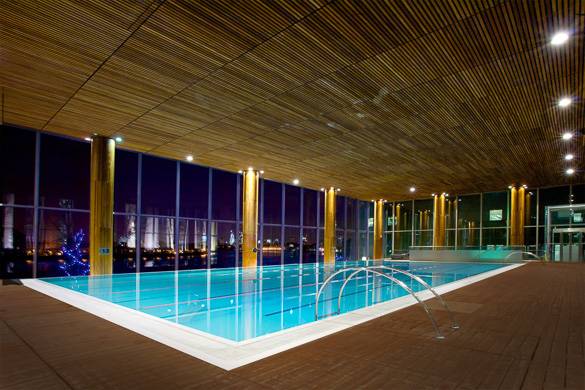 Swim with a view at this penthouse pool at the Virgin Active gym club. (Photo credit: Canary Riverside Health Club)
London doesn't need famous beaches to offer lots of places to go for a dip. From pristine pools to tree-lined lakes, you won't be far from the water this summer. If you are lucky enough to have a pool in your furnished apartment complex, then swimming for pleasure or fitness may be a part of your daily routine. You can also get passes to pools like the one pictured above, which is located in a private gym club on the top floor. For the rest of us, it's a great way to escape every once in a while. There are plenty of places in London that are open to the public where you can relax or work on your technique.
Hampstead swimming ponds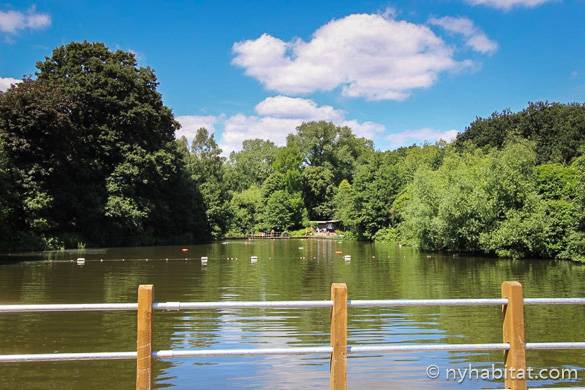 The Hampstead swimming ponds are a green slice of nature reachable by the Underground.
Hampstead, a former village that is now a peaceful London neighborhood, is well known for the Hampstead Heath, one of the largest green spaces in the urban area. In the summer, it's also good to know that the park has three ponds where swimming facilities are available: the Ladies' Pond, the Men's Pond, and the Mixed Pond. These are the only public open-air swimming facilities lifeguarded every day of the year in all of the UK.
This studio in Hampstead is a good spot to stay within walking distance (or by a quick bus trip). It has modern furnishings including a full-size bed and a kitchenette, as well as internet access to keep you connected. Best of all, the location—right down the street from the West Hampstead Underground and Overground stations—is well-connected to yet pleasantly calmer than the center of London.
Serpentine Lido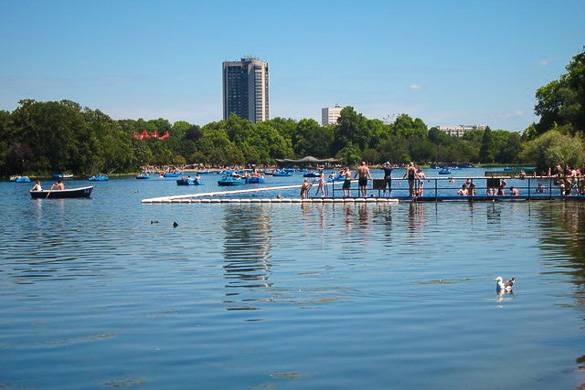 The city melts away when you're swimming in the Serpentine Lido!
The Serpentine Lido may sound exotic, but this public swimming area in Hyde Park (one of the best parks in London) is right in the center of the city. Visitors have a choice of spots, including the open-water swimming area in the snake-shaped lake, the sun terrace with sunbathing area, the children's paddling pool and play area, and a café. The facilities are open every day in June, July, and August. With its central location, the Serpentine Lido is easily accessible no matter where you are staying in London.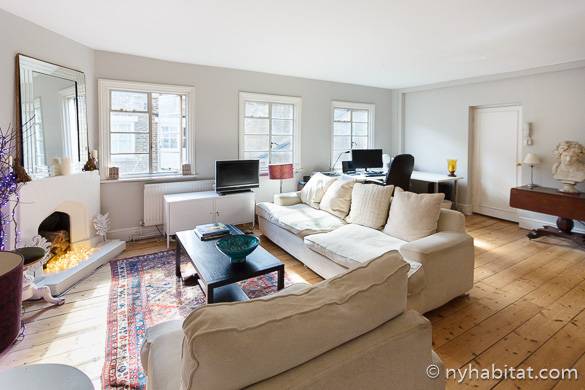 In Bayswater, you're just blocks from Hyde Park!
It's tough to find a nice apartment near top attractions like Hyde Park. Sometimes you can find gems though, like this two-bedroom furnished rental located in Bayswater (on the north side of the park). While being just five minutes from the end of the lake would be great enough, the apartment also has great natural light and its own outdoor space. That comes on top of amenities like wifi and a flat-screen TV.
King's Cross Pond Club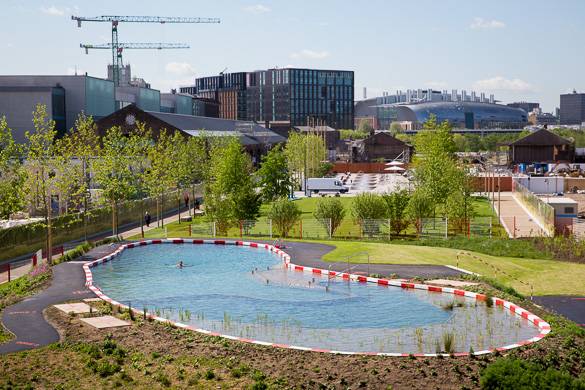 Art meets nature with this installation in King's Cross. (Photo credit: King's Cross Pond Club)
One of the many things that makes London great is its art scene that sees innovative artists producing new work in the public sphere. Right in the heart of London's King's Cross development is a new work from architects Eva Pfannes and Sylvain Hartenberg and artist Marjetica Potr?: a natural-looking, artificial pond available for swimming. Ticket prices range from £3.50 to £6.50, but non-swimmers get a discount so everyone can visit!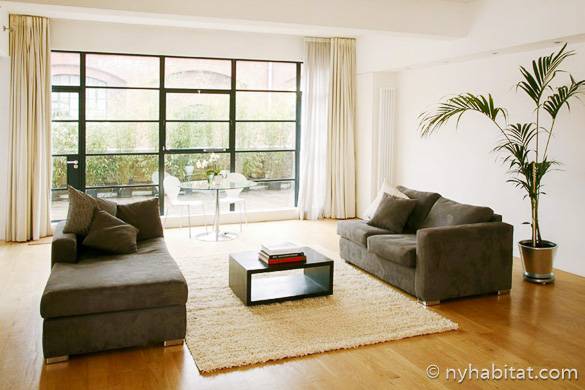 Islington has great attractions and lofts like this two-bedroom vacation rental.
The British Library, Camden Town, and University College London—some of the defining sights of the city—are just down the street from King's Cross. You can stay in this top London location too with this two-bedroom vacation rental in Islington. The loft-style unit has a wall of windows and a balcony in addition to all the essentials.
Brockwell Lido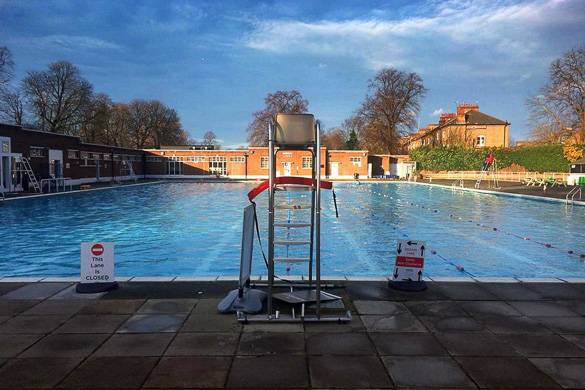 Brockwell Lido has more to it than your average neighborhood pool.
Brockwell Lido is home to history as well as aquatic fun. The 160-foot pool was first opened in 1937 and closed to the public in 1990. In a similar fashion to many of London's swimming spaces, the surrounding community rallied around the pool and it reopened four years later. Now the pool is protected as a Grade II-listed landmark and is still a great spot to swim after all these years.
Staying in Brockwell, a green area in Greater London, has its advantages. For one thing, you can enjoy a lack of tourists at public spaces like the Lido. There's also the cozy charm of the area's homes, like this two-bedroom vacation rental. You can take advantage of the washing machine, the outdoor space around the back of the townhouse-style building, and the full kitchen for saving money on dining.
Parliament Hill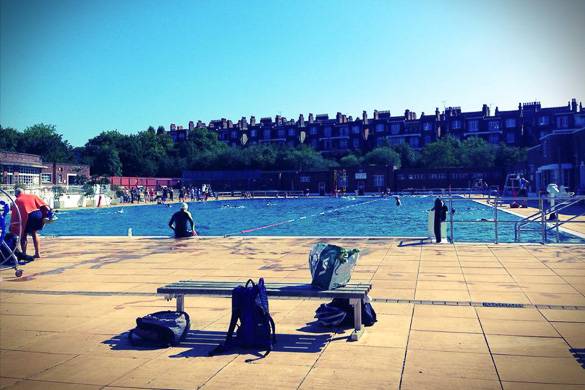 Parliament Hill has great views of London and an ambiance that'll make you forget you're in the city!
Located in a subsection of Hampstead Heath known as Parliament Hill Fields, this Lido is a good option for those who are wary of the Heath's ponds. The pool is a part of a larger sports facility with tennis courts and a track. Best of all, the location atop one of London's tallest hills gives you a prime view of the Canary Wharf skyline. Parliament Hill is considered by many the focal point of the whole Heath, so be sure to experience this swimming spot when you're in the city. If you're coming to London with family, check out this three-bedroom furnished rental. Convenient amenities like a washing machine and wifi will make your stay a breeze!
Furnished apartments with pools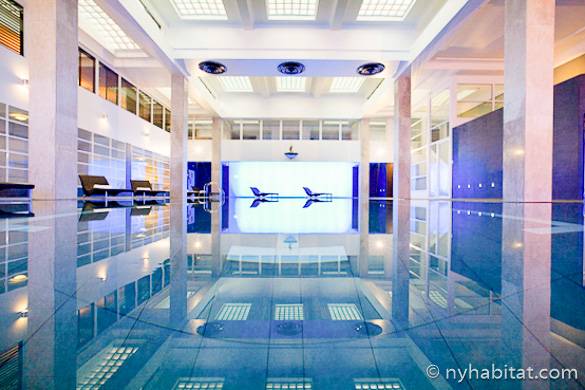 Have your own slice of Westminster by renting a furnished rental with a serene pool.
If you're looking to stay right in the center of London and swim some laps at the pool while you're there, consider this furnished studio for rent in Westminster. You'll have access to sleek amenities, both inside the apartment and at the building's gym and pool. You'll also have the comforts of home, no matter how long your stay in Westminster is.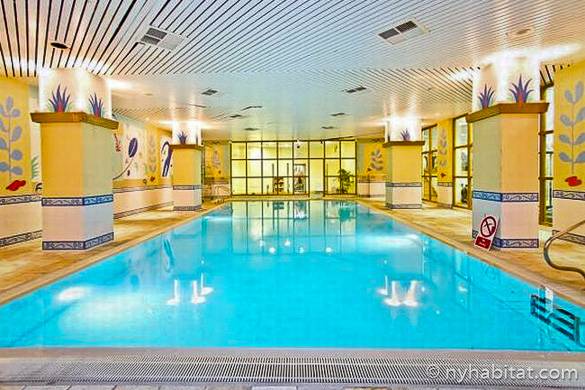 From private swimming spots like this Egyptian-themed apartment pool to public ponds, there are lots of places to swim in London!
You'll find this two-bedroom furnished rental between Waterloo Station and the Thames and nearly within view of the London Eye and Big Ben. It has a spacious feel, lots of windows, and is in a luxury-level building complete with a gym, pool, and roof terrace. There's a lot to love here in addition to the location that connects you with all the great swimming spots on our list.