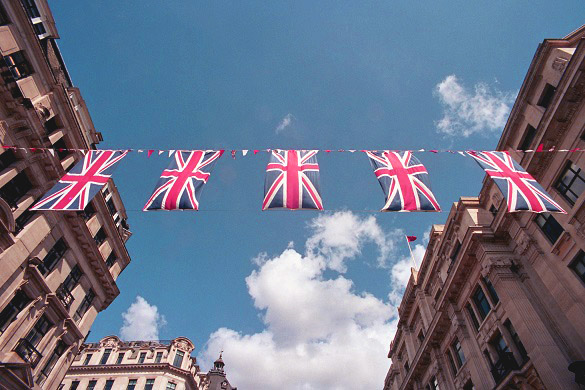 So many unique neighborhoods make up the city of London. How many are familiar to you?
An area steeped in literary history and academic achievement
Bloomsbury, London's most vibrant and historic district, is situated in the southernmost part of the Borough of Camden and is recognized as the intellectual and literary capital of London. This lively and remarkable area was made most famous by a group of turn-of-the-century writers that included Virginia Woolf and Charles Darwin. The arts and education have a long history here, so it's not surprising that some of the most prestigious, oldest, and most important universities in London (and all of the UK) are found in this neighborhood. The University of London has made Bloomsbury the base for a number of its colleges, including the famous London School of Hygiene and Tropical Medicine. On any given day, a lively rush of students and professionals keep the area buzzing.
What could be a better location to rent an apartment if you're coming to London for academics or professional pursuits? You'll find like-minded colleagues and intellectuals studying over a cup of tea at one of the neighborhood literary cafes or bookshops, or winding down their days with a pint and some stimulating conversation in one of the local pubs.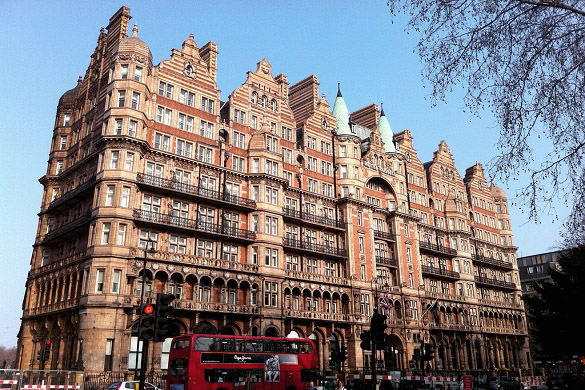 The former Hotel Russell is still an impressive landmark of the area
Mix with the locals over a cup of tea or a pint, or even better, rent an apartment in the neighborhood and live among them! This 1-bedroom rental in the heart of Bloomsbury would make a centrally located home base for an academic or professional coming to London. It is available as both a short-term vacation rental if you're in town for an exhibition, short training, or lecture series, and also as a longer-term rental if you're staying for the semester. The apartment is equipped with WiFi internet, making it easy to get projects done from the comfort of home. You can even get household chores done from home in your downtime with the convenience of a laundry washer/dryer right in the apartment. In keeping with the literary past of this neighborhood, books line the shelves of the cozy bedroom with double bed, plus there's a handy reading lamp in case you're in the mood for some late-night reading in bed. The compact kitchen manages to provide all the basics you'll need to whip up a quick meal at home between classes. Invite some colleagues or a study group over for dinner and share ideas over the dining table for four, or have an informal brainstorming session in the living room by the flat-screen cable TV.
History surrounds you! Visit the multitude of museums nearby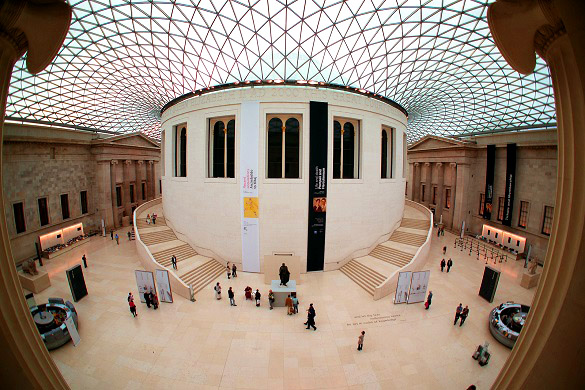 Get enlightened at the British Museum
The British Museum was founded in 1753 as the first national public museum in the world and is one of the world's most popular attractions, with over 6 million visitors per year! It houses a vast collection of artifacts, spanning 2 million years of human history, art, and culture, and is ever-expanding with ongoing research and conservation projects. In case you're visiting London on a student budget, the museum is and has always been free! You'll find students, scholars, locals and tourists all soaking up some history here under the glass-roofed Great Court on any given day. Stop by for lunch and check out one of the current exhibitions like The American Dream – pop to the present, tracing the past 60 years in American history and their influence on American artists (and vice versa). The exhibit starts with the pop art movement of the 1960's up to the present day, including modern and contemporary prints by some of America's most famous artists. If you have some free time and want to learn more about all the collections housed here, you can hire a trained local archaeologist or historian from Context Travel as a personalized guide to enlighten you with their in-depth knowledge of the exhibits.
For the culturally curious there are plenty of other museums in the area as well, including the Charles Dickens Museum. Literally the home of one of the world's greatest storytellers, the museum occupies the house in which he once lived and wrote the novel Oliver Twist in 1838. Tour through the rooms, then stop at the Garden Cafe for a bite before you leave. If you've got the kids in tow, don't miss the Cartoon Museum, dedicated to British cartoons and comics and fun for all ages. The museum runs an array of programs for school children as well as adult courses in cartooning, proving you're never too old to be a child at heart!
Bloomsbury's famous squares balance urban elements with nature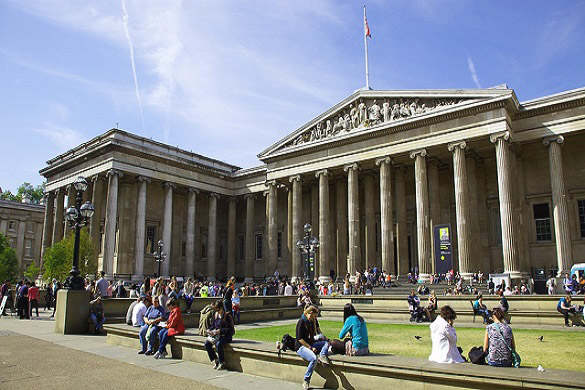 Scholars, tourists and locals all enjoy a day at The British Museum
Children and adults appreciate London's squares, an integral part of its urban landscape. The squares blend greenery and open spaces into the network of city streets and provide much-needed areas for recreation and relaxation. Bloomsbury in particular is renowned for its lovely garden squares that add welcome greenery to the urban setting. Be sure to make a pit stop at Bloomsbury Square and as many others as you can to experience the uniqueness of each. Russell Square has its own cafe, open from 7:00 a.m. to sunset all year round, and is at the heart of the annual Bloomsbury Festival: a festival of culture, music and social events held every October.
Surrounding area and sights to see
Right near Russell Square you'll find Brunswick Centre, a one-stop spot for entertainment. This residential and shopping center houses flats, shops, restaurants, and even a cinema, so you'll never be bored on a rainy London day. Residing in this neighborhood, you'll also be surrounded by some of London's most beautiful parks and buildings. One notable building is All Souls Church in Langham Place. It is an example of Regency-style architecture, built in 1824 of England's famous Bath stone and drawing thousands of visitors each week. For an interesting park destination, try St. George's Gardens. Once a pair of burial grounds and now on The National Heritage List for England, they are enjoyed as a public park and a peaceful spot where you can still see many of the old tombs and gravestones among the greenery.
If you'd like to be near gardens but also close to school or work in Bloomsbury, why not stay in nearby Covent Garden? This modern 1-bedroom apartment in the Covent Garden section of the West End of London provides the best of both worlds. This unique apartment has arched ceilings and large windows for natural light exposure. A great choice for students, the apartment has a convenient in-unit washer/dryer and an additional loft space over the living room that can serve as a sleeping area if you want to share the apartment with a roommate. The modern white kitchen has all the necessary equipment for preparing meals at home, which comes in handy on a student budget. The living room with wrap-around sofa and dining table provides plenty of space to lounge and get some studying done.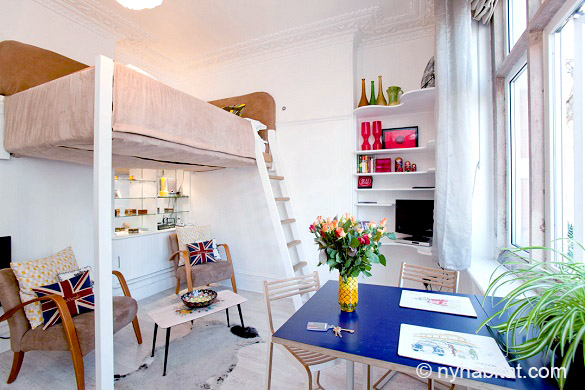 A loft can make a studio feel spacious
Also in the West End, this loft-style studio with wireless high-speed internet and laundry in the unit is a wise choice for a student or traveler on a budget. This lovely, space-saving rental option has a wall of windows overlooking the street to let natural sunlight pour into the space. It's also available as both a short vacation rental or a monthly rental for longer stays. Creatively tucked beneath the sleeping loft is a relaxing living room area with armchairs accented with Union Jack throw pillows, a coffee table, a flat-screen TV, and DVD player. The loft sleeping area provides separation while creating more overall living space. The studio also incorporates a full open kitchen and dining room table, great for saving money by preparing meals at home. The modern, sun-lit bathroom is airy and bright, with a shower and laundry washer/dryer to make multi-tasking a snap.
Balance work with play: Theater and pub culture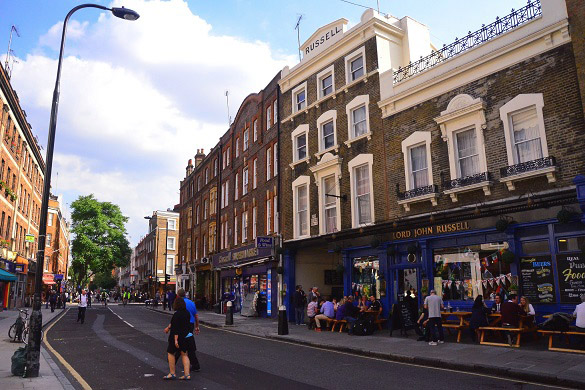 The pub and cafe culture of Bloomsbury is still going strong
Whether you're visiting Bloomsbury for work, school or leisure, there's always time for enjoying the local area. Bloomsbury is an area associated with the arts, so of course it has plenty of wonderful theaters to visit. Bloomsbury Theater, owned by University College London, offers a varied program of music, comedy, dance, and drama. Dominion Theater is another local outlet that hosts mainstream blockbuster-type musical productions and major charity events. It has also had the talents of renowned English musicians such as David Bowie, Duran Duran and Boy George grace its stage over the years. After a night out, head to one of the local pubs, restaurants or charming cafes in the neighborhood. Vats Wine Bar is a classic and The Lamb—reputedly frequented by Charles Dickens back in the day—are some of the local favorites.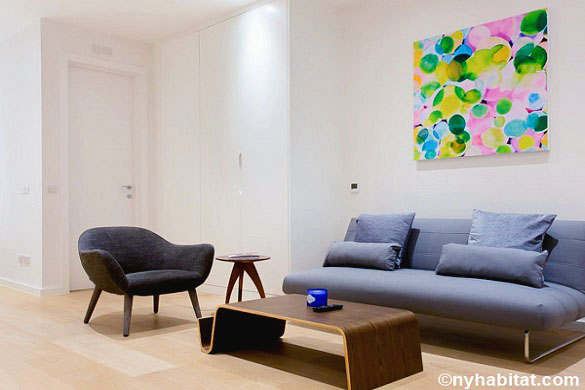 Modern design in a Victorian building in Fitzrovia
When you've finished pub-hopping, why not take a short stroll to nearby Fitzrovia, another local area that scholars, professors, and business travelers will find convenient if they want to keep close to the academic hub? Located just blocks from University College London, this furnished studio in a brick Victorian building in Fitzrovia will situate you close to academic life as well as multiple museums and theaters to give you a well-rounded experience in London's culture and history. The modern-style apartment has wood floors and high ceilings with an open floor plan and colorful artwork decorating the walls. The minimalist design still manages to include all the perks of a furnished apartment, including living area with flat-screen TV, fully-equipped kitchen and dining table, washing machine, cozy sleeping alcove with night table, and a spa-like bathroom with luxurious rainfall shower.
We hope we've given you a bit of an introduction to historic Bloomsbury, an area with a mix of intellectuals, students, artists, and a village atmosphere right within central London. Be sure to check out this fascinating neighborhood and all it has to offer on your next trip to London! If you'd like to find the perfect apartment in Bloomsbury or one of the other lovely neighborhoods of London, head to our website and browse through the multitude of apartments we offer in all of London's most interesting areas!