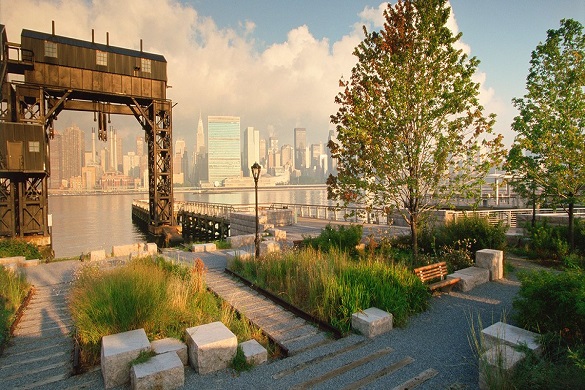 Get a spectacular view of NYC from Gantry Plaza State Park in Long Island City, Queens
If this isn't your first trip to New York City then you've already seen most of the usual famous sites and you're looking to discover more of the lesser known, non-touristy things to see and do. Getting to truly know a place is less about the gimmicky tourist traps and the places everyone has seen and more about spending time exploring and getting to know the real heartbeat of the place and its people. For some ideas on alternative attractions for your next visit to NYC, read on and find out some of our insider tips…
View Manhattan from a Different Angle
Everyone has heard that Dumbo is a great spot for capturing the Manhattan skyline, but as an alternative that is perhaps even more breathtaking, Gantry Plaza State Park in Long Island City is the top of our list. The park's gantries are its centerpiece, harking back to the area's past, where barges would unload at the docks. Today, this waterside location has been reinvented as a 12 acre waterfront park where you can enjoy stunning views that include the Empire State Building, Chrysler Building, and the United Nations, not to mention the famous Pepsi Cola sign (a relic of the Pepsi bottling plant that once operated in this formerly industrial area) that recently gained NYC landmark status. Stroll through the planted walkways or stop for a game at the basketball or handball courts. There's also a fishing pier and a stage that hosts summer concerts with the added perk of an iconic backdrop. Grab a bite from one of the nearby restaurants or food trucks or bring your own picnic and stay for a spectacular sunset while relaxing on one of the wave-like lounge chairs set up right by the water for a relaxing end of day.
Stay Like a Local in a Not-So-Touristy Area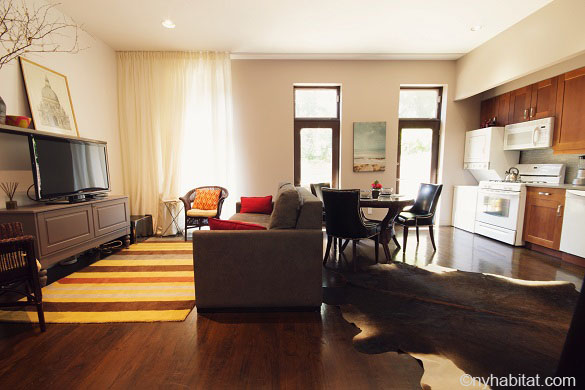 For an alternative apartment option, try this alcove studio located in a former firehouse in Long Island City, Queens
To make your trip to NYC more authentic the next time around, furnished apartments are definitely the way to go. They have an ambiance you can't compare to a hotel because each property is different and truly unique, infused with a bit of each owner's personality and perspective on life in the city. If you're looking for an out-of-the-ordinary apartment rental while you're in NYC this alcove studio in Long Island City, just across the Queensboro Bridge from Manhattan, is just the place! The red brick residence was converted from an old firehouse built in 1899 and now houses a lovely updated apartment with garden terrace. This apartment has gleaming wood floors throughout with an open kitchen running along one wall incorporating all the necessities any chef could want, so you can shop the local markets and cook at home, feeling just like a local instead of a tourist. Step outside to the garden patio area with limestone flooring and a cozy fire pit to gather around in the evening. Back inside, natural light from the back garden illuminates the space. The design is contemporary and upscale yet relaxed and homey, not generic like some hotels. The living room area with flat screen TV, WiFi and a pull out couch probably feels just like your apartment back home. A bookshelf partition creatively separates the living room from the bedroom area adding privacy while allowing the natural light to pass through and keep the sense of open space flowing. There's plenty of storage room in the custom closet off the bedroom area so you can unpack and feel at home. The modern walk-through bathroom with glass countertops and shower can be accessed from both ends at the bedroom and entryway areas, just one of several distinctive design touches. This gem of a property can be appreciated by someone who has been to NYC and done the tourist thing and now wants to settle in among the locals in a less touristy ambiance and experience what it really feels like to live like a New Yorker.
Get out and about with the locals and explore Long Island City by bike (bike paths run right outside the apartment). Another often overlooked spot nearby is Roosevelt Island (located between Queens and Manhattan) which is now accessible by subway. Previously the only way to get to the island was by the Roosevelt Island Tram (located on 2nd Avenue by the 59th Street Queensboro Bridge), and it's still our favorite way to travel there for the fun and unique view along the way. On the island you can rent a bike and make it an active day of exploring. If you work up an appetite you can head to neighboring Astoria and try out some of the multitude of restaurants offering cuisines from Greece, Brazil and Eastern Europe just to name a few, and discover all that NYC has to offer—there's so much more than just Manhattan!
Venture Out and Discover New Areas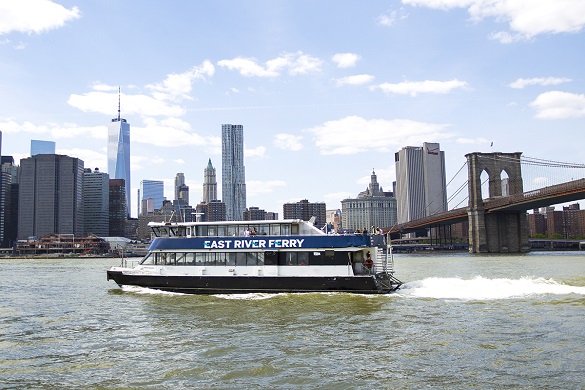 Hop aboard the East River Ferry and expand your horizons past Manhattan to Brooklyn and Queens
A fun and different way to discover NYC's other boroughs is with the East River Ferry! An alternative to high priced tour boats, this low cost alternative is only $4 a ride on weekdays and will take you under Brooklyn, Manhattan, and Williamsburg bridges for some great photo ops. It operates from the southern tip of Manhattan to several stops in Brooklyn and Queens and back to midtown Manhattan near the UN building. Hop off at one of the stops and discover a new area you never saw before. There's even a free shuttle bus weekdays during morning and evening rush hour that carries passengers in a rectangular circuit from the E. 34th St. terminal west across 34th Street, then up to 48th Street, then east again across town and back down to the 34th Street terminal, allowing for easy access to Penn Station, Times Square and Grand Central transportation hubs.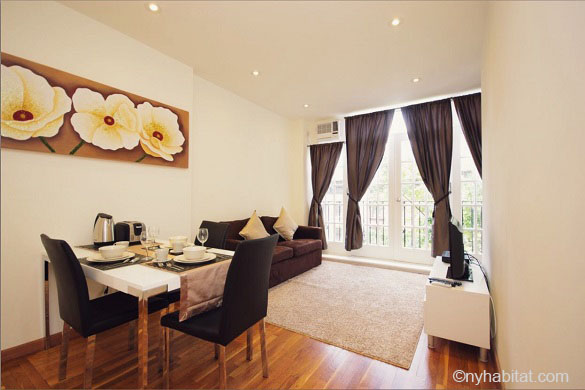 Instead of a hotel, stay in a classic NYC brownstone in Midtown's Murray Hill and live among locals
Just off the ferry landing at 34th Street, you will be in the Murray Hill section of Midtown East, an area that has a residential neighborhood ambiance while also being close to all the iconic sites like the Empire State Building, Chrysler Building, and Grand Central that Midtown is known for. Many students and young professionals reside in this area for its convenience to work, its abundance of local restaurants and bars, and the sense of being removed from the hustle of corporate Midtown and closer to the tranquility of East River views. For an alternative to the typical midtown hotel chain, try a rental at a classic pre-war NYC brownstone building like this 1 bedroom in Murray Hill and get acquainted with the locals. At this rental you'll have the convenience of a laundry room right in the building for day to day chores and a full kitchen to prepare some meals at home instead of always having to eat out. Experiencing living in your own apartment rental in NYC gives you a glance into how it truly feels to be a New Yorker (at least for a little while). Shop for delicacies at the gourmet food market in Grand Central and then enjoy a meal at the dining table overlooking the neighborhood. The modernly styled apartment has wood flooring throughout and calm neutral toned decor so you'll feel right at home. Relax in the living room with floor to ceiling windows overlooking greenery and the neighborhood street. There's a flat screen TV for entertainment and the sofa opens to a bed for added sleeping arrangements, while in the bedroom you have another TV as well as a queen size bed and office desk for getting some work done.
Sights to See Off the Beaten Path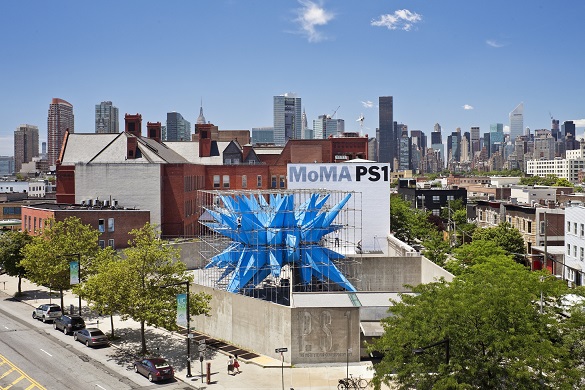 Head to MoMa PS1 in Queens for some experimental art outside of the typical Manhattan setting
While tourists are gallery-hopping in Chelsea, visit some more obscure art locations such as MoMa PS1 and the Noguchi Museum in Queens! MoMA PS1 museum is housed in the former Public School 1 in Long Island City across the river from Manhattan. The former public school now devotes its space and funds to displaying the most experimental art in the world — a real find for those who love to discover up and coming artists! Another nearby site to check out is the Noguchi Museum in Astoria, designed by Isamu Noguchi, one of the best sculptors of the 20th Century. Located throughout a zen urban industrial space, a more traditional finished interior loft space, plus a landscaped garden setting, the sculptures can be appreciated and experienced in a variety of settings.
And since you're probably the type that enjoys doing things with your own twist, instead of hitting the SoHo shopping and bar scene, head to ever-evolving Williamsburg, Brooklyn and start exploring a lively new area! After a day of browsing the vintage clothing shops for the latest hip threads, enjoy dramatic skyline views with your cocktails at the Ides Bar or Westlight, Andrew Carmellini's buzzy rooftop bar. If all the exploring has left you famished, the famous Peter Luger Steakhouse has a location right in Williamsburg too!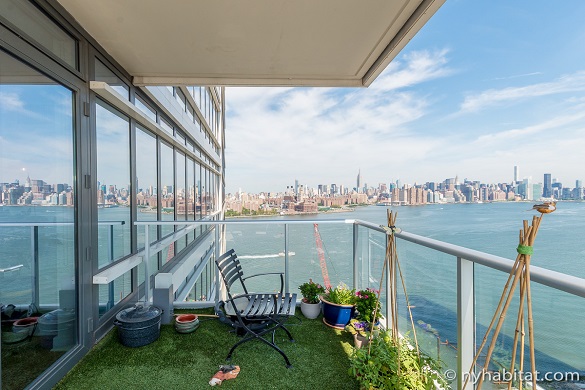 The balcony of this 2 bedroom apartment in Williamsburg, Brooklyn offers breathtaking water and skyline views
If you'd like to immerse yourself in this trendy area you can't beat the experience of living in this 2 bedroom/2 bath apartment with wrap-around views of the NYC skyline! From here you'll have a unique perspective on the city and its skyline. Feel New York City surrounding you as you sit in the living room of this modernly decorated apartment with sunlight flooding in from the windows. Instead of being closed in by skyscrapers, step out onto the balcony, lounge on the outdoor sofa and let your eyes drink in the views of the East River laid out before you. The open, eat-in kitchen is perfect for entertaining (and impressing your friends with the incredible view)! In the first of two bathrooms double sinks, modern tile backslashes and a glass enclosed shower with rainfall shower head provide spa-like luxury while the other bathroom incorporates a deep tub for soaking the days travels away. You can retire to the first bedroom where reclaimed wood covers the wall and ceiling, imparting a unique cabin-like coziness to the room and contrasting with the usual cookie-cutter urban apartment. The second bedroom with sofa bed can be used as an additional living room/office area or another bedroom, the choice is yours, make the space your own. This luxury building offers a fitness center and swimming pool for when you need some exercise but just can't drag yourself out from the comfort of this truly unique property. But trust us, this neighborhood is worth exploring; there are plenty of coffee shops, bars and restaurants to keep your palate (and curiosity) quenched nearby, or you can hop on the East River Ferry to Manhattan or Queens when you feel like broadening your horizons.
Discover a New Area and Another Culture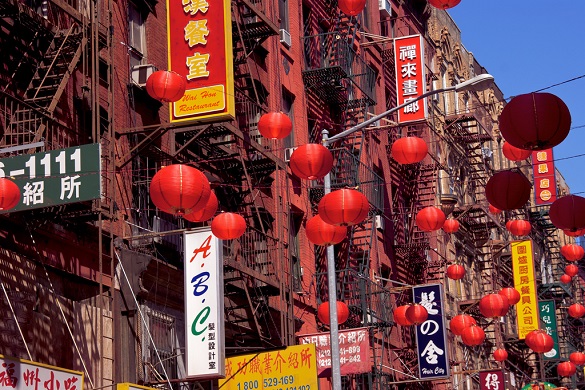 NYC has many ethnic neighborhoods to explore, so get out and discover alternative NYC!
When you feel like transporting yourself to another place, in NYC it's as easy as hopping on the ferry or the subway. Chinatown in downtown Manhattan is certainly well known and worth a visit for shopping and ethnic dining, but a somewhat lesser known and much bigger alternative that's less touristy and more authentic is the neighborhood of Flushing, Queens — home of the largest Asian community in NYC. Here you can find some of the best and most authentic Chinese food in NYC and it's just a short subway ride away from Times Square on the 7 subway line. Or, if you want to try another type of Asian cuisine, head to Koreatown, an ethnic Korean enclave in midtown Manhattan centered around 32nd Street between 5th and 6th Avenues. Here you can try a unique dining experience at one of the famous Korean BBQ-style restaurants.
Think Outside the Box and Off-Broadway for a Truly Unique Experience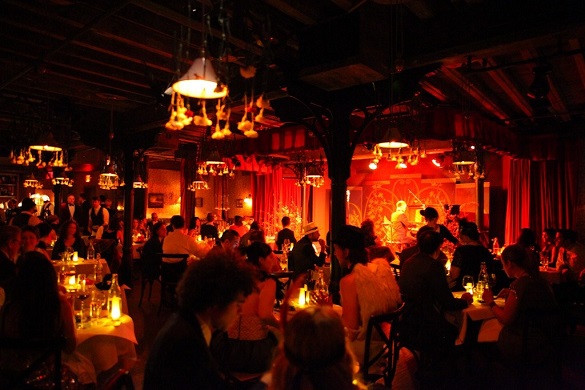 Sleep No More will immerse you in an alternative theater experience
After dinner, if you love theater but are craving something less mainstream than the usual Broadway shows, the city is full of unusual options to offer. If you've always wanted to be in a theater production this is your chance — an immersive and exciting theater experience by British theater company Punchdrunk, "Sleep No More" is an interactive production based on Shakespeare's Macbeth with inspiration also taken from Alfred Hitchcock's films noir. In this production the audience actively participates in the story as they move at their own pace through a 5-story set consisting of a block of Manhattan warehouses transformed into this truly unique performance space. We doubt you've experienced anything quite like this before!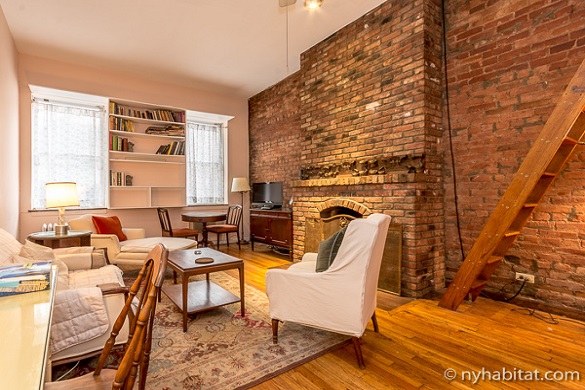 If you're looking for an authentic NYC accommodation more unique than a hotel, try renting this apartment in a Chelsea brownstone!
After visiting this remarkable "theater" location, if you're inspired to explore the surrounding area some more, why not stay awhile in Chelsea and rent this one of a kind furnished 1 bedroom apartment in a classic NYC brownstone. If you stayed in a hotel on your first trip, then you have to try out the antithesis to a hotel room stay at one of our distinctive properties. This 1 bedroom apartment encompasses classic NY brownstone living. From the exposed brick walls to the decorative fireplace and exposed beam ceilings, this property radiates its own particular NYC charm. Located on a residential street, you'll feel the neighborhood vibe right away. Inside, the homeyness continues with the exposed brick walls infusing a sense of warmth and comfort. The inviting living room has plenty of seating gathered around the decorative fireplace. The bedroom also has original brick walls and a decorative brick fireplace in addition to a queen sized bed, antique furniture pieces and area rugs, and a serene view overlooking the back garden. What hotel can give you that much authentic NYC character?
We hope we've sparked your inspiration with a few of the often overlooked alternatives to the usual list of must-see NYC attractions. Every time you visit New York you can delve deeper into the real heartbeat of the city by heading past the typical tourist sites and venturing out on your own to explore the lesser known corners of this amazing city. This fast-paced metropolis is always changing so each visit offers a chance for new and exciting discoveries! Check back in on our blog for more upcoming tips and info on NYC to inspire you to start planning your next trip itinerary! To find an alternative accommodation for your trip that's just as different and unique as some of our suggestions, check out our website and make your next trip to NYC truly like no other!
Related apartment rental posts from New York Habitat: