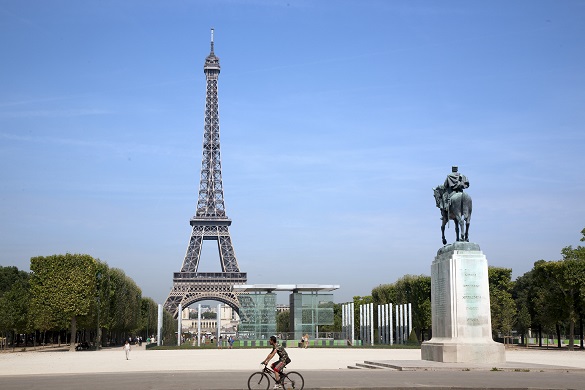 The Eiffel Tower is the most famous landmark in Paris
Are you planning a trip to Paris but craving something more than the same old cliché Paris attractions? The Eiffel Tower, Louvre, and the Champs-Élysées are all beautiful sights to see but we know what you really want is a more authentic experience, a chance to really get to know the place. There's no better way to do that than to rent a real Parisian apartment, live among the locals and get out and explore some not so common areas and attractions. So we've made our own little travel guide to give you some ideas of off the beaten path things to do, plus some truly unique apartments to match, so you can experience the City of Lights in a whole new light.
Neighborhood Markets are Full of Local Flavor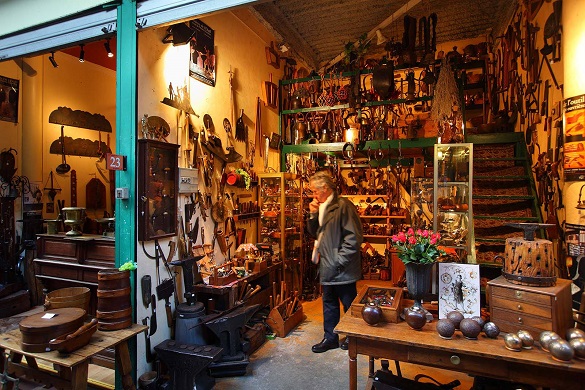 You never know what gem you'll find in the local flea markets
If you're interested in history and art but are also into shopping, drop by Marché aux Puces de Saint-Ouen, founded in the late 19th century, it is one of Europe's largest markets. The stalls are divided into 15 markets, each with its own specialty, from art to clothing and furniture, it's where history, art and shopping all effortlessly intertwine. The market has built up since the 19th century, and today in the maze of tiny, interlacing streets you'll find over 2,000 stalls loaded with vintage fashion, furniture, art and nostalgia from Paris's past to the present. It's an interesting place to spend the day strolling and browsing or finding the perfect little memento of Paris to take home.
Take in a Different View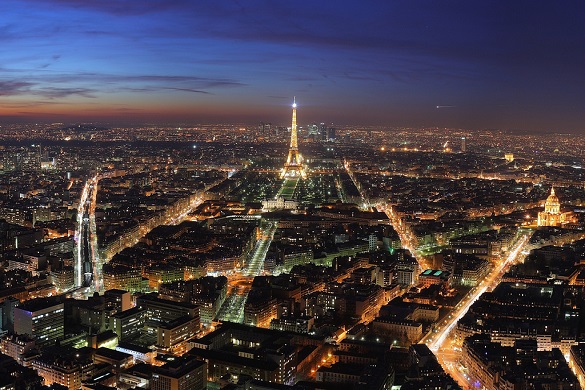 The view of Paris at night from Montparnasse Tower is stunning
Instead of the view from the Eiffel Tower, experience a panorama of Paris from the Montparnasse Tower, one of Europe's tallest buildings. This 200 meter high office skyscraper can be found in the Montparnasse section of Paris. There are no queues and tickets cost half as much as the Eiffel Tower observation deck so it's a great alternative if you're on a budget! Head to the 56th floor open air observation deck that's open day and night with 360 degree panoramic views. We suggest visiting the Montparnasse Tower at night when the sight of the Paris skyline and its grid of streets in glowing lights creates an unforgettable experience. There's even a rooftop champagne bar (open March to October only) so you can have a glass of bubbly with your love while looking out over Paris — does it get more romantic than that?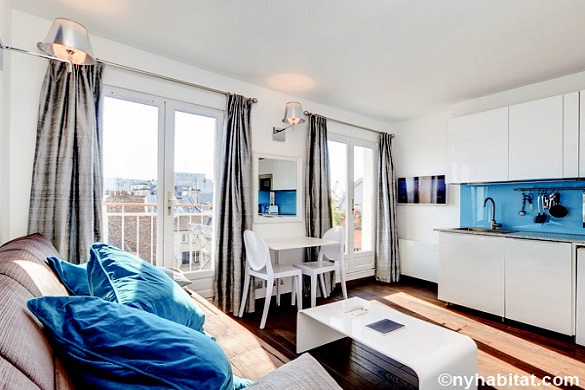 Have a view over the famous Paris rooftops from this penthouse apartment
If you want an apartment with impressive views, the ones from the terrace of this 1 bedroom penthouse apartment in the Bastille neighborhood of Paris's 11th arrondissement are like scenes from a storybook. Large French windows open up to a private terrace with seating where you can enjoy the sunrise over the Paris rooftops along with your morning croissant and coffee. Wood floors and an open kitchen keep the floor plan flowing with a creative use of space throughout, especially in the sleekly designed bathroom where ergonomic sink, modern metallic tiles, and glass enclosed shower with rainfall shower head create a spa-like ambiance in a small space. The blue kitchen backsplash and throw pillows compliment the blue of the sky right outside your living room window while the white walls reflect the natural sunlight and are accented with colorful artwork. Situated on a small street, you can get a real neighborhood vibe and feel what it's like to live like a local Parisian, while also being just blocks away from Place de la Bastille and the bustle of city life.
Embrace the Light in Sainte-Chapelle
The colors of Sainte Chapelle are incomparable
Speaking of impressive light, an experience not to be missed is being immersed in sunlight streaming through the stained glass windows of Sainte-Chapelle. Located on the Île de la Cité in the heart of Paris, this 13th century Gothic wonder was built to house Christian relics and was completed in only seven years. When you consider it has 1,113 stained glass scenes depicting scenes from the Old and New Testaments, that's quite a feat! It is no doubt archi-tecturally impressive, with sculptures and gargoyles gracing its façade, but the show stopper is when light pouring through the soaring 15 meter high stained glass windows envelopes you in its own multicolored masterpiece. After a painstakingly delicate restoration of the façade and stained glass panels that took six years and was completed in 2014, the inside of this breathtaking chapel is once again illuminated with a rainbow of colors.
Go Underground and Explore Subterranean Paris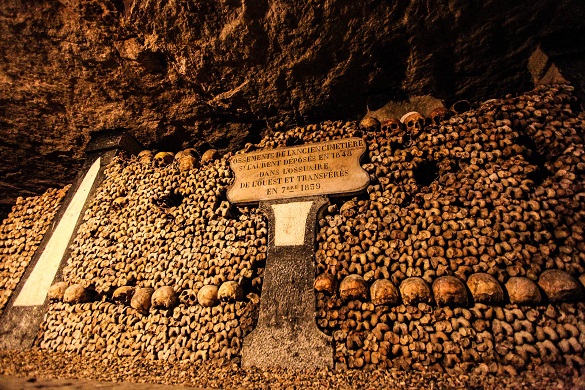 Even death is an art at the Paris Catacombs
Many tend to overlook this somewhat creepy attraction — the Paris Catacombs. Beneath a modest building in Place Denfert Rochereau is the gateway to a subterranean world of tunnels, grottos and mass graves beneath the city that house the remains of more than 6 million people. These macabre tunnels were created in the 12th century to mine gypsum and limestone for some of Paris's most notable buildings including Notre Dame Cathedral and the Louvre. In 1786, Paris's cemeteries were overflowing and more burial space was desperately needed so the abandoned quarries were blessed and consecrated and became the Paris Catacombs. A sort of gallery in themselves, here the skulls and bones of former Parisians are arranged into artistic displays. Their impressive span stretches 175 miles below much of the unsuspecting city above, so when you've had enough of the frenzy of the city streets above ground, consider taking an eerily quiet stroll below ground and unearth a bit more of Paris's history.
Discover a New Local Spot – Belleville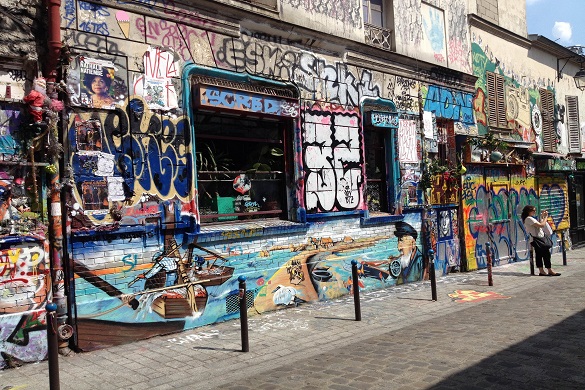 Belleville's streets are an open air gallery of street art
If Le Marais and Montmartre are getting too familiar and overcrowded for you due to their popularity with tourists, head to Belleville instead. This working class neighborhood is home to Parisians from a vibrant mix of cultures. Some may vaguely know the area from visiting Père Lachaise cemetery where Jim Morrison and other famous names are buried, but there is so much more to discover here, so spend a day and get to know the neighborhood. The area of Belleville is rather a local secret, Parisians seeking a bit of quiet have been heading here on weekend escapes to picnic in its hilly green spaces since the 1800s. Belleville was also featured in the 2007 biographical film La Vie En Rose, about the life of iconic French singer Edith Piaf. Home to many galleries and artist studios, it is worth a visit especially if you like street art — in which case Rue Denoyez is a must! This quirky lane is a sort of open air gallery packed with graffiti, street art, and murals! * Street art tip — a local phenomenon is Bonom, a mysterious artist who climbs to the top of Parisian buildings and draws strange animals on the walls that are only noticeable to passers-by who raise their eyes.
Sometimes Impromptu & Unscripted is the Best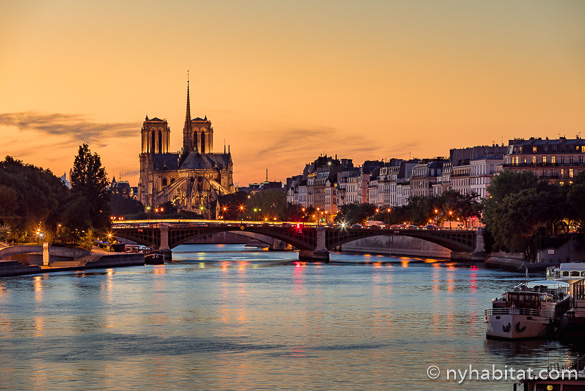 Stop for a picnic by the Seine with a view
Something that mixes classic Paris with low key local custom is picnicking by the Seine. What could be a better way to end the day than spending the evening away from the bustling streets near the tranquil banks of the Seine? Just grab a baguette, some local cheeses (you know you're dying to try them all) and some wine from one of the local markets and head to the water with the locals for a relaxing evening and maybe make some new friends. Here you can enjoy a delightful peachy sunset listening to the faded street music in the background while taking in a view of Notre Dame that is just breathtaking!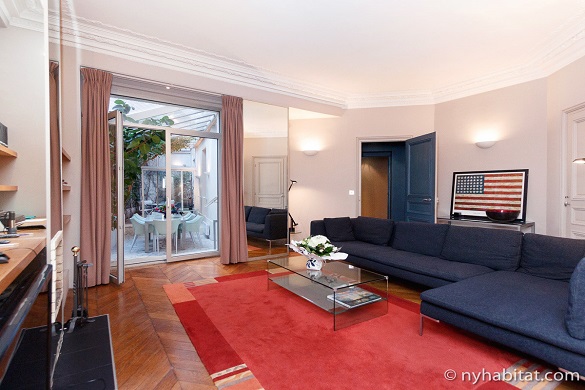 You'll have plenty of indoor and outdoor space in this apartment in Saint-Germain des Prés
If you like dining al fresco and truly one-of-a-kind accommodations, we've got just the place for your next stay in Paris — this unique 2 bedroom property in Saint-Germain des Prés beautifully combines indoor and outdoor living space. A large sofa provides comfortable seating space next to the fireplace and flat screen TV. Off the living room you and your guests can adjourn to a lovely enclosed atrium space to relax among the peace of nature. Enjoy a home cooked meal at the outdoor dining table surrounded by lush planted greenery. There's even an office desk on the terrace so you can work under natural sunlight instead of fluorescent office lights. Step through another set of doors and you are fully outside in the open air terrace surrounded by lattice and vines. Throughout the apartment the indoors blend effortlessly with the outdoors so you never feel closed in but always open to the fresh air and outdoors. The modern kitchen features stone countertops and colorful cabinet accents as well as modern amenities including dishwasher and laundry machine. Beautiful wood floors accent the first bedroom that offers two single beds and access to the outdoor atrium area via French doors, as well as an elevated area housing an en suite bathroom with modern curved shower and wall accented with glass tiles allowing light to pass through and illuminate the space. The second bedroom with queen bed also has gleaming wood floors, a wall of custom closet space, another en suite bathroom, and access to the terrace.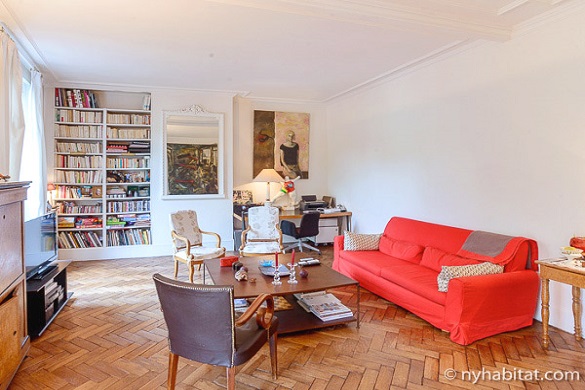 Surround yourself in culture in this vacation rental in Port Royal
Aside from its open air cafés, Paris is known for literature and the arts so why not surround yourself with both — literally. This 2 bedroom vacation rental in Port Royal is a culture craver's dream, with its literary collection, paintings and eye-catching artwork, you'll be immersed in French culture. If you're looking for an accommodation in Paris that is less like a cookie cutter, generic hotel room and instead has a welcoming right-at-home feel, it makes sense to rent a truly Parisian home. This one-of-a-kind property retains its original character with parquet floors, exposed brick walls and high ceilings accented with detailed crown moulding. What is more quintessentially Parisian and quaint than large French windows overlooking a cobblestoned courtyard? Just because you're in a big city doesn't mean you can't enjoy nature as well; large windows let sunlight flood in and provide views of the surrounding greenery. Inside the apartment, built-in bookshelves line the rooms with an array of the owner's handpicked favorite books, but you can also stroll along the nearby Seine with its traditional secondhand booksellers and create your own reading list. The kitchen is a blend of modern cabinetry and retro style with exposed brick walls and a bright orange refrigerator that provides a pop of cheerful color. The bathroom adds a modern twist with built-in glass shelving, laundry machine and a deep tub for soaking in after a day pounding the Parisian pavement.
We hope you'll check out some of these off the beaten path places on your next visit to Paris and dis-cover the less touristy side of the city. Skip the crowds, stroll the local streets, and take off in your own direction — you're sure to discover a side of Paris all your own! Browse our website and start planning your trip by finding the perfect rental apartment that's just your style!
Related apartment rental posts from New York Habitat: