If you're a royal-watcher, history buff or British music fan, then London is probably on your travel bucket list. What most tourists don't realize is that while renting a strategically-placed furnished apartment in London, you can easily take day trips to these seven exciting destinations outside of London proper.
1. Oxford
Just one hour away from Marylebone Station is the home of one of the world's most famous universities, Oxford. Visit for the beautiful architecture and the history (walking tours are available as well). The University of Oxford Botanic Garden has family-friendly trails, and picnics are encouraged! For a taste of history, visit Oxford Castle, a 1000-year-old Norman medieval castle. Art lovers will enjoy the Ashmolean Museum (the world's first university museum) which houses ancient and modern art and antiques — and admission is free! At Carfax, the center of Oxford, you can enjoy the view from St Martin's Tower — also known as Carfax Tower — the highest building in central Oxford!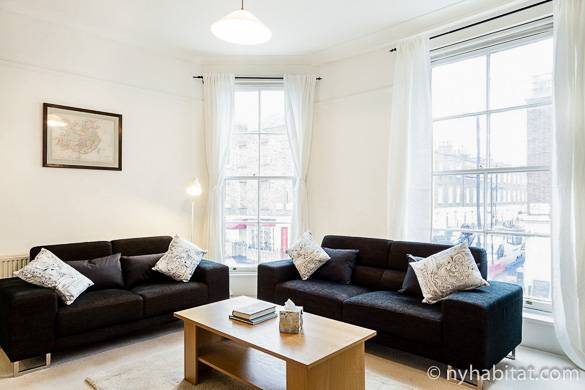 This duplex vacation rental is great for families
Just a 13-minute walk from Marylebone Station, this 2-bedroom duplex vacation rental in Paddington is great for families (it's also offered by the month if you are looking for an extended stay). This contemporary apartment has a crisp minimalist design with high ceilings and large windows for natural light. The living room has plenty of seating for a family, with two couches around a decorative fireplace and a flat-screen TV for entertainment. Wooden doors separate the living room from the fully-equipped kitchen with dining table, which is perfect for family meals. A washing machine/dryer also adds convenience when traveling with a family.
2. Cambridge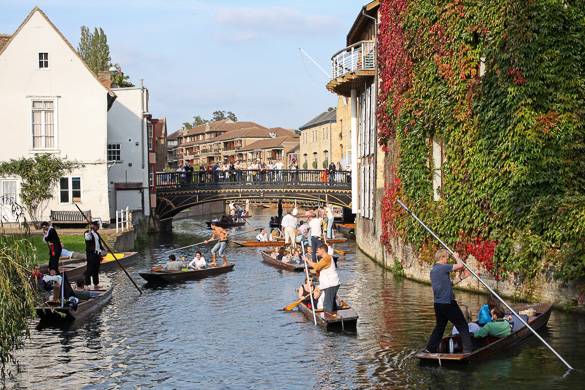 Take a boat tour on the River Cam!
Fifty minutes away from King's Cross Station is another university town by the name of Cambridge. Top sights to see include the University of Cambridge (which has educated 15 British prime ministers) and Mathematical Bridge, a wooden footbridge over the River Cam. Get a unique view of Cambridge and all its famous landmarks when you take a Punting Tour — a guided tour down the River Cam by boat. Art lovers will have plenty to explore with the Fitzwilliam Museum, Museum of Cambridge, and the Museum of Archaeology & Anthropology, all of which are in town.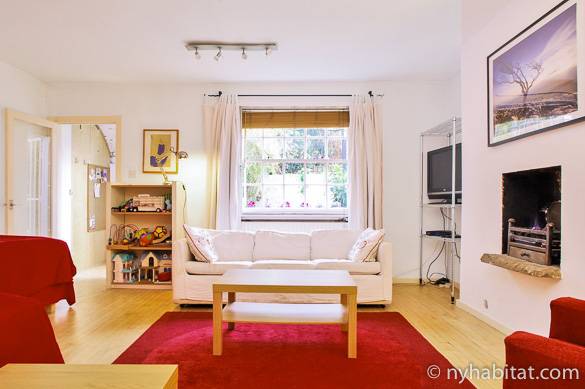 Rent this vacation rental in Regent's Park, complete with terrace and garden!
This 1-bedroom vacation rental in Regent's Park is situated close to the park for spending sunny summer afternoons. It's also just a 15-minute walk to King's Cross Station in case you want to venture to Cambridge for the day. The inviting living room area features a decorative fireplace as well as cable TV for entertainment. Two twin beds in this area can also be used to accommodate guests. The bedroom sleeps another two people in a double bed surrounded by white exposed-brick walls, while high windows let morning sunlight filter down from above to wake you. Best of all, there is a quaint terrace and garden area where you can enjoy the outdoors on a beautiful day in London. When you decide to venture out, discover more off-the-beaten-path places to visit in London on our blog.
3. Windsor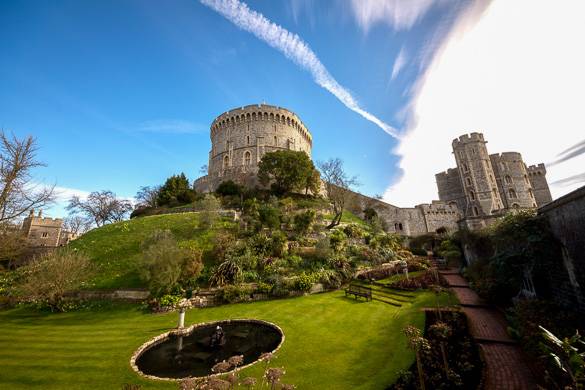 A trip to England wouldn't be complete without a visit to Windsor Castle
Another fun-filled day trip that awaits you just outside London is just a 45-minute ride from Paddington Station; magical Windsor! Windsor Castle will dazzle royalty enthusiasts, since it's a working royal palace that the Queen uses for state ceremonies and official entertaining. While you're in Windsor, pay a visit to historic Eaton College, where Prince William and Prince Harry went to school.
For nature lovers, there's Windsor Great Park, once a Norman hunting forest and now home to 600 deer. Thames boat trips are another favorite activity — you can find self-drive power or row boats, guided trips and lunch, afternoon tea and dinner cruises.
If you have kids with you, don't forget a stop at Legoland Windsor, a child-oriented theme park based on the Lego toy brand.
If you'd like to stay near Paddington Station for quick access to Windsor, we recommend this furnished vacation rental studio apartment in Bayswater, just a few yards from famed Hyde Park, for solo travelers or couples. Complete with all the essentials including a double bed, kitchenette, communal laundry and complimentary WiFi in the lobby, it's the perfect jumping-off point for excursions outside of London.
4. Brighton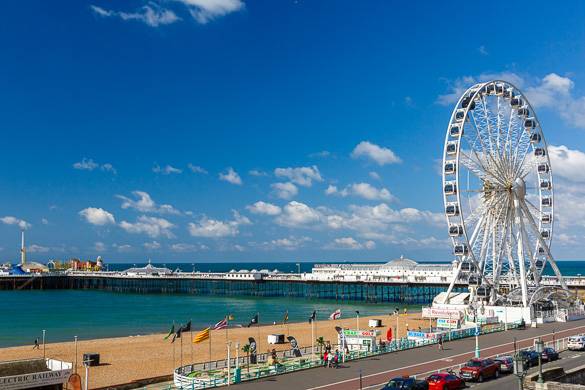 Spend a day by the beach in Brighton
Even a day trip to the beach is within reach from London! Brighton is an English resort town with amusement rides and Regency-era buildings that's just an hour's trip from Victoria Station. Brighton Pier, Royal Pavilion and Brighton Palace are top spots to visit, and the British Airways i360 observation tower on the seafront will give you a bird's eye view of everything! Check out some more fun ideas for a summer trip to London on our blog.
This 3-bedroom/2 bath apartment in Westminster near Victoria Station is great for families and also provides jaw-dropping views of the London Eye and other London monuments right from your window or the balcony! Another option just a street away from Big Ben is this 1-bedroom vacation rental in a luxury building in Westminster, complete with on-site gym, Jacuzzi, and pool.
5. Bath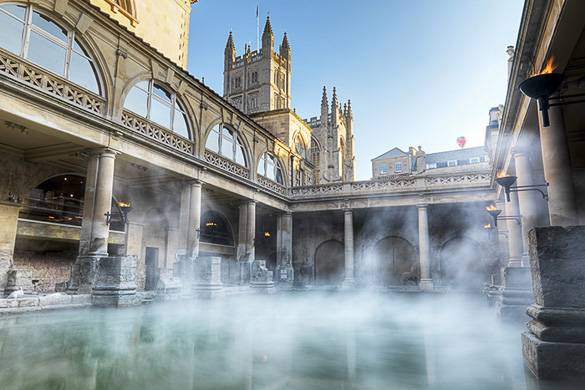 Soak in an ancient Roman spa at Bath (Photo credit: Bath Tourism Plus / Colin Hawkins)
Rent an apartment near Paddington Station and you can transport yourself to the English countryside and the lovely city of Bath, just a 90-minute train trip away. Known for its Roman-built baths, natural hot springs and 18th-century Georgian architecture, you're sure to be enchanted. For the best views, head to Alexandra Park or Prior Park, both with magnificent, panoramic views of the city. Must-see museums include the Jane Austen Centre and the Fashion Museum.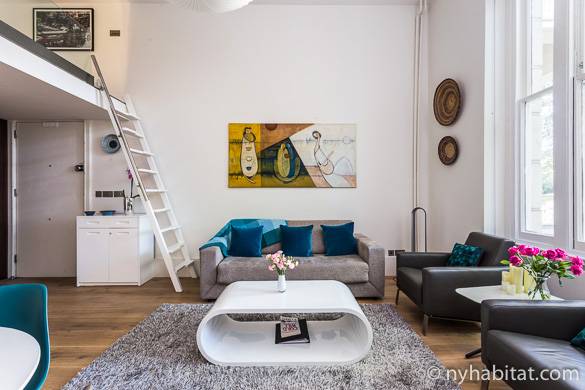 This duplex in Bayswater is bright and cheery
If you're planning on heading to Bath, this bright and airy 1-bedroom duplex in Bayswater, near Hyde Park, is a convenient rental option available by the night, week or month. The neighborhood of Bayswater offers Victorian architecture and a cosmopolitan lifestyle. High ceilings, floor-to-ceiling windows and an elevated mezzanine area in this apartment give it an open and spacious feel. Modern decor with pops of color and artwork gracing the walls add a lively touch. The open kitchen is fully equipped for preparing meals at home and includes a dining table and laundry machine. The bedroom has terrace views and a double bed, while the mezzanine area can be used as a second sleeping area.
6. Portsmouth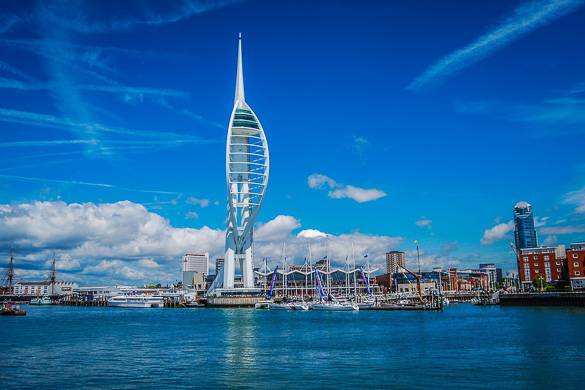 Visit the historic dockyards in Portsmouth
An hour and a half away from Waterloo Station is your next day trip destination — Portsmouth — known for its maritime heritage and historic dockyard. If you are a boat enthusiast, don't miss the Mary Rose Museum, dedicated to the 16th-century Tudor navy warship Mary Rose and the HMS 1860, a Victorian museum ship. Before you leave, don't miss the attention-grabbing Emirates Spinnaker Tower for the best view.
Rent this luxurious 1-bedroom vacation rental in Covent Garden and you'll be just a 15-minute walk from Waterloo Station. You'll also be near the Sea Life London Aquarium, Benjamin Franklin House and London Transport Museum. This chic accommodation is owned by Apple and offers advanced home automation features in every apartment, making it a techie's dream. This includes keypads to replace light switches, iPad-style remote control touch screen devices, and fully-integrated climate control. The building also features a shared rooftop terrace.
7. Canterbury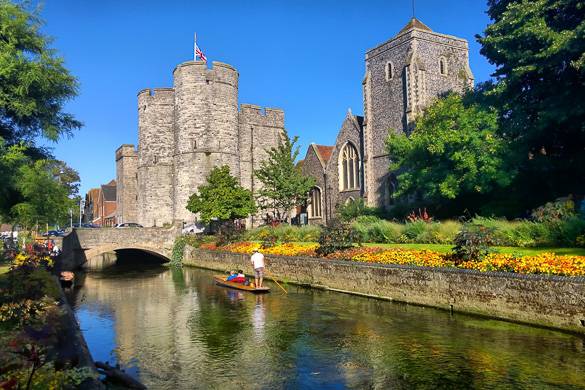 Don't miss the fairytale town of Canterbury
Last but not least, a trip to England wouldn't be complete without a trip to fairytale-like Canterbury — just 90-minute train ride from St. Pancras International/King's Cross Station. This UNESCO World Heritage Site lies on the River Stour and features dreamy landscapes as well as Canterbury Castle, St. Augustine's Abbey and Howletts Wild Animal Park.
Located just a 6 to 8-minute walk from King's Cross Station, this 1-bedroom in Bloomsbury is also very cost-efficient. Prepare a picnic in the open kitchen (also equipped with dining table) to take on your day trip, or relax in the living room with the flat-screen cable TV. After returning from one of these fantastic day trips, you'll be glad your apartment is a quick walk from the train station, where you can head to the cozy bedroom and melt into the double bed.
Now that you know all of these exciting day trips are just a train ride away from London, you can planing your trip and book one of our unique furnished apartments or vacation rentals to make your stay a truly immersive experience!