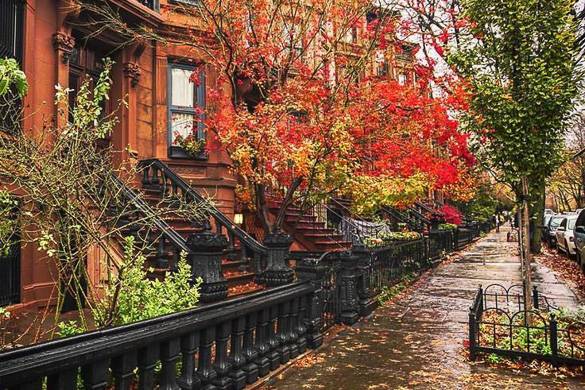 Fall is the best time of year to visit New York City!
Fall is one of the most magnificent times of year to visit New York City, the weather is cool, Mother Nature provides a vibrant backdrop of colors, and you can comfortably get around the city with fewer crowds and no humidity! There's just something unexplainable about NYC in the fall that seems to captivate people and inspire songs and movies. Read on and discover our favorite things to do on a crisp autumn day in NYC!
1. Visit the Fall Foliage!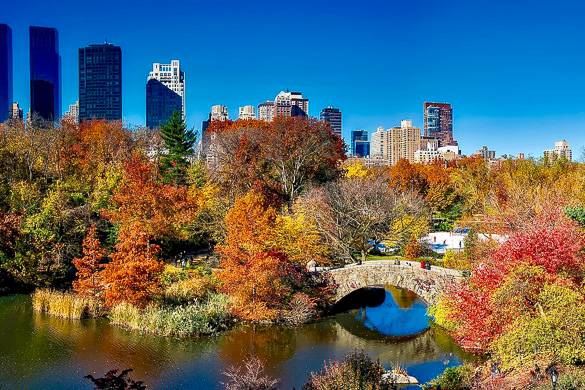 Head to one of NYC's many beautiful parks and enjoy the crisp fall air
New York City is full of parks with breathtaking scenery but in the fall you get treated to a dazzling display of color and perfect temperatures for a stroll or a picnic. Brooklyn Botanic Garden will envelop you in fall flowers and foliage or head to Central Park, rent a row boat and enjoy skyline views along the lake with the fall foliage. Every borough has a unique park to visit, try Brooklyn Bridge Park or Astoria Park for inspiring views of Manhattan. If you prefer to get lost in meandering nature trails and forget you're in the city try Prospect Park in Brooklyn, Forest Park in Queens, or Fort Tryon Park in the Inwood section of Upper Manhattan.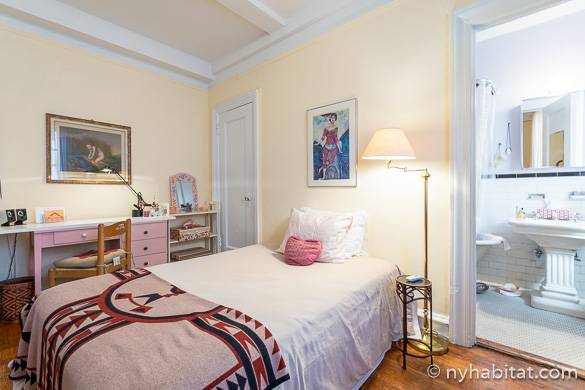 Rent this room in a shared apartment in Midtown West and walk to Central Park
Fancy living right near one of these lovely parks? This room for rent in a one bedroom apartment share is located just four blocks from Central Park in the Clinton section of Midtown West, offering an affordable rental option with the perk of Central Park close by. The building has an elevator, full-time doorman, and on-site laundry facilities and its proximity to the park means plenty of outdoor activities right at your doorstep. The living room with Persian-style rug has a small dining table for two near the open kitchenette where you can prepare simple meals. The bedroom for rent is eclectically decorated with artwork and sculptures and features hardwood floors, a double bed, closet, bookcase and a desk for getting some work or studying done. The pastel colored en-suite bathroom shared with your roommate offers an antique tub for soaking in with shower option. You'll have plenty of dining options along 9th Avenue with cuisines from around the globe for an evening out or some quick take out, and a Whole Foods Market just a few blocks away for grocery shopping. Don't miss one of fall's main events — the New York City Marathon — with its finish line right in Central Park!
2. Farmers Markets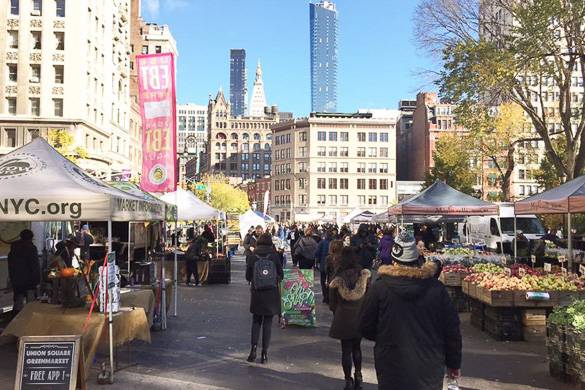 Fall means Farmers Markets!
Fall is harvest time and farmers markets are always a welcome treat for us city folk, with fresh produce and flowers, locally made cheeses and honey and seasonal treats, plus they're a great way to support our local farms and farmers (yes, we have farmers in NY)! Our favorites include Rockefeller Center Greenmarket, Union Square Greenmarket, and Chelsea Farmers Market. For the full farm experience right here in the city, visit the Queens County Farm Museum, an urban farm with fall activities for the whole family including apple and pumpkin picking and corn mazes! You can also show your support for local orchards and learn about craft ciders during Cider Week NYC (October 20-29, 2017) — there will be tastings and pairings at participating bars, restaurants and wine shops around the city.
3. Get Hyped for Halloween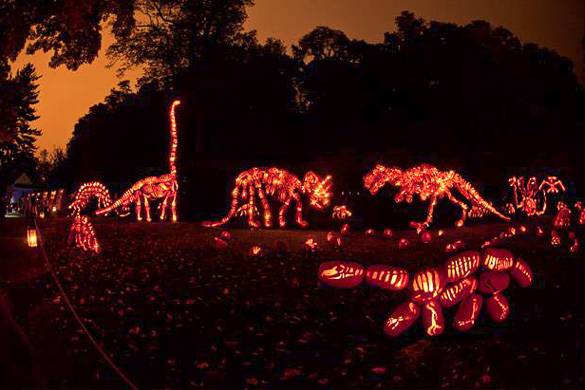 At The Great Jack O'Lantern Blaze they get very creative!
We take Halloween seriously here in NYC, and there are loads of creepy events to get you in a spooky mood. Take an outdoor Haunted Lantern Tour at Fort Totten Park. At 6:30pm on Oct. 27th & 28th, 2017 Urban Park Rangers will lead a lantern-guided tour of the historic Water Battery at Fort Totten Park with creepy ghost stories along the way. Find more spooky things to do on our blog!
Another Halloween favorite is The Great Jack O'Lantern Blaze at Van Cortlandt Manor — just 30 minutes from NYC by car or under an hour via Metro-North's Hudson Line from Grand Central Terminal to Croton-Harmon station. Cabs meet each train for the five-minute ride to Van Cortlandt Manor. Check the train schedule online, or call 1-800-METRO-INFO. The Croton-Harmon station is also an Amtrak stop. Check the Amtrak schedule or call 1-800-USA-RAIL for more info.
4. Fall Parades, Feasts & Festivals
Don't miss some of the fun parades and feasts happening in the fall. For old-time carnival games and delicious Italian food like sausage and peppers and powdered sugar-dusted zeppoles, head to the cobblestoned streets of historic Little Italy from Sept 14-24th, 2017 for the Feast of San Gennaro. The Columbus Day Parade, celebrating another famous Italian, happens on Oct. 9th along 5th Avenue.
Gearing up for Halloween fun our four-legged friends strut their stuff in adorable costumes at the Tompkins Square Park Halloween Dog Parade on Oct. 21 and then there's the incomparable Village Halloween Parade debauchery on Oct. 31. The most famous fall parade of all — the Macy's Thanksgiving Day Parade — will have giant balloon characters floating down 6th Avenue to 34th Street on Nov. 23rd! For the shopaholics, don't miss the Black Friday sales at Macy's and just about every other store starting the following Friday!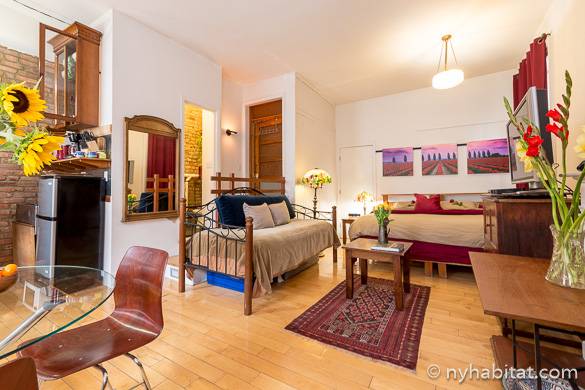 This quaint studio vacation rental is nestled in the hip and happening East Village
If you want to be close to all the fun shenanigans of the annual Village Halloween Parade, this charming studio vacation rental in the East Village will put you less than a mile from the madness and in walking distance to Tompkins Square Park. Stroll in the crisp fall air in this neighborhood lined with quirky shops, local coffee houses, outdoor cafes and live music venues. Hardwood floors, exposed brick, a decorative fireplace, colorful artwork and personal touches make this studio as unique as the East Village itself! A king sized bed, twin day bed and additional double air mattress sleep four people in this sunny studio while the kitchenette area offers all the necessities for preparing a quick meal at home with your finds from the nearby Union Square Greenmarket. Now get working on those Halloween costumes!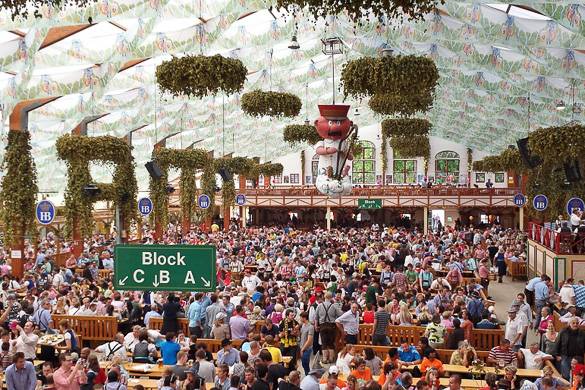 Giant beer gardens at Oktoberfest in NYC
It wouldn't be fall without festivals, and nothing ushers in fall like a pint of beer, a bunch of cheery people in lederhosen and Oktoberfest! Oktoberfest celebrations take place in all five boroughs at various public spaces and beer gardens. The largest events include Oktoberfest in Central Park (Sept 16), Munich on the East River (Sept 29–Oct 8) and Watermark's Oktoberfest (Sept 15–17, Sept 22–24, Sept 29–Oct 2).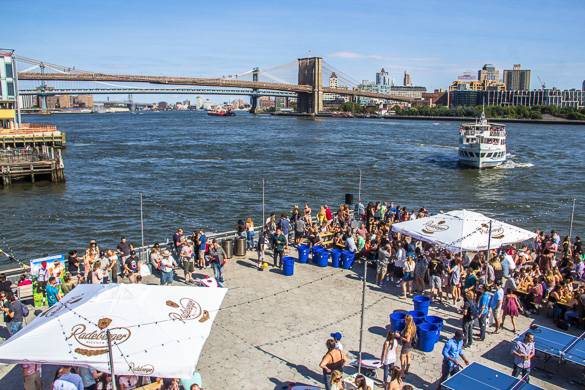 Hit an outdoor festival in NYC this fall
For the foodies, there's the New York City Wine and Food Festival (Oct.15-18) offering events from wine tastings, classes, and dinners created by world-renowned chefs to rooftop parties. For something different check out the New York Burlesque Festival Sept 21-Sept 24 or for something classic, the New York Film Festival Sept 25-Oct 11 (check out our blog on apartments you can rent near famous film locations)!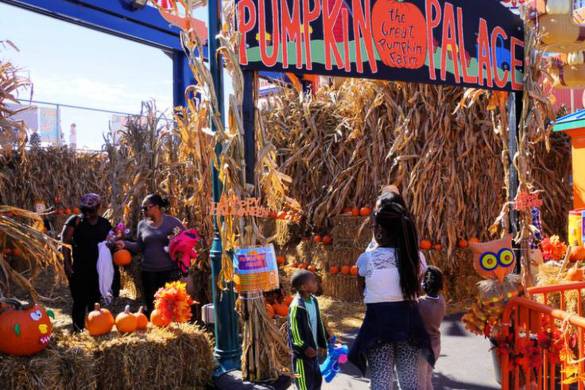 The kids will have a blast at Luna Park's Halloween Harvest Festival
Don't forget the kids! There's plenty of fall family fun to be had all over the city including trips to the zoos — there's at least 1 in each borough — how many have you been to? At Make it Rusty (Sept 23 @ 10am on the Highline), kids get to design and construct industrial-inspired garden sculptures that will age over time. The Halloween Harvest Festival at Luna Park Coney Island (Sept.16-Oct.29) ends the amusement park season with a blast with pony rides, a pumpkin patch, music, games and more!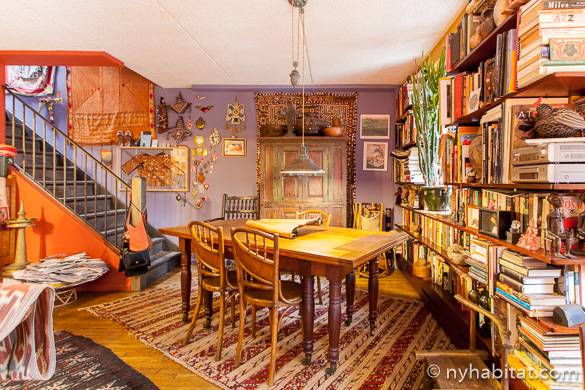 This duplex furnished apartment has East Village creativity written all over it!
This funky fully furnished two bedroom/1.5 bath duplex apartment in the East Village is perfect for a hip family. Charmingly furnished with vintage and antique pieces and accented by world décor, it surrounds you with warm autumn tones and rich fabrics that will make you want to curl up in this cozy spot all day. The living room has plenty of seating including day beds to lounge on plus a large wooden dining table to have family meals at. The kitchen is fully equipped with dishwasher allowing you to prepare meals and enjoy them in the comfort of your apartment. Two bedrooms give everyone space instead of cramming into a hotel room. Enjoy a cup of cider in the fall air from your private balcony or the building's shared garden terrace. Read our blog for other great ways to spend the fall outdoors in NYC!
5. Fall Sports Events
Don't forget to take in some outdoor games before the cold weather gets here! The last home baseball game at Yankee Stadium is October 1st, and at Citi Field on October 4th, then the World Series fun begins Oct 24th! Football runs through the end of the year with the New York Jets' first game on Sept 24th at MetLife Stadium, and the Giants first game on the 18th. Basketball will get you through the winter — the Brooklyn Nets start the season at Barclays Center and the Knicks at Madison Square Garden on Oct 29th.
Now that you have a whole list of our favorite fall things in NYC, head to our website to find the perfect cozy fall rental to shack up in and you'll be all set for that fabulous fall trip to NYC!
Related apartment rental posts from New York Habitat: