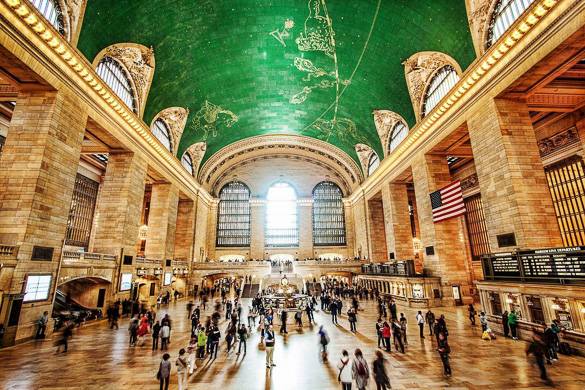 Grand Central is one of the main train hubs in NYC giving you access to Westchester and Upstate NY
New York City is known as the city that never sleeps for a reason; home to hundreds of museums, clubs, and restaurants, there is never a lack of things to do here! Many people tend to stay within the confines of Manhattan, but New York's extensive transportation system gives you access to activities in surrounding boroughs and neighboring states. Read on and discover some exciting day trips you probably didn't know you could easily take when you rent a furnished apartment in NYC.
1. Atlantic City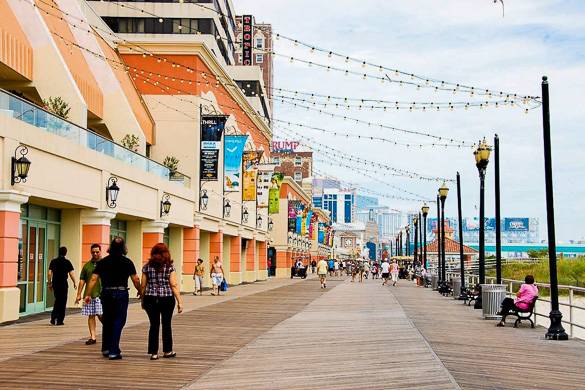 Buses to Atlantic City and the Jersey Shore depart from Port Authority all day
If you need an escape from the concrete jungle, Atlantic City offers sandy beaches, a famous boardwalk, bustling casinos, five-star restaurants and non-stop entertainment! Great for a day or overnight trip, Atlantic City is about 2.5 to 3 hours by bus from NYC with numerous daily departures. Dine at Wolfgang Puck or Bobby Flay's latest restaurant, stroll the boardwalk and try some of AC's famous saltwater taffy. Play all night and catch some sleep on the bus ride home or stay overnight at one of the lovely beachfront hotels.
While you're there, visit the AC Aquarium, Absecon Lighthouse or the Central Pier Arcade and Speedway. Events like 500 Club Summer Series, the AC Boardwalk Music Series, and Jazz in the Park offer a range of musical experiences.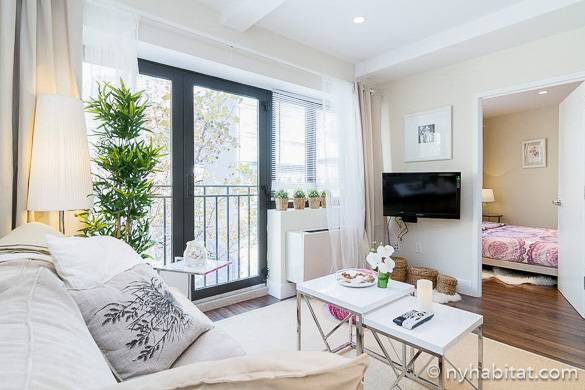 Rent this furnished rental in Midtown convenient for day trips out of Port Authority
This 1 bedroom apartment in Midtown West is just a few blocks from Port Authority Bus Terminal which means access to out of town trips is limitless! Located near Hell's Kitchen, an array of dining and entertainment options are within walking distance as is Central Park! Furnished with a modern touch, this apartment has hardwood floors and large windows to illuminate the space. The bedroom has queen size bed, night tables and closet for storage while the cozy sofa in the living room opens to a double bed for guests. Off the living room is the modern kitchen with stainless steel appliances including flat-top range, dishwasher, and microwave for effortless meal preparation. Amenities include laundry washer/dryer in the apartment and virtual doorman.
2. South Mountain Recreation Complex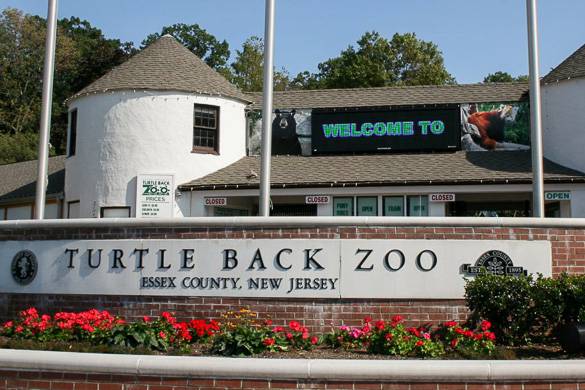 The South Mountain Recreation Complex in New Jersey has fun for the whole family
The Port Authority Bus Terminal is also a hub to destinations for family fun. The South Mountain Recreation Complex in New Jersey has a plethora of activities for the whole family. A full day can be spent between Turtle Back Zoo, the Waterfront, the Safari Mini Golf and the Treetop Adventure Course, so be sure to arrive early and with lots of energy!
While driving is the easiest way to reach the complex from the city, buses from both Penn Station and Port Authority will also get you there. The trip is an hour by car and a little under two hours by bus. Adult admission to the complex is $10/children $8.
3. The Cloisters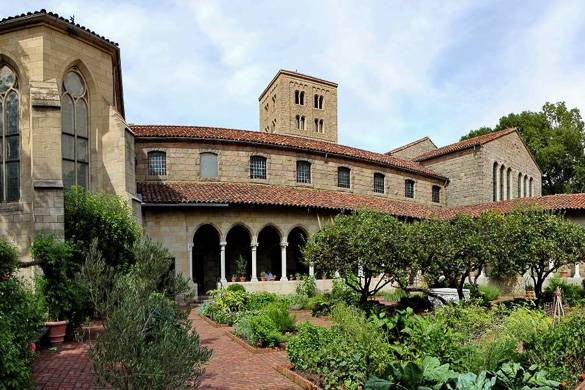 Visit the Cloisters for medieval art and a stunning view over the Hudson
For those who enjoy art and a serene setting, The Cloisters (part of The Metropolitan Museum of Art) are a unique destination. Located in scenic Fort Tryon Park, the museum is dedicated to the art, architecture, and gardens of medieval Europe. It can be reached by subway via the A train to 190th Street and transferring to the M4 bus. Add some exercise to your visit by taking a hike uphill through the park to The Cloisters, nestled at the top with breathtaking views over the Hudson River! The recommended ticket price of $25 can be used for same day admission at The Met Fifth Avenue and The Met Breuer. Discover more great NYC museums along Museum Mile!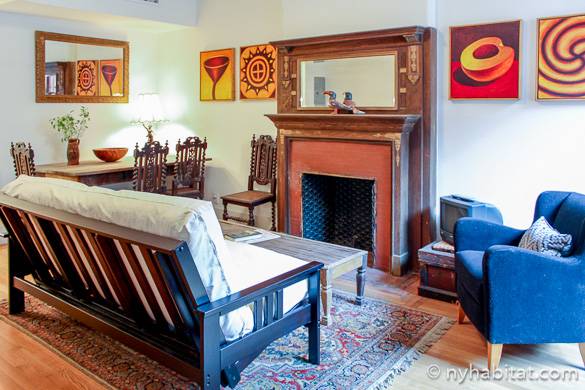 This vacation rental is just a subway ride away from Fort Tryon Park and The Cloisters
If The Cloisters and Fort Tryon Park sound dreamy, then Hamilton Heights is a convenient area to set up your home base. This 1 bedroom vacation rental located in a brownstone building is close to the 1/A/B/C/D subway lines, making it easy to head to the serenity of nature in Fort Tryon Park. Check out our blog for other not-to-miss parks in NYC.
This garden-level apartment is full of pre-war charm including hardwood floors, exposed brick walls, and original moldings and has its own private backyard — a rare luxury in NYC! A double futon in the living room provides extra sleeping accommodations by the decorative fireplace. The fully equipped kitchen allows you to prepare meals at home — great when traveling with a family! After a day of touring, relax in the king size bed surrounded by exposed brick walls. A glass door off the bedroom opens into your private backyard retreat.
4. Orchard Beach and City Island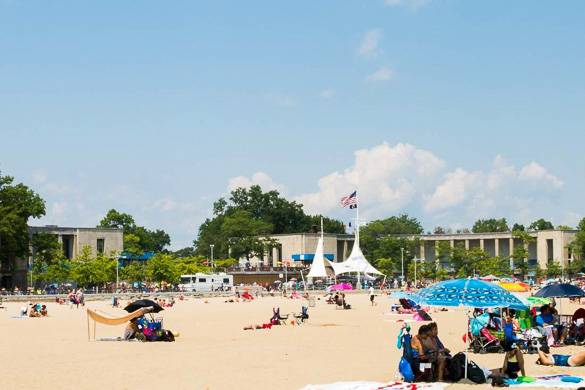 Head to City Island in the Bronx for its famous seafood restaurants (Image courtesy of Addison Godel on Flickr)
Further uptown in the Bronx, is the island oasis of City Island, reachable by the 6 subway line. This island resembles the East Coast resort area of Cape Cod. For the foodies out there, the island is known for its great selection of seafood restaurants like Johnny's Reef, The Lobster Box, and Sammy's Shrimp Boat. If you're more of a "hands-on" type, rent a boat and catch your own dinner!
Orchard Beach, dubbed the "New York Riviera", is a mile long beach that offers visitors basketball, volleyball and handball courts, snack bars, food carts, and picnic areas for dining al fresco.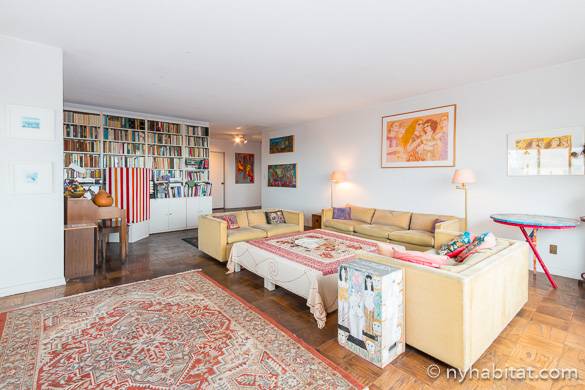 Rent a room in an apartment share with wrap-around skyline views!
This room for rent in an apartment share on the Upper East Side puts you close to the 6 subway line that will take you uptown to par and City Island. Located in this ritzy area of Manhattan, it is also a short walk from Central Park. This is a great option for someone spending a month or more in town that wants to experience living in NYC with a local roommate.
Located on the 34th floor of a luxury high-rise building with doorman, the apartment lends itself to impressive wrap-around views of the city. The bedroom for rent has queen size bed, cable TV, and internet, plus en-suite private bathroom. Built-in shelving and drawers provide storage for your belongings. Wonderful restaurants surround the apartment, but when you feel like cooking at home, there's a fully equipped shared kitchen at your disposal. Two bedrooms and baths make this apartment practical for sharing, providing space and privacy for both roommates.
5. Governor's Island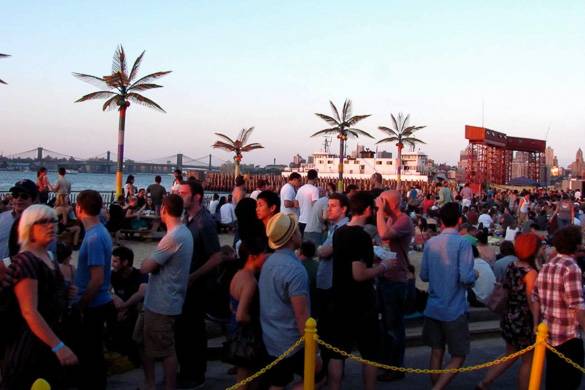 Governor's Island is full of fun outdoor activities just a ferry ride from Manhattan
Governor's Island is another welcome respite from the confines of the city. Just take a ferry from the Battery Maritime Building or Pier 6 and you'll feel worlds away in no time! Round-trip tickets are just $2 and everyone rides free on weekends before 11:30am.
Governor's Island is open from May 1 to Oct 1 with activities from music festivals to theater performances and family-friendly activities. Visit the newest addition, a 10-acre area called The Hills with adult slides, rock climbing, zip lining and a beer garden!
Ever wondered what it would have been like to attend one of Gatsby's parties? The Jazz Age Lawn Party (Aug 26-27, 2017) allows you to travel back in time to experience the splendor of the roaring 20's complete with the world's premier Jazz Age dance orchestra and Prohibition-era cocktails. General Admission is $45.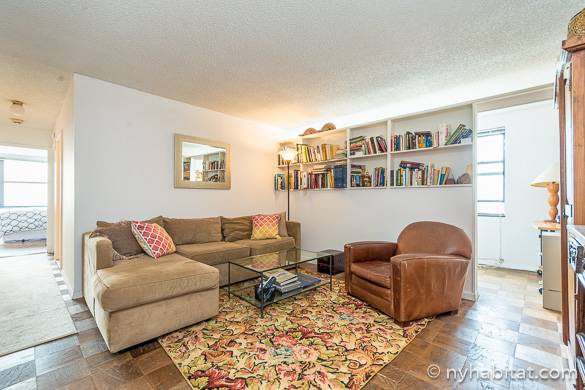 This roommate share apartment in Tribeca has Hudson River views and quick access to the ferry
If you crave being close to the water (with easy access to ferries for quick getaways) then this roommate share apartment in Tribeca is for you! In this strategic location, you'll be close to the ferry and beautiful Battery Park. The building's luxurious amenities include terraced gardens, pool, and on-site gym. The bedroom for rent has parquet hardwood floors, queen size bed, dresser, and desk plus a large window with views of Financial District skyscrapers and the Hudson River! Relax in the shared living room or prepare a meal in the shared kitchen and take in the river views from the sunroom.
6. The Hamptons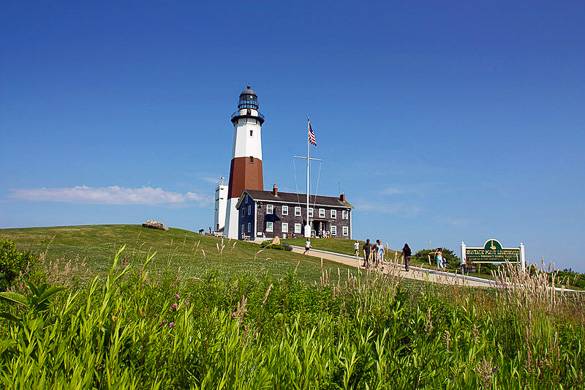 Sunbathe with celebrities in the Hamptons of Long Island
If you just can't get enough of water views and are curious to see how the other 1% spend their summers, look no further than the Hamptons. This summer getaway is located at the eastern tip of Long Island, making it an easy escape by bus or Long Island Railroad (LIRR) from the city (for those of us without access to private jets or helicopters). Aside from celebrity sightings and multi-million dollar estates, the area has stunning beaches and a vibrant social scene.
Enjoy fine dining at the Southampton Social Club, a posh restaurant with exquisite seafood and a backyard worthy of any socialite wedding. You can also find fishing and whale watching tours and horseback riding on the beach.
Now that you know all the secrets of the locals for fun beyond the city's borders, head to our website and reserve a furnished apartment or apartment share strategically located for fabulous day trips, before someone else books your favorite! Comment below and tell us your favorite day trips to take from NYC!
Related apartment rental posts from New York Habitat: