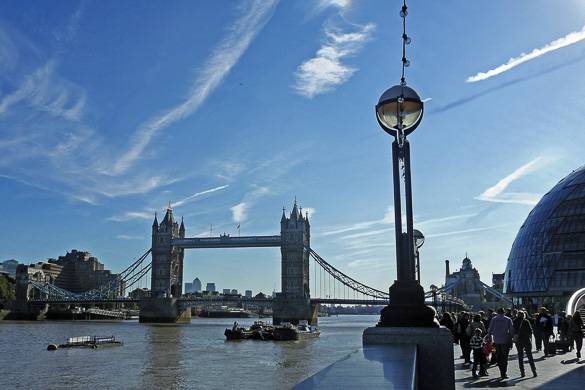 Don't miss the beautiful aspects of London that aren't too well-known!
London's international allure reaches far beyond the handful of landmarks you see on postcards – ask anyone who has lived there for a while, or any traveler who didn't think one visit (or two visits, or four) did London justice. Buckingham Palace is fancy, Westminster Abbey is magnificent, and Big Ben's dial has really long hands, but those who've developed a true affection for the world's first global city tend to take their visiting friends to other attractions. We Anglophiles at New York Habitat hereby present seven of our personal favorites among London's less established sites.
1. Redefine high tea in a double-decker: The Afternoon Tea Bus Tour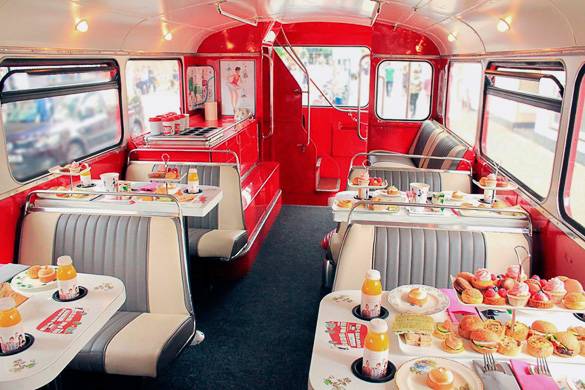 Tour London while enjoying afternoon tea
Taking afternoon tea is a quintessential British pastime. So is riding red double-decker buses. But have you ever thought of doing both at the same time? Book your seat on B Bakery's Afternoon Tea Bus Tour and enjoy London with class and style – a uniformed driver will take you around downtown London's most essential landmarks (covering at least a dozen of them!) in a vintage Routemaster bus as you indulge in some delicious English tea with an assortment of crispy pastries. And if you're coming to London with a group of friends, you can hire the entire bus and throw a quirky party!
2. The Brutalist glory of the Barbican Complex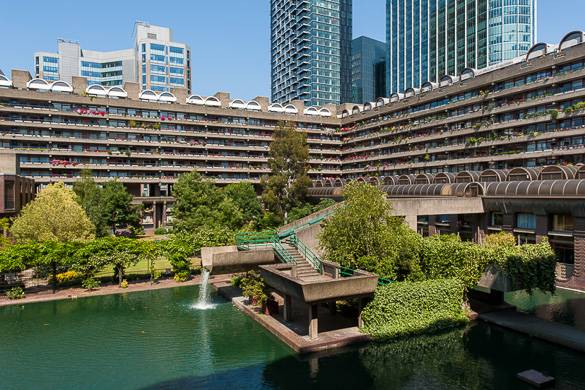 The Barbican Centre is home to all of the arts
If you've been to the Museum of London but never ventured to the Barbican Centre right across the street, half of London will urge you to keep it that way and avoid this overbearing complex for the rest of your life. However, the other half will contend — no less passionately — that it would be a sin to miss out on this iconic architectural landmark, which the Queen herself once called "one of the modern wonders of the world." As you've probably guessed, we stand with the latter half.
Rising from the ashes of a precious City of London site that was bombed during World War II, the complex was designed to convey a sense of hope in the future. The Brutalism movement is characteristic for its "honest" embrace of raw materials (especially exposed concrete) and repetitive, modular forms unified in a colossal whole.
Combining Europe's largest multi-arts venue (including a concert hall, three cinemas, two theaters, and two art galleries) with a residential development comprising over 2,000 apartments, two schools, and a library, the Barbican Complex is both a major cultural attraction and a vertical village whose residents share a sense of identity. Come to experience a concert of the London Symphony Orchestra, watch a silent film with live music accompaniment, enjoy a Royal Shakespeare Company production, or take a relaxing stroll through the Barbican Conservatory, a unique indoor garden and home to 2,000 species of tropical plants and trees.
In fact, whether you're an arts connoisseur who is never ready to leave galleries at closing hours and who demands multiple encores at concerts, or just an urban explorer who can't get enough of the funky vibe of the complex, you will be tempted to rent this 2-bedroom apartment in the Barbican Estate itself. With their original ideology thrown out of the (floor-to-ceiling) windows long ago, today the Estate's blocks are among London's most sought-after places to live. Though the three towers can no longer claim to be Europe's tallest residential developments, their spacious balconies continue to offer unbeatable views of the city. Combine the freedom of a private two-bedroom flat with the comfort of a hotel — who would object to 24/7 concierge, limitless supplies of toiletries, and maid services?
3. Fresh produce from the heart of London: Hackney City Farm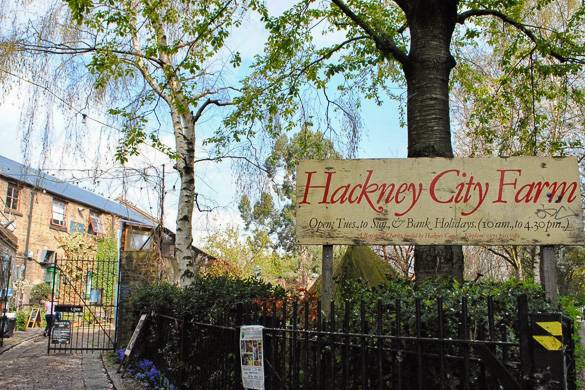 Did you know there are organic farms in London?
When contemplating all the excitement offbeat London has to offer, a farm is probably not the first thing you'll picture. Yet, this colorful city farm (a registered charity organization combined with an alternative school) in the heart of laid-back Hackney's Bethnal Green is one of those grassroots initiatives that make London such a cool city. If you love the outdoors, Hackney City Farm is your place.
Bring along your children and let them greet all the farmyard animals they normally only see in books: rabbits, chickens, ducks, geese, sheep, goats, and even donkeys and pigs. Stay a little longer and they might get to join a hands-on vegetable planting or recycling workshop and learn about environmental sustainability and organic food production. Meanwhile, you can sip on some delicious coffee in Café Frizzante, an award-winning Italian coffee shop right on-site, or pick up a veg box full of organic seasonal produce including potatoes, spinach, carrots, or onions. Inexpensive free-range eggs and honey produced at the farm are also available for purchase – save some money and eat healthy!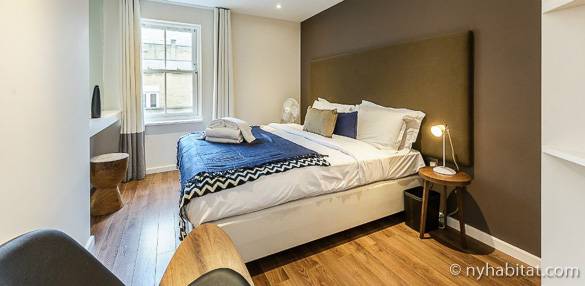 This comfortable vacation rental in Hoxton has a balcony
To complete your little ones' educational experience, retire to your comfortable two-bedroom vacation rental in nearby Hoxton and use your modern, spacious kitchen for a family cooking lesson – all the necessary amenities are included. If you run out of supplies, you can always wait for Saturday and grab some more local food at another place foodies in London won't stop talking about: the Urban Food Fest, just a short walk away in Shoreditch. As you sample the unpredictable selection of cuisines at the street food market (most of the trucks and stalls change every week), there'll be live music to keep you in an upbeat mood!
4. The Viktor Wynd Museum of Curiosities, Fine Art & Natural History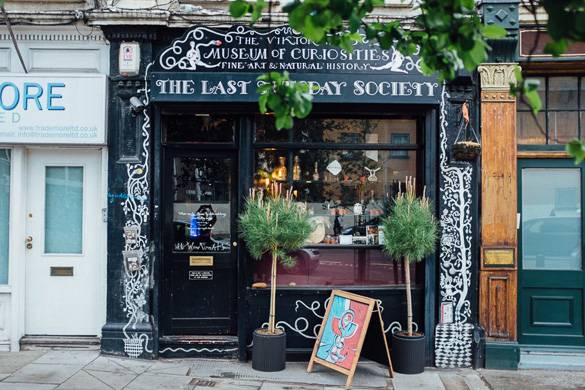 Step inside – only if you dare!
While in Hackney, be sure not to miss this eccentric little place – though it might be wise to leave your kids at home this time. Enter this tiny café bar restaurant on Mare Street, but before you order a drink, descend a spiral staircase and find yourself in an eerie basement surrounded by an eclectic collection of items ranging from the mundane (McDonald's Happy Meal Toys that captivated the owner) to the truly bizarre. Oddities on display include an 8-legged lamb, two-headed kittens, a hair ball from a cow's stomach, dodo bones, Asmat human trophy skulls brought from Papua New Guinea, and Napoleon's death mask.
Nevertheless, this Kickstarter-funded museum is not just a collection of any macabre objects the founder could obtain. It is an homage to pre-enlightenment collections displayed in obscure "Wunderkabinette," or cabinet of wonders. Viktor Wynd believes that modern humans' desire to categorize everything compromises their ability to appreciate the mysterious beauty of the world. Visit to see if Wynd's collection actually prompts you to reflect on the downsides of overclassification, or if it just freaks you out so much that you'll head straight to the cocktail bar upstairs.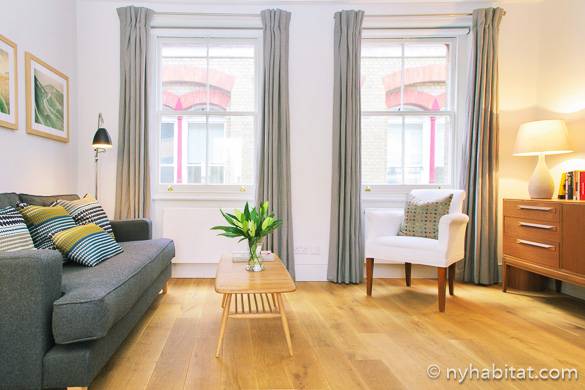 Enjoy the restful atmosphere of this rental in Clerkenwell
If cocktails are not your thing, you might welcome the refuge of an old house on a cute, narrow street. This tranquil, fully-furnished two-bedroom apartment located in nearby Clerkenwell (near Camden and Islington) sleeps three guests. With each of its rooms offering a different combination of soothing hues complemented by an assortment of refreshingly bright décor, this spacious apartment is ideal for relaxing. The modern eat-in kitchen is a joy to cook in. The master bedroom's midnight blue walls, wooden flooring and furniture, and warmly-colored fabrics make for a restful atmosphere. However, we believe the greatest selling point of this listing is the enormous private terrace furnished with two couches that sit on a hardwood covered deck. It weds much-needed seclusion with charming views of the nearby gardens and historic buildings.
5. James J. Fox: Where British aristocracy bought their cigars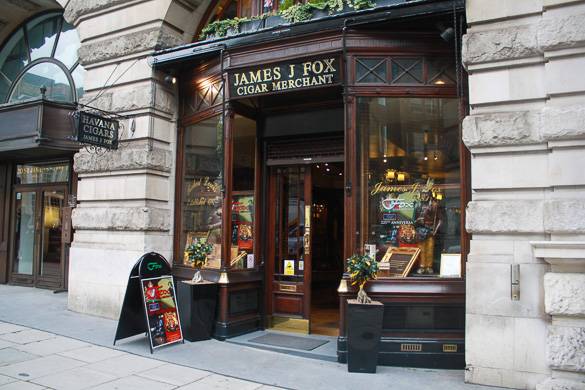 Go shopping for gifts at one of the world's oldest tobacconists
When in Mayfair, make sure to stop by 19 St. James's Street: This impressive building is home to one of the oldest tobacconists in the world. Robert Lewis and James J. Fox, former competitors who recently merged their companies, are two of the most respected names in the industry – they have been trading fine tobacco since 1787. Do you have a relative who will appreciate a swanky gift, such as a box of premium Cuban cigars or a fancy pipe? Or are you curious about the shop's mini-museum, whose collection of memorabilia boasts items associated with some of its most distinguished former customers (including members of British royalty and Oscar Wilde)? Regardless, give James J. Fox a visit. In a lounge upstairs you can taste their fine products (that's right, the indoor smoking ban doesn't apply to sampling cigars!) while seated in the same chair that another loyal customer, Winston Churchill himself, used while selecting his favorite cigars. They'll even serve you free coffee!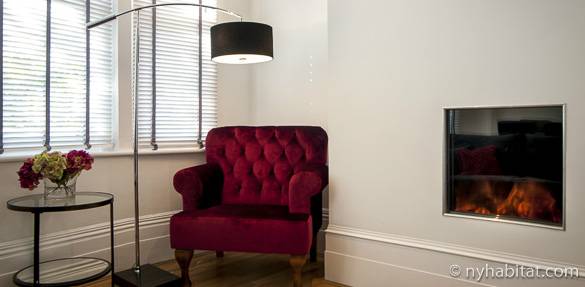 Look at this sleek apartment near Soho
Whether you're a cinephile, a shopaholic, an art lover, or a foodie, you'll probably be spending a lot of your time in neighboring Soho and the Leicester Square area. This elegant one-bedroom vacation rental in the "Garrick Mansions," a majestic red brick townhouse on Charing Cross Road, is a recently renovated flat with a polished wood floor, clean white walls, and large iron framed windows that situates you right in the heart of London.
Sink into this softly upholstered deep ruby red armchair (that goes with the strikingly modern kitchen backsplash of the same color) and enjoy the lofty but cozy atmosphere around a functional built-in fireplace set behind a glass screen. There is also a proper dining table, a large sofa, and a double bed with an upholstered headboard. After a long day, you might want to fill your large porcelain tub with warm water and soak in – towels are provided.
6. Jack the Ripper Tour of Whitechapel: Glimpse into the Victorian Era
Are you secretly fascinated with the story of Jack the Ripper, London's most infamous serial killer? Then you might be interested in joining a walking tour of Whitechapel, the parish where the eleven elusive, unsolved murders took place. The two-hour tour will transport you back to the crooked back alleyways of the 1880s' East End, and you'll join the Victorian police in trying to hunt the criminal down. Your history-nerd tour guide will take you to the most notorious crime scenes, frightening you with details pulled straight from the original police records. As you'll discover, the spooky part is that Whitechapel has hardly changed since Jack the Ripper's time. You'll get to visit the historic building's basement in which a major suspect worked as a barber, and see the famous doorway on Goulston Street where the murderer left behind his only clue, a sinister message.
7. Wilton's Music Hall: The world's oldest surviving grand music hall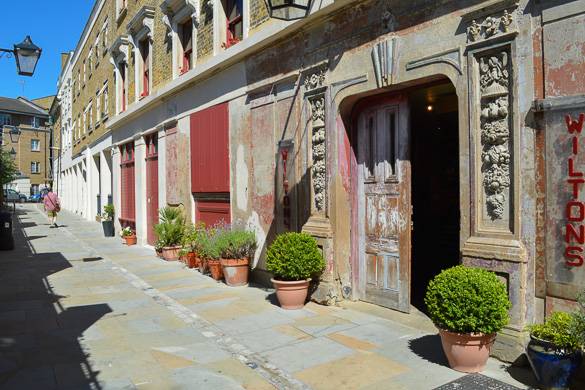 New energy in an old venue
In case you don't fully appreciate how much early Victorian Britons enjoyed music halls, grand saloons where rowdy workers would gather to eat, drink, and smoke while enjoying theater and musical entertainment, you'd better head to Tower Hamlets in the East End. Here, you can check out the oldest surviving exemplar of this legendary venue type. Having survived a fire and a flood, the decision to be repurposed as a church and a rag warehouse, and the shame of being the only English spot to be put on the list of the 100 most endangered monuments in the world in 2007, Wilton's Music Hall inspires admiration and is a must-see.
The good news is that after so many years in disrepair, the venue has been partially restored (just enough to prevent it from being a hazard to enter) and hosts performances again! As an alternative to the famed (but usually more conventional) West End musicals, you might be interested in attending an original production in Wilton's. Its operas, cabaret, puppet shows, and theatrical plays promise a delightfully fun experience, carefully blending the authentic and the contemporary.
As you plan your sojourn away from the beaten path, make sure not to leave your accommodation to chance – after outlandish experiences during the day, most people welcome a reliably comfortable home to return to. Search through our selection of over 700 London apartments and pick the perfect base for your adventures. If you're eyeing some of our less-conventional options, but booking one straight away feels risky, get in touch with one of our agents and don't hesitate to declare every single one of your preferences. Our agents are closely familiar with the London rental scene, and they love the city and its hidden corners. They'll help you out!