Catacombes of Paris
Fall is the perfect time to experience the gothic charm of Paris. The gray skies and cool temperatures bring out the city's ghoulish side. If you want to get spooked, head underground to the Catacombs, a centuries' old subterranean cemetery. This sprawling bone museum is far more frightening than even the most grotesque gargoyle of Notre Dame.
At the end of the 18th century, Paris was overcrowded and so were its cemeteries. In an attempt to solve the growing real estate and public health problem, city officials decided to utilize the abandoned network of limestone quarries underneath the city. In 1786, workers began painstakingly transferring the bones of the deceased into the underground tunnels. By 1860, some six million departed Parisians found their final resting place in the caverns of the Catacombs.
While they are an unlikely tourist attraction, the tombs began attracting curious visitors in the late 1700s. French royalty were some of the first to descend into the depths to see the winding maze of bones, stacked meticulously into macabre designs like hearts and crossbones.
Officially known as the l'Ossuaire Municipal, the Catacombs continue to fascinate tourists and locals alike.  Visitors must descend a spiral staircase twice as deep as the Metro to begin a 45-minute self-guided tour through the damp and dark quarters. At the entrance hangs a sign warning all those about to pass through, "Arrete! C'est ici L'Empire de la Mort" – "Stop! Here is the Empire of the Dead."
The Catacombs are located in the 14th arrondissement of Paris, accessible by the Denfert-Rochereau station. The museum is open from 10 a.m. to 5 p.m. every day except Monday, though the last admission is at 4 p.m.  Price of admission is eight euros.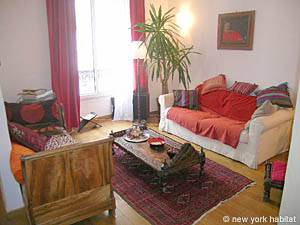 Paris Apartment 1-bedroom in Montparnasse (PA-3581)
Want to explore the mysterious and macabre side of Paris this fall?  New York Habitat has hundreds of vacation rentals conveniently located in the 14th arrondissement, near the Catacombs and the famous neighborhood of Montparnasse, including:
- This charming 1-Bedroom Vacation Rental in Montparnasse – Porte de Versailles (PA-3581), with a large kitchen and cozy living room. Enjoy the bedroom's southwestern-facing windows overlooking a courtyard.
- This classically furnished Studio Vacation Rental in Denfert-Rochereau – Montparnasse – Porte de Versailles (PA-3541). The open studio is located near the Denfert-Rochereau stop, offering convenient travel around Paris.
Have you ever been to the Catacombs in Paris? Share your experience with us!
Related apartment rental posts from New York Habitat: