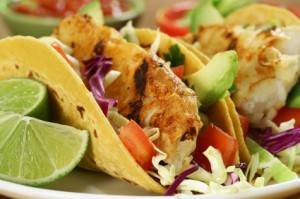 Fish Tacos
Younger New Yorkers may not believe it, but there was once a time, not so long ago, when you had to go all the way to the West Coast, in either Mexico or the United States, to enjoy a decent fish taco.
But times have changed, and food-savvy New Yorkers are all the richer for it. That's because the fish taco, once unknown in New York City (and indeed all over the East Coast) has in recent years become a staple of the city's ever-exploding foodie culture, much like the artisanal cupcake.
If you haven't been sampling the wares, here are just a handful of mouth-watering options that will help you understand what all the fuss is about.
First up is Pinche Taqueria, at two downtown locations (227 Mott Street, near Prince, and 333 Lafayette Street, near Bleecker). Don't ask us what the name means, but we can say that both branches of this Tijuana-derived taqueria get consistently high marks for their beer-battered mahi-mahi tacos and the piquant crema (the Mexican version of sour cream) that garnishes them.
In the East Village, Mercadito Cantina (179 Avenue B, between East 11th and 12th Streets) routinely tops critics' lists, both for its beer-battered and fried "estilo Baja" (as in California) and its more minimalist tilapia, served on a tortilla with a complement of salsa verde, avocado, and pickled purple onions for added piquancy.
Further west and uptown, the equally well-regarded Toloache (251 West 50th Street, near Broadway) is slightly pricier but essential to know about if you're anywhere near Times Square. In addition to the notably crispy fish, (served with guacamole and eye-opening jicama slaw) Toloache's secret weapon is that they make their own tortillas on the premises—and you'll be able to taste the difference.
Surf's up! Finally, if you're in the mood for a definitive New York summertime experience, Rockaway Taco out on Rockaway Beach Blvd. offers back-to-basics ambiance that's hard to beat—it's basically run out of a shack that's not far from the boardwalk, which is where you should take your order once it's ready. Be sure to wash your order down with watermelon juice for the full effect.
Will you be jonesing for fish tacos while you visit New York? Regardless of which of these restaurants you may sample during your stay, New York Habitat has furnished rental apartments conveniently located all over the city. Here are just a few possibilities to help get you thinking:
- A furnished one-bedroom rental apartment (NY-15229) in Midtown East is located on the 8th floor of a doorman building with laundry facilities. The apartment also boasts stunning hardwood floors, a fully equipped modern kitchen and a living room with a home entertainment system. The surrounding neighborhood of east Midtown offers an array of upscale boutiques and department stores in addition to bars and restaurants to suit every taste.
- Near the south-west tip of Manhattant, a fully furnished studio apartment in Battery Park (NY-11925) sits on the 34th floor of a luxury, high-speed elevator building with amenities that include a fulltime doorman and laundry facilities. Up top, meanwhile, a rooftop terrace lets residents take in panoramic views of New York Harbor, the Verrazano-Narrows Bridge, and the Statue of Liberty. The air-conditioned studio has hardwood floors and a functional layout comprised of a living/bedroom, separate kitchen, and a well-lit, marble-lined bathroom.
- Over in Brooklyn, this fully furnished one-bedroom apartment (NY-14720) is located in Park Slope, on the garden level of a four-story walk-up townhouse. The living room includes a queen size futon, TV and cable and writing desk, while the 200-square-foot bedroom opens to the garden area, and has two large windows and a queen-sized bed. The apartment is located a pleasant four-block walk from Prospect Park, and several major subway lines to and from Manhattan are within easy strolling distance too.
Do you have a personal favorite among all of New York's fish taco vendors? Don't hesitate to add to our recommendations in the space below.
Related apartment rental posts from New York Habitat: